HD photographs of L'Arbre des Voyelles bronze sculpture inside Jardin des Tuileries - Page 809

We were back at the Jardin des Tuileries, which is located in the 1st Arrondissement of Paris next to The Louvre, when we took these high definition photos of a sculpture called L'Arbre des Voyelles that was produced by Giuseppe Penone.


Paris Statues
- << Previous 801 802 803 804 805 806 807 808 809 810 Next >>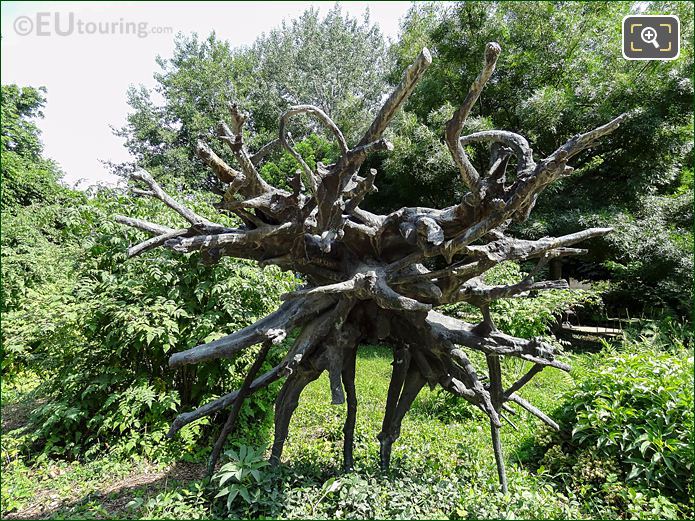 At first glance when you look at this close up photo, you see a root system of a fallen down tree, and yet, this is actually a modern art sculpture, which was produced in bronze by Giuseppe Penone, and has been placed within the Tuileries Gardens in Paris.
With the almost overgrown look and feel to this particular area of the Tuileries Gardens, you can quite easily overlook this masterpiece called L'Arbre des Voyelles, which in English translates to The Tree of Vowels, however, in Italian it is named Albero delle vocali, which translates as Vocal Tree.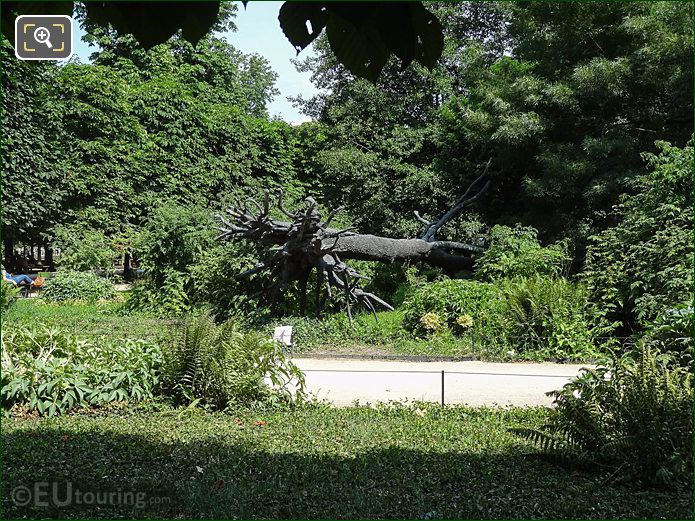 The modern art, or contemporary art, tree sculpture, is an approximate length of 30 metres and was produced by Giuseppe Penone who was born in Italy in 1947, and started working as a sculptor within the forest located near to where he was born called the Garesso Forest.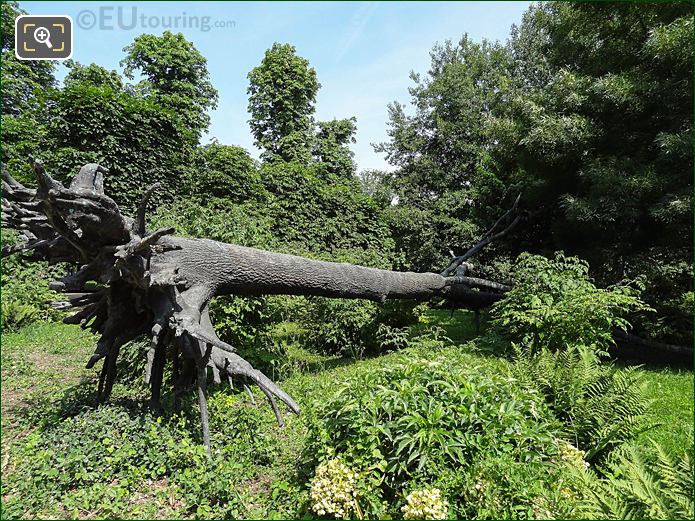 Becoming known as one of the artists within an Italian art movement called Arte Povera, Giuseppe Penone has focused upon many pieces of art that relate specifically to nature, and a tree is a main element that he uses to portray different messages and actions.
So this photo shows the smaller branch aspect of the imitation tree, before you get to the main trunk or roots of this bronze sculpture, and Giuseppe Penone has produced several different bronze trees that have been erected in public places, which of course include this particular one at the Jardin des Tuileries.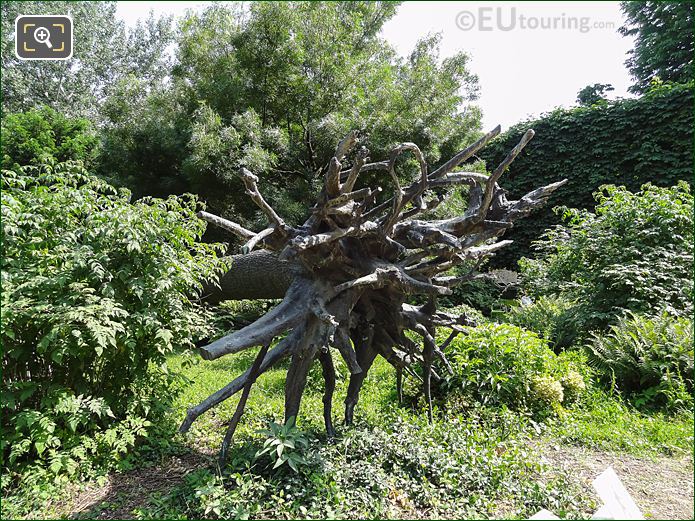 Now here you can see another photograph showing the root system of the L'Arbre des Voyelles that is closely linked to the ideas of memory and change the artist focuses on in many of his art works, which is quite ironic, considering that it was commissioned by the French State in 1999, that was the same year Paris had major storms and many trees were destroyed and brought down.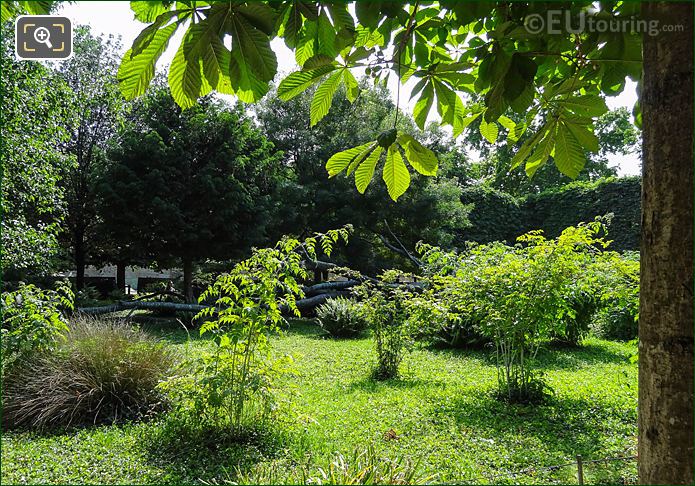 Yet this photo shows the enormity of the project that Giuseppe Penone undertook in order to get the tree looking like it was real, not forgetting the implementation by the team of gardeners and designers that needed to incorporate the L'Arbre des Voyelles into the Jardin des Tuileries in Paris.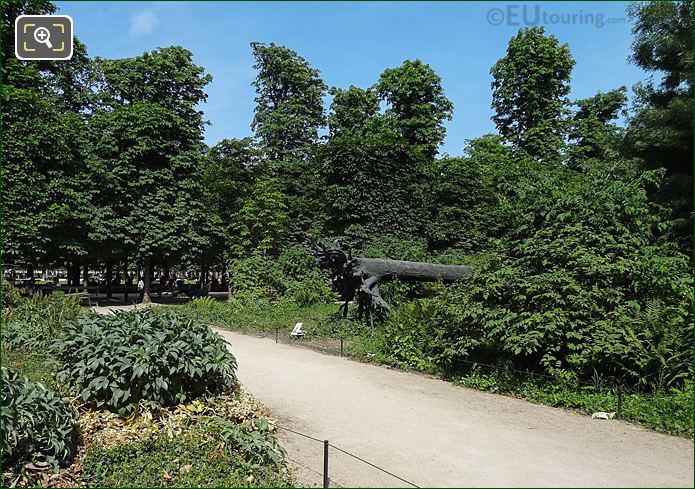 But here is another high definition photograph showing the bronze tree from a completely different angle, which was a commissioned by the French State and produced in conjunction with the landscape artist Pascal Cribier, although it was not inaugurated within the Tuileries Gardens until the year 2000.
However, although the L'Arbre des Voyelles, or Tree of Vowels in English and Albero delle Vocali in Italian, which is Vocal Tree in English, does not have vowels, it is a specific meaning for the artist Giuseppe Penone who implements works of art enabling thought provoking actions of people to try and make them think about things like nature, consequences and actions.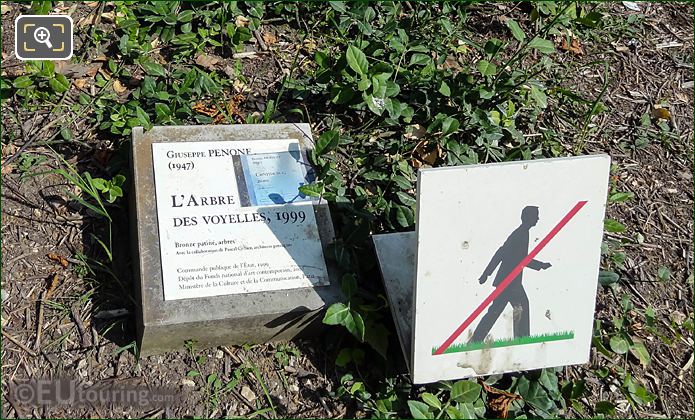 And here you can see a close up of the plaque located next to L'Arbre des Voyelles, which states that this contemporary art work was deposited within the Fund of National Contemporary Art through the Minister of Culture and Communication in Paris, even though there is a small description attached to it detailing a completely different sculpture located in a different section of the Tuileries Gardens.

Paris Statues - << Previous 801 802 803 804 805 806 807 808 809 810 Next >>


If you would like to use any of these photos for non commercial use we only ask that you please do include recognition to ourselves "eutouring.com", but if you are not sure with regards to usage, please contact us.