This location is now closed with no re-opening date.

The following article is left as-is for historical and archiving purposes.
Cafe Renard in Paris
CLOSED PERMANENTLY
The Tuileries Gardens is located next to the famous Musee du Louvre museum and has a rich history in its own right, not including the history of the Louvre, and the gardens are separated into different sections, that have been a popular place throughout the centuries.

The Grand Couvert is a part of the Jardin des Tuileries and originally there were two cafes in Paris located here, and there was an original one called Renard Cafe du Jardin Renard, which was named that after a gentleman by the name of Mr Fox (or in French Mr Renard), who was a former valet of Queen Anne of Austria. It was himself that wanted to have a restaurant located in the Jardin des Tuileries which soon became a very popular meeting place.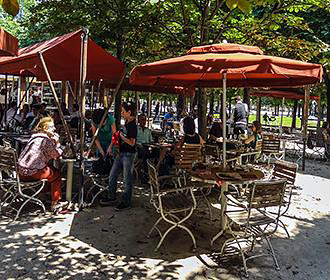 Now, the Cafe Renard you can find in the Tuileries Gardens today has still kept the traditions and the history of the Tuileries Gardens alive by keeping the same name, and this restaurant in Paris was first established back in 1905.

Located in the heart of gardens set amongst mature trees that bring welcome shade on those hot summers days along with parasols, so you can still enjoy a meal surrounded by nature, the fountains and admiring the incredible statues.

So if you want to escape from the hustle and bustle of the city and enjoy a tranquil meal in a haven of peace and authenticity in the famous gardens of the Louvre museum in Paris, then this has got to be on your list of places to visit.


Cuisine at the Cafe Renard restaurant in Paris
When it comes to the food served at the Cafe Renard Restaurant is mainly refined or traditional French cuisine like the Foie Gras with a port wine jelly, snails or beef Carpaccio for starters.


They also supply traditional vegetable or onion soup along with a wide variety of different salads you can try such as a hot goat cheese salad with walnuts or a salmon salad with peeled shrimps.

The main dishes and grills are varied and very tempting, so you could opt for one of the fish dishes that come with basmati rice and can be things such as a salmon steak with sorrel or hake fish with a red pepper sauce.

Now when it comes to the meat dishes, there are plenty to choose from including a grilled rib steak with herb butter or Bearnaise sauce and French fries or rump steak with either Bearnaise or pepper sauce and French fries. Alternatively, you could always try the cured duck leg with garlic potatoes or how about a lamb leg with French beans and thyme flower.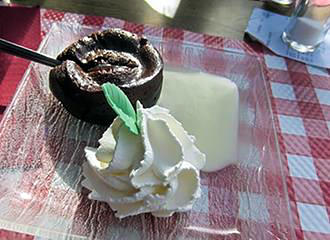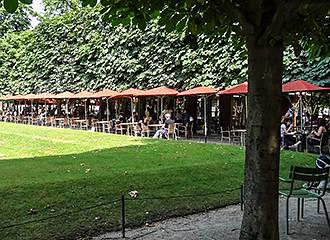 However, at the Cafe Renard you can change the accompaniment if you wish to enjoy something different alongside the main dish, so for example, instead of French fries you could have pasta, rice or French beans, but the French beans or French fries can also be ordered as a complete separate side dish as well.

As of 2012 the main course will set you back anything between €12 and €18.50, yet if you fancy a pasta such as lasagne or tagliatelle with salmon or as a bolognaise or carbonara, then you have this option as well for under €10.

Yet during the day and served up until 7pm there are also some other specific dishes available such as roast beef or hot sausage with French fries or cold chicken with mayonnaise and French fries, along with hotdogs and sandwiches such as a combination of ham, cheese, tomato and salad or a sandwich with salad, egg, tuna, tomato and mayonnaise.

But if you do fancy having another course, or instead of one of the delightful desserts that are available, you could opt for a cheese platter with an assortment such as Camembert cheese, but the desserts at Cafe Renard are just so tempting, you may wish to make room for one!

The delights on offer for dessert include Creme Brulee, lemon meringue pie, apple turnover, chocolate cake with custard sauce or brownies with a custard sauce and vanilla ice cream. But in addition to these tasty delights, you could opt for a peach melba or banana split and numerous different ice cream dishes such as the Coupe Mambo with coconut ice cream, chocolate ice cream, banana pieces, orange slices, chocolate sauce, grated coconut and whipped cream.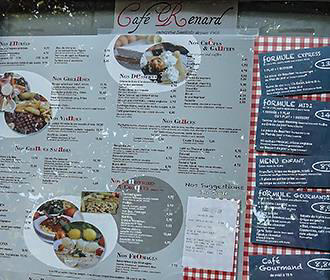 And at the Cafe Renard restaurant in Paris there are also crepes available, which are like dessert pancakes and these can be served with just sugar, or maybe you would prefer something completely different with the crepes such as jam, chocolate, whipped cream, rum or chestnut cream and many others.

There is also an exceptionally wide variety of alcoholic and non-alcoholic beverages available from cocktails and French wines through to soft drinks, teas and coffees to accompany your meal, plus you could just have toast with butter or jam for a quick breakfast in Paris.

Yet in addition to all of these there are special set formula menus available like the dish of the day through to an evening formula called the Formule du Soir that provides an entry course or starter such as snails and a main course such as steak and chips or lamb shank with thyme and green beans, which is a cost of €19.50 as of 2012. Plus there is a gastronomic formula menu and others that vary in price and when they are available such as evening only or not at weekends, etc.

So with us mentioning all of these options, you are probably feeling hungry already, but the Cafe Renard is a great place to eat out in Paris, if you are hungry, just weary from the walking around or want a completely different change of scene, when you are on holiday in Paris.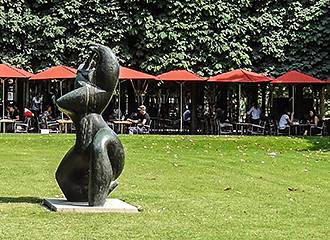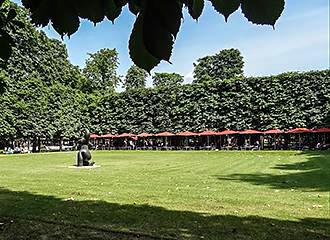 Access to the Cafe Renard restaurant in Paris

Located within the Tuileries Gardens in the 1st Arrondissement of Paris, this is one of the restaurants in Paris that is open daily, all year round from 9.30am in the morning for breakfast, through to lunch and dinner, when it closes at 11pm.

There are no reservations necessary, however, even though they have a large terrace area with plenty of tables, at certain times of the year you may still have to wait to be seated, as the Cafe Renard is very popular, not only with tourists, but it has become a Parisian institution as well as a popular meeting place.