HD photographs of Le Bel Costume statue in Jardin des Tuileries - Page 638

We were in the Jardin des Tuileries in the 1st Arrondissement of Paris, when we took these high definition photos showing a sculpture called Le Bel Costume, which was sculpted by Jean Dubuffet.


Paris Statues
- << Previous 631 632 633 634 635 636 637 638 639 640 Next >>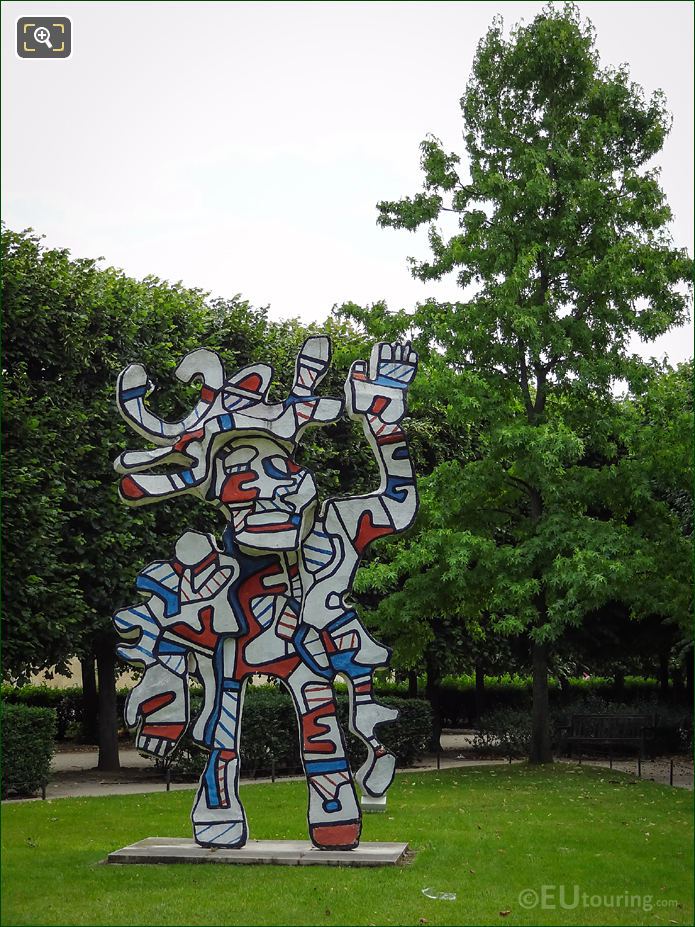 This first HD photo shows the front of the modern art sculpture called Le Bel Costume, which in English translates to The Beautiful Costume and it was part of a series of sculptures called l'Hourloupe that were designed by Jean Dubuffet between 1962 and 1974.
However, this next image shows the back of this contemporary composition, which stands an impressive 4 metres in height and was made of epoxy resin, then covered with polyurethane paint using the primary colours of blue and red along with what are classed as non colours of white and black.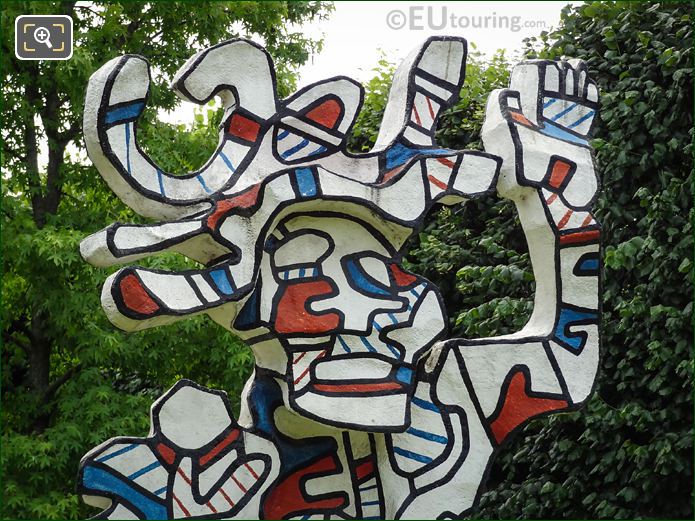 So here you can see the top part of Le Bel Costume sculpture, that was designed to be a figure with the left hand raised, but whether above the face is meant to be scruffy hair or an unusual hat, we are not sure, although the name suggests it is part of the costume what the figure is wearing.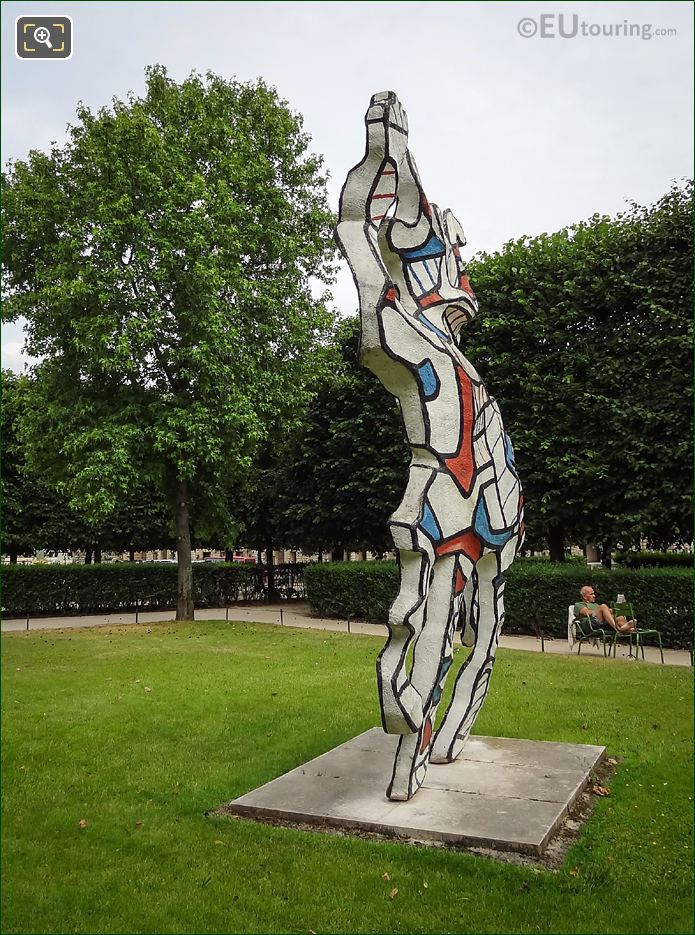 But this next photograph shows a side of The Beautiful Costume, and as you can see it looks rather thin to the side, compared to when you look at it face on, and although the original was produced as a model in 1973, this was sculpted a few years later.
In fact Hourloupe was a visual language used by Jean Dubuffet in different art forms utilising the four basic colours you can see on this art work, which Jean Dubuffet expressed within paintings as well as sculptures, yet this particular piece was executed after the artist had passed away, as an exact copy of the model sculpted in 1973.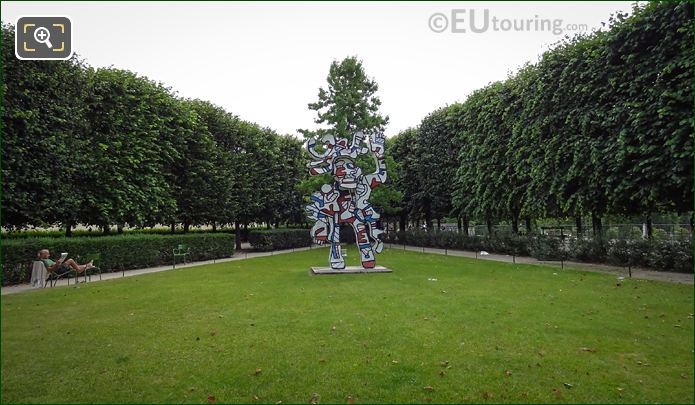 Now according to the French government and the department of culture, this work was acquired through the generosity of the Dubuffet Foundation and became a deposit of the National Contemporary Art Fund in 1998, subsequently being installed within the Tuileries Gardens close to the Jeu de Paume.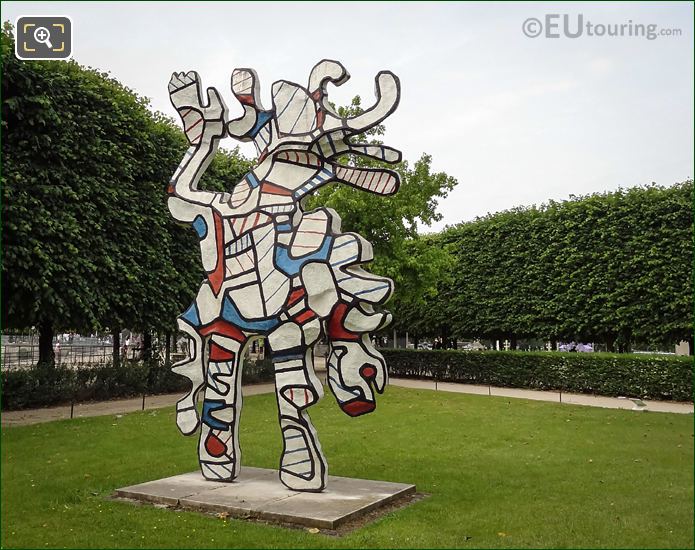 We have already mentioned the name of this artist several times, but to give you a little more background information, Jean Dubuffet was born in Le Havre in the July of 1901, yet went to Paris to study painting, but finding the academic studies tedious, he went down his own independent route.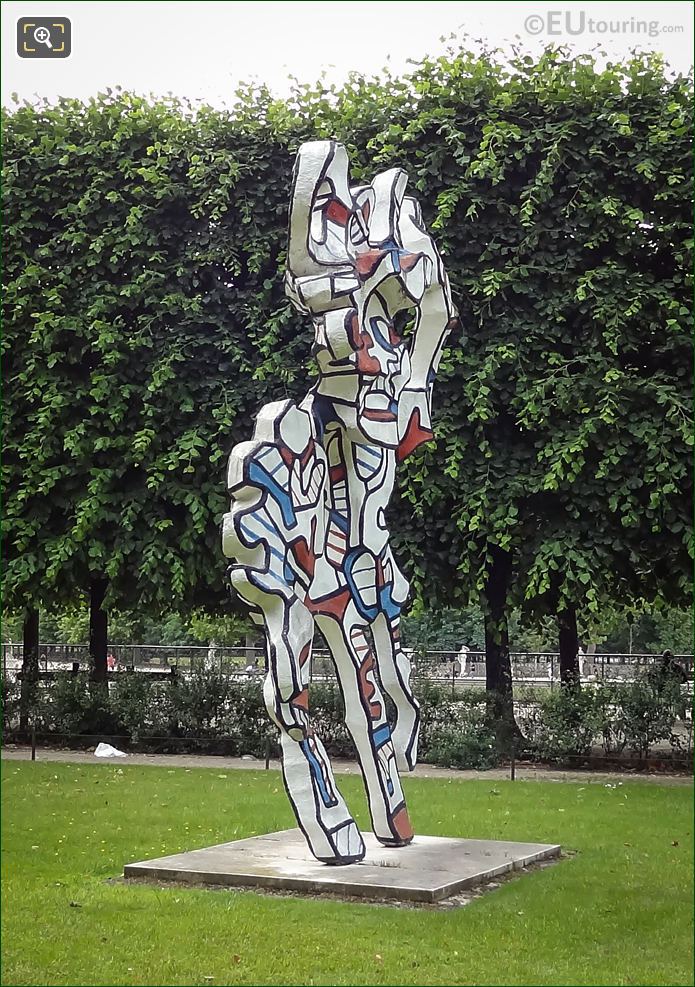 Yet having travelled to places such as Italy and Brazil, he returned to France and set up a small wine business in Paris, following in his family footsteps, then a few years later Jean Dubuffet started painting again, but then stopped and continued his wine business during World War II at the Bercy area of Paris.
Although, Jean Debuffet still had the calling for art, and started painting again even during the German occupation, but after the Second World War started to gain significant recognition, especially within the American art world, and he started to present works at numerous art exhibitions, yet it was later in his career, he went into sculpture as well.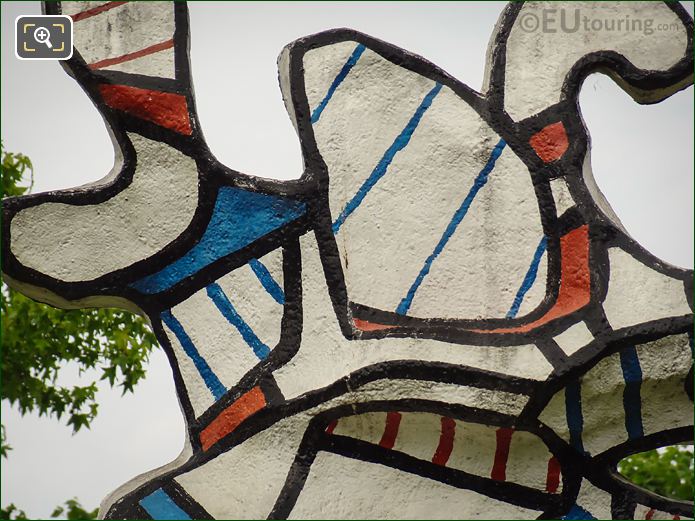 And so, it was from the 1960s that Jean Debuffet started to produce works limited to the colours of blue, red, white and black, plus towards the latter part of this decade he started producing more sculptures, and this photo showing a close up of Le Bel Costume is derived from this latter phase in his career, first produced as a model in 1973.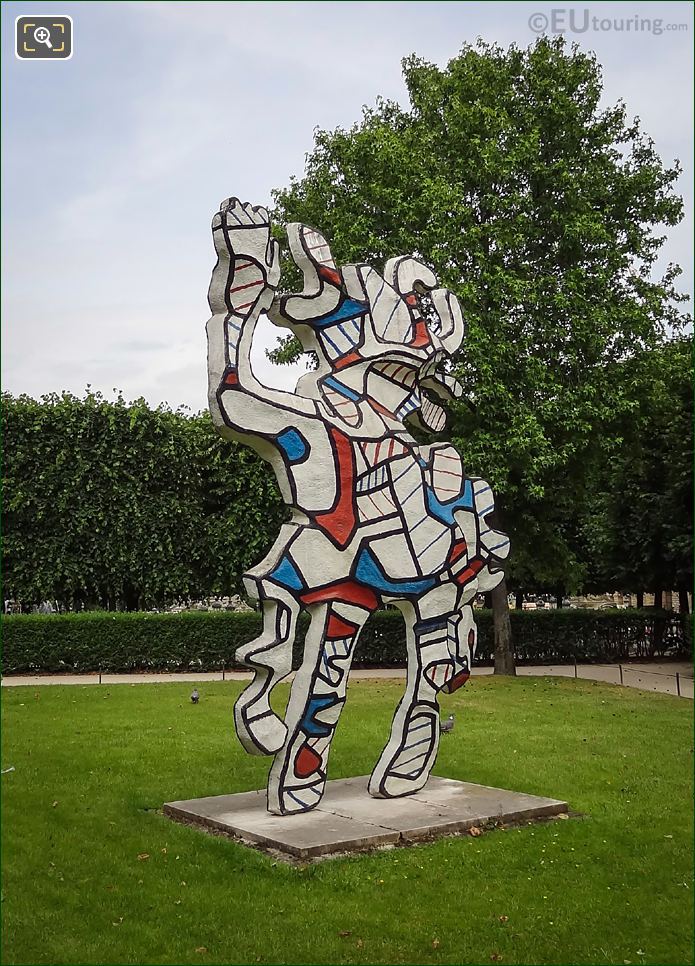 But Jean Debuffet continued working into the 1980s and one of his commissions produced in 1984 called the Monument with Standing Beast is located within Chicago in the USA, less than a year before he passed away in Paris on 12th May 1985 at the age of 83.
Now considering that Jean Debuffet had once exhibited at the Jeu de Paume, it is rather fitting that this contemporary sculpture of The Bel Costume is locate right by this building in a triangular square of its own, and on the northern terrace of the Tuileries Gardens in the 1st Arrondissement of Paris.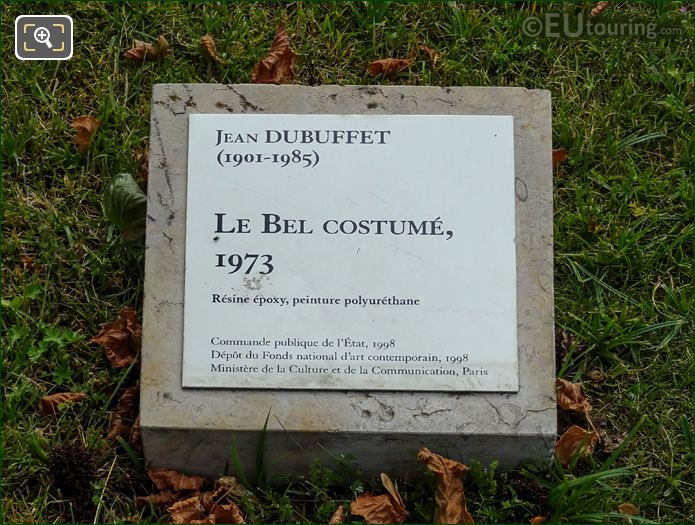 And in this last image you can see the plaque providing the details of this contemporary sculpture produced in epoxy resin and painted with polyurethane paint, which is actually located on the ground by the pathway at the bottom end if you were looking at the triangular grass area in which this sits.

Paris Statues - << Previous 631 632 633 634 635 636 637 638 639 640 Next >>


If you would like to use any of these photos for non commercial use we only ask that you please do include recognition to ourselves "eutouring.com", but if you are not sure with regards to usage, please contact us.