HD photographs of south west Lion statue in Tuileries Gardens Paris - Page 956

We were in the 1st Arrondissement of Paris at the Jardin des Tuileries, when we took these high definition photos of a Lion statue, which was sculpted by Giuseppe Franchi.


Paris Statues
- << Previous 951 952 953 954 955 956 957 958 959 960 Next >>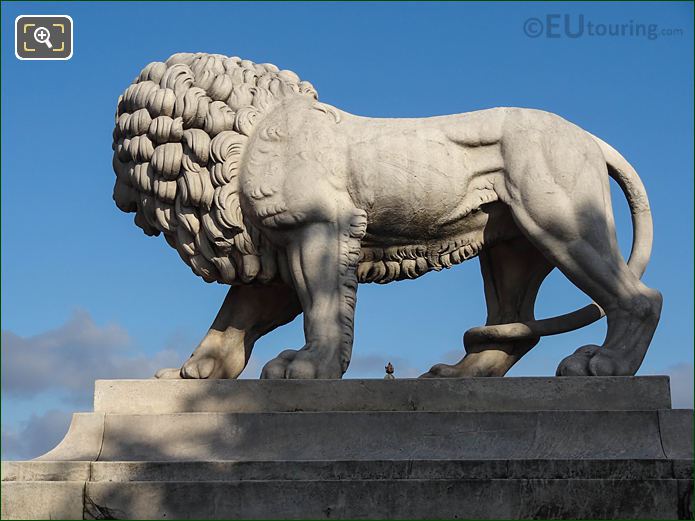 This first HD photo shows a Lion statue, which was produced in marble in 1806, and is one of a pair of lions that were executed by the Italian sculptor Giueseppe Franchi, and put in place on the perimeter wall of the Tuileries Gardens back in 1819.
In Greek mythology, lions were used to draw chariots for Gods and Goddesses being revered as protectors and guardians through their courage and strength, yet they have also been an animal symbol used for centuries as guardians to palaces, shrines, thrones and entrances to major places.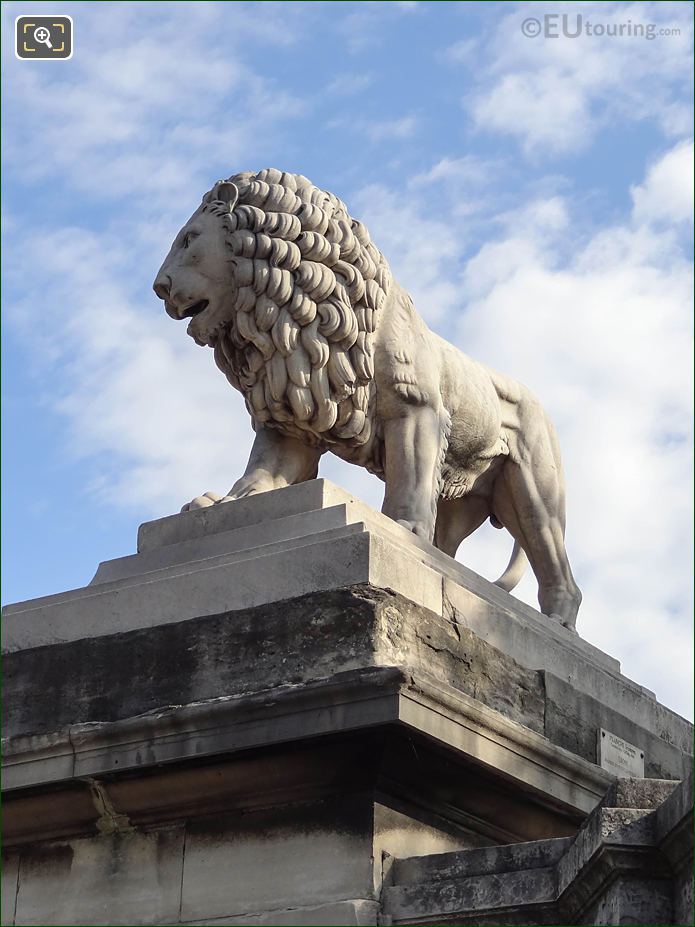 Lions, especially males lions have been an important symbol for thousands of years in many different cultures from Asia through to Europe, etc, however, when it comes to heraldry, the lion is not just a symbol for strength and courage, but also for royalty, leadership and honour.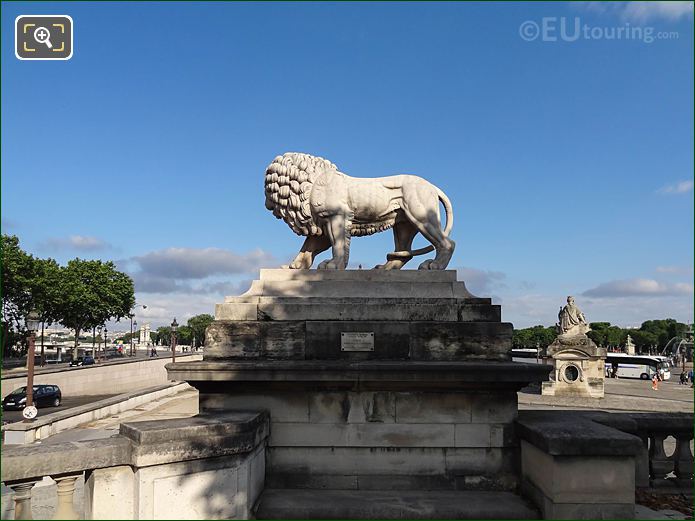 Therefore, when you look back at the history of the Tuileries Gardens, you will discover that this was originally laid out for a new royal palace named the Palais des Tuileries, which was occupied by many different French kings and queens along with Emperor Napoleon, so having lion statues on the perimeter walls was very logical.
We mentioned earlier that this Lion statue was produced by Giuseppe Franchi, who was born in the city of Carrara within the Tuscany region of Italy back in 1731, yet studied Neoclassical art in Rome, but being that this was sculpted in marble, it is assumed that he would have used the well recognised Carrara marble from this same city, which was the preferred choice of sculptors due to its quality and is still mined there today.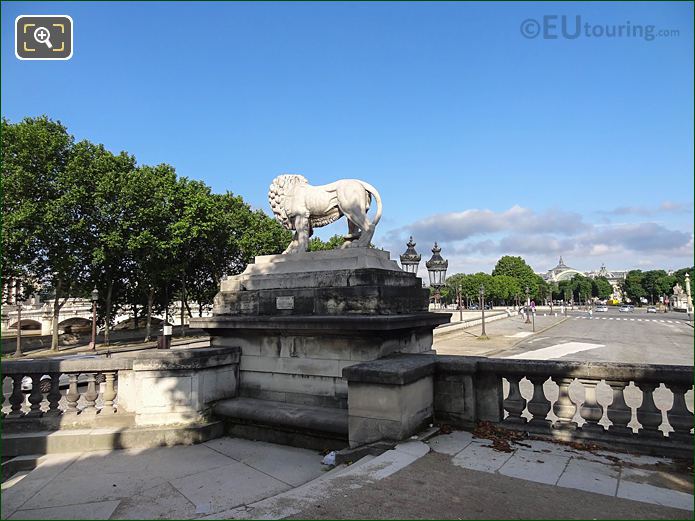 Giuseppe Franchi then went to Milan and started teaching at the Brera Academy when it was set up by Maria Theresa of Austria in 1776, but he still produced his own sculptures including working alongside the architect Giuseppte Piermarini on the Royal Palace in Milan, so most of his works can be seen within Italy, and these two Lion statues are the only ones we know of in France.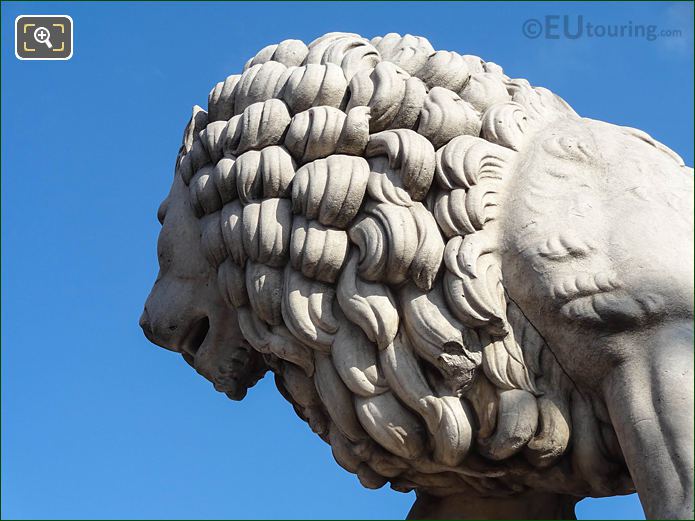 Now this photo shows a close up of the Lion head and his mane, which is classed as an d'Apres l'Antique statue, and in English this translates to After the Antique, meaning that Giuseppe Franchi sculpted this statue as a copy of a far more ancient statue, just like many other Italian and French sculptors did while they were studying in Rome.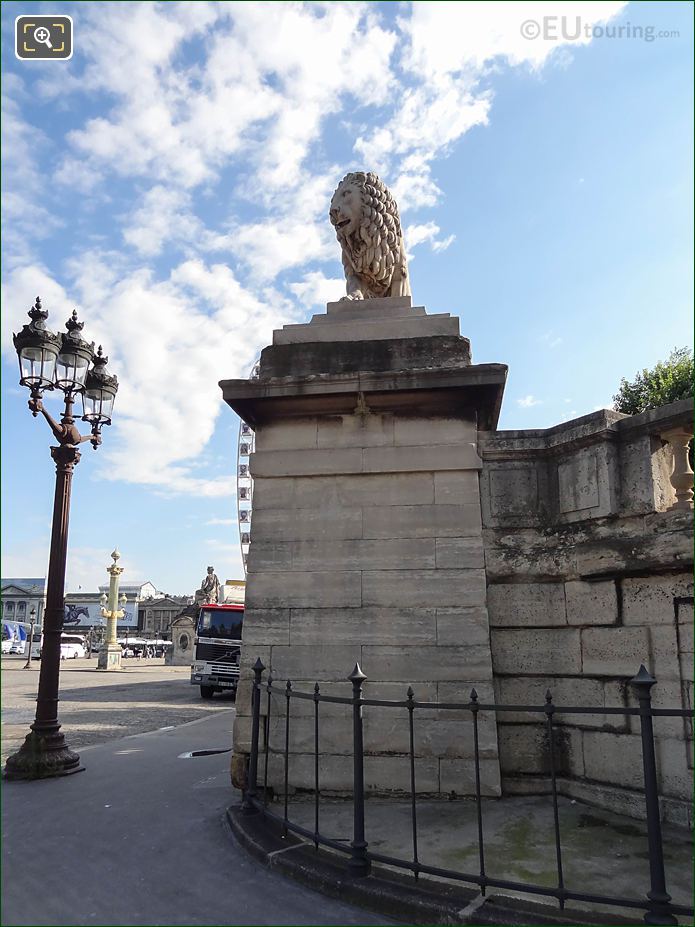 Yet here you can see a view of the Lion statue while we were standing at the edge of the Tuileries Gardens, and as you can see, the lion is facing towards the Place de la Concorde, and Giuseppte Franchi worked right up until he passed away in Milan in 1806, which was when this and the other lion statue were sculpted.
However, this close up photograph shows the tourist information plaque located below the base of the statue on top of the Jardin des Tuileries wall by the south western side of the garden next to the steps that lead down to the Place de la Concorde from the terrace on the River Seine side where you can find the Musee de l'Orangerie.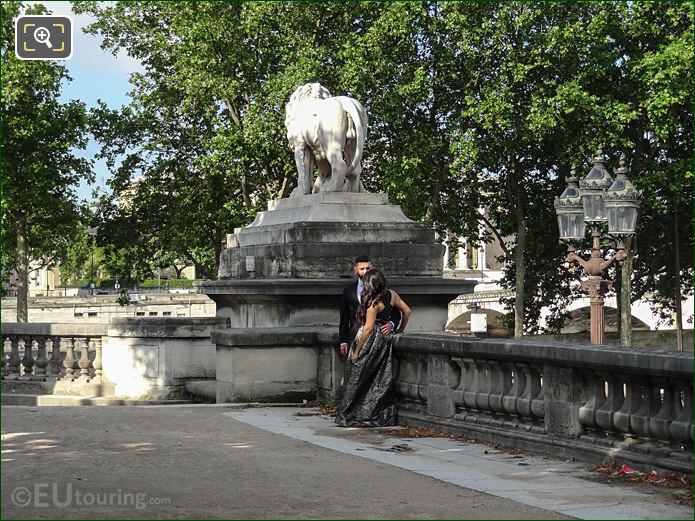 And in this last photograph we were standing on the terrace of the Tuileries Gardens called the Terrasse de l'Orangerie, when we took this picture of the Lion statue, just as a newly wed couple were having some wedding photos taken in this romantic and historical part of Paris by the River Seine and the Musee du Louvre, which also maintains the statues and sculptures within this free public park.

Paris Statues - << Previous 951 952 953 954 955 956 957 958 959 960 Next >>


If you would like to use any of these photos for non commercial use we only ask that you please do include recognition to ourselves "eutouring.com", but if you are not sure with regards to usage, please contact us.