HD photographs of Rhinoceros Attaque par un Tigre statue in Jardin des Tuileries - Page 669

We were again in the Jardin des Tuileries in the 1st Arrondissement of Paris, when we took these high definition photos of an animal statue called Rhinoceros Attaque par un Tigre, which was sculpted by Auguste Nicolas Cain.


Paris Statues
- << Previous 661 662 663 664 665 666 667 668 669 670 Next >>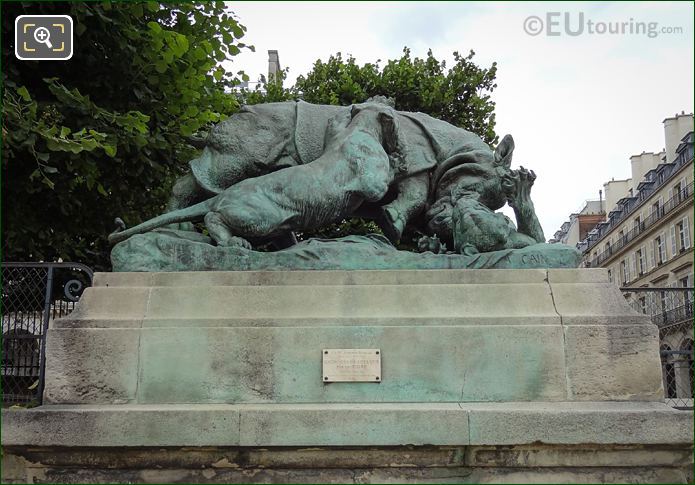 This first HD photo shows the statue called Rhinoceros Attaque par un Tigre, which in English translates to Rhinoceros Attacked by a Tiger, although there is actually more than one tiger, as you can see here with one being pinned on its back.
Now this next photograph shows a close up of the statue made of bronze and the realistic features of the composition that the artist Auguste Cain managed to reproduce with the face of the tiger attacking the rhinoceros, right through to the claws, the muscles, etc.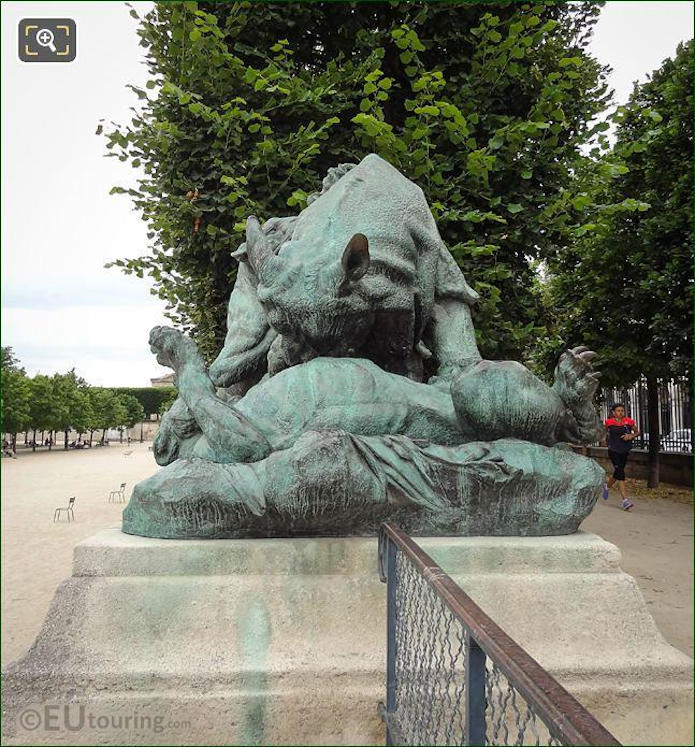 But here you can see a tiger lying on its back, paws in the air with the head of the rhinoceros bent down towards it, with one of its hoofs pressing down to trap it, and although in this day, it seems an almost barbaric style for a wild animal statue, yet back in the 1800s people were fascinated with wild animals and nature from other countries.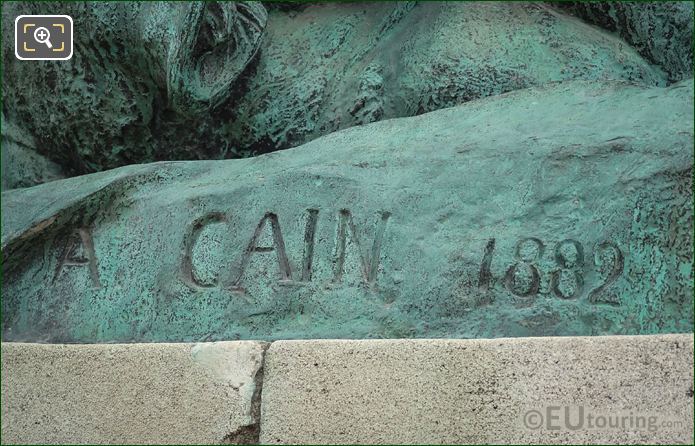 Yet this photo shows a close up where the sculptor has engraved his name A Cain into the bronze, along with the year of 1882, which was when this statue of Rhinoceros Attacked by a Tiger was completed, but it was not placed within the Tuileries Gardens until 1884.
So, Auguste Nicolas Cain was born in Paris in the November of either 1821 or 1822 depending upon what sources you read, and initially he studied sculpture under Alexandre Guionnet, then became a student of Francois Rude, originally starting out with small scale items including paperweights, etc.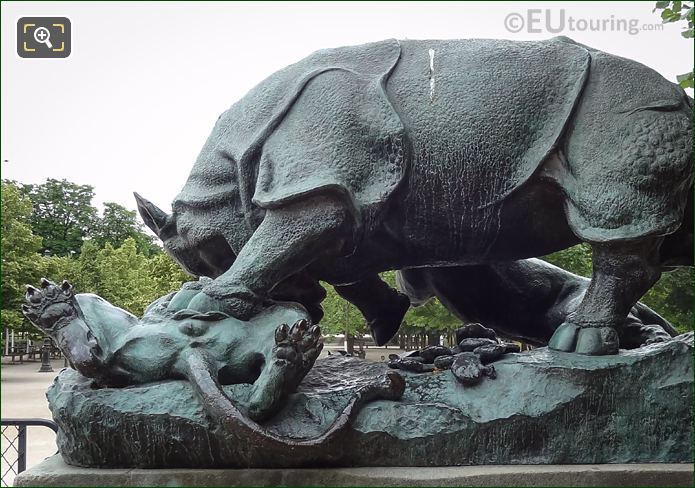 Auguste Cain also had a passion for animals and studied different creatures at another popular tourist attraction in Paris called the Jardin des Plantes, and started exhibiting at the Paris Salons for French artists, yet he also wanted to be recognised as an animalier sculptor of large monumental statues, and he received numerous different commissions for works such as lions and tigers.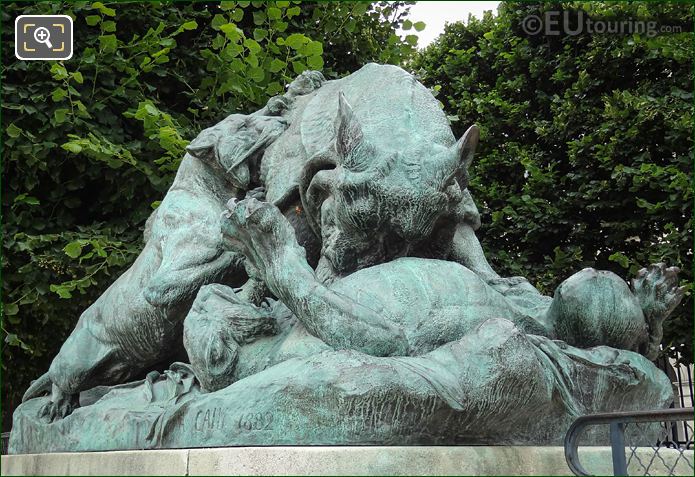 In fact, within the Tuileries Gardens you can discover a few different statues by Auguste Nicolas Cain including two lionesses flanking an entrance to The Louvre, with the other two on the opposite side being sculpted by another famous French sculptor called Antoine Louis Barye, plus there is the Tiger slaying a crocodile and lions fighting over a boar, to name some of these.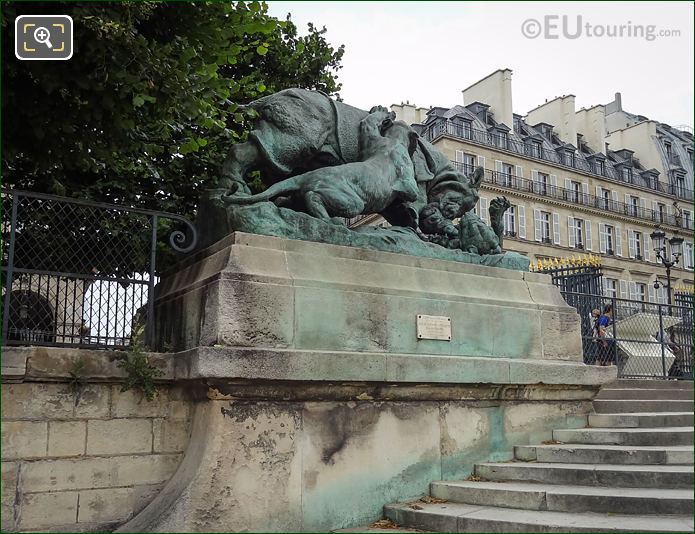 Yet with the true to life attributes and the realistic nature that Auguste Cain produced his sculptures, these can now be found in places throughout the world including New York, Copenhagen, Oran, and an equestrian statue in Geneva for example, not forgetting his monumental works in several different cities in France.
However, even though this particular monumental statue of the Rhinoceros Attaque par un Tigre, also often referred to as a Rhinoceros Beign Attacked by Two tigers, was sculpted in 1882, Auguste Cain continued his work right up until he passed away in 1894.

And although he had taken over his father-in-laws foundry, this was closed when he died and the Barbedienne foundry took on the works and models to produce additional casts of many of the sculptures and statues that had been produced by Auguste Nicolas Cain.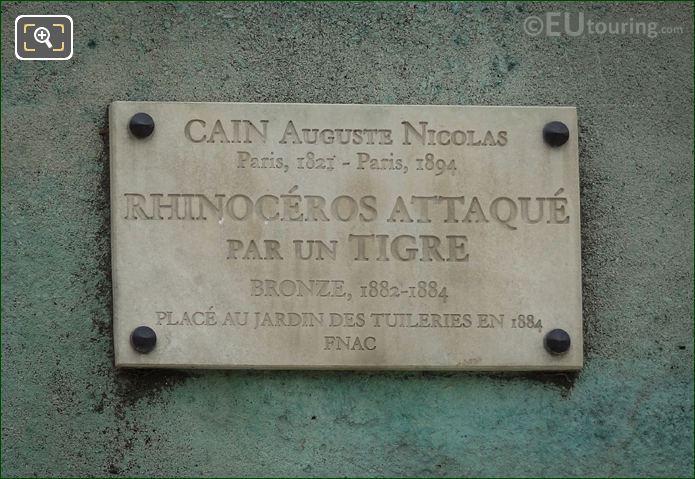 But this close up photo shows the plaque located on the base of the statue that can be seen from within the northern side of the Tuileries Gardens by the steps that lead up to the Terrasse des Feuillants and the Rue de Rivoli.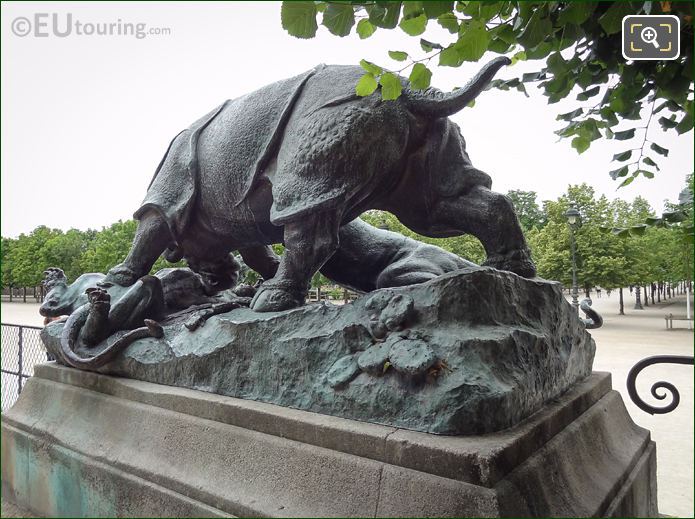 Yet this last image shows the back of the rhinoceros on the Rhinoceros Attaque par un Tigre statue by Auguste Cain as we were standing on the Terrasse des Feuillants, which was a part of the Jardin des Tuileries designed by Andre Le Notre to provide a perspective looking down into the gardens.

Paris Statues - << Previous 661 662 663 664 665 666 667 668 669 670 Next >>


If you would like to use any of these photos for non commercial use we only ask that you please do include recognition to ourselves "eutouring.com", but if you are not sure with regards to usage, please contact us.