HD photographs of RHS lioness statue at Porte Jaujard on Aile de Flore - Page 754

Again while in the 1st Arrondissement of Paris at the Musee du Louvre admiring the Aile de Flore, we took these high definition photos showing a bronze lioness statue by Auguste Cain.

<< Previous 751 752 753 754 755 756 757 758 759 760 Next >>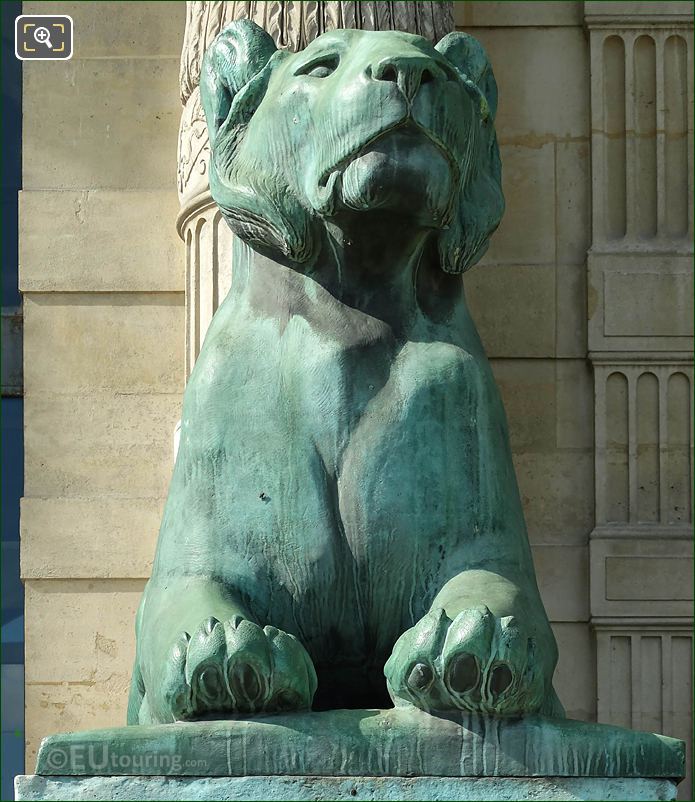 This first HD photo shows the right hand side statue of a lioness, which is one of a pair of statues located outside an entrance to the Aile de Flore wing of the famous Louvre Museum in Paris.
So here you can see a close up photo showing the head of the lioness, which was based upon a Sahara Lioness and this was produced in 1867 as you will see further down, then cast in bronze, although there are some places that state this was produced a couple of years later!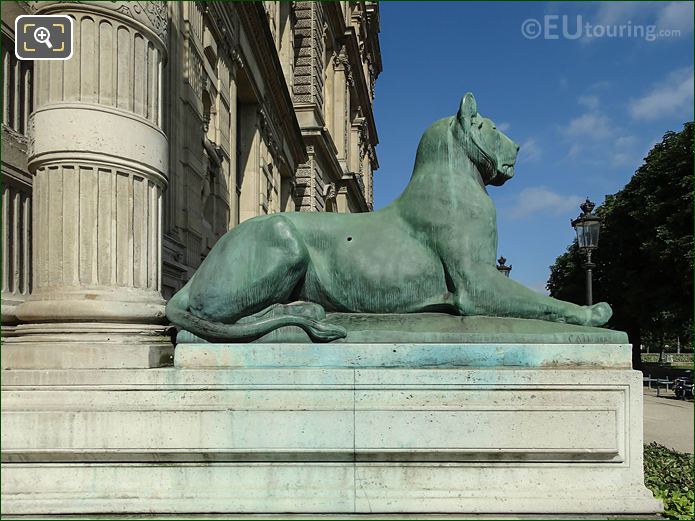 There are a few French sculptors who have become recognised throughout the world as expert anamaliers, which means that they sculpt animals, and with the contours you can see here showing a side view of the lioness, it is like looking at the real living creature.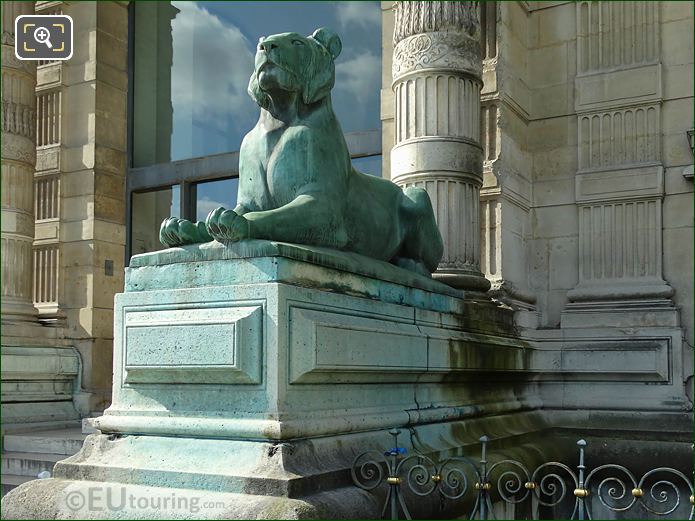 You will find that this and another three lioness that flank stairs leading to entrances on The Louvre were sculpted by Auguste Nicolas Cain who was born in Paris in the November of 1821, and although he started working as an apprentice to his father, who was a butcher, he changed career paths to become a French sculptor.
Initially Auguste Nicolas Cain studied under Alexandre Guionnet to become an ornamental sculptor, and with his love of animals, he started producing small works such as paperweights and tops for walking sticks, progressing to start showing works at Paris Salons that were cast in bronze by the Mene foundry.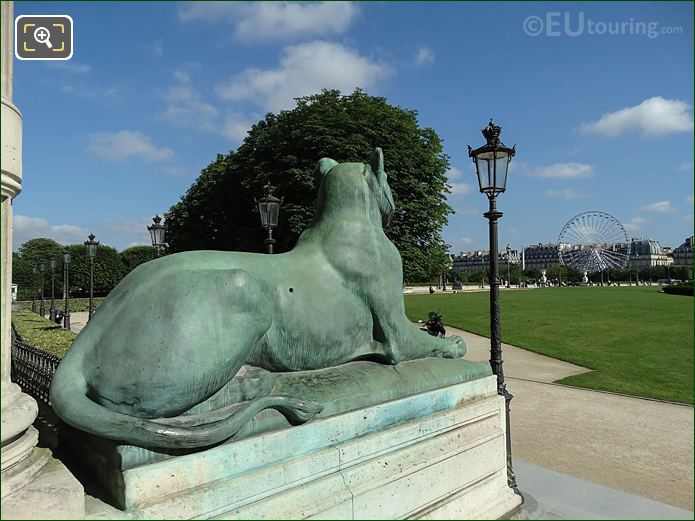 From this relationship and marrying the daughter of the Mene, he progressed into monumental statues just like this one that you can see the back of the bronze lioness statue, as though it is looking out surveying the land of the historical Jardin des Tuileries and the temporary Ferris wheel on the side of the gardens by the Rue de Rivoli, which is put in place for a short period for all to enjoy.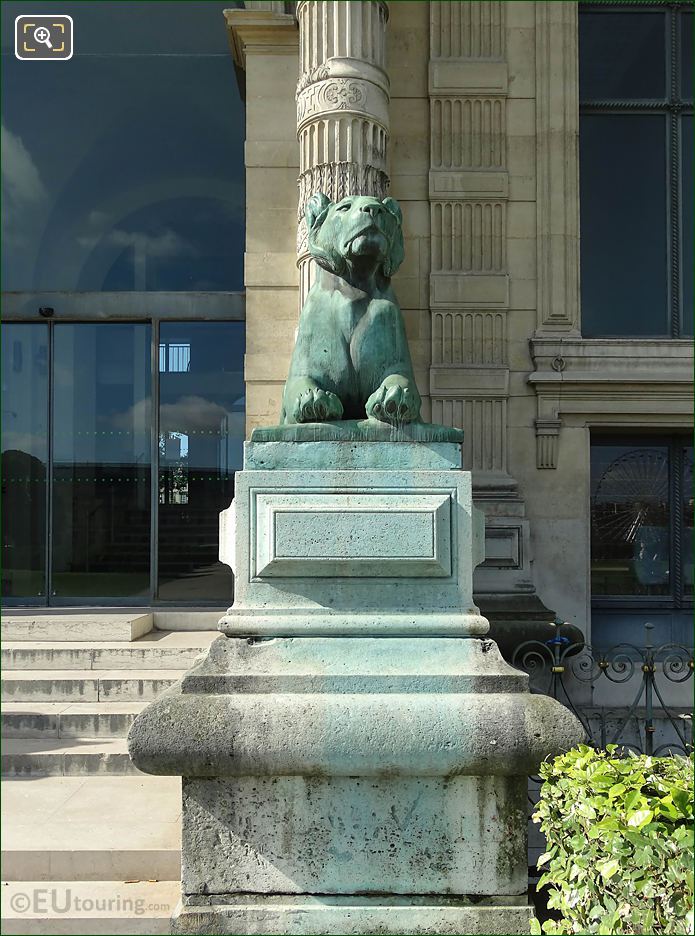 And in a laying down position, this bronze lioness statue by Auguste Cain was one of many public commissions he received from the French State, which has been positioned to the right hand side of the entrance called the Porte Jaujard, which is the right hand side entrance on the Aile de Flore wing of the Musee du Louvre.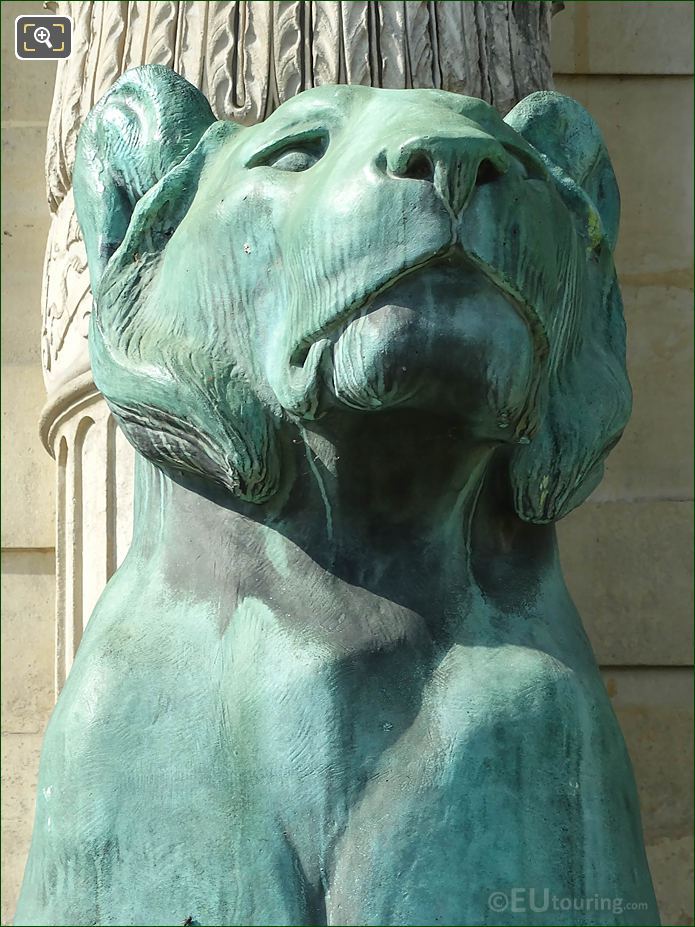 Auguste Nicolas Cain was fascinated with wild animals in particular and often used to study them at another popular tourist attraction called the Jardin des Plantes, so there are also additional bronze statues that you can discover by him located within the Tuileries Gardens, such as Tiger Slaying a Crocodile, Lion and Lioness Fighting Over a Wild Boar, Tigress Bringing a Peacock to Her Young, etc.
He had a prolific career right through the Second Empire and beyond, being awarded the Legion of Honour and working right up until he passed away in 1894, and Auguste Cain became recognised throughout the world as the same class of animalier as that of Antoine Louis Barye.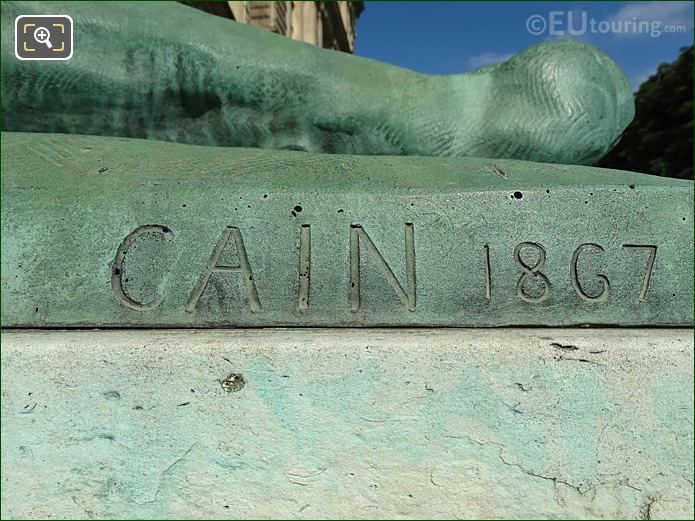 But here you can see a close up photo showing the inscription on the base of the bronze statue, which is located by the right hand side paw of the lioness, and as you can see this was produced in 1867 by Auguste Cain.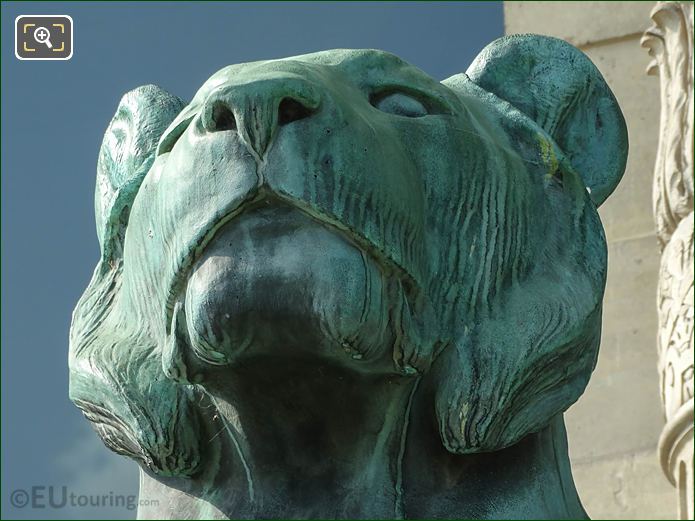 However, there are also many copies of his works, especially some of the smaller bronzes, and unfortunately plenty of fakes can also be found, yet the name Auguste Cain lives on for his impeccable detailing and precision, as you can see in this close up photo showing another angle of the lionesses face.
Although in this photograph you can see the pair of bronze lionesses flanking the Porte Jaujard, which is the entrance to the Louvre School for further education on art history, museology, anthropology, etc and located to the right hand side of the Aile de Flore, these statues face out onto the Cour du Carrousel of the Musee du Louvre and the Jardin du Carrousel within the Tuileries Gardens.

<< Previous 751 752 753 754 755 756 757 758 759 760 Next >>


If you would like to use any of these photos for non commercial use we only ask that you please do include recognition to ourselves "eutouring.com", but if you are not sure with regards to usage, please contact us.