HD photographs of Monument a la Amiral de Grasse with statue in Jardins du Trocadero - Page 756

We were in the 16th Arrondissement of Paris at the Jardins du Trocadero, when we took these high definition photos showing a memorial statue called Monument à la Amiral de Grasse, which was sculpted by Paul Landowski.


Paris Statues
- << Previous 751 752 753 754 755 756 757 758 759 760 Next >>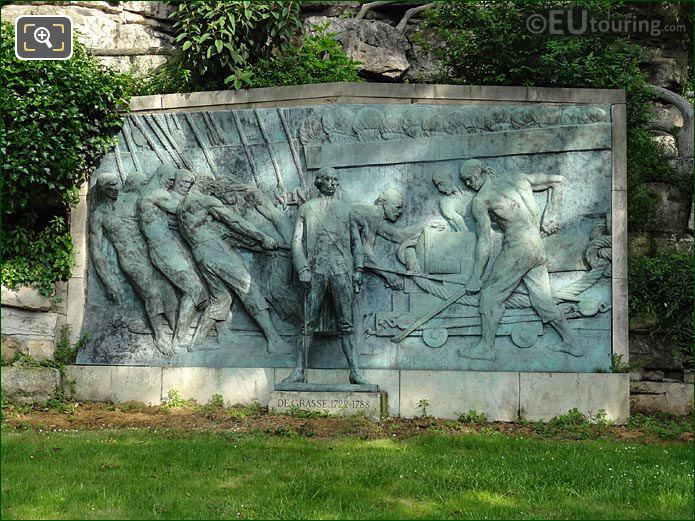 This first HD photo shows the large memorial monument, which has a statue of Admiral de Grasse in the centre in front of the bas relief sculpture located behind it and called the Monument a Amiral de Grasse, these were all created in bronze by the artist Paul Landowski.
It was actually back in 1928 that an American business man by the name of Abraham Kingsley Macomber, who had previously moved to France running a thoroughbred racehorse enterprise, first stated he wanted a monument dedicated to Admiral Francois Joseph Paul de Grasse, and in 1929 after artists had submitted different proposals, it was the sculptor Paul Landowski who was chosen for the project.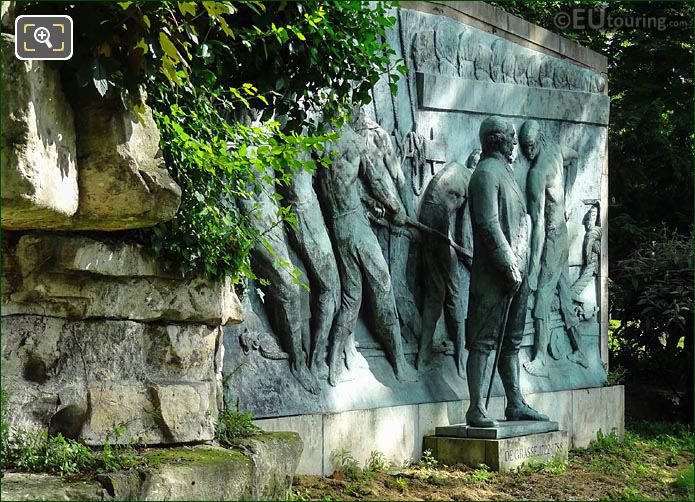 Initially it was only the bas relief sculpture that was inaugurated in 1931 as the statue of Admiral de Grasse was finished later, hence why they are separate as you can see in this photo, even though they were designed to be put together, and these were placed within the Palais de Chaillot for the 1937 Universal Exhibition in Paris.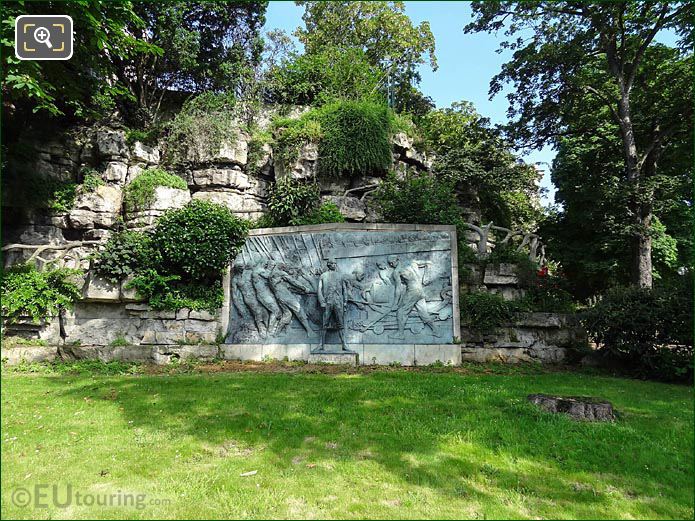 But kept in storage during World War II, which no doubt saved the bronze from being melted down while Paris was under occupation, after the war, it was eventually decided that these would be placed within the south western part of the Trocadero Gardens in front of an old stone wall with walkways.
You will find that Francois Joseph Paul de Grasse, was born in either 1722 or 1723 depending upon what sources you read, becoming an admiral with the French Navy, and he is recognised as being instrumental for the United States of America gaining independence, after setting sail with 3,000 French sailors going to the aid of George Washington, the first President of America.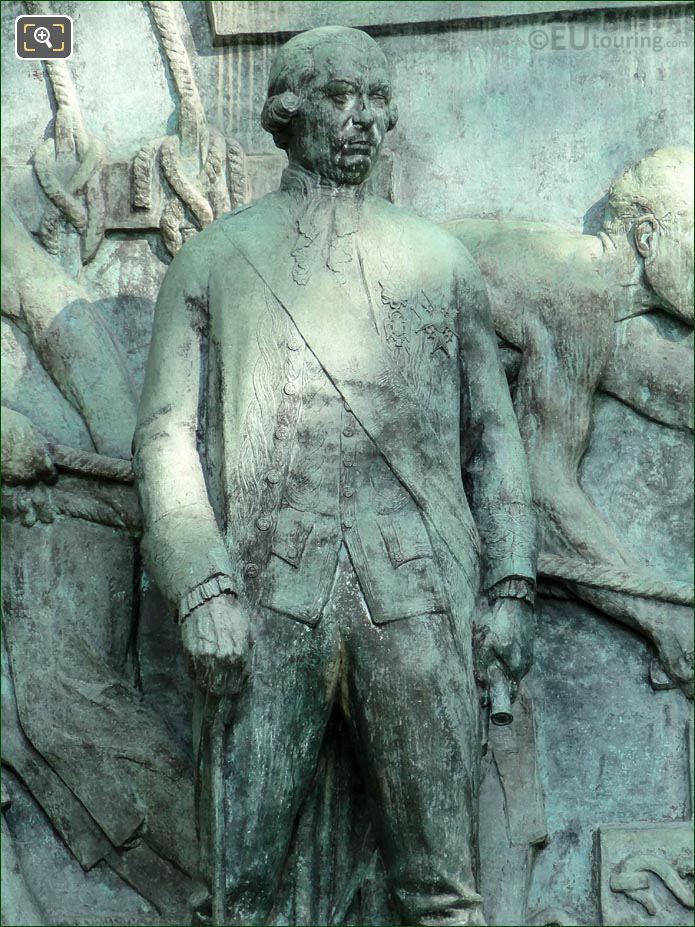 So here you can see a close up photo showing the statue of de Grasse, who, although mainly recognised for the Battle of Chesapeake, having been defeated in a subsequent battle and taken prisoner, he helped lay down the foundations for war to come to an end in what is known as the 1783 Peace of Paris treaties.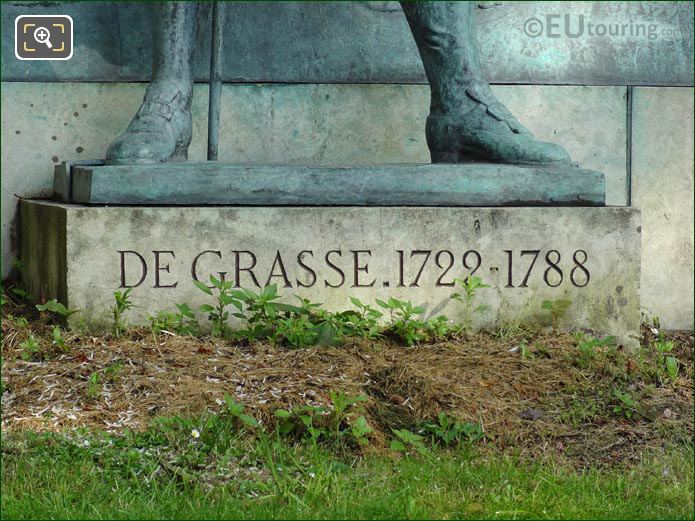 But this close up photo shows the plaque located at the base of the statue of the Monument a Amiral de Grasse, which states his year of birth as 1722 and passing away on the outskirts of the city in 1788, he was buried at another tourist attraction in Paris called the Eglise Saint Roch, which is also where famous people such as Andre Le Notre are also buried.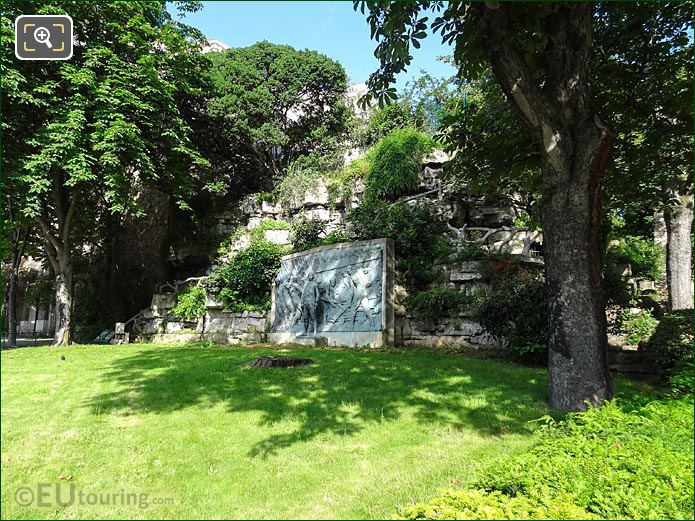 Although here you can see a view showing the south western part of the Jardins du Trocadero as we were looking towards the memorial monument, which provides an idea as to the scale of this bronze with the bas relief depicting sailors hauling a cannon into place on board a ship getting ready for battle at sea.
So as we mentioned earlier, this bronze Monument to Admiral de Grasse was produced by Paul Landowski who was born in Paris in 1875, and studying to become a French sculptor, he won the Prix de Rome in 1900, which meant he spent time in Italy at the Villa Medici furthering his studies and career.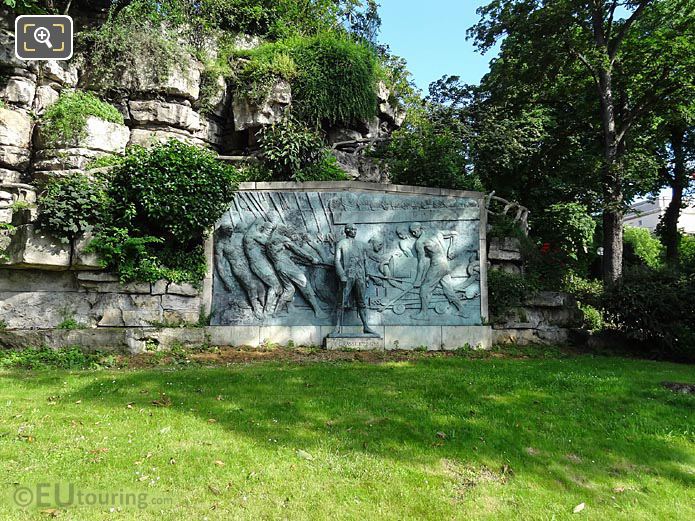 Paul Landowski became such a well recognised sculptor that he received numerous public commissions, with several that can be found in Paris including the Sons of Cain at the Tuileries Gardens, this monument at the Trocadero Gardens and a statue of Saint Genevieve on the Pont de la Tournelle.

However, he also received commissions for many different monuments that can be seen throughout the world such as in Geneva, Madrid, Taipei and Algiers, yet the most recognised and famous monument Paul Landowski produced, was that of the enormous Christ the Redeemer, which is located in Rio de Janeiro.

Paris Statues - << Previous 751 752 753 754 755 756 757 758 759 760 Next >>


If you would like to use any of these photos for non commercial use we only ask that you please do include recognition to ourselves "eutouring.com", but if you are not sure with regards to usage, please contact us.