This venue is now closed and changed to Les 400 Coups.

The following article is left as-is for historical and archiving purposes.
Le 51 Restaurant in Paris

Le 51 was also known as the Restaurant Cinematheque, was more of a cafe and snack style restaurant in Paris that was named after its location at 51 Rue de Bercy and this was the original restaurant situated within the Cinematheque Francaise that also houses the Musee de la Cinematheque Museum of Cinema, however, this has since closed and a new restaurant called Les 400 Coups has opened in its place.


About Le 51 Restaurant

Having recently been renovated, the architectural design concept of Le 51 Restaurant was to create the familiar object of a picnic table, yet on a grand scale where the indoors has long curved picnic tables that but up to the glass front and then continue onto the terrace. The concept was to make it look as though there was no divide between the outside and the inside, plus provide an opportunity for people to mingle and converse with each other.

When visiting the restaurant you will find the inside walls are black and the ceiling is red, however, there is also a more traditional styled dining area that looks chic and modern with subtler tones and a more cozy atmosphere.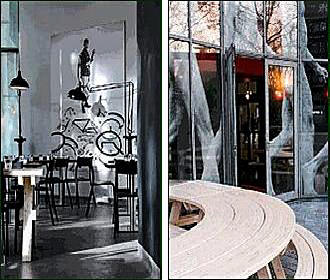 ---
And it is here that the decor changes according to the news and exhibitions being held at the Cinemathique Francaise in addition to the theme nights that are organised to run alongside the programming of the cinema as well as the Musee de la Cinemathique.

Also, you will find that the terrace of Le 51 is heated in winter, yet expands further in summer when it is a popular place for a quick snack or lunch and it is capable of seating approximately 100 people, but the inside can only accommodate around 80 people at a time between both the areas.


The Menu at le 51 Restaurant

There are simple straight forward options for quick snacks and picnic style lunches such as sandwiches, salads and quiches along with more filling hot dishes such as a burger and French fries.

Yet there are also French classics and other traditional dishes on the menu that change according to the seasons, but could be delights such as Tuna tartare with mango and coriander or Andelusian gazpacho.

However, rather than eat in, you could always opt for a takeaway, or visit the epicerie, like a small deli with famous items for sale such as conserverie la Belle-Iloise, which are preserved fish from the Brittany region in France. But Le 51 restaurant in Paris also caters for main meals and can organise private events and prestige dinners upon prior request and reservation.
Access to le 51 Restaurant

As we mentioned earlier this picnic style restaurant cafe in Paris has since closed and changed to a new restaurant called Les 400 Coups that is situated within the Cinematheque Francaise in the 12th Arrondissement bordering on the contemporary Parc de Bercy close to the shopping area of Bercy Village, yet is also linked to the Biblioteque Nationale de France library via one of the newest bridges in Paris, which is the footbridge called the Passerelle Simone de Beauvoir.

It is also very close to the River Seine, where you will also find cruise boats along with music venues such as the Batofar, plus within this park in Paris there are many other things to discover such as the gardens and the Maison du Jardinage, the Pavillons de Bercy, which are the restored wine warehouses that now hold the Musee des Arts Forains, the POPB stadium and much more.

So just for reference, Le 51 was open throughout the year on a Monday from 10am through to 5pm and then from Wednesday through to Sunday it is open from 10am to 11pm, however, it is always closed on a Tuesday and on any major National French holidays such as 25th December.

But privatisation for functions and corporate events can be organised for a Tuesday and you would need to contact the team by telephone to find out more.

Getting to the new restaurant and the French Cinema with its museum is also very easy via the public transport in Paris as there is the Metro stop called Bercy on lines 14 and 6, along with the Cours Saint-Emilion stop, plus the buses numbered 24, 64 and 87 will get you to Le 51 as well.