La Reserve Paris Apartments - Paris 5 star apartment hotel

La Reserve Apartments in Paris offer luxury living accommodation for short or long term stays that are suitable for families, business people, friends, people with bodyguards or an entourage, plus being disabled and pet friendly, you also get a personal housekeeper and butler, room service, 24 hour concierge and much more for a discreet and relaxing stay.
About La Reserve Paris Apartments

Part of the Michel Reybier Hospitality Group owned and run by the entrepreneur and businessman Michel Reybier, you will find that La Reserve provide accommodation in the form of hotels and apartments in some of the top world destinations including Paris.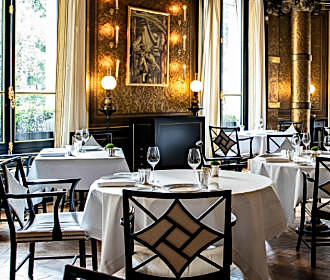 ---
In fact, in the fabulous City of Lights there is the La Reserve Hotel and Spa, which is one of the very few hotels classified as a Palace hotel in Paris, which is situated in a prime position overlooking the Champs Elysees Gardens. Then you have La Reserve Apartments, with only ten available, that are also in a very prestigious location on the Place du Trocadero, with views to the most famous landmark of the Eiffel Tower.

Discreetness, privacy, space, luxury and service are all key words that purvey exactly what you can expect from a stay at La Reserve Paris Apartments, which are frequented by business people through to celebrities, etc who want freedom to do their own thing, but with the security and know-how of highly trained staff, whether it be the housekeeper, butler, the Clefs d'Or concierge, or Golden Key concierge as they are also referred to as, and others that will make your stay unforgettable and run smoothly.
When you first look at the Haussmann style building, you would not even realise that there are luxury rental apartments housed within it, and that is the idea from the very start. No gaudy signs, just a plain entrance door that is opened for you and leads to a smart, luxurious and relatively small lobby where you are further greeted by friendly welcoming staff that will take care of you during your stay, unless of course you have already opted for an airport collection by a La Reserve car and driver.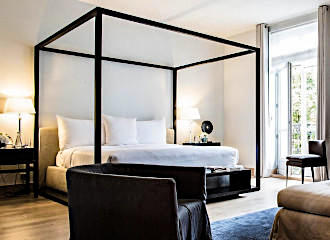 ---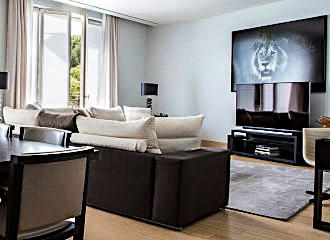 ---
Classed as an ApartHotel in Paris it has 5 star status with services and facilities that in our opinion go far beyond this, and with a variety of apartments to choose from, there will be something for everyone, budget allowing of course, which is why this location is often referred to as a pied-a-terre or a home from home apartment just like your own second home.


Services and Facilities at La Reserve Paris Apartments

When it comes to facilities you will never be disappointed with a stay at any of the apartments La Reserve Paris and service is not only second to none, it can be catered towards your specific needs and requirements, even dietary, allergies and so on.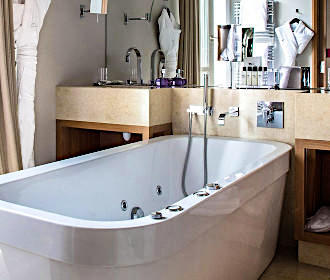 ---
Because these are true apartments with secure access and 24 hour security guard, along with an indoor car park with valet parking, some apartments even have completely independent access, and they all have a fully equipped designer kitchen and more, which we cover later.

So upon your arrival at La Reserve Apartments Paris you will find basic groceries, a vegetable basket, soft drinks, bottles of water and snacks such as crisps, chocolate, sweets, biscuits etc, along with a tea and coffee selection, all of which are already organised for your arrival.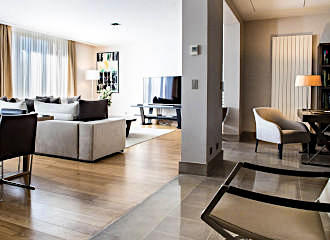 ---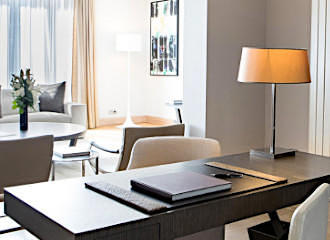 ---
Some of the key benefits when you stay at one of the 5 Star La Reserve Apartments in Paris means you will get things such as 24 hour room service, a 24 hour concierge service, a continental or a la carte breakfast served to you within your apartment according to your wishes, a dedicated 24 hour butler service, along with a maid come dedicated housekeeper who can also handle your daily shopping, laundry and ironing etc.

Talking of shopping, you can enjoy a guided stroll around one of the typical Paris markets located in the Passy area, where you can also opt to purchase high quality regional produce, with advice from your guide speaking your chosen language. A personal shopper also speaking your language is available if required.

Afternoon tea can also be served to you in either the dining room or your living room, and when it comes to cleaning up like you would get in a hotel room, this is not just done daily, but where necessary or requested can be twice daily.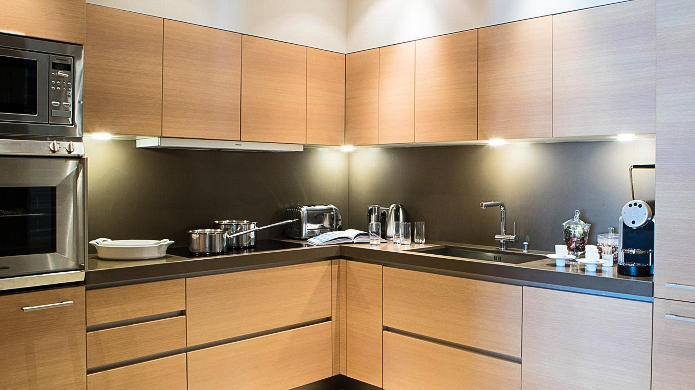 ---
Many of La Reserve Paris Apartments have their own bar and at the very least, their own dedicated wine cellar, which will have a varied selection orchestrated by the sommeliers and stewards of La Reserve, although these can be customised to your own wishes and desires.

Each apartment comes with a selection of books and music, although these can also be customised according to your tastes, and if you feel like entertaining or having a business meeting, then the apartment can also be re-arranged to suit your requirements.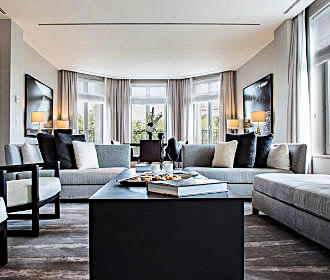 ---
Now when it comes to fitness, there is a sports coach available for training sessions within your apartment or you could opt for boot camp style within the impressive Trocadero Gardens in front of the Eiffel Tower, plus you will have access to the tennis courts at Roland Garros, which is the site of the French Open tennis tournament.

For those of you that like cycling, bicycles are available and personalised picnics can be arranged for you go off exploring Paris on your own or even taking advantage of advice from the concierge who will tailor make an itinerary to your capabilities, needs, likes and dislikes.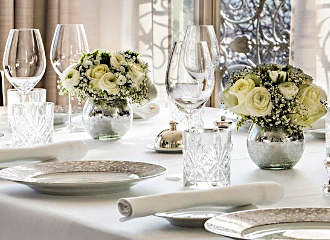 ---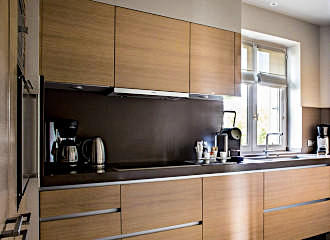 ---
However, you can also take advantage of the fitness centre, and a 16 metre indoor swimming pool located at La Reserve Paris Hotel and Spa, with a car available to be able to shuttle you between the two locations.

In addition, this Palace hotel in Paris has an impressive spa with steam room, where you can also be pampered with tailor made beauty treatments, massages, pedicures, manicures, even hairdressing and much more although there are additional charges for these.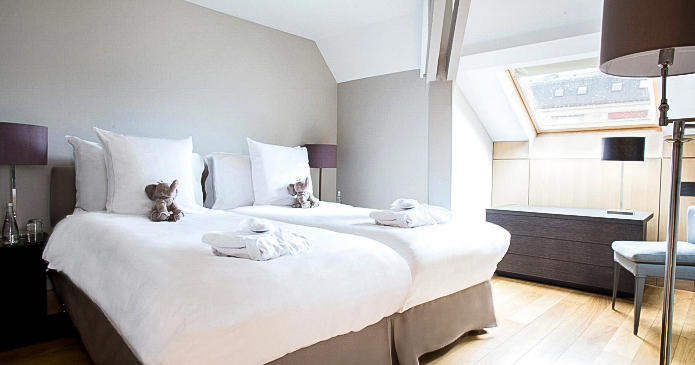 ---
A car will be available to shuttle you back and forth if you wish to enjoy the above, along with a meal at La Pagode de Cos, which is named after one of the La Reserve Vineyards owned by Michel Reybier, or perhaps dining in the 2 Michelin starred restaurant Le Gabriel, would be more to your liking. Not forgetting that you could also enjoy the La Reserve smoking room, bar, its library and other areas for guests only.

There are all modern technologies within the apartments along with items of fitness equipment, games consoles, games such as chess, cards etc, and of course WiFi, high speed internet along with a printer, scanner, etc, in addition to newspapers being available upon request as well.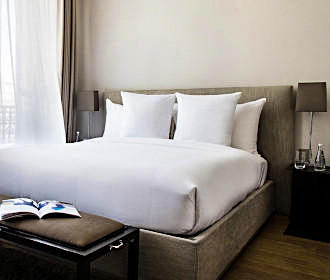 ---
Other services and facilities that carry extra charges include dry cleaning, a personal chef, speedboat rental on the River Seine, a nanny, daytime children's activity leader, babysitter, tutor, pet sitter and airport transfers.

Not forgetting that your personal butler in conjunction with the concierge are there to help you with virtually anything you could think of, such as obtaining a ticket for a sold-out concert, a private museum viewing or dining in a place after hours for instance. They will do their utmost to make yours dreams a reality.

In addition, for longer stays and additional charges, you can also have your chosen apartment decorated to your wishes including original art works according to your own tastes, setting up an entire fitness area or home cinema area, having an entirely personalised library and so on.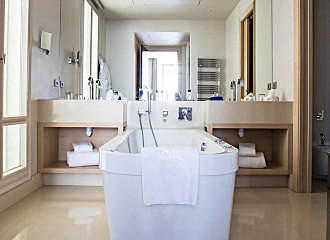 ---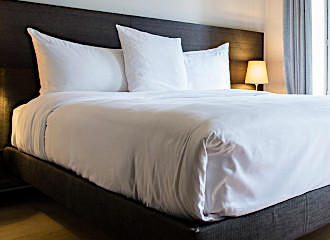 ---
Accommodation at La Reserve Paris Apartments

There are a total of 10 apartments within this 5 star ApartHotel in Paris, which are located within a typical Haussmann style stone fronted town house, and range from the smallest 1 bedroom apartment at 140 metres squared up to the largest being a 4 bedroom apartment at approximately 200 metres squared, or a 3 bedroom apartment with its own private garden terrace that makes it around 250 metres squared.

Spread over four floors there are a total of five apartments that are all on one level, and due to their space can easily accommodate wheelchair users, plus there is a lift to access different floors. The others at La Reserve Paris Apartments consist of three duplexes with accommodation on two levels and two triplexes with their accommodation on three levels.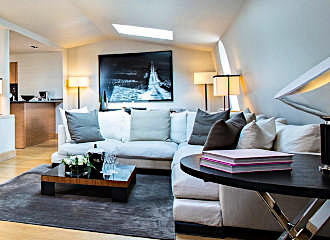 ---
---
You will find plenty of space for families or friends who want to stay in the same apartment and this is a child friendly ApartHotel where baby cots, high chairs, changing mats and other baby equipment such as monitors can be requested along with child beds and even extra beds can be added to rooms, although some items will carry an additional charge, as will the age of a child be a varying cost etc.

La Reserve Paris is also pet friendly as we mentioned earlier, with pet bowls and even pet pillow beds supplied, but again there as an additional charge for you to bring your faithful four-legged friend with you.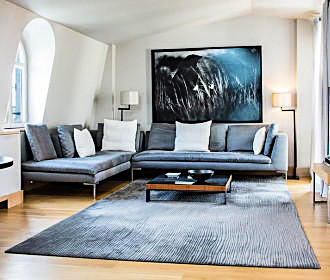 ---
Within each apartment you will find all the latest technologies and top quality equipment and furnishings including Bose speakers, a large flat screen TV in every bedroom and living room, iPod docking station, iPads that are found everywhere to control items such as the sound and music system, lighting, the TVs, temperature controls and more, not forgetting the direct link to your personal butler and the concierge.

Each La Reserve Paris Apartment is decorated in a modern, chic and sophisticated yet minimalistic way, but you can expect the best of the best like the Quagliotti luxury linens, which are Italian designer, bespoke and luxurious that accompany items like the four poster beds.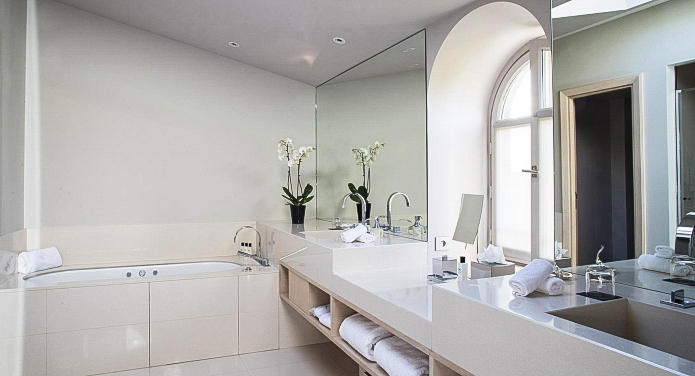 ---
Of course, as you would expect, there are bath robes, slippers and top of the range complementary toiletries that enhance the luxurious bathrooms with Jacuzzi style baths, Italian showers, double basins, soap dispensers made of crystal and much more, not forgetting that there are specialised toiletries for children and babies if they are also accompanying you.

As to a kitchen, being a true apartment, these are a full kitchen with every possible contraption, knife, appliance and so on that you can probably think off, and if it is one that is not there and needed, just ask! Now these kitchens are totally bespoke and designer, just like the rest of the apartments, and are all a Varenna kitchen by an Italian company who specialise in exclusive finishes for tailor made compositions.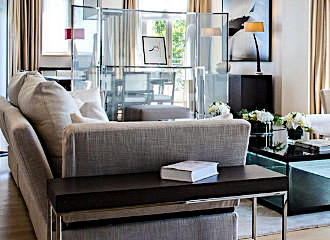 ---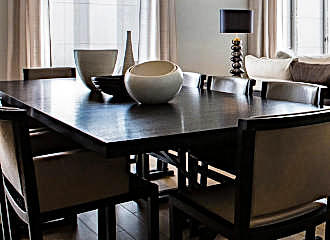 ---
Some of the necessities included are a washing machine and a separate dryer (although probably never used by yourselves), dishwasher, full oven, grill, microwave, a Nespresso machine, an extremely decent set of chef knives, Maginex food processor plus other gadgets and much more to keep you happy, or even the personal chef you've requested, in his element.

Chilled soft drinks, fruit juices and water along with snacks such as crisps, sweets, nuts, etc are also supplied, and you can also request the fridge fully stocked to your requirements upon arrival if required.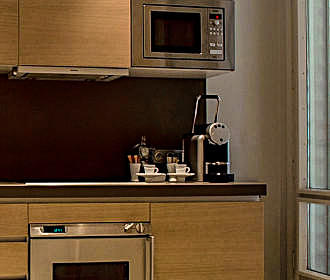 ---
Obviously, every kind of glass, cutlery, plate, dish and so on is available to you, whether it be for a family lunch or a high-profile business dinner, and you even get crystal decanters with spirits such as gin, whiskey and brandy within the bar in your apartment, not forgetting the wine cellar issue we mentioned earlier on.

Each La Reserve Apartment has an office area, which is where you will find the printer, etc, plus there is either a dining area within the large living room like in the 1 bedroom apartment that has a balcony, or a large separate dining room, such as within a 2 bedroom apartment, which is perfect for hosting.

Although the ultimate dining room is to be found within the 4 bedroom duplex, as it is situated under the rotunda style slate-roofed dome of the building and provides fabulous views, plus this unique luxury 5 Star Paris apartment also has a home cinema family entertainment room as well as a formal living room.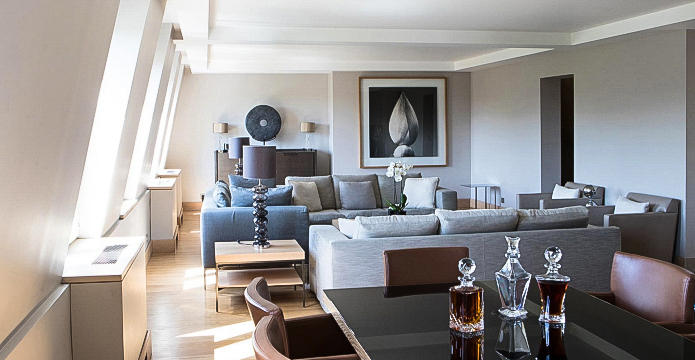 ---
Access to La Reserve Paris Apartments

Now as we have said previously, La Reserve Paris Apartments are family, pet and disabled friendly, although there is a stipulation of a minimum three night stay, yet you will find that many people stay far longer and they have many clients who are regulars, and once experienced, you will understand why.

Located in the 16th Arrondissement of Paris, for those of you arriving with your own vehicle, you will be pleased to know that there is indoor parking and valet parking available, although the majority of people will opt for a private airport pick-up by La Reserve themselves, which they will organise to ensure a smooth transition from plane, through customs and so on.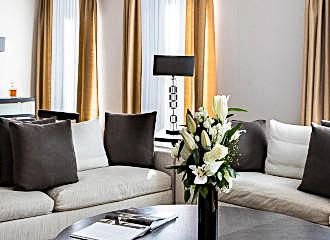 ---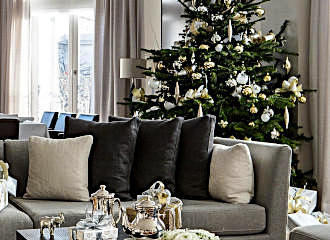 ---
However, for those of you wishing to use the network of public transport in Paris, whether it be for arriving or whilst staying here, you will find that the nearest Metro station is only a very short walk away, and called the Trocadero stop, this serves metro line 6 and metro line 9.

Alternatively, you have the Paris bus lines 22, 30, 32 and 63 along with the Noctilien Night Bus Service via bus line N53, which are all within metres from the La Reserve Apartments Paris, but a little further walk through the Jardins du Trocadero and you could catch bus lines 72 and 82, not forgetting l'OpenTour that is a company offering hop on and hop off bus tours in Paris.
Cycles are available for your use while you are at Las Reserve Apartments Paris, so we will forget about mentioning the Velib stations on this one, plus you have a car at the ready for when you wish to enjoy the comforts and luxury of La Reserve Paris Hotel and Spa.

Yet rather than pick up a normal Paris taxi when returning from a meal at one of the many gourmet restaurants in Paris, the Opera, a concert or show, etc, you can also call and arrange for a La Reserve car to pick you up instead, which means added privacy, reliability, comfort and again as always, luxury and the ultimate peace of mind.
Paris Hotel booking info

La Reserve Paris Apartments
10 Place du Trocadero - 3 Avenue d'Eylau
75116
Paris
Ile de France
France

Tel: 0033 1 53 70 53 70
GPS: 48.8635, 2.28591

Website: https://www.lareserveparisapartments.com/