Jules Verne restaurant in Paris

The Jules Verne restaurant is probably one of the most famous restaurants in Paris, as it is located on the second floor of the Eiffel Tower 125m above the capital with its fabulous views.


A bit of history on Jules Verne restaurant

It all started when the construction of the Jules Verne restaurant was completed in 1983 with the name Jules Verne chosen to honour the literary master who was also a spokesperson for scientific and industrial progress, and during the construction they decided that this privileged gourmet dining restaurant had it very own elevator on the Eiffel Tower to be used exclusively by its customers.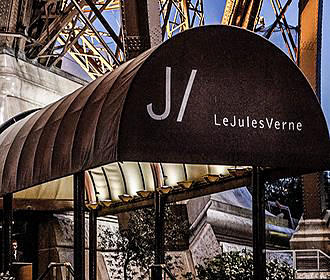 ---
At the time it was the chef Alain Reix who oversaw the kitchens and the decor was black, which made it feel almost like a nightclub, but then in 2007 the whole restaurant was renovated and completely redesigned by Patrick Jouin.

After four months of renovations, the new look Jules Verne restaurant re-opened its doors just in time for Christmas, and in fact it was the 22nd December that the Jules Verne restaurant welcomed its first diners with the renowned Michelin starred Chef Alain Ducasse overseeing the kitchen and the cuisine.


About Jules Verne Restaurant at the Eiffel Tower
The Jules Verne restaurant is a one of a kind experience that boasts beautiful views through the non-reflective bay windows on the Eiffel Tower, which is accompanied with an intimate yet contemporary and inviting dining experience that plays with the natural light of the day or the city lights at night.

From the moment you show your reservation, the dining experience starts, as you are first of all whisked up to the 2nd floor on the Eiffel Tower in a private elevator and then it just becomes an evening of relaxation and comfort.

Talking of comfort, this is even right down to the type of chairs, as it took eight months of research and development before the chairs were manufactured specifically for this incredible restaurant in Paris.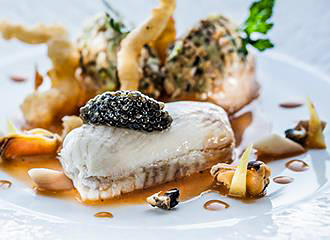 ---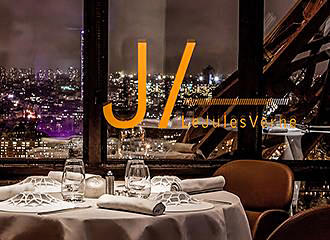 Plus the elegance of its soft tones and chocolate colours combine with white table cloths along with cutlery and plates that were exclusively designed and made just for the Jules Verne restaurant. In addition to this, you have the technology and the contemporary, like the luminous glass wall in the centre of the restaurant that hides the kitchen for an even more unique experience.

And no matter where you sit, you are sure to have an unforgettable experience, plus because it is so intimate and elegant this is a fantastic restaurant to celebrate a special occasion while you are on holiday in Paris or on a romantic weekend break and you will have the table for the whole evening.


Dining and cuisine at the Jules Verne

Now when it comes to the food, this is gourmet style French cuisine with a twist of contemporary that utilises the best possible ingredients where the flavours are defined. And the menu combines traditional know how with its dishes rooted in French tradition, but with unique concepts and modern touches that relate perfectly to the surroundings and uniqueness of the whole experience.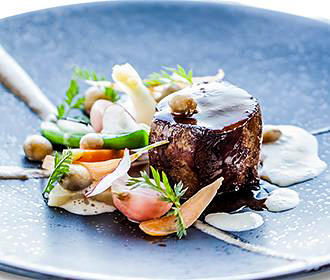 ---
There is a three course lunch menu available Monday to Friday with things such as half-smoked salmon, vegetables and herbs tartare followed by a main course like breast of veal with seasonal vegetables and then the dessert, which works out a cost of €88 as of 2012, however there is also an a la carte menu available as well.

The lunch menu is entirely different at weekends and on holidays, and as of 2012 for a cost of €165 per person this includes two starters, one main course and two desserts or you could opt for the two starters, two main courses and two desserts for a cost of €210, plus there is an a la carte option available as well.

The Dinner menu as of 2012 is a cost of €210 and consists of two starters, two main courses and two desserts with sumptuous delights such as Bellvue-style lobster, sabayon and Gold caviar and Pan-seared turbot, shellfish and leeks thickened with a delicate seaweed butter and yet again, a la carte is also available.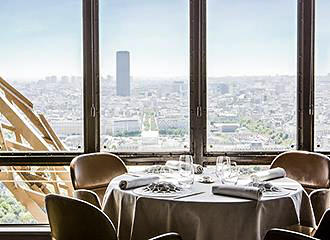 ---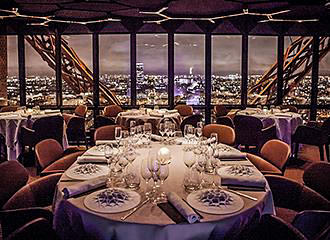 However, we would like to point out that you do have to make a reservation in order to get a table as there are a maximum of 120 seats, and if you want to book a table at the Jules Verne restaurant that is next to a window, then you could be looking at booking this several months in advance of your family holiday in Paris.

You can book a table by telephone or fax and if it is just a couple or small group, then you can also now make a reservation directly with the Jules Verne restaurant online web site.

But for groups of eight or more, then you will not be able to have a table by the window and each person in the party would have to have the same set menu and not an a la carte option. Yet the menu for groups is slightly different with beverages included and as of 2012 this is a set price of €215 per person for a weekday lunch or €325 for a tasting menu on either a weekend, bank holiday or for dinner.

The Jules Verne restaurant at the Eiffel Tower is open seven days a week for lunch between 12.15pm and 1.30pm, then dinner is available from 7pm through to 9pm.

Yet if you cannot afford to splash out on a gourmet dining experience at the Jules Verne, then you could always opt to enjoy the chic brasserie on the first floor called the 58 Tour Eiffel, or how about sipping a glass of champagne at the Champagne Bar located on the top floor of the Eiffel Tower.