The Champagne Bar at the Eiffel Tower

The first tourist attraction most people want to visit when on a family holiday in Paris is the Eiffel Tower and even if you cannot afford to splash out on lunch or dinner at the Jules Verne restaurant, there are other options for a smaller budget.

You have the chic brasserie style restaurant called the 58 Tour Eiffel for lunch or dinner along with buffets on the ground floor, 1st floor and 2nd floor that serve snacks, sandwiches and pastries etc.


Champagne Bar

However, located on the top floor of the Eiffel Tower you have the Champagne Bar, which is an ideal place to visit if you are on a romantic weekend break in Paris and want to do something completely different, as it is an ideal place to enjoy panoramic views of Paris and an elegant way to spend a bit of time.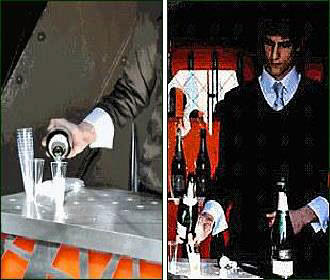 ---
Nestled right within the structure of the Eiffel Tower, the Champagne Bar is a completely unique place that offers a specific selection of white champagnes and pink champagnes that are served chilled to perfection.

So what champagnes should be served? Well its Alain Ducasse, who is the talented and famous Michelin starred chef that oversees the cuisine of the Jules Verne restaurant, that selects the White champagnes for the Champagne bar.

But when it comes to the pink champagnes they are from the Bruno Paillard champagne house, which is one of very few champagne houses to use first press in all his French wines, which is why this particular company has been chosen, and although first press wines are more expensive, this also provides the customer with the best possible champagne experience.
The champagnes are served in 10cl measures in either a classical glass or for even more of an experience you can opt for an illuminated glass.

And as of 2012 a glass of the white champagne is a cost of €10 or €15 in an illuminated glass and the pink champagne is €15 for the classic and €20 for an illuminated glass, and as you can no doubt appreciate, this can definitely be a great experience while you are on holiday in Paris, France and a unique way of celebrating a special occasion, even if you do have a limited budget.