Le Gabriel 2 Star Michelin restaurant in Paris

Awarded 2 Michelin Stars, this gourmet top table restaurant in Paris is part of the exclusive Palace Hotel La Reserve, with a menu combining French cuisine mixed with Japanese influences, exquisitely designed and orchestrated by renowned chef Jerome Banctel, set within a refined and intimate dining room.


About Le Gabriel Restaurant

La Reserve Paris Hotel and Spa was only opened in 2015 as an exclusive hotel located in the 8th Arrondissement just off the Avenue des Champs Elysees, and it was at this time that Le Gabriel fine dining restaurant was also opened.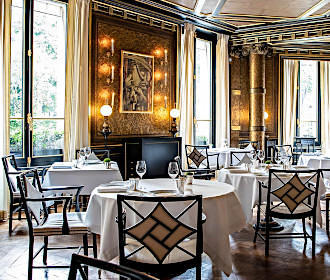 Within under a year the restaurant was not only getting rave reviews, but it was also awarded not just one, but two Michelin Stars, a prestige that remains in place alongside the prestige and excellence of the hotel itself, which was also awarded the ultimate distinction of being only one of a handful of Palace hotels in Paris.

The gastronomy at Le Grabriel has been designed by Jerome Banctel, who was born in Brittany and trained alongside some of the greatest French chefs such as Alain Senderens at Lucas Carton, also working in some of the finest establishments in the culinary world, both in France and abroad.

His roots are firmly with French cuisine, yet Jerome Banctel has also been influenced from his travels in Japan, and expertly, with many saying his inspiring and passionate virtues of striving for the ultimate in quality, taste and presentation, you can discover authentic, unusual and bold flavours that combine the two different cultures in what can only be classed as an experience for all your senses.
Le Gabriel offers an unforgettable gourmet experience, set within the prestigious Napoleon III style dining room with the interior design for the entire La Reserve Hotel and Spa having been created by the renowned architect and interior designer Jacques Garcia.

The aim was for luxury and tranquillity with a discreet and graceful air, making this top table restaurant in Paris an ideal setting for a business lunch, a romantic evening meal, or just an outstanding experience for any occasion.

So when you enter, you are normally first escorted through to the bar come lounge area called Le Bar, and then on to the sumptuous dining room of Le Gabriel, where, depending upon the type of meal chosen you could be presented with an amuse-bouce or appetiser, or what others would call hors d'oeuvres.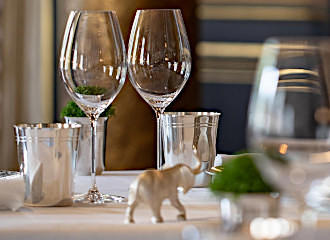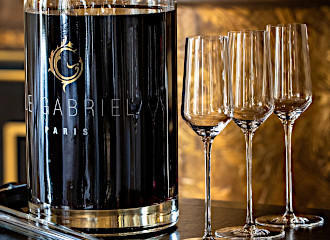 Yet Le Gabriel is a small restaurant, only seating 40 people at any one time within an exquisite room with high ceilings, plenty of gilding such as around mirrors and pictures, through to panelling and dark wood that contrasts beautifully with the crisp white tablecloths.

So it goes without really saying that this is an exclusive restaurant in Paris, even though it is open to the public by prior booking, but for those of you staying at La Reserve Paris - Hotel and Spa, you can enjoy the cuisine from Chef Jerome Banctel from many different areas at your will and a la carte, depending upon your needs and wishes. Just one of the perks from staying at this fabulous Paris Palace hotel.

Also, you will see small table elephants positioned on each table of Le Gabriel, which are available to purchase for €300, and half of this cost is donated to the Elephant Family Foundation who are a charity helping to protect elephants from extinction. By working alongside native people, this charity is helping to protect the habitat of elephants in places such as India, Malaysia, Thailand, Cambodia, etc.


Cuisine at Le Gabriel Restaurant

When it comes to the cuisine at Le Gabriel, you will always be able to enjoy the freshest of seasonal produce, and the menus reflect this by changing with the seasons as to what types of vegetables, meat plus even fish or seafood are available at the highest quality, always hand picked and prepared by the chefs and team that support them to deliver the optimum in quality and taste.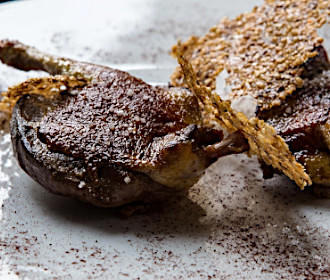 Lunch at Le Gabriel
There is a lunch menu, that changes with the seasons and each is called the Return from the Market, so you will get a Spring menu, an Autumn menu, etc, which is available on a Monday to Friday between the hours of 12:30pm and 2:30pm.

You can opt for a three course for €95, the addition of a cheese selection for €115 and a four course meal for €145 per person, as of 2019, all of which are not including drinks, however, if you do suffer from any food allergies or intolerances, then you can notify the waiter for the chef to prepare a meal suitable for your requirements.

Yet Le Gabriel also offers a Business Lunch, where, if booked in advance the entire meal can be served within a one hour time frame, although if for some reason this set booking were to be exceeded, your next business lunch would be completely free to the same level you booked prior.


Dinner at Le Gabriel
When it comes to dinner at this top table gourmet restaurant in Paris, this is one to savour and enjoy from the moment you step through the door, and to fully appreciate the expertise of the chef Jerome Banctel and his team, there are set menus you can opt for with wine pairing if desired, or you can go for an a la carte option.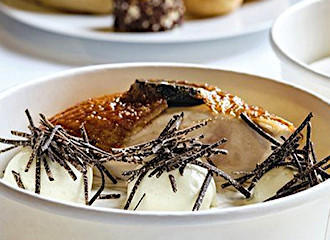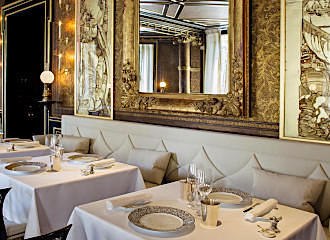 To start with you have an Experience Menu served as five courses and a cuisine with vegetal overtones, which has to be served for the entire table at a cost of €215 per person as of 2019 excluding drinks.

Then there is the Tasting Menu at €295 per person, or if you require wine pairing, then this is €490 per person as of 2019, and again the Tasting Menu is only available if served for the entire table, yet consists of eight courses of mouth-watering indulgence along with visual inspiration and aromas that heighten your senses you didn't realise were possible.

Delights could be Langoustines poached in sea water, oscietra caviar, sweet onion and olive oil zabaglione. Another course could be Blue lobster poached in the butter, sorrel and ginger coulis, vanilla emulsion, then Crispy suckling pig from Burgos, glazed mango and spicy green cabbage with the finale of The Chocolate, Brazil gold nugget, chocolate sauce infused with mate herb.

But as you would expect from the 2 Michelin star Le Gabriel, there is an a la carte menu available with a vast choice of dishes, including four that have become recognised as the signature dishes of Jerome Banctel, which are the Macau Artichoke in Sakura and fresh coriander, Brittany Mackerel in white wine and potato in sea urchin, Vendee Racan Pigeon marinated in cocoa and crisp buckwheat plus the dessert of Coffee bean meringue, ice cream with cherry syrup, galabe sugar.

Other a la carte choices include starters such as Duck Foie Gras, Hibiscus infused beetroots, smoked eel or Candied Norwegian salmon, sweet potatoes and chili pepper. Fish courses could be Line-caught roasted turbot, spinach and Comte, gnocchis and zabaglione or Mediterranean red tuna just grilled and hibiscus beetroot. Meat dishes could be Hen chicken from Cour d'Armomise stuffed with fresh herbs and creamy morels mushrooms with yellow wine or Lamb from Lozere, candied potatoes, and black garlic with lemon for instance.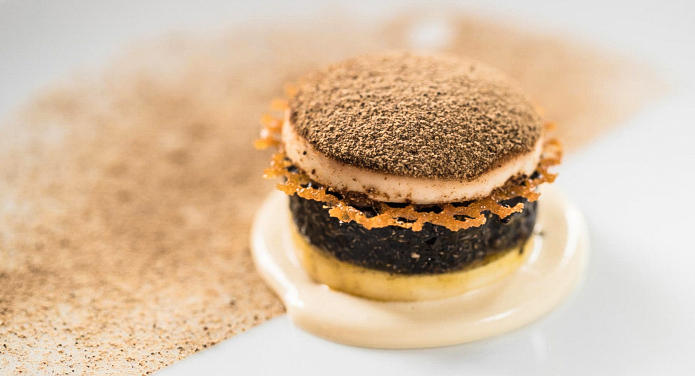 In addition, you could opt for a cheese course with fine cheeses selected and refined by Philippe Alleosse, who is a Master artisan cheese refiner, before the extremely tempting desserts such as Passion fruit and vanilla souffle and Espelette sorbet or Rhubarb in different textures, Patxaran sorbet and Ruby chocolate. Not forgetting any of the other dishes we have mentioned earlier.

Now do bear in mind that the menu changes according to the seasons and what fresh ingredients are available, but you can expect to be paying anything from €250 upwards for an a la carte meal, not including any drinks or wine pairing. Yet for those of you who do not wish to or cannot afford the ultimate experience at Le Gabriel of La Reserve, then you could still enjoy a meal created by Jerome Banctel at La Pagode de Cos.


Access to Le Gabriel

As we have mentioned previously this is the award winning gourmet restaurant located within La Reserve Paris Hotel and Spa within the 8th Arrondissement in what is classed as the chic upmarket golden triangle only steps from the Champs Elysees and its gardens.

Lunch is available between the hours of 12:30pm and 2:30pm on a Monday to Friday and on a Sunday, always being closed on a Saturday lunchtime, yet Le Gabriel is open from 7:30pm to 10:pm for dinner every day of the week.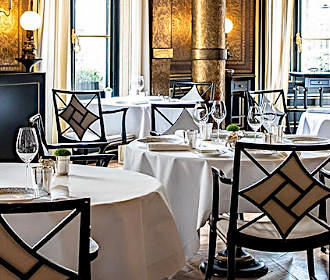 You may be pleased to know that it is accessible to people with disabilities, but unfortunately your beloved pets are not allowed, and at this stage we would like to point out that booking is necessary, due to its popularity and the fact that only 40 covers can be served here at any one time.

Although, if you are a guest of La Reserve Hotel, you can also choose to have a meal from Le Gabriel restaurant served to you in the setting of your choice such as the bar, lounge, library, your room, etc.

As with many luxury hotels and Michelin starred restaurants in Paris, when it comes to arriving, for those of you with your own transport, valet parking is available, and otherwise many people will arrive by taxi or chauffeur service.

However, due to its location overlooking the Jardins des Champs Elysees, Le Gabriel is also easily reached via public transport in Paris with the nearest Metro station called the Champs-Elysees - Clemenceau stop serving lines 1 and 13 being a short walk located on the opposite side of the gardens past the Theatre Marigny by the Charles de Gaulle monument. Alternatively, also on the Avenue des Champs Elysees you have the Franklin D Roosevelt stop serving Metro lines 1 and 9.

Whereas the nearest bus stops are towards the Avenue des Champs which are the Paris bus Lines 28, 32, 42, 73, 80 and 93 along with the Noctilien Night Bus service via lines N01, N02, N11 and N24.

Yet for those of you who are travelling into Paris via the RER trains, you have the Invalides station serving the RER C line along with Metro lines 8 and 13, which is on the opposite side of the River Seine. In addition, by the famous Arc de Triomphe here you will find the Charles de Gaulle - Etoile station serving the RER A line as well as Metro lines 1, 2 and 6.