La Pagode de Cos Restaurant Paris 2 Star Michelin

La Pagode de Cos is the second restaurant of La Reserve Paris Hotel and Spa, where you can enjoy a variety of different menus, styled to coincide with the setting, whether it be lunch, afternoon tea, dinner, a grill on the terrace, or a tasting menu in the salon or on the patio.


About La Pagode de Cos

With not only La Reserve Paris Hotel and Spa being classified as a Palace Hotel in Paris, the restaurant Le Gabriel, which was opened at the same time, was awarded 2 Michelin stars in under a year.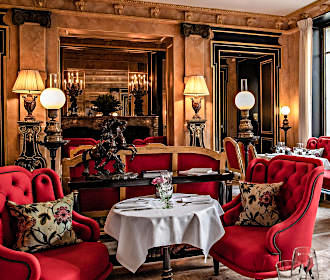 So following on from these successes, with the help of General Manager and CEO Didier Le Calvez, a new restaurant that was named La Pagode de Cos was also opened up within La Reserve Paris Hotel and Spa, with a menu that was devised by the Executive chef Jerome Banctel who oversees Le Gabriel.

The idea for the name of this restaurant came from paying tribute to the wine estate and Chateau Cos d'Estournel, which became renowned for its prestigious vintages, many of which surpassed its ratings, yet were exported far and wide.
The founder of this vineyard in Bordeaux within the Aquitaine region of France, Louis Gaspard d'Estournel was the first to export his produce to India and due to his exploration, conquests and relations with countries far and wide, he had exotic pagodas constructed on his estate in France.

Michel Reybier is actually the founder of La Reserve Paris and a businessman enjoying the finer things in life, among other vineyards he owns, he was able to acquire the Chateau Cos d'Estournel estate with its impressive cellars, pagodas, etc.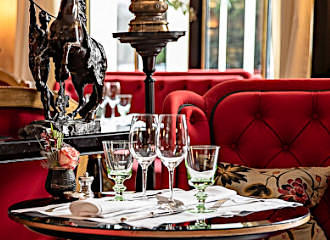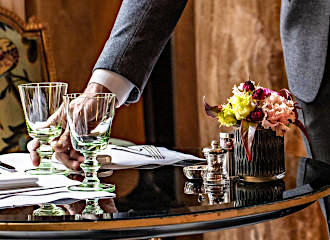 This is why the La Pagode de Cos has its name and why you are able to experience many fine wines and champagnes often carrying his name, as it carries on a tradition where even way back in 1855 the Saint-Estephe from the Chateau Cos d'Estournel was classified as a second Grand Cru, so hence this still very much a plush gourmet restaurant in Paris.

In addition, you will also see reference to elephants within the dining rooms and there are also table elephants available to purchase for €300, and half of this cost is donated to the Elephant Family Foundation who are a charity helping to protect elephants from extinction by working with people as well, to protect their habitat in Asia in places such as India, Indonesia, Malaysia, Thailand, etc.


Cuisine and Dining at La Pagode de Cos

Located within the Grand Salon of La Reserve Paris Hotel and Spa, La Pagode de Cos the menu utilises fresh local ingredients, but with an emphasis on following the legendary spice route, so each dish will have certain references to India, Japan, China, Vietnam, etc.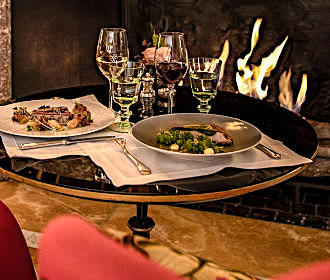 Now as we mentioned earlier, the menu has been devised by Executive chef Jerome Banctel, who is also in charge of the award winning 2 Michelin star restauran of Le Gabriel, and he has previously worked at prestigious top table gourmet restaurants in Paris such as Lucas Carton.

Jerome Banctel has teamed up with Olivier Derenne of Le Comptoir des Poivres, who is a world renowned Epicier, which is a term used for someone that deals in spices and back in the Middle Ages the epicier was second in hierarchy of trades in Paris.

Olivier Derenne and his team at Le Comptoir des Poivres provides exotic, unusual, the best and most expensive along with the most authentic spices, which are sourced directly at the production level without the use of chemicals or other treatments that can diminish the quality.

You can now discover a constantly evolving menu offering unusual variations of contemporary seasonal cuisine inspired by traditional French cuisine from the Bordeaux area of France, based on market produce, but with fascinating twists that will enthral any who dines here, where you can expect a gourmet meal with a difference at La Pagode de Cos.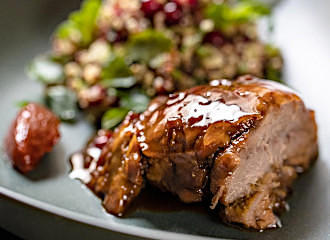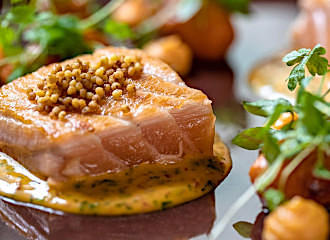 So, whether it is the refined starters to the spectacular solid silver dessert trolley, a meal here will bring a succession of surprises, which can be savoured through your senses including visually, even before enjoying the delicate and unusual flavours of the dish presented to you.


Lunch and Dinner at La Pagode de Cos

Lunch is available from midday through to 2pm and dinner is available from 7pm through to 10pm and classed as a Le Patio menu of La Pagode de Cos, you can opt for a Tasting Menu called the Carte Blanche, which consists of four courses served for the entire table of up to six guests at a cost of €75 as of 2019, not including drinks.

Alternatively you could choose your selections from the a la carte menu, with their being dedicated vegetarian options available such as Rigatoni Pasta, roasted tomatoes pesto, smoked ricotta cheese, but for those of you with food allergies, if you inform the waiter, then the chef will prepare a meal suitable for your needs.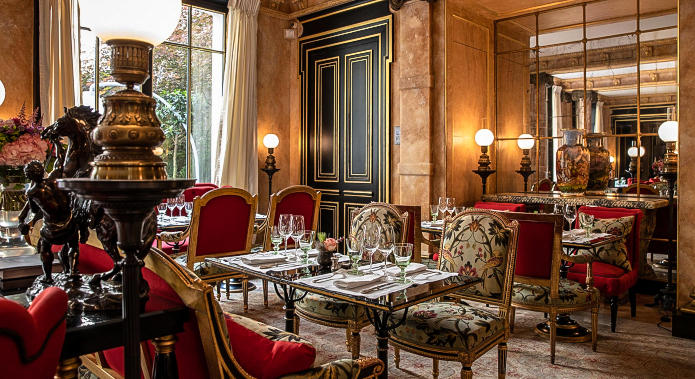 Other items on this menu could include Sea bass ceviche with citrus, Taglioni Pasta with candied blue lobster, Beef Tartar and Romaine lettuce, Tagliatelle carbonara or Spaghetti with mussels and Zucchini pickles.

Another La Pagode de Cos menu is classed as the Grill Menu, or La Terrasse menu, which is available for lunch from midday to 2:30pm and of an evening from 7pm through to 10pm, with a starter and grill of the day being €45 and a three course for €52 as of 2019.

The Grill of the day is a choice of either a fish main or a meat main, with starters being delights such as fresh pea soup, Green beans and crab and sesame dressing, Tetragone salad, arugula, parmesan, Miso and truffles dressing or Salmon carpaccio and Thai spices for example.

Other dishes that may feature on the menus include scallops and spicy lemongrass soup, Saint-Pierre and spinach terrine with crisp green beans, Caesar salad with Perigord crispy chicken and parmesan, Duck foie gras with caramelized daikon turnip or Penne pasta with lobster for example.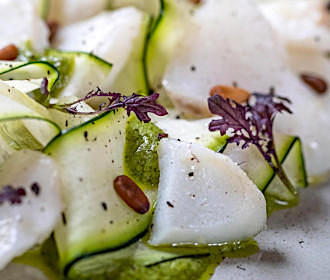 The desserts could be a Red berries Panna Cotta, fresh fruit or Ice cream and sorbet selection, yet do bear in mind, as we mentioned earlier, the menus are forever changing so the above reference to different dishes at La Pagode de Cos are just as a guide, but always with vegetarian and gluten free options available on the menus.


Weekend Brunch at La Reserve Paris Hotel and La Pagode de Cos

Created by the Executive chef Jerome Banctel and called A Weekend at La Reserve, you can enjoy a refined gourmet brunch for €85 per person, served for the entire table, yet for €98 as of 2019 you can have a glass of champagne added.

Available from 11:30am through to 2pm, there are a vast range of hot beverages you can choose from such as teas like Darjeeling or Earl Grey, coffees such as Cafe American or Cappuccino through to infusions like the Well-being ginger infusion with lemon and apple.

There is freshly squeezed orange and grapefruit along with many other fruit juices on offer such as apple, mango and carrot plus two variations of detox juices that you can choose from, then it comes the assortment of different extremely tempting pastries, or as they are called in France, viennoiseries.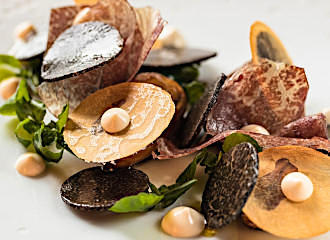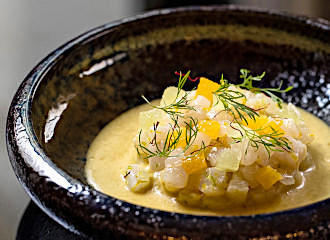 The Weekend Brunch at La Reserve also includes seasonal fresh fruits and cheese of the day, then organic eggs at your convenience and two garnishes of your choice, plus there is a meat and a fish suggestion of the day dish, which you can choose according to your desires, and to round this off, there is the very tempting and naughty sweet selection to choose from.


Tea Time at La Reserve La Pagode de Cos

Afternoon tea has always been a tradition in Britain and in more recent years it has become one of those must do things for many people who are on holiday in Paris, with many of the top hotels and restaurants providing this delight, and La Reserve Paris Hotel and Spa is no exception.

Set within a sumptuous setting designed by Jacques Garcia, Tea Time at La Pagode de Cos is available from 3pm to 6pm weekdays, and called the Gouter Gourmand, on a Saturday and Sunday from 3pm to 6pm this is a cost of €42 as of 2019 or €55 including a glass of Michel Reybier champagne.

The Gouter Gourmand consists of a hot beverage of your choice from a vast list, then there are finger sandwiches, scones, along with a sweet selection such as Madeleines, which are basically French style cup-cakes.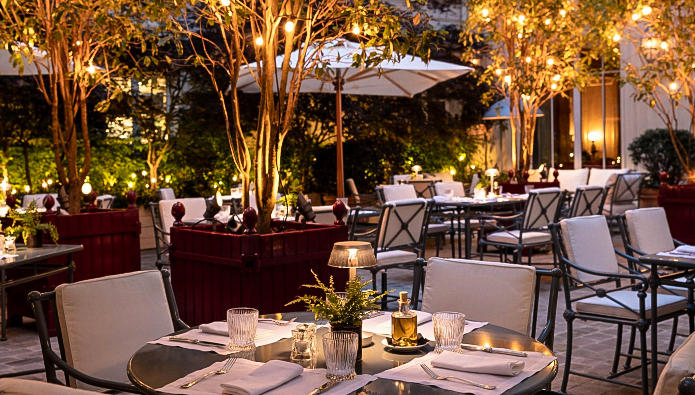 There is also one of the traditional French food delicacies called Crepes on offer with a choice of topping such as Jam or Caramel, etc, plus you will then have delicacies to add to the list of delights you can enjoy, with top ups of specific hot beverages also available.


Access to La Pagode de Cos

Lunch is available from noon through to 2pm on weekdays, whereas the weekend brunch is from 11:30am through to 2pm, yet some menus are available up until 2:30pm.

When it comes to afternoon tea, this is available at weekends from 3pm to 6pm and dinner is available from 7pm through to 10am, yet we would like to point out that reservations for La Pagode de Cos are highly recommended and virtually essential.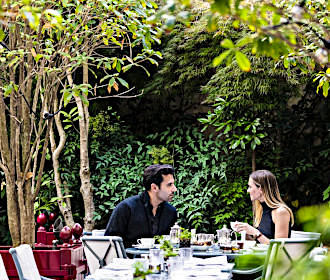 Due to its location right by the Jardins des Champs Elysees, it is easily reached via public transport in Paris with the nearest Metro station called the Champs-Elysees - Clemenceau stop serving lines 1 and 13 being a short walk located on the opposite side of the gardens past. This is by going past the Theatre Marigny and the entrance is located by the Charles de Gaulle monument. Alternatively, also on the Avenue des Champs Elysees you have the Franklin D Roosevelt stop serving Metro lines 1 and 9.

You will find that the nearest bus stops to La Pagode de Cos are towards and on the Avenue des Champs Elysees with Paris bus lines 28, 32, 42, 73, 80 and 93 along with the Noctilien Night Bus service via lines N01, N02, N11 and N24 are also within a short walk of here.

For those of you travelling into Paris via the RER trains, you have the Invalides station serving the RER C line along with Metro lines 8 and 13, which is on the opposite side of the River Seine. In addition, walking to or from the famous Arc de Triomphe, also home to the Eternal Flame, you will find the Charles de Gaulle - Etoile station serving the RER A line as well as Metro lines 1, 2 and 6.