La Reserve Paris Hotel - Palace Hotel in Paris France

If you want luxury and refinement, then La Reserve Paris is probably one of the most exclusive places you wish to stay at, being that there are only 25 suites and 15 rooms coming with a personal butler, Clefs d'Or concierge, etc, worthy of the Palace Hotels distinction that has many other benefits like the spa, Michelin starred restaurant and much more.
Average Double
€1,300 - €3,700
---
A brief history of La Reserve Paris Hotel and Spa

The owner of La Reserve Paris is Michel Reybier who is a French born entrepreneur and businessman who founded the brand of Michel Reybier Hospitality and La Reserve Group, which incorporates the lifestyle most of us dream about, but the select few can enjoy on a day to basis.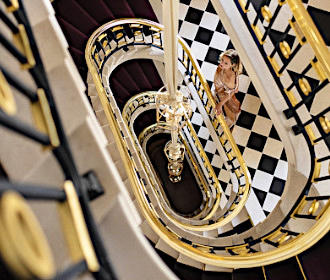 ---
From becoming a co-founder of a private jet company through to owning vineyards, then expanding the hospitality sector into hotels, investing in wellbeing and private residences for rental such as La Reserve Paris Apartments, Michel Reybier and La Reserve is going from strength to strength.

The first hotel was La Reserve Geneve, which was beautifully designed and decorated by Jacques Garcia, and he was also the major instrumental figure alongside the owner in bringing back the traditional aspects of the 1800s mansion that now occupies La Reserve Paris. Although, if you want to know more about the history, you can see our dedicated page on the history of La Reserve, which also incorporates vineyards that feature, etc.
First opened in Paris in late 2015, this plush hotel had outstanding reviews and within only months was awarded the coveted Palace Hotel status, which then followed with more and more awards, becoming recognised as one of the very top hotels in the world in 2017, and the story of La Reserve continues with excellence of service and high standards.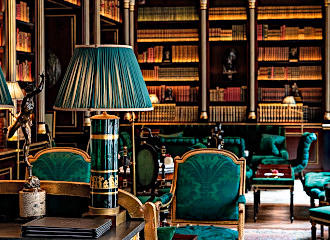 ---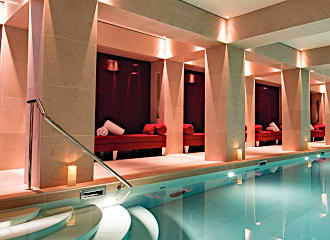 ---
About La Reserve Paris Hotel and Spa

Luxury and discretion yet with simplicity are key factors for those that are high profile with services that match or go above and beyond normal expectations, which is exactly what you can expect here, but just the average person that wants to experience something exceptional for a night or two is also welcome into this almost unique luxurious fantasy world of La Reserve.

Set within a Haussmann style mansion house dating from the 1800s, the first thing you will notice is the unassuming facade and entrance with its wooden doors and red curtains where you will be greeted personally and enter the large lobby area, before being escorted into the Louis salon and then up to your room or suite.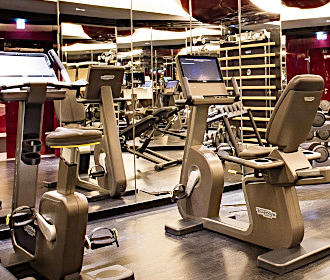 ---
With this in mind, you will not see the typical characteristics of normal hotels in Paris, like the massive reception area, as the idea was to create an ambience as though you are visiting family or friends or just staying in a luxury apartment, and with attentive yet discreet staff, coupled with the opulent decor and furnishings, this is exactly what you get and how it feels.

In fact, there are more suites than rooms at La Reserve Paris Hotel and Spa for those of you who want that extra space and even more comfort, which is also another point in complete contrast to other palace and 5 Star hotels in Paris and if you look at the history of La Reserve, you will probably understand why.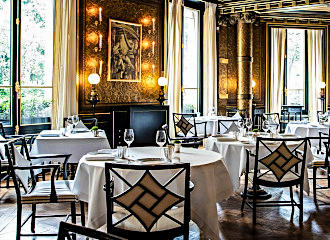 ---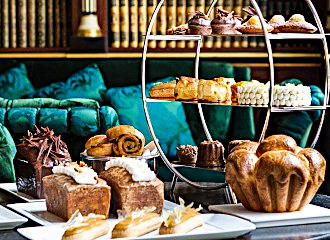 ---
There are numerous different areas around the bright and airy hotel where you can relax within the sumptuous surroundings still containing original fireplaces and staircase that combines with rich fabrics, panelling and gilding to bring back that authentic mansion style, designed by the renowned interior designer Jacques Garcia.

Whether it be the Louis Salon, the inner courtyard with its greenery, library and honesty bar and the smoking room, which are all only accessible to clients and their friends or colleagues, there are plenty of areas to enjoy, away from the "see and be seen" crowd.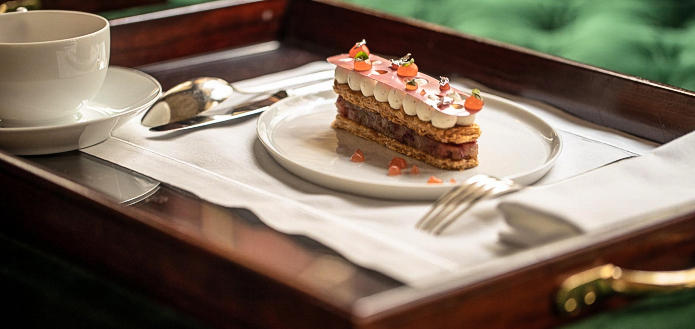 ---
Facilities and Services at La Reserve Paris Hotel and Spa

One of the things you would expect at such a hotel is a concierge, yet La Reserve Paris has the coveted Clefs d'Or Concierge staff, not forgetting that you have your own private butler to attend to your every need and on call 24 hours a day, this ensures your stay will run smoothly and meet your requirements.

Whether it be with unpacking and packing, you wish to have your laundry and dry cleaning waiting for you at a specific time, a chauffeur driven limousine, the bath ready for when you return, through to having exclusive or private viewings of different places, a candlelit meal in a museum when closed and much more, the staff at La Reserve Paris are there for you.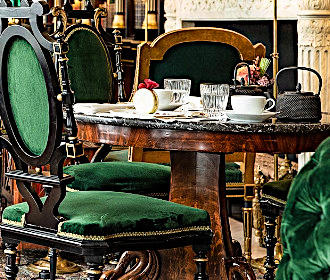 ---
Not forgetting that books specific to your requirements, a wine cellar for each suite with your favourite vintages, along with bouquets and bunches of your favourite flowers added to the rooms and suites are also some of the other personalised touches and service, which are just some of the reasons why there are so many returning clients and also why your stay can be organised way before you even arrive.

Yet this is also a family friendly hotel and even on arrival each child is given an elephant soft toy, colouring book, in addition to personalised items with the child's first name that can also be organised and so on, plus babysitting can be arranged whenever you wish along with even specific trips for children that staff can organise for you.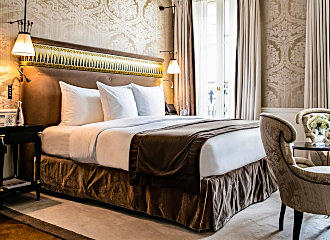 ---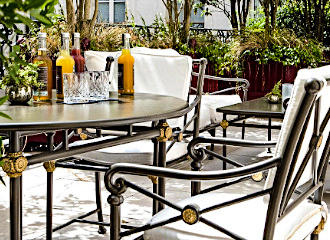 ---
Chauffeur driven limousine services are available according to your wishes, plus if you book a stay at La Reserve Paris Hotel and Spa for a minimum of three nights, then you can receive the private courtesy airport transfers free of charge.


Dining at La Reserve Paris Hotel and Spa

As you would expect from La Reserve Paris Hotel and Spa, there are several choices including 24 hour room service, with a menu along with options from the Michelin starred restaurant, the gourmet restaurant and the bar, so whatever takes your fancy, whatever time of day, a meal or a snack can be arranged by your personal butler, although there is no strict room service menu, so anything that takes your fancy can be arranged.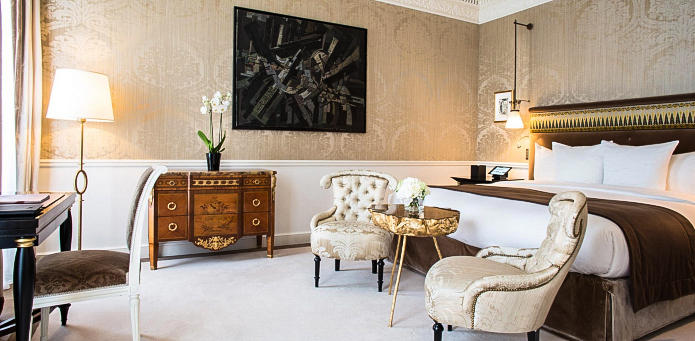 ---
Guests have the option of choosing where they wish to eat and drink, depending upon their mood and requirements, with you being served at the specific location of your choosing such as on the terrace or in the library, and so on, which means you do not have to stick to a set location like you would in many hotels in Paris, whether it be for breakfast, lunch or dinner.


Le Bar

Aptly named The Bar, here you can discover an impressive collection of wines, some of which are available by the glass including some by Michel Reybier, the owner of La Reserve, along with numerous spirits, liquors, even beers plus non-alcoholic soft drinks and hot beverages.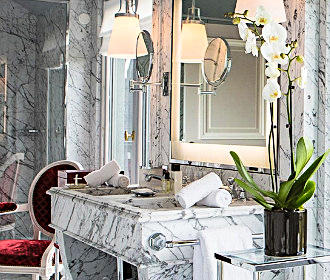 ---
Guests can also enjoy their favourite vintages within the library, which has a fabulous historical fireplace along with antique books and manuscripts from the owner's private collection. However, if you are not sure about particular wines or estates and even the Michel Reybier champagnes formerly of the Pressoir de France estate and wines from privileged places like the famed Tokaj-Hetszolo, which you would like to add to your own private collection or consume while at La Reserve Paris, then the highly trained and experienced Sommelier's are on hand with all the advice you require.

There are a wide range of cocktails available including traditional classics through to more unusual and signature cocktails of La Reserve Paris, yet within keeping with the philosophy of personalisation, the barman can easily mix up a specific cocktail to the exact ingredients you specify.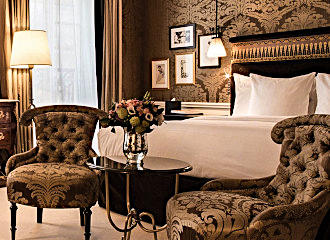 ---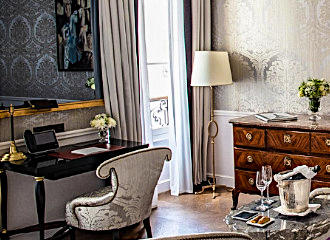 ---
With non stop service from 7am through to 1am, you can also enjoy a lunch between midday and 2pm at Le Bar for €39 as of 2019, which is called L'Essentiel and consists of a main course of the day, a glass of white, rose or red wine that varies and is chosen by the Chief Sommelier of La Reserve Paris along with a hot beverage.

In addition, there are Little Bites to Share called Petites Bouchees a Partager in French, to accompany your drink or drinks of choice, which are available from 6pm through to 11pm. These could be a Selection of Iberian charcuteries, Ham and truffles croque-monsieur, Crispy prawns and satay sauce, Caviar Kristal French style and homemade blinis, Homemade guacamole and corn tacos or a Cake selection for instance.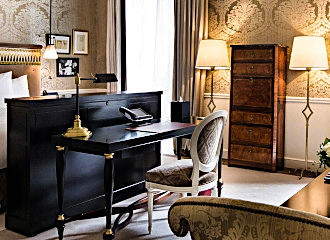 ---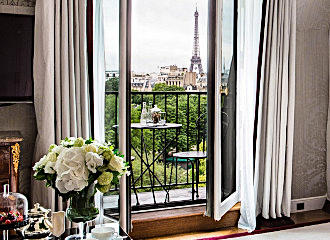 ---
Le Gabriel

This was the first restaurant opened at La Reserve Paris Hotel and Spa, which was rated a Michelin starred restaurant back in 2016 and has 2 Michelin stars, headed by the Executive Chef Jerome Banctel.

Exclusive and a small top table restaurant in Paris with only 40 covers you are taken on a journey of the senses with the cuisine, and you can read far more about Le Gabriel restaurant on our dedicated page.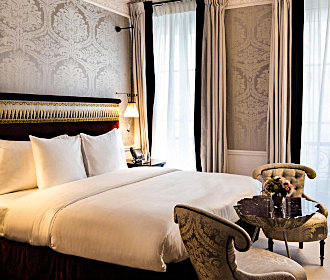 ---
La Pagode de Cos

Named after the pagodas that were erected on an historical wine estate called Cos d'Estournel that you can read more about within the history of the vineyards that Michel Reybier owns, this was the second restaurant of La Reserve Paris to open.

Still a top gourmet restaurant, also with menus devised by Executive Chef Jerome Banctel, there are a wide range of different meal options including a Grill Menu one with many pasta dishes, a weekend brunch and even afternoon tea with pastries etc.

All at your fingertips and served within the Grand Salon or elsewhere depending upon your wishes if staying at La Reserve Paris, you can also discover more about La Pagode de Cos restaurant on our dedicated page.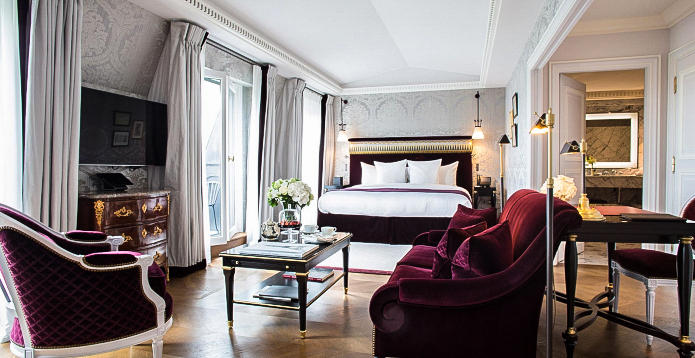 ---
Wellbeing and Spa of La Reserve Paris

The wellbeing area of La Reserve Paris is open 24 hours a day and is reserved for the exclusive use of guests of the La Reserve Paris Hotel and La Reserve Paris Apartments for those over the age of 16, but those under this age can still utilise the facilities if monitored by a parent or guardian at all times.

One of very few hotels in Paris with a swimming pool, here you will find a fabulous 16 metre indoor swimming pool with alcoves at the edge where you can just relax and the other areas such as the Hamman and fitness centre located off of this central focus.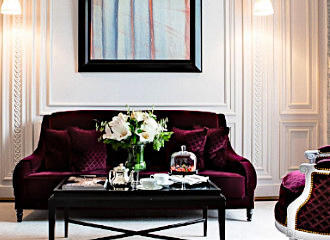 ---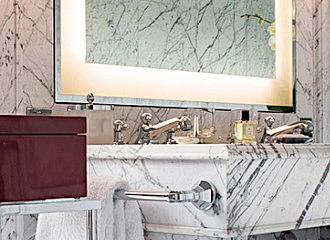 ---
Many different services are offered, including private swimming lessons for those aged 4 and up along with private aqua training sessions, and for those of you who prefer the idea of a gym for exercise, there is a state of the art fitness centre, with coaches available to help improve your fitness or techniques.

Personal training sessions for one person or a couple can also be booked, and there are trained staff available for an initial consultation to assess your health and fitness to tailor make a program suitable for your needs and requirements.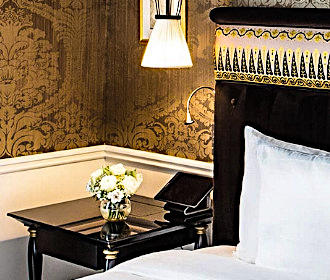 ---
Yoga classes and Pilates classes with a personal trainer can also be booked and these are held within the privacy of your own room, plus for those of you who are truly into wellbeing with a healthy diet, you can opt for the unique gluten and lactose-free taste experience served like a menu composed of exceptional produce designed by Jerome Banctel of Le Gabriel restaurant.

You will be able to enjoy two detox shots, a choice of three herb teas, a basket of gluten-free bread and cakes, buckwheat muesli and almond milk, avocado with Gomasio seasoning, an egg-white souffle omelette and seasonal vegetables plus a selection of fresh seasonal fruit. Matching perfectly with the Spa treatments, a vegan option is also available.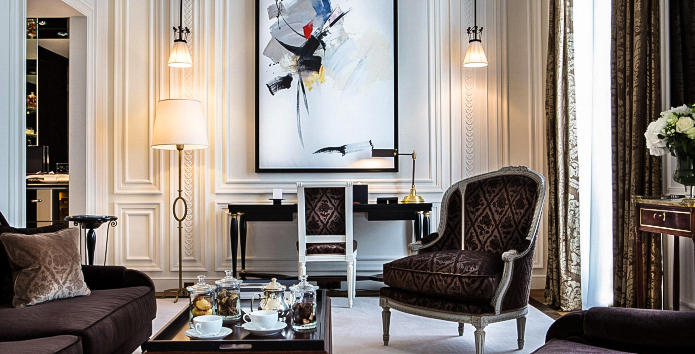 ---
Talking of the Spa at La Reserve Paris, there are three very private and luxurious treatment rooms and a wide range of different treatments available between the hours of 9am and 9pm, which includes different massages and a dedicated set of treatments designed specifically for men.

Completely personalized body and face treatments may be tailored to every individual need and desire, with La Reserve Paris offering the Nescens-Swiss anti-aging science brand exclusivity for sophisticated treatments, better-aging massages and cosmeceutical anti-aging products for men and women.

Treatments do have to be booked in advance and are available for those aged over 16, however, for those of you who would rather have one of the treatments within your room or opt for an out of hours service within your room, then both options are also possible for additional charges.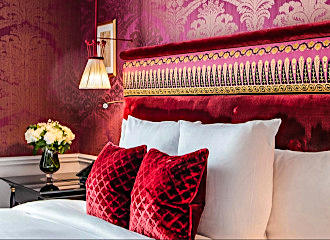 ---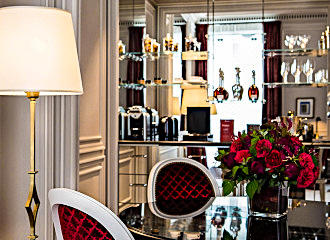 ---
Rooms and Suites at La Reserve Paris Hotel and Spa

There are a total of 25 suites and only 15 rooms at La Reserve Paris Hotel and Spa and each is totally individual epitomising the elegance, luxury and grandeur of 19th century living, yet with modern 21st century technology to make your stay not just unforgettable, but out of this world, plus you may be pleased to know that this is a disabled friendly hotel in Paris that can also cater for wheelchair users.

When it comes to furnishings within the rooms and suites you will find silk hung walls, velvet drapes, honeycomb style fabrics, herringbone oak parquet flooring along with unique pieces of antique furniture and paintings, not forgetting the spacious and luxurious bathrooms in Carrara marble and Turquin Blue marble.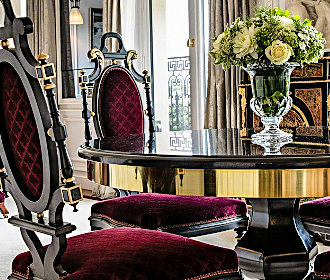 ---
With each room and suite being different and unique, some having beautiful fireplaces, where you can discover a TV hidden by a mirror hanging above, others with a terrace for al fresco dining, and so on, in addition to items added to meet your specific likes such as your favourite flowers, items or games for children, pet bowls, specific books, etc.

Rooms start from around €900 and come equipped with a mini bar, trouser press, flat screen TVs with international channels, an iPad tablet that controls all aspects of the room depending upon your mood such as lighting and sound, etc, plus there is the one button call facility to contact your very own personal butler. Yet technology is hidden from view, so that you can soak up the ambience.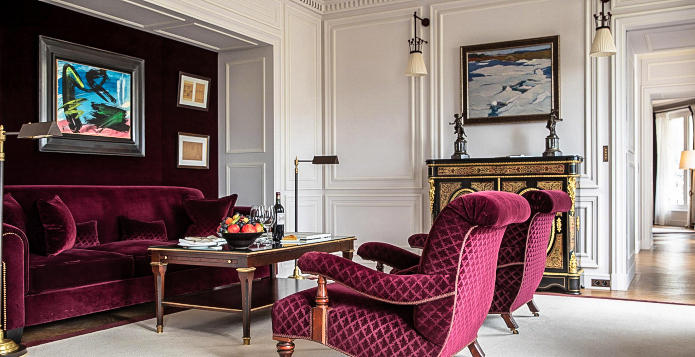 ---
Whereas a suite starting from around €1,500 upwards to over €7,000 plus, also come with a wine cellar stocked with Grand Cru vintages and the Grand Palais Suite even has its own personal bar and two separate bedrooms, not forgetting that some suites also have a dressing room, a proper dining area with dining table and chairs along with separate lounges as well.

So as we have mentioned before, whether you choose a room or a suite, the butler is there to help make your stay run smoothly, whether it be unpacking, organising a meal, running you a bath upon your return, obtaining items such as chocolates, and so much more.

A cot can be added to a room, and some of the rooms or suites can be interconnecting to make larger family rooms, in addition to the fact that some have a sofa that converts into a bed and an extra bed can also be added to some, depending upon your requirements and what type of room or suite you choose, plus as you probably realised, this is a pet friendly hotel in Paris as well, although many of these options may carry additional charges.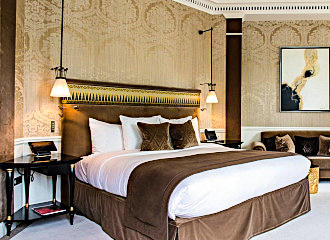 ---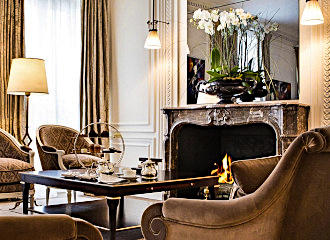 ---
The most basic room at this palace hotel in Paris is called a Prestige Room, which is the smallest room available but is actually very spacious at approximately 40 metres squared, especially when you compare it to most hotels in Paris, and with pastel hues it comes with an en suite that has a bath, Italian shower and a double basin.

However, we will not mention every kind of room or suite at La Reserve Paris Hotel and Spa, but some stand out for special features like the Duc de Morny Suite that has a lounge area set around the beautiful fireplace, separate dining area, dressing room and just like you would read in old novels, there is even a hidden door leading from the bedroom to the entrance that permits an incognito exit!

Whereas the Elysees Suite is on the fifth and top floor and has many windows and balconies that offer fabulous views to some of the top Paris tourist attractions including the most ornate bridge called Pont Alexandre III, which was constructed for the 1900 Paris World Fair.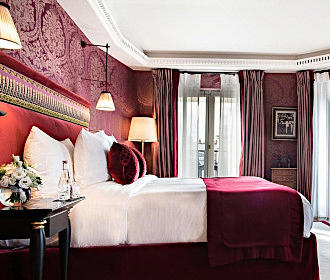 ---
Although the largest at over 200 metres squared and most prestigious is the Grand Palais Suite with its two separate bedrooms and dressing rooms, two lounges, two private bars as well as the wine cellar, dining room, office area, balcony with views over the city, plus the bath has a view over towards the Eiffel Tower or the Grand Palais and so on.


Access to La Reserve Paris Hotel and Spa

La Reserve Paris Hotel and Spa is located within the 8th Arrondissement in what is classed as the chic upmarket Golden Triangle only steps from the Avenue des Champs Elysees and overlooking the Champs Elysees Gardens.

For those of you with your own vehicle, valet parking is available, although for the majority of people on holiday in Paris it will be via public transport, although as with many luxury 5 Star hotels and Palace hotels, private airport transfers can also be arranged, which add convenience.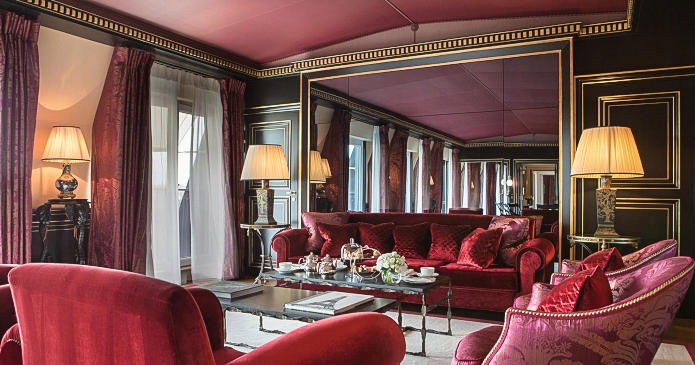 ---
In fact, La Reserve Paris offers a service with their own chauffeur driven cars where they can pick you up at the airport and get you through customs quickly and easily to enable a smooth start, even making sure your room or suite will be ready for you no matter what time you arrive, even if it is very early morning.

Yet the service does not stop there, because while you are a guest at this Palace hotel you can request a pick up by La Reserve from anywhere you have been visiting etc, rather than walking back, getting a taxi, etc.

However, for those of you still opting to utilise the Paris public transport network, you will find that due to its location overlooking the Jardins des Champs Elysees, it very easily reached, with the nearest Metro station called the Champs-Elysees - Clemenceau stop serving Metro line 1 and metro line 13 being a short walk located on the opposite side of the gardens past the Theatre Marigny by the Charles de Gaulle monument.
Alternatively, also on the Avenue des Champs Elysees you have the Franklin D Roosevelt stop serving lines 1 and 9, plus the Arc de Triomphe - Etoile stop serves the Metro lines 1, 2 and 6.

Whereas the nearest Paris bus stops are also on the Avenue des Champs Elysees, including 28, 32, 42, 73, 80 and 93 along with the Noctilien Night Bus service via lines N01, N02, N11 and N24.

Yet for those of you who are travelling into Paris via the RER trains, you have the Invalides station serving the RER C train line along with Metro line 8 and metro line 13, which is on the opposite side of the River Seine. In addition, by the famous Arc de Triomphe where you can also see the Tomb of the Unknown Soldier, you will find the Charles de Gaulle - Etoile station serving the RER A train line.
Paris Hotel booking info

La Reserve Hotel and Spa
42 Avenue Gabriel
75008
Paris
Ile de France
France

Tel: 0033 1 58 36 60 60
GPS: 48.86976, 2.31328

Website: https://www.lareserve-paris.com/