HD photographs of modern art sculpture Acteon on Pont des Arts - Page 817

While on the Pedestrian bridge called the Pont des Arts in Paris, we took these high definition photos showing a sculpture group called Acteon, which was produced by the artist Daniel Hourde.


Paris Statues
- << Previous 811 812 813 814 815 816 817 818 819 820 Next >>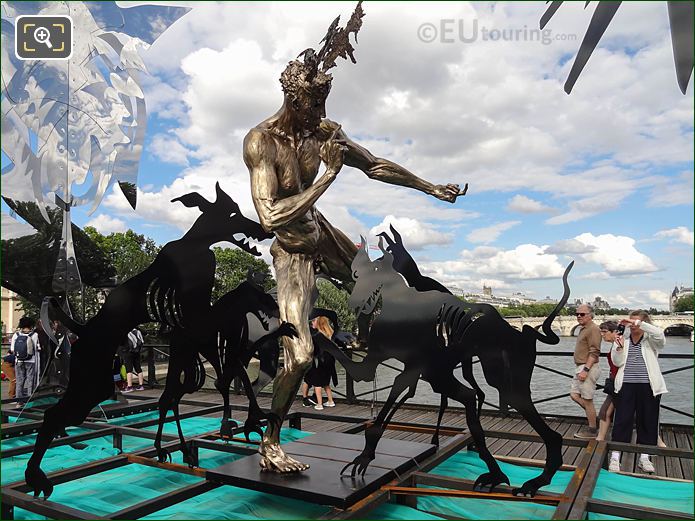 This first HD photo shows a male figure with horns, which was sculpted in bronze and was designed to be Acteon, which is actually spelt Actaeon in English, and he is surrounded by dogs showing their teeth, which were produced in steel then coloured with black lacquer.
Now this contemporary art statue and the sculptures in this group were produced by the artist Daniel Hourde for a temporary exhibition on the Pont des Arts, which he named La Passerelle Enchantee, and in English this translates to The Enchanted Footbridge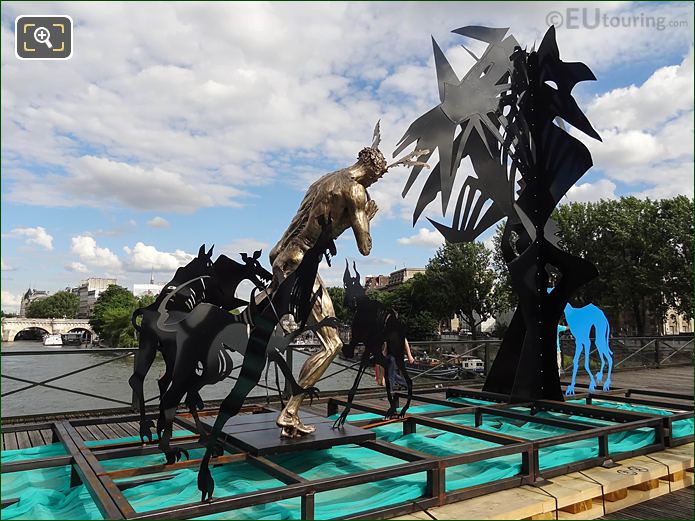 There are actually several different statues and sculptures that have different meanings like this one of Acteon, yet as you can see in this photo there are abstract works of art known as trees, and Daniel Hourde wanted to remember the history of the Pont des Arts, such as when it was envisioned as a suspended garden or when padlocks known as lovelocks were on the bridge.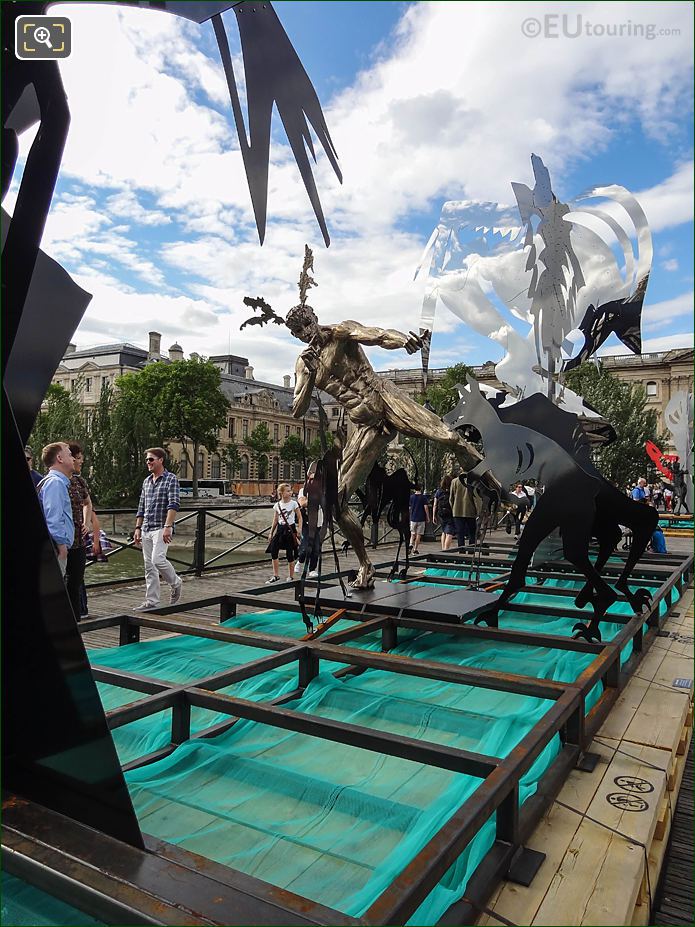 This temporary installation on the Pont des Arts runs in conjunction with an exhibition at the Galerie Agnes Monplaisir who represents Daniel Hourde, and according to the founder of this gallery, the bridge has always been a symbol for love and arts, which she feels will get people engaging in a new way, yet still relating to the old.
But as you can see from this photo looking towards the Institut de France, there are different platforms set out along the wooden walkway of the Pont des Arts, and many people were involved with making The Enchanted Footbridge happen including Jean-Marc Weill for the engineering, Woytek Mazurek for the technical design and Simon Drotter for the realisation and installation of the exhibition.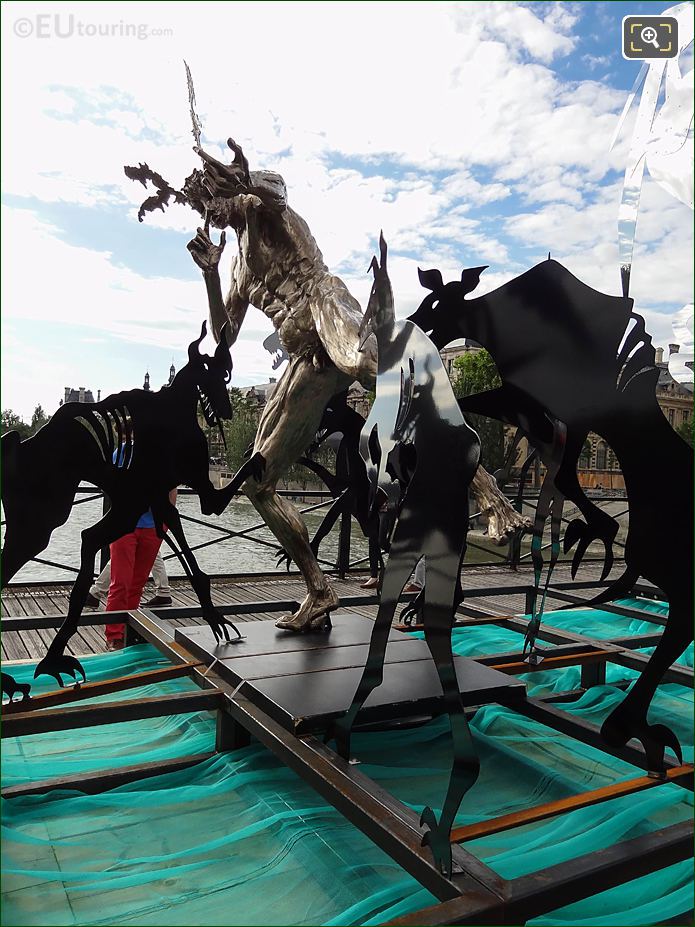 The name of this temporary exhibition, La Passerelle Enchantee, truly sums up the theme of myth and magic, with Acteon being a famous hero trained by the centaur Chiron in Greek mythology, and being a hunter, Actaeon always had his dogs, or hounds, with him when hunting.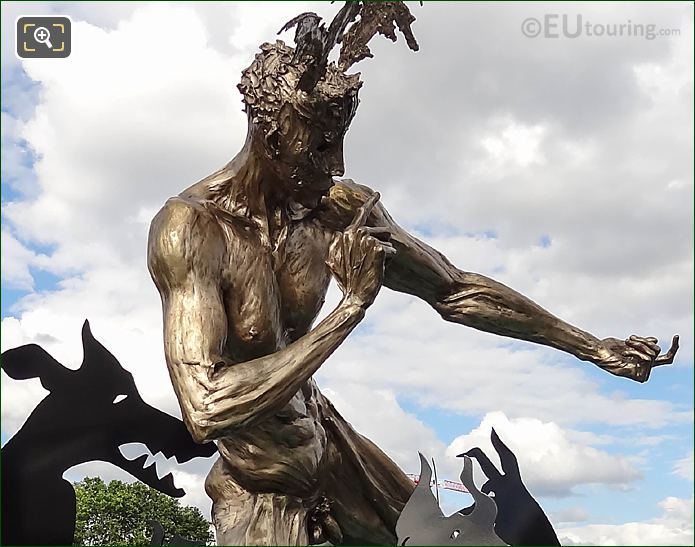 However, in the mythological stories from centuries ago, the hunter became the hunted, which was when Actaeon was transformed into a stag by Artemis, and the hounds turned on their master like wolves in a range to tear him to pieces as though he were a stag, which is why the silhouette shapes of the dogs all look like they are bearing teeth.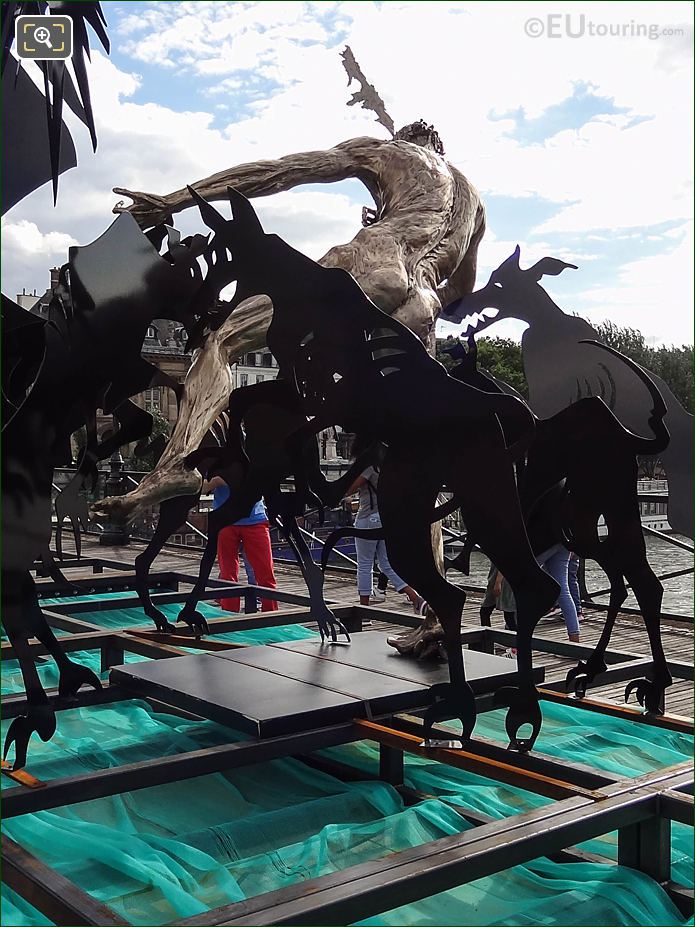 So this photograph shows the statue group from behind where you can see that the steel hounds are surrounding the bronze male figure of Acteon, and you can also see one of the horns on Actaeon depicting the transformation into a stag, or deer, as some would call it.
Yet in this close up photo you can see the tourist information plaque that details the specific statues and sculptures on this particular platform, and as you can tell, these particular contemporary art works by Daniel Hourde were produced in 2016, specifically for La Passerelle Enchantee exhibition on the Pont des Arts.

Paris Statues - << Previous 811 812 813 814 815 816 817 818 819 820 Next >>


If you would like to use any of these photos for non commercial use we only ask that you please do include recognition to ourselves "eutouring.com", but if you are not sure with regards to usage, please contact us.