Hotel Muguet - 3 Star Hotel in Paris France

A family run 3 star hotel that is disabled friendly with dedicated rooms for wheelchair users, it has rooms with a view of the Eiffel Tower and services at Hotel Muguet include concierge, unlimited buffet breakfast, free WiFi, computer and printer at reception plus more for a relaxing stay in Paris.
Average Double
€100 - €200
---
About Hotel Muguet

The Hotel Muguet is a family run 3 star hotel in Paris that has been in the same family for over 60 years with their aim to still make you feel welcome and like family with their warm and friendly atmosphere that shines through from staff to the hotel itself.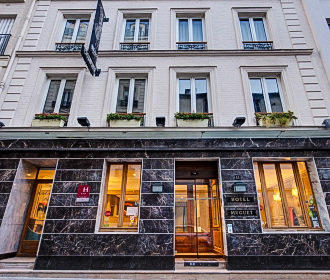 ---
With a typical Parisian feel mixing old with new, like the wood panelling and traditional armchairs within the lounge through to unusual bits of decoration and lighting, the Hotel Muguet never stays the same as it is always completely revamped at least every ten years, along with updates being done as needed.
There are now added comforts including double glazing and air conditioning throughout this 3 star hotel, which is disabled friendly, has a lift and also two rooms that are dedicated to the disabled and wheelchair users in addition to being a family friendly hotel.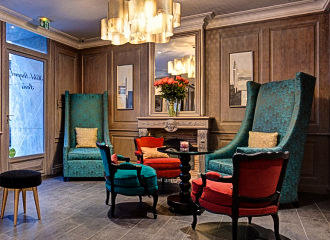 ---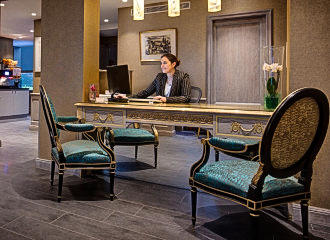 ---
Hotel Muguet is situated in the very popular 7th Arrondissement close to many historical monuments in Paris including Les Invalides where you can get to see the Tomb of Napoleon, other museums and all its canons on display, not forgetting that you would also be within walking distance of the iconic Eiffel Tower.


Hotel Muguet Facilities

With a 24 hour reception, there is a luggage hold available if you are arriving prior to check-in or wish to leave later in the day to get the most out of your holiday in Paris, and staff are able to speak good English as well as French and some can also speak other languages such as Italian, Spanish, etc.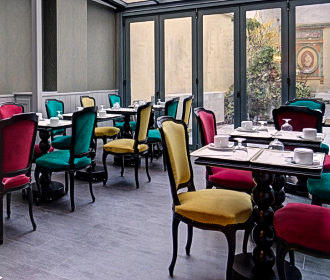 ---
Staff at Hotel Muguet offer concierge services, whether it be organising airport transfers, making reservations at one of the many restaurants, or even booking tickets for shows and popular tourist attractions in Paris such as the Palais Garnier Opera House, the Moulin Rouge cabaret and so on.

You may be pleased to know that there is free WiFi throughout the hotel so you can keep in touch with friends and family back home, plus there are newspapers available in order to keep up to date with the news that you can enjoy within the lounge. Yet for those of you who do not have an internet enabled device, there is a computer you can utilise at reception, plus a printer is also available, which is very handy for printing off boarding passes and so on.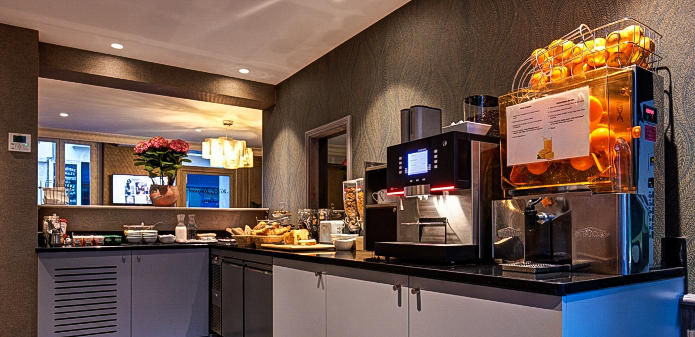 ---
Breakfast at Hotel Muguet is served between 6:30am and 10:30am within the dedicated bright breakfast room, which is just off the reception in a conservatory that looks out to a small patio garden, and there is also a fish tank with its small fish that brings additional calm enjoyment.

Served buffet style as all you can eat, which makes the perfect start to your day, delights on offer include cereals, yoghurts direct from a local farm, compote, fresh fruit and dried fruit.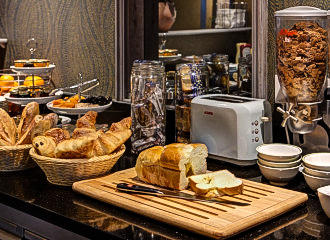 ---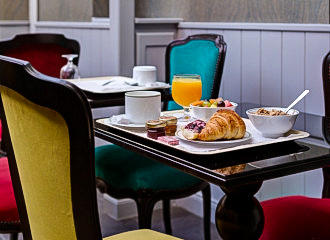 ---
There are various French breads and pastries that come from the local artisan baker, plus there is a toaster at your disposal and you can enjoy these with accompaniments such as butter, jams, cooked ham from a Paris specialist, cheese, even scrambled eggs and cooked red beans. Hotel Muguet also offer Lomi coffee roasted in Drome by a specialist French craftsperson along with other hot beverages including cappuccino and Kusmi teas, in addition to the fresh orange juice that is squeezed and produced from real oranges as you require.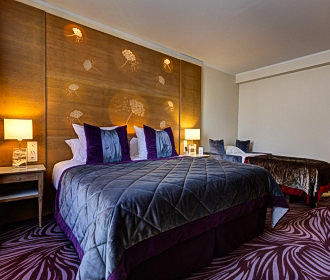 ---
Also, because this is a family friendly hotel in Paris, you may be pleased to know that a bottle warmer and high chair are also available, plus there is a cold drinks vending machine at reception along with a courtesy tray for making your own tea and coffee at any time. Additionally, there is also a fridge available at reception that you can utilise to chill things such as a bottle of wine, etc.


Rooms at the Hotel Muguet

There are 40 rooms at Hotel Muguet, which are relatively spacious compared to many hotels in Paris and coming in different categories some have views to the Eglise du Dome of the Hotel des Invalides and others that you can book specifically for a view of the Eiffel Tower.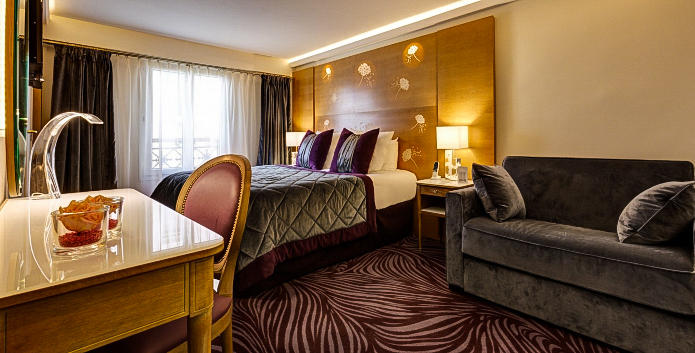 ---
Each room comes with a spacious en suite with shower and hairdryer plus some rooms have complementary toiletries. The rooms all have a desk, free WiFi, a direct dial telephone, personal safe and a flat screen TV with Satellite channels.

You can choose from single, twin, double and triple rooms and there are Superior rooms that have a small sofa. Additionally, there are four Prestige rooms with a view to the Eiffel Tower and one of these also has a balcony, plus there is a Romantic room with a view as well.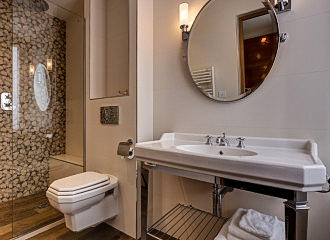 ---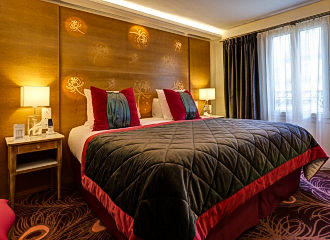 ---
Access to the Hotel Muguet

Located in the 7th Arrondissement, when it comes to reaching Hotel Muguet via public transport in Paris, you will find it located in between the Ecole Militaire and the La Tour-Maubourg Metro stations both serving Metro Line 8.

You will find that the nearest bus stop serves the Paris bus line 28, yet around the junction by the Ecole Militaire you could also utilise the Paris bus lines 80, 82, 86 and 92. However, by going in a Westerly direction to the middle of the Champ de Mars Gardens on the Avenue Joseph Bouvard you have the bus stops for lines 42, 69 and 86, and all of these are within very easy walking distance.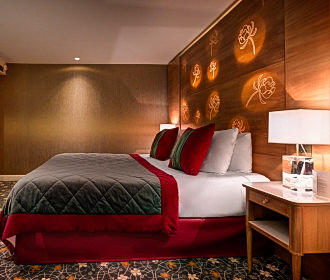 ---
Whereas you will find the nearest RER train stations are the Pont de l'Alma stop located in a north westerly direction or in a north, north easterly direction you have the Invalides station, both of which serve the RER C train line, yet the Invalides stop is also a Metro station for metro line 8 and metro line 13.

For those of you who are interested in discovering more of Paris and seeing tourist attractions in other parts of the city that are not within walking distance of Hotel Muguet, you could opt for one of the tours in Paris and there are several companies that provide bus tours including Foxity.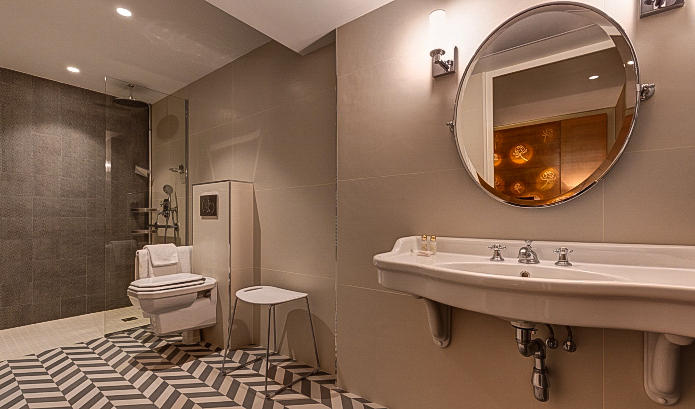 ---
You then have Big Bus Paris, which also offer a hop on and hop tour service, and with their stop slightly nearer to Hotel Muguet, it is in the middle of the Champ de Mars gardens by the fountains, which is on the Red tour route as stop 2 on the Avenue Joseph Bouvard.

However, for something different, you could also enjoy the Batobus, which is a water bus operating a hop on and hop off service up and down the River Seine with docking stations close to many popular tourist attractions including the famous Louvre Museum. Their main dock is at the foot of the Eiffel Tower, right by some of the River Seine sightseeing boat tours including Vedettes de Paris.
Although, if you are thinking of getting to Chateau de Versailles for a day out, but would rather not utilise public transport in Paris to get there, you will find a company called Versailles Express who operate a package tour service as well as a shuttle service to and from the famous former royal palace, which is also located at the base of the Eiffel Tower and within walking distance of the Hotel Muguet.
Paris Hotel booking info

Hotel Muguet
11 Rue Chevert
75007
Paris
Ile de France
France

Tel: 0033 1 47 05 05 93
GPS: 48.85569, 2.30887

Website: https://hotelparismuguet.com/