Hotel de la Tour Eiffel - 2 Star Hotel in Paris France

Within a prestigious area close to the Eiffel Tower and other famous tourist attractions the 2 Star Hotel de la Tour Eiffel has family rooms and connecting rooms, all have an en suite, plus there is 24 hour reception, free WiFi and more.
About Hotel de la Tour Eiffel

Situated in the popular 7th Arrondissement within walking distance of the Eiffel Tower and many other famous tourist attractions in Paris including Les Invalides, the Hotel de la Tour Eiffel is located on a one-way street where there are many cafes and restaurants.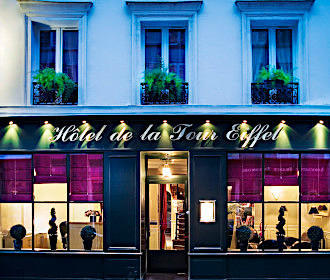 ---
This is a small 2 star hotel in Paris spread over 5 floors that was entirely renovated in 2012 and along with a lift, or elevator to access the rooms, there is also air conditioning throughout, plus there are also international electric sockets.


Hotel de la Tour Eiffel Facilities
You may be pleased to know that there is a 24 hour reception at Hotel de la Tour Eiffel with check-in being after 1pm and check-out before 11am, yet for those of you arriving early or leaving later in the day to get the most out of your holiday in Paris, there is a luggage hold available.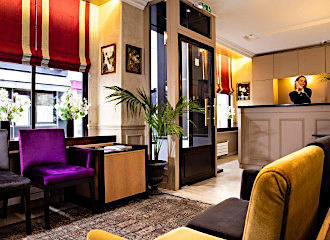 ---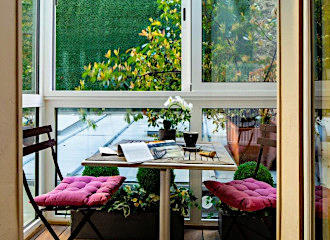 ---
Reception staff are able to speak English as well as French and offer fax, printing and copying services, along with a laundry service, all for additional charges, although we would like to point out that there is no ironing service, but an iron and ironing board are available upon request.

Hotel de la Tour Eiffel has a comfortable lounge area by reception where you can relax, look at tourist information or catch up with people back home via the free WiFI.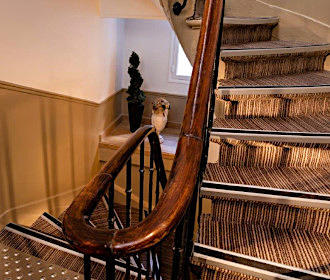 ---
Additionally staff are willing to help you to organise your stay, whether it be booking a Paris taxi, arranging a shuttle to the airports or one of the train stations in Paris and much more to make your time in the City of Lights run smoothly.

When it comes to breakfast, this can be arranged, but there are no facilities at Hotel de la Tour Eiffel for this, so if required you would need to walk to a local cafe a couple of minutes down the road, although as we mentioned earlier, there are numerous cafes and restaurants in the area that you could choose to soak up the typical Parisian early morning atmosphere.


Rooms at the Hotel de la Tour Eiffel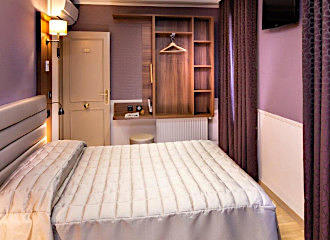 ---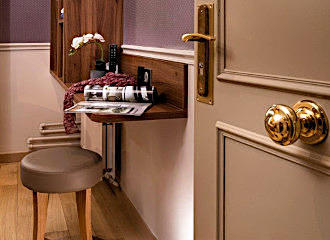 ---
There are 24 rooms at Hotel de la Tour Eiffel that are spread over 5 floors and all come with soundproofing, blackout curtains and either heating or air conditioning depending upon the weather for a comfortable night with peace and quiet.

Each room is compact but has an en suite with a hairdryer, clothes space and small desk, personal safe for your valuables, a flat screen TV with International channels, direct dial telephone and free WiFi.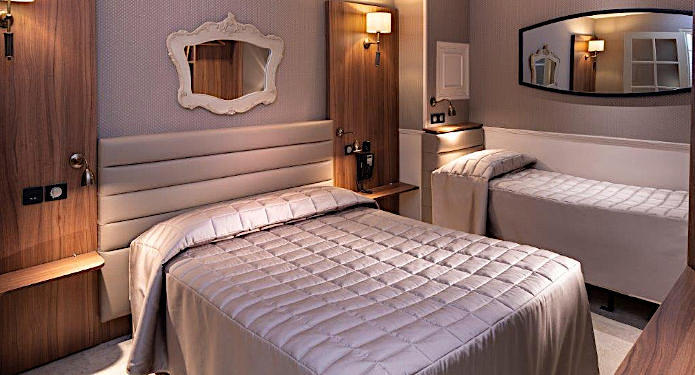 ---
You could opt for a Stand twin or double room at the Hotel de la Tour Eiffel, but a Superior Double is slightly larger and also comes with a loggia, which is a type of terrace that has a cover or roof.

However, for those of you travelling as a family or even friends together, there are various options available to you, including a standard Triple room. There is also a Standard Quadruple room that is actually two connecting rooms, plus with the same aspect, there is a Superior Quadruple room, which also comes with a loggia style terrace.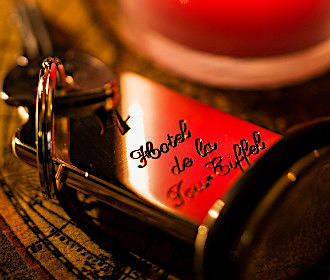 ---
Yet very unusual for one of the 2 star hotels in Paris, the Hotel de la Tour Eiffel also offers what they call a Family room, which is actually more like a Suite, as there are 3 connecting, but still independent rooms that all have their own en suite and these not only overlook, but also have access to the courtyard garden as well.


Access to the Hotel de la Tour Eiffel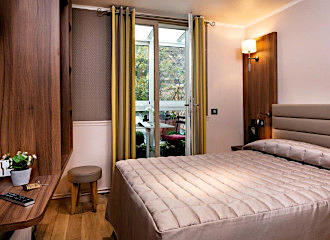 ---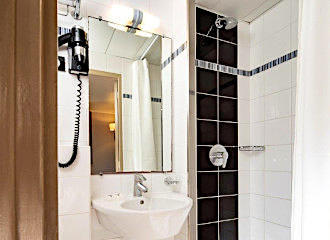 ---
Located in the 7th Arrondissement, when it comes to reaching the Hotel de la Tour Eiffel via public transport in Paris, you will find the nearest bus stop serves Paris bus lines 69, 80 and 92 by heading in a south easterly direction.

By continuing in the same direction heading towards the Ecole Militaire there are bus stops serving bus line 28 and bus 82, plus it is also here that you have the Ecole Militaire Metro station serving Metro Line 8. Although by the Avenue Joseph Bouvard at an entrance to the Champ de Mars, you could also utilise the bus lines 42, 69 and 86.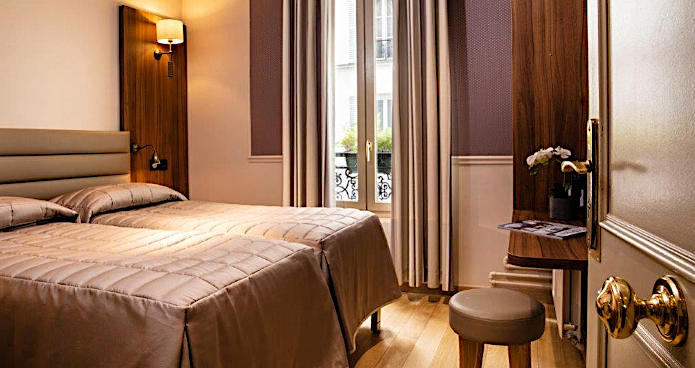 ---
Whereas the nearest RER train station is situated in a north, north easterly direction called Invalides, which serves the RER C train line along with being a metro stop for line 8 and line 13.

For those of you who are interested in discovering more of Paris and seen tourist attractions in other parts of the city, you could opt for one of the tours in Paris and there are several companies that provide bus tours.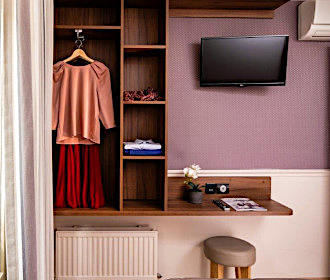 ---
To start with you have OpenTour who operate a hop on and hop off tour bus service with open top double decker buses and having three different routes you can enjoy, on the Grand Tour Blue tour route you will need stop 14, called the Tour Eiffel stop on the Quai Branly.

Then you have Big Bus Paris, which also offer a hop on and hop tour service, and the nearest stop to Hotel de la Tour Eiffel is in the middle of the Champ de Mars gardens by the fountains, which is on the Red tour route as stop 2 on the Avenue Joseph Bouvard.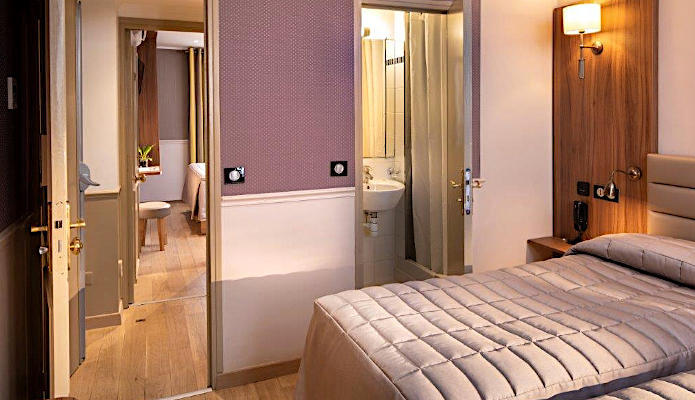 ---
However, for something different, you could also enjoy the Batobus, which is a water bus operating a hop on and hop off service up and down the River Seine with docking stations at close to many popular tourist attractions including the famous Louvre Museum, with their main dock being at the foot of the Eiffel Tower, right by some of the River Seine sightseeing boat tours including Vedettes de Paris and Bateaux Parisiens who also do dinner cruises.
Yet if you are thinking of getting to Chateau de Versailles for a day out, but would rather not utilise public transport in Paris like the RER trains to get there, you will find a company called Versailles Express who operate a package tour service as well as a shuttle service to and from the famous former royal palace, and this company has their pick up and drop off point at the base of the Eiffel Tower.
Paris Hotel booking info

Hotel de la Tour Eiffel
17 Rue de l'Exposition
75007
Paris
Ile de France
France

Tel: 0033 1 47 05 14 75
Fax: 0033 1 47 53 99 46
GPS: 48.85765, 2.30307

Website: http://www.eiffel-tower-hotel.com/