Antoine Bourdelle and the history of the Musee Bourdelle

Antoine Bourdelle was a French sculptor that settled in Paris and once the assistant of Auguste Rodin, he was also determined to ensure that a museum was dedicated in his memory, which is why the Musee Bourdelle first opened in 1949.


Antoine Bourdelle

Antoine Bourdelle was born in the October of 1861 in the town of Montauban in the Midi Pyrenees region of France, which is where he went to school before enrolling at the Toulouse School of Fine Art when he was only fifteen years of age.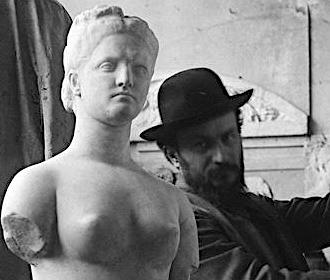 At the age of 24 Antoine won a scholarship to attend the Ecole des Beaux Arts in Paris and took up residence at the studio of the sculptor Alexandre Falguiere close to the Gare Montparnasse train station, and in 1893 he became the assistant sculptor for Auguste Rodin and the partnership lasted until 1908.

It was during this time that he conducted several trips abroad, met Cleopatre Sevastos who became his student and muse and eventually his wife, plus he produced the reliefs for the portal of the Musee Grevin waxwork museum. Then he had a solo exhibition in Prague in 1909 where Antoine Bourdelle met with much acclaim from his contemporaries for the sculpture named Hercules the Archer.

From this time on, right up to 1929, Anotoine Bourdelle taught at the Academie de la Grande Chaumiere art school, and some of his students you may well recognise the names of that became famous, including Aristide Maillol, Germaine Richier and Henri Matisse.

But even while teaching, Antoine still worked as a sculptor and ad hoc architect, helping to draw up the plans for the Theatre des Champs Elysees, creating a series of frescos, along with the imposing decorative marble sculpture found on the front of the building.
However, it was not until a year before his death that Antoine Bourdelle got true recognition for his work in his home country of France and this was down to the monument he produced to honour Adam Mickiewicz, which was inaugurated in 1929 shortly before Antoine died in the October of the same year.


The history of the Musee Bourdelle

Just like Auguste Rodin had been determined to organise a museum dedicated to his own works, Antoine Bourdelle also desired the same things, and after his death in 1929, his wife Cleopatre, daughter Rhodia and son-in-law Michel Dufet were also determined that his work should at last achieve the recognition it deserved and be exhibited for everyone to enjoy.

The studios where he worked were on the Impasse du Maine, and what better place to open up a museum dedicated to this sculptor, and so, several years after Antoine had died, Cleopatre eventually managed to donate the studios and a significant part of her collection to the city of Paris.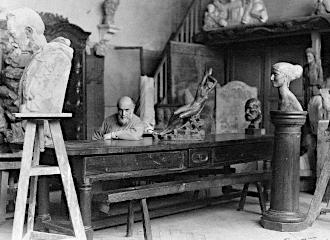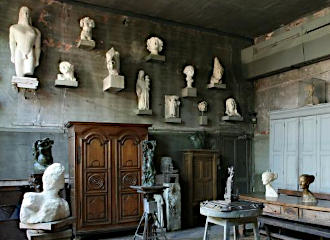 The Musee Bourdelle actually opened to the public in 1949, that very same year, and in fact, because the Montparnasse area was being developed and changed, the name of the road also got changed in his honour to the Rue Antoine Bourdelle.

The studios have been very well preserved and retain all of their original charm, yet more space was needed, so it was Henri Gautruche who then designed a large plaster sculpture hall in 1961 to preserve the monumental sculptures and display them as well as could be possible.

Then in 1992, Christian de Portzamparc, who also designed the Cite de la Musique located in the Parc de la Villette, also created an extension that included a conservation area, resource centre and a graphic arts room, which truly turned this into a spectacular museum dedicated to one artist.

However, this museum in Paris was to improve even further with additional donations by his daughter Rhodia Dufet-Bourdelle in 1992 and 1995, then with her bequest to the city of Paris in 2002, the collection became even richer.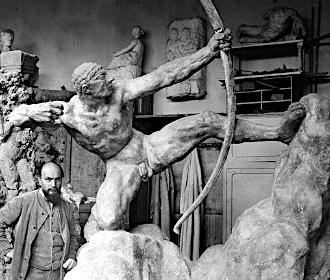 Today now there are approximately 2,000 plaster sculptures, 2,200 bronzes, 198 paintings, 6,000 graphic works, 13,000 photographs and the personal collection of Antoine Bourdelle, not forgetting that the Musee Bourdelle also has a major archive section as well.

So, if you are interested in works of art and sculpture, or want to find out more about the life of Antoine Bourdelle, then a trip to this museum is well worth it, plus it is also located to several other tourist attractions in Paris including the Tour Montparnasse and another unusual museum called the Musee de la Poste.
Address and contact details
Musee Bourdelle, 18 Rue Antoine Bourdelle, 75015, Paris, Ile de France, France

Tel: +33 (0) 1 49 54 73 73
Activities Tel: +33 (0) 1 49 54 73 91


Related information
Musee Bourdelle
Antoine Bourdelle statues in Paris
Ludvig Van Beethoven
Transport options
Paris Metro lines 4, 6, 12, 13
Bus line 28
Bus line 39
Bus line 58
Bus line 70
Bus lines 82, 89
Bus lines 91, 92, 95, 96
Night bus line N02
Night bus lines N12, N13
Night bus lines N61, N62, N63, N66
Night bus line N145
Attractions close by
Cesar Palace Cabaret
Mix Club
Tour Montparnasse
La Maison de la Bretagne
Brasil Tropical dinner
Musee Jean Moulin
Jardin Atlantique
Memorial du Marachal Leclerc de Hauteclocque et de la Liberation de Paris
Square Gaston Baty
La Coupole Brasserie
Musee Hebert
Musee Bible et Terre Sainte
Musee Zadkine
Jardin du Luxembourg
Fontaine des Quatre Parties du Monde