This venue is now closed please see Roland Garros restaurants.

The following article is left as-is for historical and archiving purposes.
Le Roland-Garros Restaurant in Paris

The Roland-Garros restaurant is located in the heart of the Roland Garros stadium where the French Open Tennis Tournament is held each year, and whether it be an a la carte meal or Sunday brunch, you can enjoy a delightful setting and even visit the tennis museum.


About the Roland-Garros Restaurant

Located within the Roland Garros Stadium only a tennis ball lob away from the legendary Philippe Chatrier tennis court, you will be able to discover the cottage style setting of this beautiful restaurant in amongst the greenery.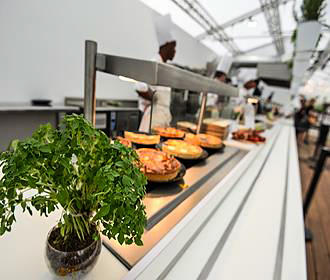 With a stylish decor that combines stone and panelling along with a fireplace for added warmth in the winter, large picture windows letting in masses of natural light plus they have a lovely leafy terrace full of flowers for the warmer days, which was all designed by Miguel Cancio, so you can enjoy a relaxed, yet refined and unusual setting for lunch or dinner with friends or family.


Cuisine at the Roland-Garros Restaurant

You will find that the French cuisine served at this restaurant in Paris combines tradition and modernity for refined dishes that complement the surrounding and provides an experience to remember, whether it be lunch with friends or a romantic evening dinner, perhaps after watching one of the many tennis matches played at the Roland Garros stadium throughout the year.

There is an a la carte menu available at Le Roland-Garros Restaurant for both lunch and dinner with starters such as duck Foie Gras with sea salt, whipped avocado, crab meat and curry vinaigrette or even Imperial Caviar.
Main courses start from around €15 and go up to around €35 as of 2014 and could be delights such as fillet of sea bass with lemon butter, a grilled piece of beef, or a medallion of poultry with morel mushrooms to name a few. And then of course there are some very tempting desserts including cheesecake, fresh fruit salad or rum Baba with whipped cream.

However on a Sunday the Roland-Garros Restaurant serve a brunch, which includes an assortment of different pastries, cheeses, salads, hot dishes, hot drinks and fresh juices for an enjoyable lunch with family or friends, and children get a reduced price for the brunch, plus Valet parking is even available.


Visiting the Roland-Garros Restaurant

The Roland-Garros gourmet restaurant in Paris is open for lunch on a Monday to Friday and Valet parking is available if required, plus the restaurant is open of an evening for dinner on a Monday to Saturday.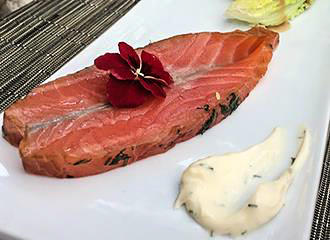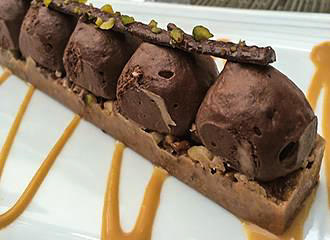 The Sunday brunch runs from 11.45am through to 3.30pm and is a cost of €38 for an adult and €19 for a child from 5 up to the age of 12.

However, if you want to have a truly unique experience you can opt for a behind the scenes visit of the Roland Garros stadium, visit the Musee de la Federation Francaise de Tennis Museum and learn about the history of the Stade Roland-Garros with a professional guide. This option is available on a Sunday, with the tour starting at 2pm, and this is a cost of €50 and includes a glass of champagne with your Brunch as well.

But we would like to point out that this restaurant is not open to the public during the French Tennis Open Tournament, not during the month of August, and reservations are highly recommended, especially for Sunday brunch.

You will find the Roland-Garros restaurant situated within the heart of the stadium in the 16th Arrondissement on the outskirts of the Bois de Boulogne park, and the nearest Metro station the Michel-Ange Auteuil via line 9. Alternatively you have the Port d'Auteuil or the Boulogne Jean-Jaures Metro stops, plus the Paris buses numbered 22, 32, 52, 62, 72 and 123 will get you reasonably close by.