Square Henry Pate in Paris

Located in the 16th Arrondissement this is a very little known square in Paris that was designed back in the 1920s and has numerous apartments surrounding it.


About Square Henry Pate

The Square Henry Pate was designed by the architect Pierre Patout, who is probably most recognised for the redevelopment of Galeries Lafayette in Paris along with being instrumental in the interior design of the transatlantic liner Normandie.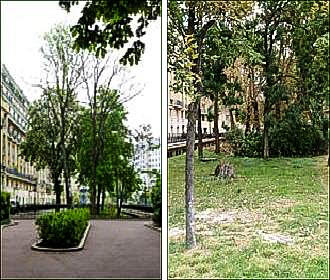 It first started to be laid out in 1928 and this square in Paris was inaugurated in 1929 in recognition of Henry Pate, who was a French politician, a radical socialist and a deputy of the Seine from 1910 for several years.

You will find that there is a private road that goes around the square and parking for the residents in the apartments only, and the Square Henry Page only has a garden area in the middle planted with trees and bushes, which is enclosed by railings, and therefore this little known little garden in Paris is very bland, yet provides some greenery for those living or working here.


Visiting Square Henry Pate in Paris

The Square Henry Pate is located in the 16th Arrondissement and has its entrance on the Rue Felicien-David, yet the finish of the square is the Rue Francois-Gerard.
When it comes to public transport in Paris, the nearest Metro station is the Mirabeau stop via line 10, however, if you cross the River Seine over the Pont Mirabeau bridge, then there is also an RER train station called Javel serving line C and another metro station called the Javel - Andre Citroen stop.