Parc Sainte-Perine Park in Paris

This particular park was once a country residence, but today is now a popular place for residents to relax, children to play and for people to enjoy the numerous species of trees, plants, flowers and even unusual botanicals to discover.


About the Parc Sainte-Perine

The land where you can now find the Parc Saint-Perine was occupied by the monks of Saint Genevieve from the 1100s, and the park was originally part of a country mansion house. However, during the French Revolution this and many other places of the clergy were dismantled and destroyed.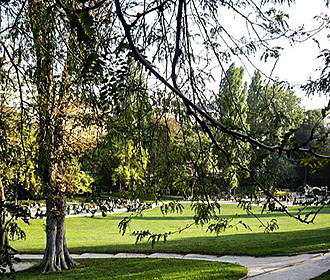 After the French Revolution the domain was spit and reduced and changed hands several times and eventually became owned by the daughters of the Countess d'Aubusson and it became a public assistance institution with a hospital bordering on it.

Yet in 1977, this hilly park in Paris was given to the City of Paris and was then designed to be a place for nearby residents to enjoy, being laid out with park benches, a picnic table, a large childrens play area with different apparatus to suit different ages and a sand pit.

Not forgetting different paths and walkways were added, and even more flower beds and other features were added for the general public to enjoy, yet there have been disputes over this area, as the city of Paris wanted to develop the area for houses and office, and the local residents have so far stopped this happening with partitions and appeals.

And it is understandable why so many people do not want to see the Parc Saint-Perine go, as you can enjoy an extremely wide variety of different trees, shrubs, flowers and unusual botanicals including ones that provide healing qualities or edible fruits.
Just some types of flora you can enjoy include maple, ash, sycamore and chestnut trees along with some more exotic varieties, plus ginkgo biloba, mulberry, plum, persimmons, etc. There is also a tulip tree along with flowers such as dahlias and azaleas to name but a few species, which provide beautiful colours and fragrances at different times each year.

Yet this garden in Paris, which is spread over an area of approximately 40,000 metres squared, also has vast expanses of grass that are ideal for picnics, relaxation and ball games, plus as we mentioned before, there are plenty of park benches dotting along the paths and by the childrens playground, so as you can tell, this is a lovely area for all the family or to take a stroll away from the hustle and bustle.


Visiting Parc Sainte-Perine in Paris

The Parc Sainte-Perine opens at 8am during weekdays and 9am at weekends, yet closing times vary depending upon the time of year, for example, in winter it can be as early as 5.30pm whereas in summer it can be as late as 8.30pm.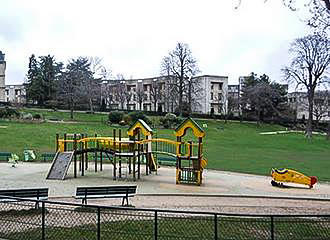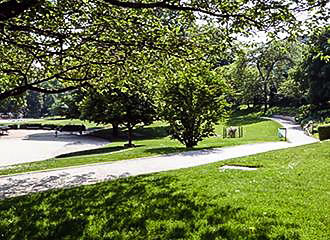 However, we would like to point out that some areas of this beautiful garden in Paris are not accessible to the disabled such as one of the sloping paths that has steps or a gradient area.

But for those that do visit the Parc Sainte-Perine, you may be pleased to know that there are a couple of water points where you can top up your drinking water bottles, and there are plenty of places to relax.

Now when it comes to accessing the garden, it is located in the 16th Arrondissement close to the River Seine and the entrance is on the Rue Mirabeau right near its tip, and the nearest Metro station is the Chardon Lagache via line 10.