Square Pablo Casals in Paris

With table tennis tables, a childrens playground and places to sit and relax, this square in Paris was named after a renowned cellist and conductor called Pablo Casals.


About Square Pablo Casals

The Square Pablo Casals was first laid out and then inaugurated in 1979, and was named after the renowned Spanish Catalan cellist and conductor Pablo Casals, who was internationally recognised and had played for royalty and different Presidents of the United States.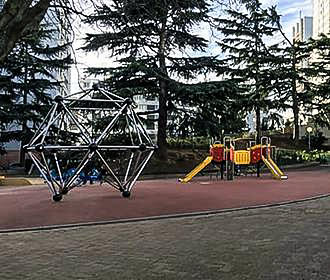 He was also one of the people that participated in founding the Ecole Normale de Musique in Paris, plus he produced many recordings including the Bach cello suites. And having been classed as one of the greatest cellists of all time, this square in Paris was named in his honour, just as many other places have been in other countries that Pablo Casals had an influence in.

Now within the square itself you can enjoy some shady areas from the apple and chestnut trees, plus there are also four Indian lilacs planted here along with many other species of plants, shrubs and trees.

Yet the main attraction for families, is the fact that there is not just a good sized childrens playground, but also a large sandpit and four table tennis tables, and you can relax on a park bench while you watch your children play happily.
Visiting Square Pablos Casals in Paris

Located in the 15th Arrondissement close to other tourist attractions in Paris such as the Square Bela Bartok and the River Seine with its different bridges and monuments, you will find that it is open 24 hours a day, every day and is a popular spot for families, especially during the summer months.

Now some areas are accessible to the disabled and those with wheelchairs or pushchairs, however, unfortunately parts of it are not, yet you may be pleased to know that there is also a drinking water point located here, so that you can refill your water bottles.