Square Dupleix in Paris

This square in Paris is located in the 15th Arrondissement and has a traditional bandstand where you can hear live music being played during the warmer months, plus there is a childrens playground and park benches to sit and relax.


About Square Dupleix

Originally as far back as the start of the 1900s there was a bandstand at the site of this square in Paris, even though the area was not turned into a proper square until 1921 when it was first created.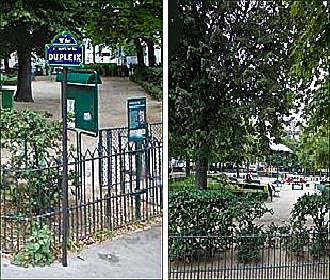 The square was named after Joseph-Francois Dupleix who was born in 1697 and became a colonial administrator and the Director General of French trading posts in India, but was defeated by the British in later years.

And within the Square Dupleix today, there is still the bandstand, known in French as a kiosque a musique, which is host to live music events and bands that can be heard at different times during the warmer months, normally between May and September.

Now this particular square is surrounded by a metal fence with gates at the entrance, along with a plaque produced by the Mayor of Paris, and inside you will find several park benches and a small lawn area along with rows of chestnut trees, which provide some pleasant shade on a summers day, plus there are two play areas, one being for toddlers, while the other is for older children, and there is even a sandpit as well.
Visiting Square Dupleix

Located in the 15th Arrondissement you will find the Square Dupleix open from 8am on weekdays and 9am at weekends. However, the closing times do vary depending upon the time of year, and in the true winter months it can close as early as 5.30pm, whereas in the summer it is later, and in August the square does not close until around 9.30pm.

Unfortunately, there are some areas of the Square Dupleix that will not be accessible to the disabled, but this is just another small square in Paris that is ideal for a quick rest of weary legs or letting your children have some fun.

And when it comes to public transport, the nearest Metro station is the Dupleix stop via line 6, yet it is within easy walking distance of many tourist attractions including the Champ de Mars Gardens where you can find the Eiffel Tower and other monuments in Paris.