HD photographs of Pierre Corneille statue at Comedie Francaise - Page 1108

We were in the 1st Arrondissement of Paris at the Comedie Francaise, when we took these high definition photos showing a statue of Pierre Corneille Seated, which was sculpted by Alexandre Falguire.


Paris Statues
- << Previous 1101 1102 1103 1104 1105 1106 1107 1108 1109 1110 Next >>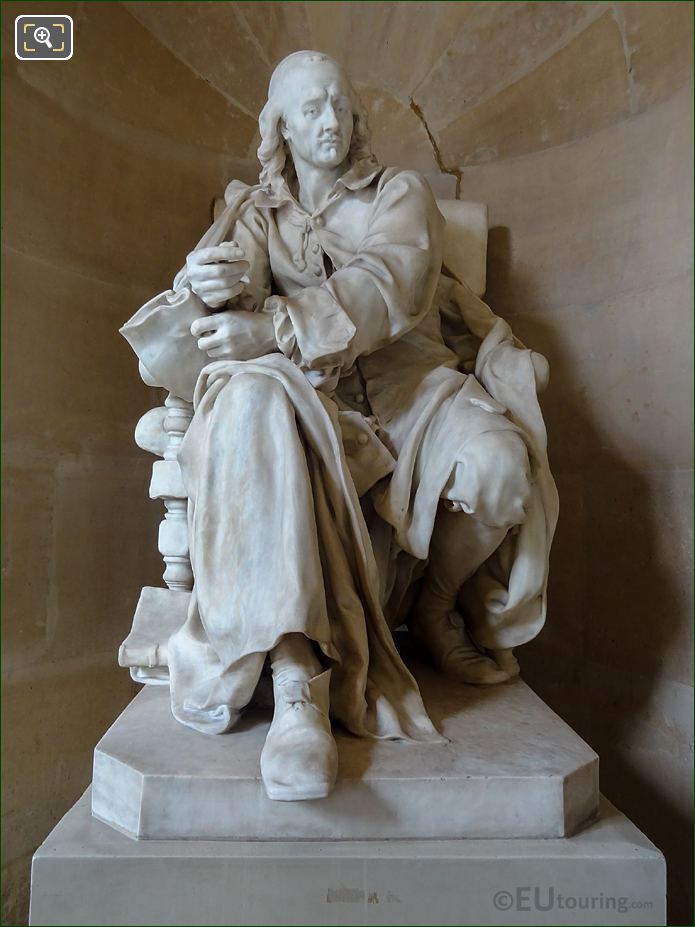 Pierre Corneille was born in Rouen in the June of 1606, and had a rigorous education that included acting, yet to follow in his father's footsteps he started to study law and although he was able to obtain a magisterial post, his first love was writing and plays and wrote his first play at that time, which was a resounding success in Paris.
Pierre Corneille was able to gain a patronage from Cardinal Richelieu who was trying to promote classical tragedy plays along formal lines, and moving to Paris Corneille stepped out of those boundaries on more than one occasion, but became a prolific playwright and became classed to be a great Tragedian and is now considered to one of the greatest 17th century dramatists along with others such as Moliere.

Passing away in Paris in 1684, Pierre Corneille was buried at the Eglise Saint-Roch and there are many references to him around the city including a statue on The Louvre, and of course this marble statue within the Comedie Francaise where his plays were performed.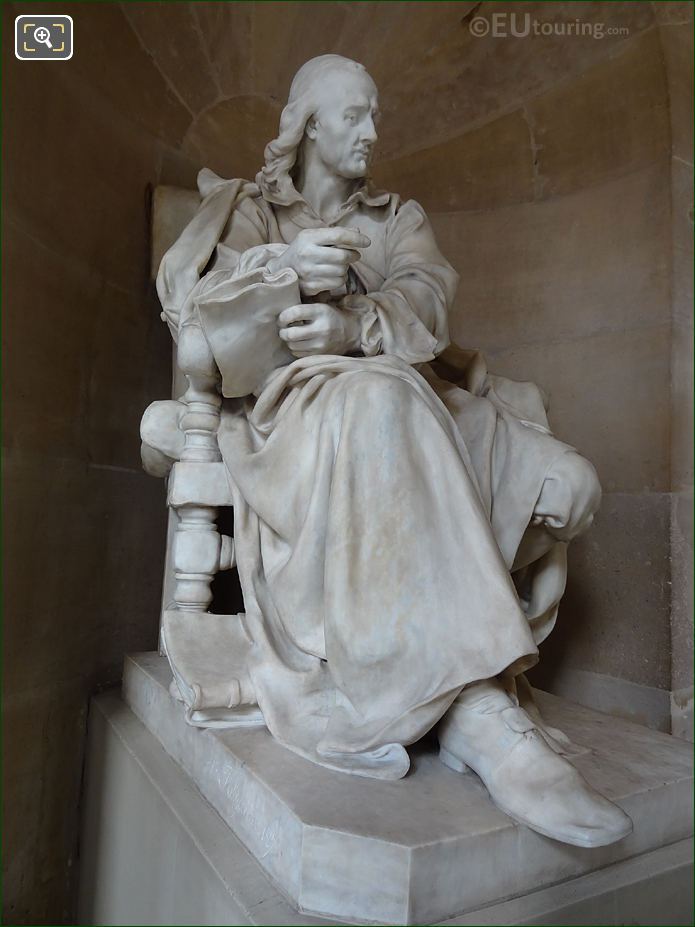 So here you can see the statue of Pierre Corneille Seated at the Comedie Francaise, which was produced in marble by Alexandre Falguiere who was born in September 1831 with a full name of Jean Alexandre Joseph Falguire, sometimes reversed to Jean-Joseph Alexandre Falguiere, yet was known as only Alexandre Falguiere.

Studying at the Ecole des Beaux Arts in Paris he won the Prix de Rome and was even appointed Officer of the Legion of Honour a few years later and mainly working in bronze and marble, there are many statues in Paris that you can discover by him such as the bronze L'Inspiration Guidee par la Sagesse at the Palais de la Decouverte entrance and a statue called Asie that was sculpted for the 1878 World Fair in Paris, which is now positioned on the parvis, or square, in front of the entrance to the Musee d'Orsay.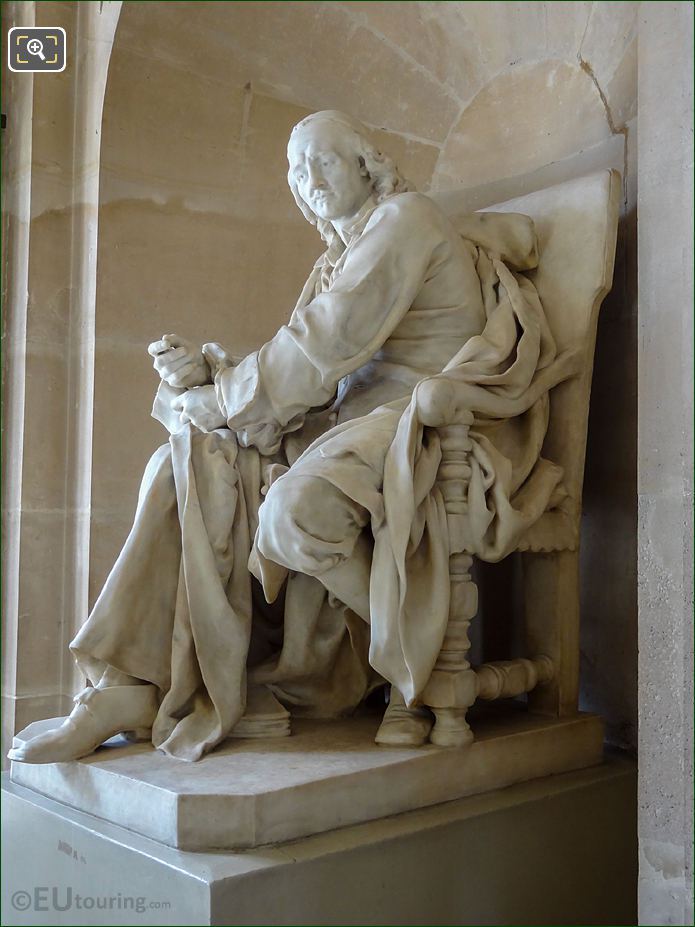 But getting back to the statue of Pierre Corneille Seated, as you can see from the photos, located on the plinth at the bottom of the marble statue he has signed his name A Falguiere along with the year 1878, which was when this was produced, and proudly sits in the front foyer of the Comedie Francaise where Pierre Corneille became so renowned with his tragedy plays.

Even today his plays are still performed at the Comedie Francaise, which is why, as you can see from this photograph, the marble statue of Pierre Corneille sits on top of a large pedestal within an alcove in a prominent position in the lobby of the Comedie Francaise located on the Rue de Richelieu by the Place Colette in the 1st Arrondissement of Paris.
So not only does the legacy of the playwright Pierre Corneille continue, but also the legacy of Falguire who taught many other French sculptors and painters and works by Falguiere can be found all over the world, as he continued his work as a sculptor and painter right up until passing away in Paris in the year 1900, and being buried in Pere Lachaise Cemetery, his funerary monument was produced by one of Alexandre Falguiere's pupils.

Paris Statues - << Previous 1101 1102 1103 1104 1105 1106 1107 1108 1109 1110 Next >>


If you would like to use any of these photos for non commercial use we only ask that you please do include recognition to ourselves "eutouring.com", but if you are not sure with regards to usage, please contact us.