Fontaine Louvois fountain in Paris

This is a monumental fountain constructed during the reign of King Louis Philippe and has four women as allegories representing the four major rivers in France including the River Seine and the River Loire.


About Fontaine Louvois

Situated within a historical square in Paris that was originally named Place Richelieu, before being changed to Square Louvois, this monumental fountain was designed Louis Visconti on the orders of King Louis Philippe.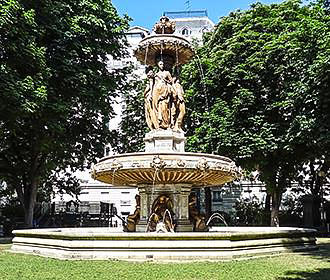 This fountain was constructed back in 1844 and named after a former mansion house that had once been at this location, which had been owned by the Marquis de Louvois, and the theme of this large monumental fountain was to pay tribute to the four great rivers in France.

So when you look at the Fontaine Louvois, you will see that there are four ladies, which were sculpted by the artist Jean-Baptiste Jules Klagmann, and these allegories as they are sometimes referred to as, have their backs to each other going round the centre of the fountain. And each women has a different design, which were as a tribute to the River Seine, the River Loire, the River Garonne and the River Saone.

In addition to this, there are four statues at the base of this monumental fountain in Paris, which are of four tritons, that look like cheruns, which are riding on top of sea creatures.
Plus, in between these and the female figures on the Fontaine Louvois, there is a circular aspect, which is a marble basin that has twelve mascarons, or masks, which squirt out water and in between each one of these there is a carved sign of the zodiac.


Visiting Fontaine Louvois in Paris

Now as we have mentioned before, the Fontaine Louvois can be found within the Square Louvois in the 2nd Arrondissement close to the Bibliotheque Richelieu-Louvois and the Cabinet des Medailles museum and only a short walk from places such as the Tuileries Gardens, the Louvre Museum and the Palais Royal.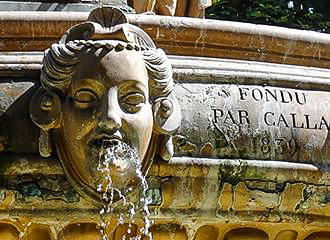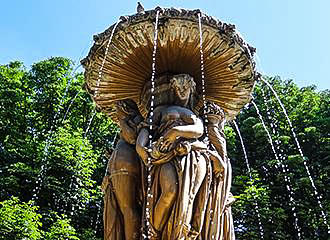 And when it comes to getting here via public transport in Paris, the nearest Metro stations are the Bourse stop via line 3, the Palais-Royal - Musee du Louvre stop via lines 1 and 7 and the Pyramides stop via lines 7 and 14. However, the bus numbers 20, 29, 39, 48, 67, 74 or 85 will also get you close by.