Hotel Saint-Louis en l'Isle - 3 Star Hotel in Paris France

On the Ile Saint-Louis, this 3 star hotel has a vaulted stone breakfast room, is family friendly and disabled friendly with rooms offering Bluetooth clock, USB ports, free WiFi, minibar, courtesy tray, etc, and hotel facilities like private shuttle service, 24 hour reception and concierge, business corner and more.
Average Double
€180 - €280
---
About Hotel Saint-Louis en l'Isle

Situated in the very historical part of Paris in the 4th Arrondissement on the Ile Saint-Louis island that is characterised by its 1600s townhouses, this 3 Star Paris hotel is in a quiet neighbourhood, within one of these buildings.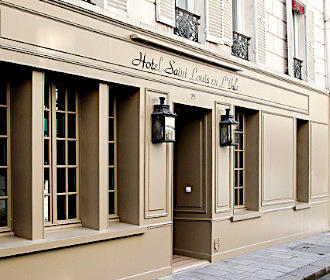 ---
Having been fully renovated to offer creature comforts and modern facilities including a lift to access the various floors, there still remain original features including the vaulted stone basement that has been turned into the breakfast room come lounge.
You can also discover old terracotta tiles and original oak beams that provide a real character to the Hotel Saint-Louis en l'Isle, which is further complemented by black and white pictures and period furniture including a traditional desk that serves as the reception desk.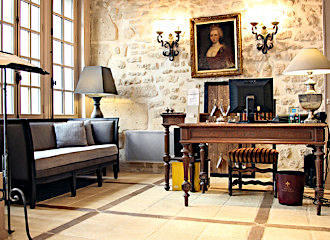 ---
---
Hotel Saint-Louis en l'Isle Facilities

You will find that the Hotel Saint-Louis en l'Isle has a 24 hour reception and staff able to speak English as well as French, so they are there and willing to help you get the most out of your holiday in Paris by offering concierge services.

Whether you wish to make a reservation at one of the many restaurants in Paris, book tickets for a show, even just to get some local advice on what events are taking place, or when the nearest French markets are being held, then they will be happy to help you discover more of the city, not forgetting that you are also provided with a map of Paris and a Paris Metro map upon arrival as well.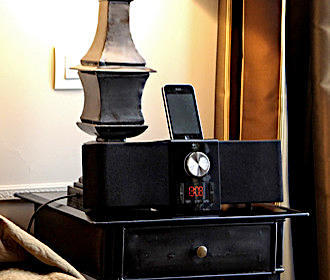 ---
When it comes to check-in, this is at 2pm, however if your room is ready prior, then they will hand you the keys straight away, alternatively, the Hotel Saint-Louis en l'Isle offers a luggage hold service so that you can start to enjoy your time in the city from get go. Yet a late check-out is also sometimes possible depending upon their schedule, and advised to be sorted out in advance, so whether it be an hour after the normal time of 12 noon, or if it be many hours later, there are sometimes options for people to book a room just for the daytime, eg a longer stay, so that you can enjoy even more of Paris.

Hotel Saint-Louis en l'Isle has a specific area with a large desk where you will find an internet enabled computer and WiFi printer that you can utilise, whether it be for printing off a boarding pass, catching up with some work, etc. Although there is also free WiFi throughout the hotel, so you can easily keep in touch with family and friends back home.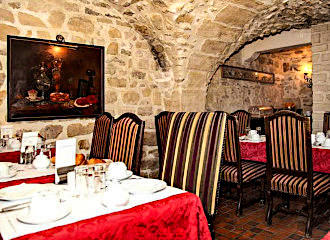 ---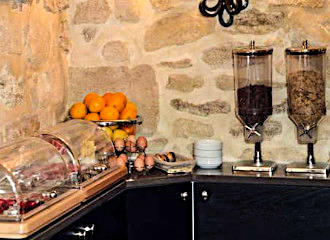 ---
Additionally, French and International newspapers are also available so that you can keep up to date with what is happening in the news within your own country, and you can enjoy these within the lounge area where Damman tea and Nespresso coffee are available, which is once the room is re-organised after breakfast has finished for the day.

Thinking of breakfast at Hotel Saint-Lous en l'Isle, this is served buffet style within the breakfast room come lounge area that has exposed stone and a vaulted ceiling for an unusual historical setting that is located within the basement. Yet you will be pleased to know that there is lift to get you down here as well, and hence why this is one of the reasons that this is a disabled friendly hotel in Paris, not forgetting they have a dedicated disabled friendly room.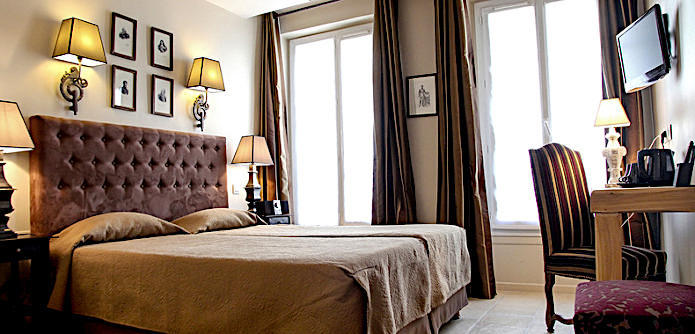 ---
Anyway, getting back to breakfast, this is served between 7:30am and 10:30am where you can enjoy fresh bread and pastries from a local bakery along with accompaniments such as jams. There are also yoghurts, cereals, fresh fruit and fruit salad. In addition, Hotel Saint-Louis en l'Isle also provide a charcuterie selection of cold meats plus cheeses and eggs served according to your wishes, not forgetting the fruit juices and hot beverages available as well.

Being that this is also a family friendly hotel in Paris, the staff are more than happy to help you organise a babysitting service so that you could enjoy an evening out, whether it be for a romantic meal, one of the shows or cabarets in Paris, etc.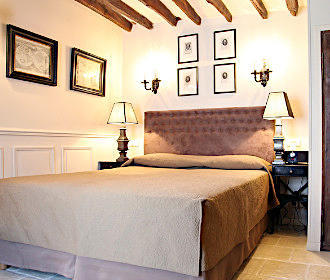 ---
Thinking about romance, the Hotel Saint-Louis en l'Isle is also suitable for couples and they have special packages on offer including the Love Package also known as a Honeymoon Package, which consists of a bouquet of roses, a half bottle of Moet & Chandon champagne and a box of traditional Macarons, from either the renowned Carette Brasserie and pastry house or from Pierre Herme who also supply many places with their renowned delicacies such as the Royal Monceau, which is one of the Palace hotels in Paris.

Also, on offer at the Hotel Saint-Louis en l'Isle is the option of a Love Box for an additional charge, which will be discreetly placed within your room ready for your arrival. Designed by La Love Box company, it will help you immerse yourselves into the frivolous side of the City of Lights and Romance with French Romanticism and includes a naughty plus items like massage oil, a sexy garter, two bracelets, a satin headband and more.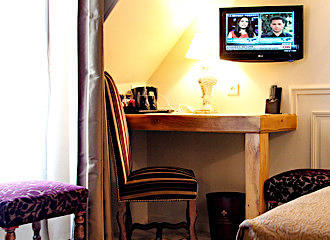 ---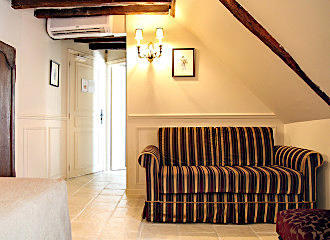 ---
You may also be pleased to know that the Hotel Saint-Louis en l'Isle offer a personalised shuttle service for up to 4 people with English speaking drivers, which is run directly by the company, as this 3 Star hotel is part of the Hotel Saint-Louis Group.

One of the special offers that the Hotel Saint-Louis en l'Isle do if you book directly for a minimum of a 5 night stay and you book a round trip transfer to and from Charles de Gaulle Airport, Orly Airport or one of the train stations in Paris such as Gare du Nord, you will receive one of those trips completely free of charge. Although we would like to point out that this cannot be combined with any other special offers that this 3 Star hotel in Paris will sometimes do.

---
Yet you can also utilise the private shuttle service for transport to a restaurant, show, even for getting to Disneyland Paris or the famous castle, Chateau de Versailles, and the rates vary depending upon your destination.


Rooms at the Hotel Saint-Louis en l'Isle

Having been sympathetically renovated and modernised each room is soundproofed and air conditioned and decorate with soft warm tones and natural styles there are still traditional elements that remain as well.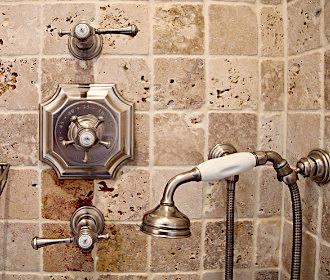 ---
Each room comes equipped with an en suite and either a bath or shower, a hairdryer and some include complementary toiletries as well. You will find a desk, desk lamp, telephone, personal safe for your valuables, Bluetooth alarm clock, Flat screen TV with Satellite channels, free WiFi, a mini bar and a courtesy tray for making your own tea and coffee.

There is one room located on the fourth floor of the Hotel Saint-Louis en l'Isle that has a small double bed but is only designed for 1 guest, therefore it is suitable for those travelling alone or on business, then there are Standard double rooms suitable for 2 people that have a double bed and shower room.

Then there are the Superior rooms that are more spacious and have the option of either a bath or a shower as well as being arranged as a twin room or with a Queen size double bed, and it is one of these rooms that is suitable for the disabled and wheelchair users with items such as grab rails, etc.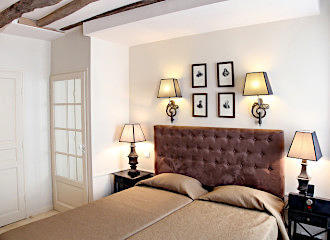 ---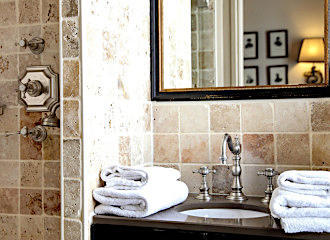 ---
With the Deluxe double rooms, laid out as a twin or double, they are even more spacious with a very good sized en suite and these are suitable for families or friends travelling together, as an extra bed can also be added to these rooms.

The Hotel Saint-Louis en l'Isle also offer two Deluxe rooms on the top floor of this three star hotel, both of which have a balcony and the first can be arranged as a double or twin room that has views from the balcony to the River Seine and the Ile Saint-Louis main street.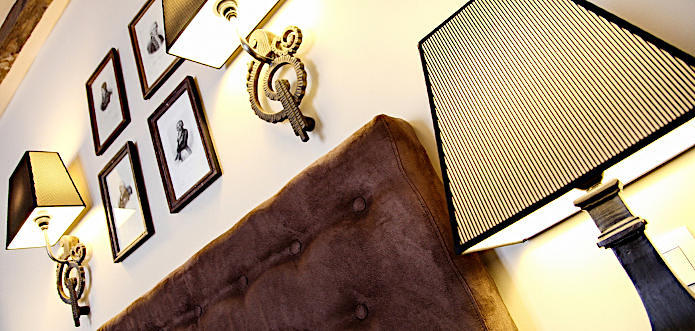 ---
Whereas the other top floor room is a Triple room that is suitable for friends or families arranged as three single beds or a double and single, and the balcony provides a view of the main street on the island plus over the typical Parisian rooftops.


Access to the Hotel Saint-Louis en l'Isle

Located in the 4th Arrondissement, when it comes to reaching the Hotel Saint-Louis en l'Isle via public transport in Paris, on the Isle Saint-Louis itself you have the bus lines 67, 86 and 87, but by crossing the Pont Saint-Louis to the Ile de la Cite you can access the bus line 75. Also, on this particular island, you can also access the Paris bus lines 21, 38, 47, 58 and 96 along with the Noctilien night bus lines of N12, N13, N14, N15, N21 and N22.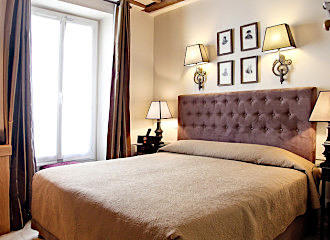 ---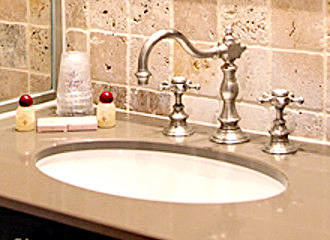 ---
Now when you look at crossing the River Seine via several other bridges in Paris such as the Pont de la Tournelle you will get to numerous other bus stops with connections for bus lines including 63 and 89.

However, when you look at the Metro stations, you have the Pont Marie and Sully-Morland stops both located on the Right Bank of the river and both serving metro line 7 whereas on the Ile de la Cite, you have the Cite stop serving metro line 4.

Although on the opposite bank of the River Seine you have the Saint-Michel - Notre Dame stop that serves metro line 4. Additionally, this is also a train station serving the RER B train line and RER C train line.
In addition, there is also the Batobus, which is a water bus that travels up and down the River Seine operating as a hop on and hop off service and you will find there is a docking station on the Left bank almost opposite to Notre Dame Cathedral.

Talking of hop on and hop off buses, for those of you who want to go on a sightseeing tour of Paris, you may be pleased to know that there is a company called Open Tour who operate open topped double decker buses with 3 different routes around the city and you can get off and on as much as you please for the duration of your ticket. So again, there is a stop on the Left Bank by the Petit Pont Bridge, which is listed as Open Tour Stop 6, Notre Dame, Visitor Centre and this stop is on both the Blue and Green tour bus routes.
Paris Hotel booking info

Hotel Saint-Louis en l'Isle
75 Rue Saint-Louis en l'Ile
75004
Paris
Ile de France
France

Tel: 0033 1 46 34 04 80
Fax: 0033 1 46 34 02 13
GPS: 48.85261, 2.35421

Website: https://www.saintlouisenlisle.com/