Hotel de Berri - Paris 5 star hotel

With rooms and suites suitable for families and the disabled along with being pet friendly, this 5 Star hotel is where you can expect the unexpected in its unusual concepts and art with a partially laid back feel including a bistro style restaurant, although high tech along with facilities like fitness centre and well-being are just other benefits of staying here, yet alone its location by the Champs Elysees.
Average Double
€390 - €980
---
About Hotel de Berri

For many years the building was originally home to Elsa Shiaparelli who was a prominent designer in the fashion world and this designer was even a rival to Coco Chanel during her career, yet upon her passing the building became utilised as offices.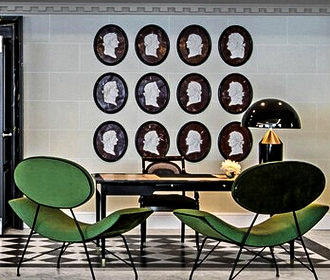 ---
The unusual facade with its all glass frontage was designed back in the 1970s by the French architect Maurice Novarina, and this has still remained a feature of the Hotel de Barri, which was only opened in 2018 as a truly unique boutique style hotel that became recognised as a 5 Star hotel in Paris and has a park behind for a nice outlook.

Part of the Luxury Collection of Marriot hotels, the hotel takes its name from the road it is positioned on, yet is owned by the Dokhan family who has put a passionate stamp on this hotel with unique pieces of furniture including items and antiques that belonged to generations before.
Eclectic, neoclassical, unexpected and arty are just some of the words used to describe the Hotel de Berri, which has a laid-back atmosphere where nothing truly combines together, that is until you look more closely at the details that make this hotel so special and unique.

There are copies of busts, sculptures, paintings and even castings from the famous Louvre Museum that appear in numerous places and within the rooms, not forgetting original mouldings and marble fire places along with more contemporary aspects such as the fresco sketch designed as a caricature of film stars and fashion design designers.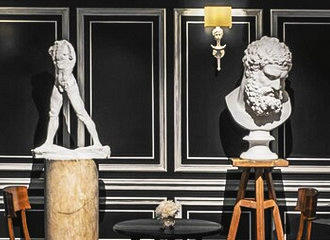 ---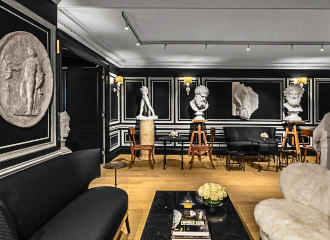 ---
Yet the Hotel de Berri has also been designed in a way to reflect haute couture within its interior design that combines luxurious furnishings and sumptuous elegant fabrics, whether it be fake fur or animal prints, parquet flooring, marble bathrooms and much more for an elegant relaxed business trip or holiday in Paris.


Hotel de Berri Accessibility

This is one of the very disabled friendly hotels in Paris that goes far above and beyond many others for people with many different forms of disability including the hearing impaired with hearing accessible rooms and kit such as TTY or TTD and kits available for other rooms along with TV with closed-captioning.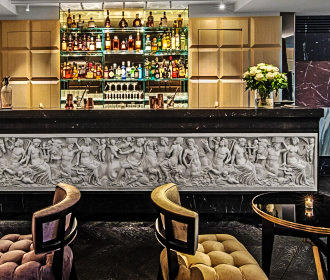 ---
For wheelchair users you will again find dedicated rooms that not only have grab rails, a toilet seat the same height as a wheelchair, ride in showers or bathtubs with seats and grab rails and an accessible sink, but also the doors are even wider than normal with lever handles plus the dead locks are lower as well.

Spaces around the hotel are also accessible to those with mobility problems including the lounge, bar, restaurant etc, and service dogs for the disabled are also welcomed, but if you have any questions regarding different facilities for specific disabilities, then you can call the hotel on Tel: 0033 1 76 53 77 70 to find out more.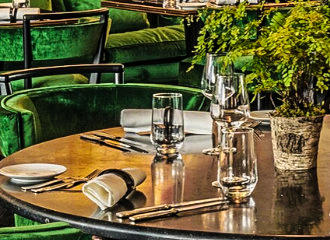 ---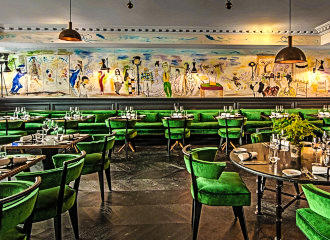 ---
An addition, this is a pet friendly hotel, although we would like to point out that only one pet per room is allowed for an additional charge when booked at the same time as the accommodation.

The Hotel de Berri is also family friendly, with babysitting being one of the options available upon request for additional charges, plus baby kits can also be organised at the time of booking, and interconnecting rooms are also possible. Additionally, the hotel restaurant has a children's menu and baby food's such as puree's can also be purchased.

Although there is secure parking for a daily charge, if you do not have your own vehicle, then limousine services are also available, which can be arranged for travel to different places throughout your stay.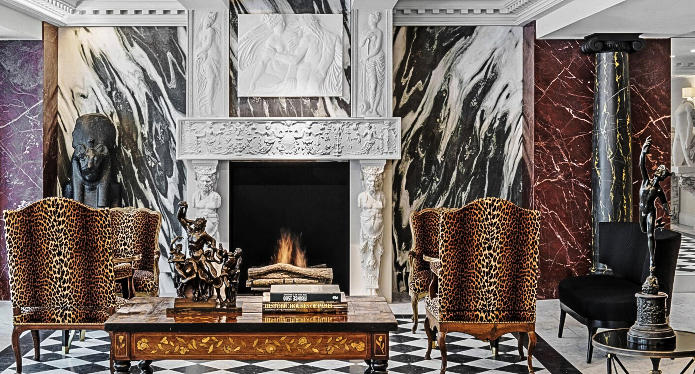 ---
Hotel de Berri Facilities

As you would expect from a 5 Star hotel in Paris, there is a 24 hour reception with multilingual staff, porters, a butler style service within the public areas that you can call at the press of a switch to order items like a drink, etc, along with a dedicated concierge team who will help you get the most out of your stay.

Laundry and dry cleaning along with even ironing services available, although there are irons and ironing boards available for free already placed within each hotel room, and even though there is a personal safe in each room, there are also safety deposit boxes at reception as well.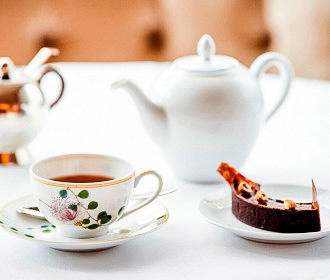 ---
There are international newspapers available within the lobby come lounge area, along with plenty of magazines and books that you can enjoy, although a newspaper can also be delivered to your room of a morning.


Business, Functions and Events

For business people and companies there is a dedicated meeting room come function room space called Le Salon at approximately 60m squared that can accommodate up to 60 people depending upon the configuration or requirements, and facing the private park where you can enjoy natural light, you can utilise the latest technology such as iPads, integrated projector & screen and WiFi.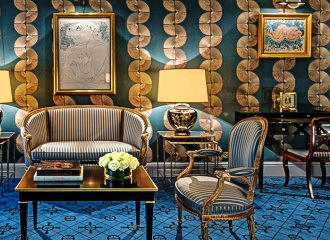 ---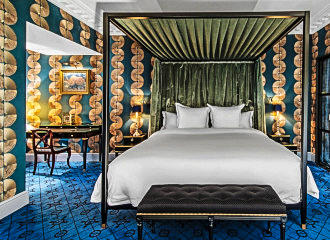 ---
There are many other facilities that can be tailored to suite your event such as the utilisation of a microphone and recording equipment, video conferencing, a stage set up, a photographer, the option of food and drink whether it be a coffee break, lunch, reception etc, all with a dedicated team and booking tools specially designed by Marriot for your group event.

Some of the suites can also be utilised for private functions upon prior arrangement and within each room or suite you have a desk with conveniently situated electrical outlets, a cordless telephone that has two separate lines you can utilise along with voicemail function. In addition, the Hotel de Berri also offers a messenger service, plus as you would expect, fax, copying and printing services can be organised as well.


Fitness and Wellbeing

You may be pleased to know that there is gym come fitness room for those of you who would like to maintain a regular workout regimen, or even for those that just wish to get started, and is available to guests free of charge 24 hours a day.
---
Overlooking the private park that provides natural light into the fitness centre, you will be able to enjoy the latest equipment and includes items such as a rowing machine, treadmill, exercise bike, weights and much more.

For added convenience and comfort you will find complementary bottles of mineral water and fresh fruit along with fresh clean towels for you to use within the gym and there are even newspapers available as well.

There is also a dedicated Spa and Wellness Centre with two Carita treatment rooms, a tropical shower and two Hammams, one of which is exclusively for women, and with operating hours between 10am and 7pm, although an appointment must be made prior, this is an ideal place to rejuvenate after a long day or long period of travel.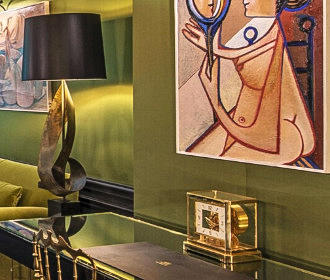 ---
Additionally, you can also book a truly luxurious wellness and massage treatment within your suite with Olivier Lecocq or one of his highly trained team for an intimate, exclusive experience that is discreet and personalised to the individual.

Going back to the 1990s Olivier Lecocq had a dream and vision of bringing massage and therapy treatments to hotels and private patrons for exclusive and upmarket sessions, which was originally unheard of, but exactly what many were looking for.

Over years of studying and working with the best well-being experts, himself and his company started working alongside luxury hotels including at the health club of the Ritz and Le Meurice, which is now one of the Palace Hotels in Paris. Since then, his expertise has become renowned including utilising his own range of well-being products that are paraben free, not tested on animals, do not use any animal related ingredients and are fragrance free, which has led to even more luxury hotels in Paris just like Hotel de Berri offering his luxury services to their clients.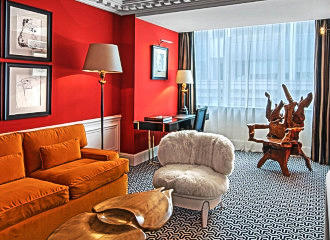 ---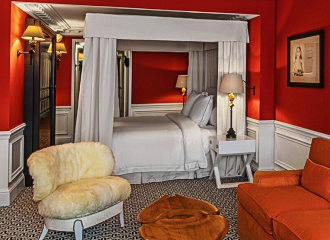 ---
Dining at Hotel de Berri

The Hotel de Berri offers a 24 hour room service with dedicated in room menus available and a continental or a la carte style breakfast is also available.

Talking of breakfast, available from 7am, this is provided buffet style in the relaxed atmosphere at the bar called Le Bizazz and you can opt for different menus such as a classic French, hot American style, a la carte including delights such as champagne style Le Caviar with salmon and the caviar and so on, which vary in price from around €35 per person upwards to the exclusive a la carte options that can be €100 plus.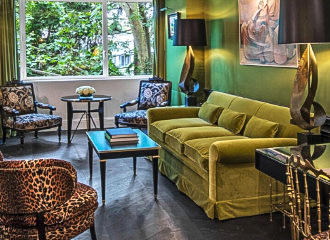 ---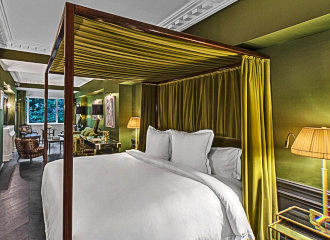 ---
Le Bizazz has comfortable chairs, armchairs and sofas all positioned around tables, many of which also look out onto the wild park, and open for breakfast, lunch and dinner, plus being a cocktail bar, this is a great place to relax, whether it be for afternoon tea, a glass of wine, a cocktail or Mediterranean style cuisine.

Open until 10:30pm, daily, Le Bizazz also turns into a Piano from a Wednesday through to a Saturday and the dress code for Le Bizazz is smart casual, just like the rest of the Hotel de Berri, which is no where near as formal as some of the other 5 Star hotels in Paris.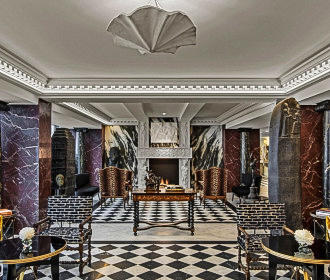 ---
Then you have the restaurant called Le Schiap, named in memory of the late Italian fashion designer Elsa Schiaparelli, which has a relaxed atmosphere adorned with a large fresco celebrating modern Parisian life, where you can also try spotting well known figures such as the late Carl Lagerfeld.

Open on a Tuesday to Friday for lunch from noon until 2:30pm and for dinner from 7pm through to 10:30pm, with service on a Saturday being only available in the evening from 7pm through to 10:30pm, the dress code here is also smart casual just like the bar that offers snacks and meals right through the day until around midnight.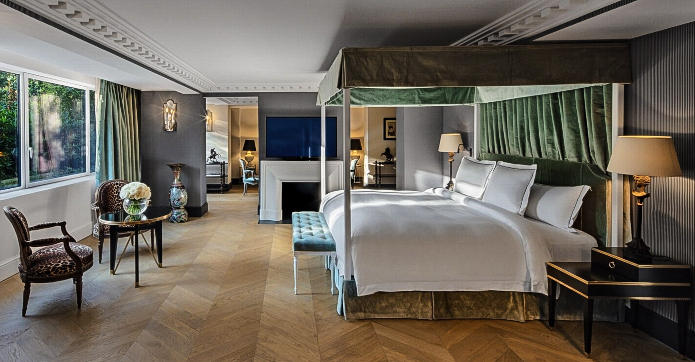 ---
With luxurious green dining chairs and wooden tables, this is not your typical formal dining room of a Michelin starred gourmet restaurant in Paris, but is a restaurant where you can enjoy authentic Mediterranean cuisine that changes with the seasons at a reasonable cost of around €65 for a three course meal in comparison to what can be charged at other luxury hotels and restaurants.

Some of the delights on the menu may be a starter of Crispy Atlantic octopus, chickpea and spiced capsicum or Home-made duck Foie Gras terrine, strawberries chutney and pickled rhubarb followed by a main course of Mushroom Risotto, mascarpone and Espelette pepper, a Rack of lamb, sautéed vegetables and smoked jus or Roasted John Dory, green asparagus and candied lemon for instance.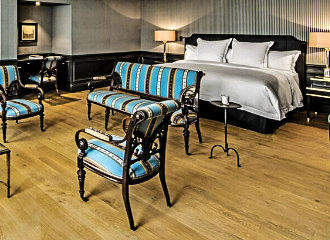 ---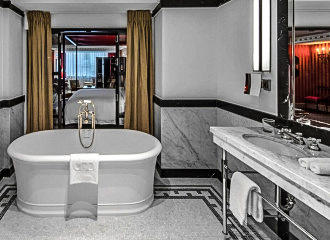 ---
Then you could opt for a cheese selection or go straight for a dessert such as a Traditional Saint Honore with whipped cream & vanilla ice cream or a Strawberry chilled soup, candied rhubarb and yogurt sorbet, yet as we said earlier, the menu changes with the seasons, so this is a general guide of some delights that could be on a Le Schiap menu.


Rooms and Suites at the Hotel de Berri

Upon arrival at the Hotel de Berri, when you are shown to your room, you will also be given a tour of the in-room technology and facilities available to you, which are immense and will keep anyone happy.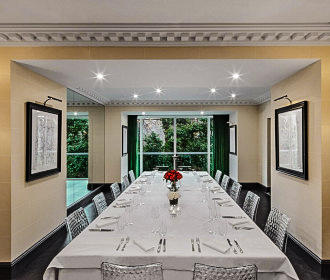 ---
There is only one type of room category called a Deluxe room, which measures between 32 and 36 metres squared and all the rest are made up of Junior Suites through to full Suites ranging in size from 55 to 115 metres squared with Prestige Suites being around 70 metres squared of classic styling combined with modernity or a an ultimate one of its kind Parisian Suite with its glass roofed living room.

Each room or suite comes equipped a marble bathroom with underfloor heating, a Toto Japanese toilet, bathrobes and slippers, bath with facilities such as whirlpool or spray jets or a separate bath and shower, hair dryer light up make up mirror and two vanity basins in addition to complementary bathroom amenities and aromatherapy products as standard.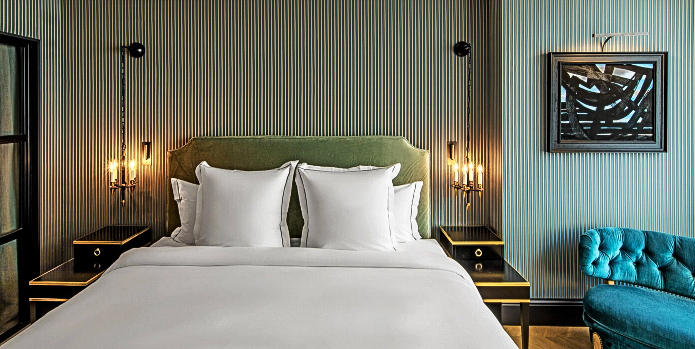 ---
With air conditioning and individual climate control, along with lighting and curtains controlled with the in-room iPad, you will find each equipped with at least a king size bed, some being a four poster bed, all have a lounge area, even the Deluxe Rooms, along with a desk, USB points, electrical adaptors, an iron and ironing board, courtesy tray and Nespresso machine, a mini fridge, minibar with one complementary bottle of mineral water daily and a personal safe.

Technology wise at the Hotel de Berri is incredible, including facilities for conducting business like we mentioned far earlier on, plus you have the iPad that is fully customisable along with an alarm clock, radio, free high speed internet and WiFi. There is at least one flat screen TV depending upon your chosen accommodation, some of which are hidden by mirrors, and all provide satellite and cable TV, they are an internet TV as an Apple TV with Netflix access allowing you to be able to connect to your own account, in addition to VoD technology for premium movies on demand.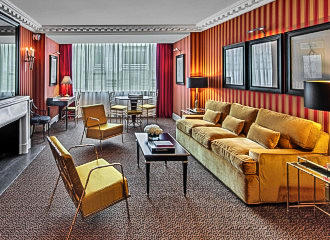 ---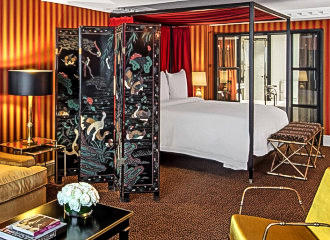 ---
Hotel de Berri is a family friendly hotel with baby cot or a roll out bed for a child able to be added to a room subject to availability, whereas some of the Junior Suites can accommodate four people with seating for four, sofa bed, etc.

Disabled people are also welcomed as you will have already discovered in our section above on accessibility, plus pets are also allowed at one per room or suite by prior arrangement and additional charges.


Access to Hotel de Berri

The Hotel de Berri offers limousine services to get you to and from different locations according to your requirements, which can be arranged through the concierge. Yet for those of you travelling into Paris with your own vehicle, you may be pleased to know that there is secure onsite parking for an additional charge per day.
Whereas if you are looking to utilise public transport in Paris, whether it be for arriving or departing or during your stay, then there are several options available to you including Le Bus Direct for a bus line going to either Orly Airport or Charles de Gaulle Airport, which stops on the Avenue Carnot by the Tomb of the Unknown Soldier.

Additionally, as the crow flies in an easterly direction, the nearest Metro station is the Saint-Philippe du Roule stop serving line 9, but an easier and shorter walk is the George V stop serving Line 1, which is actually on the famous Champs Elysees itself. Yet in a westerly direction at the Place Charles de Gaule by the famous triumphal arch historical monument you can access the RER A train line along with Metro lines 1, 2 and 6.

When it comes to Paris Buses, heading northerly on the Avenue de Friedland you can utilise bus lines 22, 43, 52 and Noctilien bus line N53. Although a little nearer on the Champs Elysees virtually opposite the Rue de Berri you have bus line 73 and the Noctilien bus lines N11 and N24. Head towards the Franklin D Roosevelt stop and by the Champs Elysees Gardens is where you can access bus lines 28, 32, 42, 80 and 93 along with Noctilien lines N01 and N02.
Paris Hotel booking info

Hotel de Berri
18-22 Rue de Berri
75008
Paris
Ile de France
France

Tel: 0033 1 76 53 77 70
Fax: 0033 1 76 53 77 77
GPS: 48.87292, 2.30521

Website: https://www.marriott.com/en-us/hotels/parbe-hotel-de-berri-champs-elysees-a-luxury-collection-hotel-paris/overview/