The Ritz Paris Hotel - Paris 5 star hotel

The Ritz Hotel located in the 1st Arrondissement of Paris on the Place Vendome has been known for the ultimate in luxury for over 100 years and after a full renovation and restoration, this historical 5 star hotel, still meets the expectations of its clientele.
Average Double
€2,100 - €5,000
---
About The Ritz Hotel in Paris

The Ritz Hotel in Paris has a long and very interesting history, with numerous stories about famous people who have stayed here in the past and many of these have been recognised by the names of rooms or different public areas, and although only reopened in 2016 after major renovations and restoration work, it is still a timeless experience, where you can come and go whenever you please.

Now as you would expect from a 5 star hotel in Paris, you can enjoy 24 hour room service, which includes the haute cuisine of the L'Espadon restaurant in addition to the full and complete concierge service with 24 hour reception and multilingual staff being able to cater for virtually any need you could think of, making your stay even more memorable, whether you are here for business, your wedding, or just for a romantic weekend away in the City of Lights and Romance.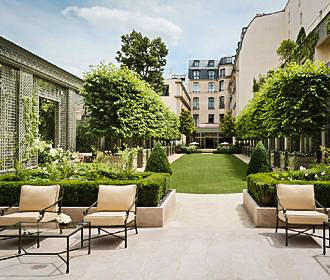 ---
Irons and ironing boards are available upon request, although as you would expect, there is a full laundry and dry cleaning service available. In addition to this, there is a complete shoe care service by housekeepers who are trained in Berluti know-how, which is a purveyor of fine leather first established in Paris in 1895, so the polishing service from Berluti at The Ritz will be able to rejuvenate your leather footwear.

Baby cribs, cots and child beds are available upon request free of charge, and when staying at this luxury 5 star hotel, the younger generation is not forgotten, as they can enjoy activities such as cooking classes within the Ecole Escoffier available from age six and up, plus they can still enjoy the same meals as their parents, just in smaller portions, yet there is also a babysitting service available upon request as well.

The Ritz Paris Hotel has its own car park complete with a valet parking service available, yet for those of you who are flying into Paris, you can organise private airport transfers, along with a meet and greet service from the plane for the ultimate VIP treatment, getting your stay off to an exceptional start.

When you look back at the history of The Ritz, you will find that there has always been a gallery showcasing some of the most luxurious accessories available in Paris, that links the hotel buildings together from the Place Vendome and the Rue Cambon.
The Gallery of the Ritz Paris incredibly has 95 windows with five boutiques and a concept store that offer the ultimate in French luxury goods such as high end jewellery, travel items, leather goods and haute couture, plus there is a premium service available to guests for advice and even personal shopping.


Wellbeing and the Ritz Club Paris

A swimming pool and wellness area was originally added back in the late 1980s when the Ritz had a general refurbishment, however, during the complete renovations that were carried out over a four year period, the Ritz Club Paris reopened its doors in 2016 with a completely new look and state of the art technology, also adding the unique Chanel at the Ritz treatments.

Combining elegance and excellence the Ritz Club Paris is a haven of peace away from the hustle and bustle of the city, whether you wish to take a dip, swim a few lengths or just relax by the pool through to utilising the state of the art fitness room or indulge in one of the wellness options on offer.

You can follow a tailor made fitness program, even have a personal trainer, opt for complete advice and support from highly qualified nutritionists and handpicked therapists, or perhaps different regimes such as detox sessions, massages or tailor made beauty treatments and signature indulgences utilising Chanel products, the choice is yours.
---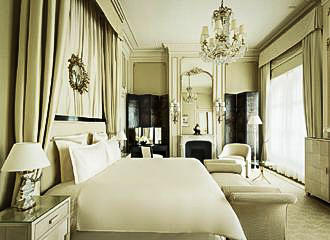 ---
There are many different types of massages and techniques available such as reflexology, sports, shiatsu, Thai, Chinese, Ayurvedic, even slimming treatments along with hand and foot care treatments, plus you could enjoy an aqua-aerobics class or aqua bike class, try Pilates, enjoy a session with a master yogi or discover boxing techniques.

However, there is also a hair salon called David Mallett at the Ritz, and whether you wish to have your hair done for an evening out, a complete new style or even professionally styled for your wedding, catering for both men and women, David Mallett is a professional who works with celebrities, haute couture designers and magazines.

The hair salon is open on a Tuesday to a Saturday from 9am through to 8pm, however, you can request your hair to be done within your room for an additional charge or also out of hours by prior arrangement, plus you have the option of booking David Mallet himself, rather than one of the other top professional stylists.


Bars and Restaurants at The Ritz

As with most 5 star hotels around the world, you will find that there are several different bars and restaurants to choose from, depending upon your mood and preferences, all having different themes, and again the Ritz Paris is no exception, as you will find out below.

Yet incredibly, The Ritz also has a private cellar offering curated and customized wine selections based upon the individual guests tastes and interests that has been designed for lovers of find wine by the Director of Sommellerie at this historical hotel.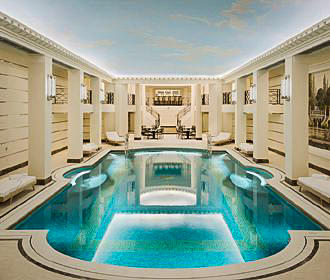 ---
Salon Proust and Afternoon Tea at The Ritz Paris

Afternoon Tea at the Ritz has become one of those popular events that Cesar Ritz introduced to Paris from his time in London, and it was actually one of the first hotels where women could go unaccompanied, so in keeping with tradition, the Salon Proust plays host to this institution of an afternoon from 2:30pm through to 6pm.

Named after the author, Marcel Proust, who was at the original inauguration of The Ritz Paris and made this his second home finding it an unrivalled source of inspiration, this salon has plus armchairs, traditional woodwork and rare books where you can relax. Exceptional teas with so many different ones to choose from, accompanied by an assortment of sweet delights such as madeleines are on offer, which are made by Francois Perret, the chocolatier and Pastry Chef, and are served with custom made Limoges porcelain.


Bar Vendome Brasserie

The Bar Vendome has been designed as a spirit of a traditional French brasserie with a beautiful glass canopy that transforms the area into a summer patio or a winter retreat where you can enjoy breakfast, lunch, afternoon tea or dinner, which is open from 9am through to 10pm.

You could enjoy a continental style breakfast, a lunch menu with daily specials or an a la carte menu such as steak tartare, oysters and an aperitif, even ice cream, etc, then there is afternoon tea and dinner, which could be delights like sole meuniere, but drinks both alcoholic and non alcoholic, or hot beverages are also available at any time.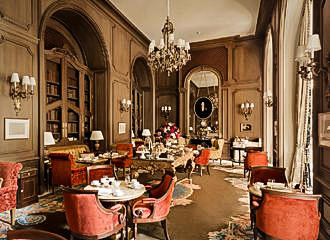 ---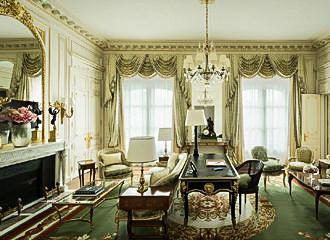 ---
Bar Hemingway

Now this particular bar was named after Ernest Hemingway and was once the historical ladies bar, renamed the Bar Hemingway in 1994, which is small with an intimate atmosphere decorated with Hemingway memorabilia.

Becoming popular throughout the world, especially with its cocktails, many of them unique creations by the head barman Colin Field, you can read more about this particular famous bar on the dedicated page.


The Ritz Bar

With a bistro feel and Art Deco style, The Ritz Bar is open from Midday for lunch right through to 2am in the morning for those of you who want to enjoy a late night cap, which is decorated with elegant woodwork and of course plush seating, whether it be at the bar itself or at one of the seating areas with sofas and chairs.

Now this particular Bar is about sharing with appetiser style nibbles just like a tapas, that you can enjoy of an evening for the true sharing experience, even including mini hot dogs, cheeseburgers or club sandwiches.

Yet as of a lunch time, again there are specials available each day of the week along with salads and sandwiches, through to starters, main courses and desserts, plus Ritz Classics that are made to order, however, there is also a bistro style brunch available on a Sunday for approximately €65 per person.
---
Brunch at The Ritz Paris

Sunday Brunch at The Ritz has been an institution for many years and this can be enjoyed again between the hours of 12:30pm and 2:30pm, within the Salon d'Ete, which is an elegant function room that opens up onto the French Grand Jardin and at a cost of approximately €150 per person including a signature Detox Cocktail.

Classed as the Grand Brunch, served as a buffet that will delight any persons tastes, there are savoury and sweet, hot and cold choices, arty and mini-dishes, along with salads and specialities such as mezzes, sushi, pasta and bellota, meats and fish, ratatouilles, scrambled eggs, a variety of cheeses and mini pastries to tempt you with this gastronomic fair presented in the most elegant fashion.


L'Espadon Restaurants

The L'Espadon, which translates in English to The Swordfish, is actually split into two individual haute cuisine experiences called La Table de L'Espadon, which has been awarded 2 Michelin stars and Les Jardins de L'Espadon that has 1 Michelin star.

Whether you wish to enjoy breakfast, a gastronomic lunch, or a top table dinner with signature dishes by the Executive Chef Nicolas Sale, or you could experience creations blending tradition with the unexpected. Presented within the original sumptuous and elegant dining room, out in the French garden or under the retractable roof known as the atrium, there are plenty of choices to please and you can find out more about these on their individual page.


Function Rooms and Marry-Me At The Ritz

As with most luxury hotels, there are function rooms available for booking, whether it is for a business meeting, luncheon, reception party or anything else you can possibly imagine, and The Ritz Hotel in Paris is definitely no exception with several different options depending upon the size of your event.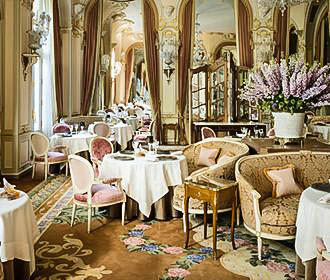 ---
From a small intimate room for a private dinner party enjoying the haute cuisine of Executive Chef Nicolas Sale in a Salon like the Salon Psyche listed as an historical monument in its own right, or the Salon de Gramont, which has two separate entrances, with one leading to the Grand Jardin.

All have the latest in technology available along with the attentiveness and discreetness you would expect from the staff, yet for larger events such as a fashion show or dancing until dawn, the Salon Vendome is the largest function room with soundproofing and a magnificent white marble staircase as your impressive entrance.

However, some of these spaces also provide the option of enjoying a terrace or the garden, plus some can be joined together making different areas that will cater specifically to your needs, not forgetting that you can actually have your entire wedding at The Ritz Paris.

In fact, The Ritz Paris can cater specifically for the ultimate event with a customised package called Marry-Me At The Ritz, that can include flowers, a setting for the service itself, a cocktail party, sit down dinner followed by the evening with entertainment and music specific to your requirements.

Yet Marry-Me at The Ritz does not stop there, as there are tailor made packages or options such as beauty treatments, make-up and hair professionally styled, through to a gourmet buffet or dinner designed by the Chef Nicolas Sale and cakes or pastries by the Pastry Chef Francois Perret.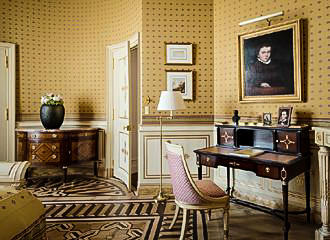 ---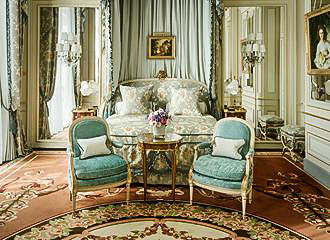 ---
Not forgetting signature cocktails, valet parking, meet and greet, courtesy car, baby sitting services, plus the option of even privatising unique spaces like the Grand Garden, and much more, in order to make your wedding in Paris one to remember that even your guests will never forget.


The Ecole Ritz Escoffier

In the heart of the kitchens at the Ritz Paris Hotel there is a cooking school, which is completely unique and a place where children, budding chefs, novices and those that want to learn more through to experienced chefs can enjoy tuition in a true restaurant kitchen atmosphere.

Classes are designed in all the different categories to cater specifically to those needs and for the individuals, which are initially in French, but with a simultaneous English translation and from time to time, there are special courses conducted for experienced chefs that are by a renowned Michelin starred chef.

However, if wish to experience how to cook a gourmet three course meal, through to presentation, improve your skills in a certain area, then numerous different classes are available, even if it is only for one afternoon or one evening, plus children over the age of six are even catered for.

So whether you wish to know about pastry making, viennoiserie, becoming a chocolatier, wine pairing with the cuisine, through to classes for all or professional chef training and consulting, there are different courses and classes to suite all tastes and experience, which range in price from around €150 upwards.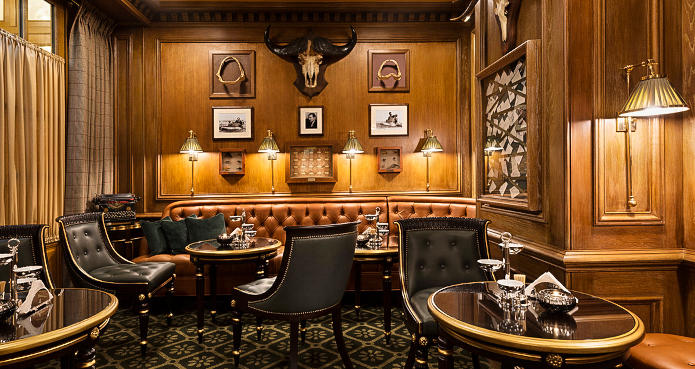 ---
Accommodation at The Ritz Hotel in Paris

There are a total of 142 rooms and suites, with 71 being rooms that are called apartments and comprise Superior Rooms of approximately 35 metres squared, Executive Rooms of around 40 metres squared, Deluxe Rooms of approximately 45 metres squared, and the largest rooms at around 55 metres squared are called the Grand Deluxe Rooms.

All of these rooms come with a large and luxurious Italian marble bathroom with complementary toiletries, bathrobes and slippers for those added extras complete a with a TV hidden behind a mirror that you can enjoy while pampering yourself, soaking in an incredibly oversized bath complete with the signature gilded swan taps or getting ready for the evening after a shower.

The rooms are spacious and designed with subtle pastel colours and French elegance with period furniture, unique artworks and fine furnishings, and they have views over the Rue Cambon, the Terrace Vendome, or what was the interior courtyard of the hotel that has been transformed into a beautiful French Garden.

Deluxe Rooms come with a made to measure large dressing room, which is a signature feature of The Ritz Paris, yet the Grand Deluxe Rooms in a neoclassical style have a corner salon with plush chairs for a lovely sitting area along with a workspace that blends with the rest of room, which makes them more like a Junior Suite.

With elegant drapes, silks, fine fabrics and state of the art technology, much of which is hidden so as not to take away from the serenity and romantic prestige of the rooms, you will find they are more spacious than most hotels in Paris and have additional refinements such as chandeliers, small tables with lampshades and period chairs to relax in whenever you venture back to your room.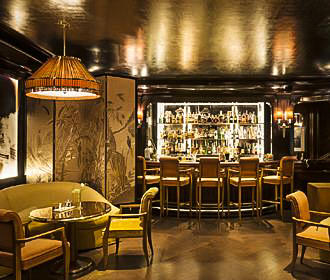 ---
Each room comes with a flat screen TV at a minimum of 32 inches with international channels and pay per view movies, free high speed WiFi along with direct connection, a personal safe, individual room air conditioning, minibar, desk, hair dryer and 24 hour room service.

There are also 71 suites ranging from a Deluxe Junior Suite, Executive Suite and Deluxe Suite all with the refinements and luxury you would expect including items mentioned above, but with a separate salon, through to the Prestige Suites that all have their own individual names and themes.

You will find that in addition to high quality mattresses, the bed linen consists of Italian cotton sheets, which are so finely woven, they feel more like satin for that added luxurious comfort, plus some of the suites even have two bathrooms and even two separate bedrooms and salons, along with a selection of skin care products that allow you to enjoy the luxuries of the Ritz Club Paris within the privacy of your own room.

Now the Prestige Suites include the Coco Chanel Suite, F Scott Fitzgerald and Cesar Ritz Suites, the Mansart and Marcel Proust Suites along with others such as Opera, Vendome and Windsor, plus the ultimate in luxury of the Imperial Suite, which are spacious, have private entrances just as you would get within your own personal apartment and contain aesthetics and articles relating to their name sakes.

For instance, the Chopin suite has a grand piano and a painted ceiling that is classed as an historical monument in its own right, the Opera Suite has a bay, or bow window, and curved seating looking over Paris to the Palais Garnier opera house, whereas the Marcel Proust Suite has a library containing many of his original books and the Mansart Suite on the top floor comes with its own private, large, yet intimate terrace complete with relaxation area and a dining area.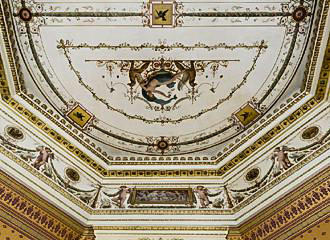 ---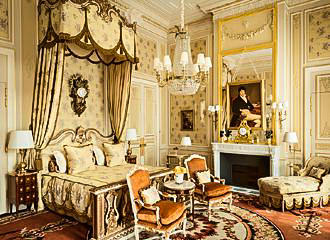 ---
The Windsor Suite has one room decorated in the Duchess of Windsor's favourite colour and this is where the Duke wrote many of his memoirs, or there is the Coco Chanel Suite that The Ritz has kept intact, having originally decorated it herself with lacquered screens, her own unique art works, etc.

But the ultimate in luxury and what this hotel stands for is the Suite Imperiale, which is another that has been classed as an historical monument in its own right and comes with one room as a replica of Marie Antoinette's bedroom at the Chateau de Versailles.


Access to The Ritz Paris Hotel

The Ritz Paris is located in the 1st Arrondissement of Paris at the Place Vendome, which is where the main entrance is located, and where you will find the reception, concierge services, etc and you will be pleased to know it is fully accessible to the disabled and wheelchair users.

However, there is also a secondary entrance on the Rue Cambon, which is how you can easily access areas such as the Hemingway Bar or rooms and suites on the Cambon side of the hotel.
Now when it comes to reaching this luxury 5 star hotel in Paris, you will find that the nearest Metro station is the Opera stop serving metro lines 3, 7 and 8, plus the Paris bus lines 45, 52 and 72 will also get you close by.

Yet, parking is also available at the hotel for those of you with your own transport, and there is a valet parking service available, but if you are flying into Paris, then you can also arrange airport transfers, along with chauffeur services.

Plus there are special packages available such as if you are having your wedding at the Ritz Paris, where you can have a meet and greet service from the airport taking you directly to the hotel and much more, which also includes a VIP entrance directly into the hotel from an underground passage at the car park to avoid paparazzi, etc.

Although, the Ritz Club Paris with its spa, Chanel treatments, the David Mallett hair salon, etc is located at 17 Place Vendome and can be contacted or accessed directly, as well as from the Ritz Paris 5 Star Hotel.
Paris Hotel booking info

The Ritz Paris
15 Place Vendome
75001
Paris
Ile de France
France

Tel: 0033 1 43 16 30 30
Ritz Club Paris Tel: 0033 1 43 16 30 60
GPS: 48.86804, 2.32892

Website: https://www.ritzparis.com/