L'Espadon Restaurants at The Ritz Paris Hotel

Classed as an Haute Cuisine restaurant, the L'Espadon has been classified as a 2 Michelin Starred top table restaurant in Paris officially called La Table de l'Espadon, yet within this you also have Les Jardins de l'Espadon, which is a 1 Michelin star restaurant.


About L'Espadon at The Ritz Paris

The Ritz was started by Charles Ritz and hence the name of this famous hotel in Paris, and he was very good friends with the writer Ernest Hemingway, both of which were very passionate about fishing.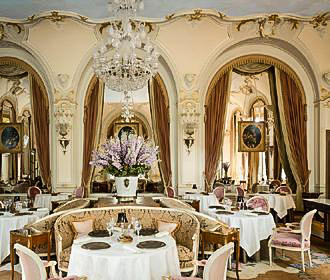 ---
When a new restaurant was opened up at The Ritz Hotel Paris in 1956, it was named L'Espadon by the owner, Charles Ritz, and when translated from French into English, the name means The Swordfish, which was also in some way, recognition of the book by Hemingway, "The Old Man and the Sea".

So having been a true gourmet experience within a sumptuous setting for many years, after the closure of The Ritz Hotel for complete refurbishment that took over four years to complete, L'Espadon has been revitalised, not just in its decor, but also by the chef for new gastronomic experiences you could not forget.

However, there are actually different menus and themes due to the fact that L'Espadon is split up into the haute cuisine restaurant called La Table de L'Espadon, which is a 2 Michelin Star restaurant and another called Les Jardins de l'Espadon, which is a 1 Michelin star restaurant.

La Table de L'Espadon serves breakfasts and evening meals whereas Les Jardins de L'Espadon serves lunches and both have completely different gastronomic creations, which were created by Chef Nicolas Sale, in conjunction with his entire team at L'Espadon within the Ritz Hotel.
La Table de L'Espadon

La Table de L'Espadon serves breakfast in its stunning and elegant dining room with the finest quality furnishings and materials for its drapes, the gilding and the creams, brown and dusky pink chairs making you feel like royalty, and many people comment that breakfast here, served between 7am and 10:30am, is fit for a king or queen.

In fact, Les Matins de L'Espadon, or the Mornings at L'Espadon, provides you with a choice of an American breakfast or a Japanese breakfast for a cost of around €60. Alternatively you could opt for their ultimate Prestige Breakfast which even has lobster, Iberian ham, Parma ham and salmon along with a variety of aged and mild cheeses on the menu and is approximately double the cost per person.

However, it is evening at the Table de L'Espadon when you can truly appreciate the exquisite setting along with a sumptuous meal combining modernity with tradition at this 2 Michelin star top table restaurant at The Ritz Paris.

Always relating back to its roots and fishing the appetisers or starters are referred to as The Lure and could be delights such as Duck Fois Gras / Lemon: on a duck jelly, the fruit and early almonds. Semi-cooked terrine, jam and nougat. Sauteed, glazed with lime, melted raviolis and pepper from Madagascar.

The Lead is the main course and on the a la carte menu of the Table de L'Espadon you have fish inspirations such as Lobster cooked in its shell, which is Lobster canellonis, green cabbage and Chardonnay wine sauce, with the option of an additional serving of Imperial Caviar.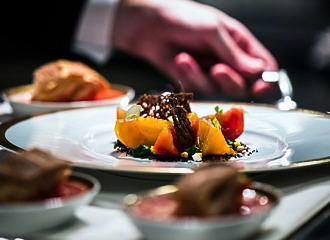 ---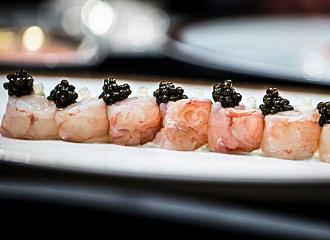 However, you also have meat inspirations such as Veal sweetbread, roasted crispy, which is served as sour carrots, nuts and carrot leaves, rat potato with veal trotters, wild sorrel, pickles and mustard seed juice.

Alternatively you could opt for a free range chicken from Bresse that is only available for two people and is roasted with basil and lemon. Yet The Lead of this two person dish is with artichokes "Barigoule" style with Iberian ham and Kalamata olives. Then you have a Second service, which comprises the legs, oyster meats, crispy skin in warm salad and a cabernet vinaigrette dressing.

Then there are of course cheeses and desserts, but The Table de L'Espadon at The Ritz Paris also has two set menus, with the first being classed as a Menu Decouverte, or Discovery Menu, for approximately €195.

This consists of two choices for each course such as the starter of Crab / Avocado, so The Lure is water and shellfish stock, crab legs, grilled fruit, creamy crab meat with black pepper from Madagascar, crab claws in raviolis, light bisque flavoured with lemon grass.

Then you have a choice of either the Veal meat dish as mentioned above or a fish dish of Red Snapper whole roasted around the zucchini, wild shrimps from Palamos and spicy wine sauce, which is followed by dessert that the Table de L'Espadon has named The Touch, which could be a mint and chocolate delight or a rhubarb option with candied banana ravioli, creamy rhubarb tubes, sorbet, etc.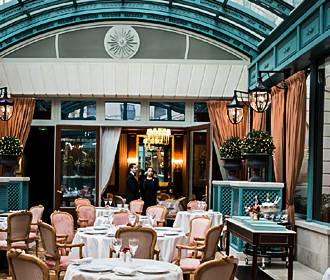 ---
Please do bear in mind that all dishes at L'Espadon do change from time to time and when different ingredients are freshly available, however, when writing this, the Menu Signature is a set menu consisting of the signature dishes designed by Chef Nicolas Sale in collaboration with his team, at a cost of around €340 per person.

For starters you have Langoustine, The Lure: langoustine jelly, grapefruit, caramel of garlic. Raw Imerial Caviar, lemon cream and evolving pepper. Roasted with citrus, enoki mushrooms with pistachio, coco and lime stock.

This is followed by Wild Seabass, The Lead: Fennel mousse, raw and melting. Shellfish juice with seeds of olive pits, which is followed by a second service of Milk-fed Lamb. Roasted saddle with bell peppers, stuffed eggplant with preserved shoulder and grilled cutlet. The Lead: Chick pea cream, fresh herbs, piquillos, ricotta and lemon and spicy juice.

The you have a cheese course, which is a selection of matured cheeses by Pierre Gay and Bernard Mure-Ravaud, and to finish the dessert is called Vanilla, The Touch: Iced from Madagascar, whipped egg white and caramel sauce. Cream and reduction, floating island and roasted brioche following by a custard sauce.


Les Jardins de L'Espadon

Les Jardins de L'Espadon is the second part of L'Espadon restaurant within the Ritz Hotel Paris, which is a 1 Michelin star gourmet restaurant providing fine food of a lunchtime, with a three course meal that can be served within an hour.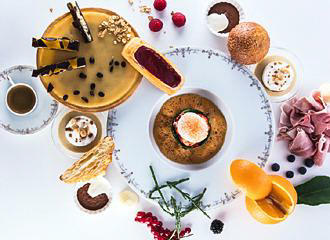 ---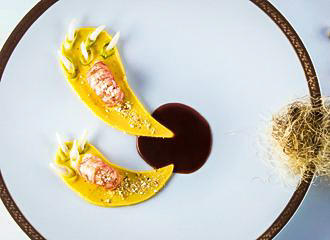 Upon entering by a flower-decked gallery, you can enjoy the gourmet cuisine within the conservatory full of greenery, which is also referred to by The Ritz as an atrium, as it has a retractable cover for fine days, yet if you prefer, you can also enjoy your meal within the garden of this 5 star hotel in Paris.

You will find that there are set prices for a two course, three course and four course lunch at Les Jardins de L'Espadon, which are approximately €95 to €150 although you can add an a selection of cheeses prior to dessert for an additional charge.

Appetizers, or starters could be delights such as Crispy potatoes and veal sweetbread, fresh salad with mustard seeds or the signature dish of langoustine canellonis, green cabbage and Meursault sauce.

You then have a choice of either a fish dish or a meat dish for your main course, which could be Sauteed John Dory, artichoke barigoule and curry mussels or stewed beef cheek, early vegetables and red wine sauce for instance. The vegetables come as mashed rat potatoes and chives, seasonal vegetables and black olive power.

Then there is the option of a selection of cheeses or you can opt straight for a Jardins de L'Espadon dessert such as Crisp fennel, dry cookie and lemon sorbet, Anais strawberry vacherin, olive oil and Bresse cream or the chef's signature dish of Dark chocolate from Madagascar, meringue and iced chocolate sauce for instance.


Les Weekends de L'Espadon

However, of a weekend you can enjoy an a la carte brunch at L'Espadon, which is called Les Weekends de L'Espadon, served within its luxurious setting between 12.30pm and 2pm for a cost of around €125 per person. On your table you will enjoy a variety of hot drinks, fruit juices, pastries, jams, cereals and yoghurt, etc to start your brunch style a la carte meal.
Then there are a selection of appetisers to choose from such as Duck Fois Gras terrine, marbled with red wine, strawberries with balsamic vinegar, which is followed by a selection of organic eggs and main courses. These could be delights such as Poached egg, early spinach leaves, lobster and bisque or Roasted breast of pigeon with spices, organic spelt risotto, eggplant and fennel for instance.

To round off your weekend a la carte brunch style lunch at L'Espadon you will get sweets at your table and could be an Old fashioned Santarem chocolate mousse, Apple compote or Floating island for example.


Access to L'Espadon at The Ritz Paris

As we have mentioned previously, La table de L'Espadon and Les Jardins de L'Espadon are both located within The Ritz Hotel Paris, which is located at the Place Vendome in the 1st Arrondissement.

La Table de L'Espadon is open for breakfast between the hours of 7:30am through to 10:30am and then for dinner from 7:30pm through to 10pm, whereas Les Jardins de L'Espadon is open for lunch between 12:30pm and 2pm.

You may be pleased to know that both of these gourmet and haute cuisine restaurants are accessible to the disabled with wheelchair access, although pets are not allowed with the exception of guide dogs for the blind. Yet we would also like to point out that smart dress is required, with the evening being semi-formal attire, plus reservations are also required.

Now when it comes to reaching L'Espadon at The Ritz, the nearest Metro station is the Opera stop serving lines 3, 7 and 8, plus the bus lines 52 and 72 will also get you close by, but for those of you with your own transport, then a Valet Parking service is also available.