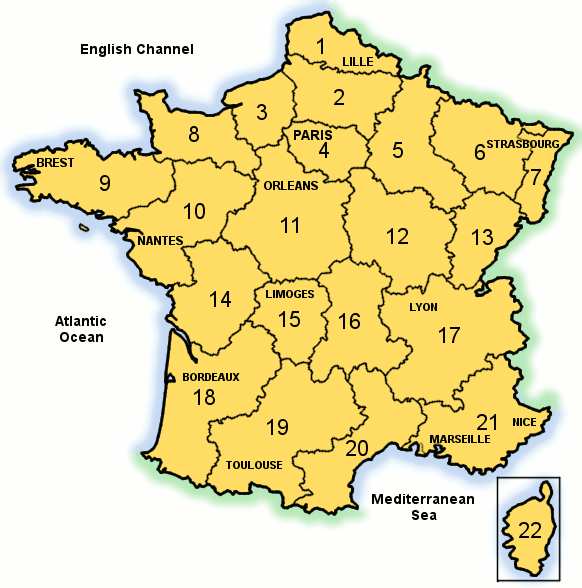 1: Nord-Pas-de-Calais
2: Picardie
3: Haute-Normandie
4: Ile-De-France
5: Champagne-Ardenne
6: Lorraine
7: Alsace
8: Basse-Normandie


9: Bretagne or Brittany
10: Pays de la Loire
11: Centre
12: Bourgogne or Burgundy
13: Franche-Comte
14: Poitou-Charentes
15: Limousin
16: Auvergne




17: Rhone-Alpes
18: Aquitaine
19: Midi-Pyrenees
20: Languedoc-Roussillon
21: Alpes Cote d'Azur
22: Corsica or Corse


Tourist information on France by regions:
Below are short descriptions and tourist information for each region.
1: The Nord-Pas-de-Calais Region in France

Just over the border from Belgium and only a short ferry crossing over the English Channel, the Nord Pas de Calais region is the quickest place to get to in France from the United Kingdom, especially if you want to go on a last minute family camping holiday, weekend break or even a day trip to enjoy the historical towns with their belfries and fine churches.

( campsites in Nord-Pas-De-Calais )


2: The Picardie Region in France

Picardy is one of the relatively unknown regions in France, yet, if you are looking for a cultural holiday in France, then you will not be disappointed as this is a region rich with history and magnificent architecture, plus travelling to this region is very easy as it is between Paris and the English Channel with ferry crossings such as the Dover to Calais cross channel ferry.

( campsites in Picardie )


3: The Haute-Normandie Region in France

Close to the South of England and within easy reach from the UK, Normandy is very similar in its landscape with rolling countryside, fields and meadows along with its rich history and numerous places to visit, once such place is its capital city called Rouen, which is dominated by its fabulous cathedral that is one of the highest in France, all together makes this a great area to travel to if you are thinking of a family camping holiday in France.

( campsites in Haute Normandie )


4: The Ile-De-France Region in France

Known as the Region Parisienne until the name was changed to the Ile de France region in the 1970's, this region is also the home of the capital city of France, Paris, which is often referred to as the City of Lights, There are three National Parks and four National forests, one of these being Fontainbleu with its incredible chateau, but there are many other castles in this region like the famous Chateau de Versailles, where you can even experience an equestrian show.

( holiday in Paris ) ( tourist attractions in Paris ) ( campsites in Ile-De-France )


5: The Champagne-Ardenne Region in France

The Champagne Ardenne region has a varied landscape and offers plenty of tourist attractions and places to visit along with activities to enjoy, yet it is probably most famous for the production of Champagne, often said to be the wine of kings, and therefore this region is an absolute must for any wine connoisseur, but also offers so much more for a holiday in France.

( campsites in Champagne-Ardenne )


6: The Lorraine Region in France

With massive forests, lakes, thermal springs, waterfalls and unspoilt countryside, makes the Lorraine region an ideal place for a family camping holiday, with the added benefit that this region can be enjoyed all year round, as many people go on a skiing holiday in Lorraine during the winter months at one of the ski resorts in the Vosges mountains, yet during the warmer months there are water sports like canoeing along with hiking, paragliding, rock climbing, and much more.

( campsites in Lorraine )


7: The Alsace Region in France

Alsace has a rich heritage with a German influence that includes pretty villages and houses adorned with flowers, the famous Route de Vin Wine route, many fortified castles and museums, the River Rhine and much more, which is why the Alsace region in France attracts millions of tourists and visitors each year, especially during the festive season in Strasbourg with the annual Christmas market that is held around the cathedral.

( campsites in Alsace )


8: The Basse-Normandie Region of France

Originally Normandie, also called Normandy, used to be one region, but in the 1950's the region was divided into two parts named Haute Normandie and Basse Normandie, but today Basse Normandie has become very popular for a family camping holiday in France due to its seaside resorts like Deauville and Caborg along the Cote Fleurie with around 100km of fine sandy beaches.

( campsites in Basse Normandie )


9: The Brittany Region in France

The Brittany region, or Bretagne in French, is very similar to the Devon and Cornwall coastline and is a popular destination for camping holidays in France, where you can enjoy its rugged coastline with cliffs and small bays, along with the many sandy beaches and different islands off the coast that you can explore, but Brittany is also famous for its megalithic monuments from the Neolithic period in history that are dotted all over the peninsula.

( campsites in Brittany )


10: The Pays de la Loire Region in France

Located along the Atlantic coast Pays de la Loire is a peaceful area for a family camping holiday in France with lush green countryside and vineyards inland, then sand dunes, sandy beaches, salt marshes and islands by the coast, plus you will find tourist attractions like chateaux and historical monuments you can visit, along with Le Mans 24 hour race, called the Circuit des 24 heures.

( campsites in Pays De La Loire )


11: The Centre Region in France

The capital city of the Centre region is Orleans and this region of France is dominated by chateaux and castles of the Loire Valley with their turrets, grand rooms and gardens, making this a ideal place for a camping holiday where you can explore the natural splendours and the majestic atmosphere of a fairytale region full of history.

( campsites in Centre )


12: The Burgundy Region in France

Burgundy or Bourgogne in French is the home of Dijon mustard and Route des Grands Vins plus is a very historical region of France, as well as having gentle rolling hills made of granite and limestone, through to vineyards, oak and pine forests, the Canal de Bourgogne, numerous hamlets and small villages with traditional markets and fresh produce.

( campsites in Burgundy )


13: The Franche-Comte Region in France

The Franche Comte region has always been a popular place for holidays in France, and is ideal for outdoor activities with its diverse landscape from valleys and forests through to the Vosges and Jura mountains with lakes, rivers and waterfalls as well as sharing its borders with Switzerland

( campsites in Franche-Comte )


14: The Poitou-Charentes Region in France

Located along the West coast of France, Poitou Charentes has one of the mildest climates, along with 400km of sandy beaches, rich history, the famous Fort Boyard, Futuroscope theme park, Cognac houses like Remi-Martin and much more to enjoy, making this region very popular for a family camping holiday in France.

( campsites in Poitou-Charentes )


15: The Limousin Region in France

Being one of the least populated areas of France and with lots of lush green countryside, an abundance of woodland and wildlife like wild boar and deer along with plenty of lakes, rivers and streams that are ideal for a fishing holiday in France, makes the Limousin region ideal for those that want a peaceful camping holiday.

( campsites in Limousin )


16: The Auvergne Region in France

Clermont Ferrand is the capital city of the Auvergne region that is ideal for outdoor activities along with its famous mountains, valleys and rocky peaks at the Massif Central, plus you will find a lot of lakes, hot springs and the dormant volcanoes that make up the largest volcanic area in Europe, making this a great destination for a family camping holiday in France.

( campsites in Auvergne )


17: The Rhone-Alpes Region in France

The Rhone-Alpes is a very popular region in France, especially when it comes to skiing, adventure sports and outdoor activities, as it is home to skiing resorts like Chamonix and Courcheval along with the deepest gorge in Europe and the famous lake Geneva, so it is a popular destination for a family camping holiday in France both in summer and in winter.

( campsites in Rhone-Alpes )


18: The Aquitaine Region in France

Aquitaine is probably most well known for the famous French wines of Bordeau, however, there is much more you can discover such as the old cave paintings and historical places, through to the surfing area on the Atlantic coast, then you have the Pyrenees, which is great for skiing holidays in winter and hiking or rambling in summer.

( campsites in Aquitaine )


19: The Midi-Pyrenees Region in France

Taking a family camping holiday in the Midi Pyrenees has always been popular due to the tourist attraction like the Canal du Midi, the city of Toulouse and Rocamadour that seems to hang to a cliffside, the Millau viaduct that has also become a great place to visit in this region of France, but we cannot forget about the skiing holidays and adventure sports also available.

( campsites in Midi Pyrenees )


20: The Languedoc-Roussillon Region in France

Bordering the Mediterranean sea the Languedoc Roussillon region has a fantastic Mediterranean climate and many unspoilt beaches, however, there are the Pyrenees Orientals for hiking and mountain biking, the famous town of Carcassonne with its ramparts, Nimes with its Roman Coliseum, the incredible regional park and much more to enjoy on a camping holiday in France.

( campsites in Languedoc-Roussillon )


21: The Alpes Cote d'Azur Region in France

This regions full name is Provence Alpes Cote d'Azur due to the fact that it encompasses the Provence area and the Cote d'Azur, most people think of this region for the chic resorts of the French Riviera with places like Cannes and St Tropez that have become famous for celebrity spotting, the luxury hotels, boutiques, etc. But there is so much more to be discovered.

( campsites in Alpes Cote d'Azu )


22: The Corsica Island Region in France

The island of Corsica is very diverse with a rich culture, many traditional festivals and fairs along with numerous historical monuments plus there are mountains, lakes, rivers and gorges, sandy beaches, forests and the Mediterranean Sea, so outdoor activities and numerous different sports are available, which makes this an ideal place for a family camping holiday in France.

( campsites in Corsica )





Copyright © www.eutouring.com All Rights Reserved




Tourist information on France and map of regions:

Just click on one of the areas within our map of France to find out tourist information on that particular region, or you can also use the descriptive links listed below.