Tourist information on Picardie region

Picardy, spelt Picardie in French, is one of the relatively unknown regions in France, but is very easy to get to as it is between Paris and the English Channel with its ferry crossings such as the Dover to Calais cross channel ferry with P&O. And yet, if you are looking for a cultural holiday in France, then you will not be disappointed as this is a region rich with history and magnificent architecture, although there are also lots of different places you can visit, especially if you are thinking of staying at one of the many French campsites in Picardie for a week or two when on your family camping holiday in France.


About the Picardie region in France

In the North of France and only around 30km from Paris, one direction takes you to the English Channel, the sand dunes and beaches, and another takes you towards the Champagne region and Belgium, and Paris itself is not far away at all.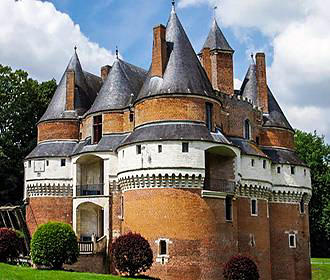 Picardie Chateau de Rambures
And even though a lot of Picardie is flat open fields with much of this land being used for the agricultural industry, it is also famous for the gruesome Battle of the Somme, yet towards the south it is a far more scenic area with hills and large forests, which are great for exploring the flora and fauna.

The weather in Picardie is very similar to that in the UK, although you will find that the winters tend to be very slightly milder and it is usually February that is the coldest month with temperatures around 3 to 6 degrees C during the day, but the warmest months are normally July and August plus the start of September where they can be hitting 25 degrees C or more.

So if you are thinking of a weekend break then there is plenty of choice when it comes to places to stay, but rather than a hotel, B&B or Gite you could consider one of the French campsites open all year. One such French campsite is called Camping La Halte de Mainville, which is ideal for a family camping holiday in France and even if you do not fancy booking a pitch because of it being out of season, you will be pleased to know that they also have wooden chalets to rent.
But even if you do not feel like taking a ferry to France and driving on the opposite side of the road, then the Picardie region is also close to the Roissy Charles de Gaulle airport where you can get many cheap flights to France. This way, you can not only enjoy this region, but the Ile de France region as well with its incredible capital city of Paris.

Anyway, getting back to Picardie, there are over 1000km of rivers and around 4000 hectares of lakeland, coastal marshes, approximately 70km of sand dunes along with beaches, high cliffs and bays. Not forgetting the forests and rolling hills to enjoy!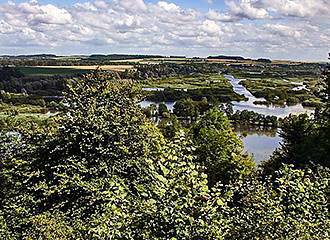 Picardie countryside lakes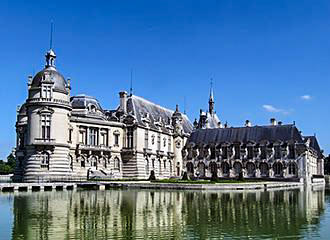 Picardie Chantilly castle
Yet for those of you that like history, there are plenty of places to visit, as this is one of the most ancient regions of France and historically it is claimed that France was born in Picardie. This dates back to when Soissons was made the first capital of the Franks back in the 480's, but the Picardie region also has some of the finest cathedrals of anywhere in France.


Tourist attraction and places to visit in Picardie region

There have been many battles fought in the Picardie region over the years and dotted around you can find many monuments and war memorials from things like the Battle of the Somme and the Armistice memorials at Compiegne including a copy of an original railway carriage.

Amiens was hit badly during both World War I and II, but fortunately the Catherdral, which is one of the largest in France and the tallest gothic church in France survived and this has now been classified as a world heritage site. There are also other gothic cathedrals such as those in Beauvais and Soissons, along with the town of St Quentin that is famous for its gothic Basilica.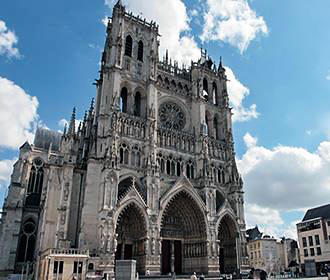 Keeping on the theme of architecture, whilst you are on holiday in France within this region you could visit the forest and Chateau Compiegne, or the very impressive Chateau Chantilly that is home to a race course and museum in addition to fortifications, the remains of an abbey, medieval houses and much more.

But if you are thinking more along the lines of a family camping holiday in France where you can let the children have the thrills of their lives, then you will not be disappointed, as Picardie has lots to offer.

To start with, there is the Parc Asterix theme park with its many rides for all ages, then for a change of scene you could enjoy the Mer de Sable, which is a wild west theme park where you can enjoy rides, shows and much more. In addition to these, you have the Parc St Paul, which is a theme park more suited for younger children that has a really lovely family atmosphere.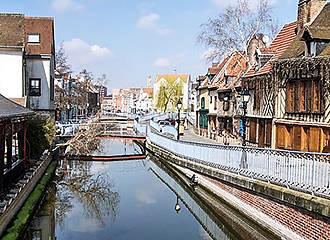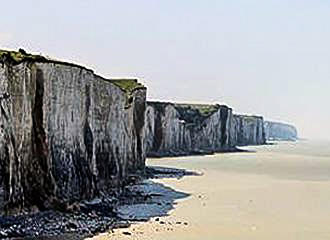 Picardie coastline cliffs
Or perhaps you would prefer something quieter. And if that is the case, then you could visit the Barge and Boatman museum located on a barge on the Oise Canal that lets you experience life as it was for the tradesmen working on the canal.

In addition to these, if you enjoy nature, there is a butterfly museum, a bird sanctuary and a wetland area at the mouth of the River Somme, which is great for the incredible variety of wildlife, but there is also a steam railway here as well. Alternatively, you could enjoy canoeing on the canals, cycling, rambling through the forests, sand yachting, or even a spot of archery and maybe visit the only dedicated archery museum in France, plus there is much more to keep everyone happy when on a family camping holiday in Picardie.