Tourist information on Lorraine region

With massive forests, lakes, thermal springs, waterfalls, unspoilt countryside and a stunning natural environment, the Lorraine region in France is an ideal place for a family camping holiday where the outdoors plays a major role in activities.

Lorraine is also one of the regions that you can enjoy all year round even during the winter months, for example going on a skiing holiday in France at one of the ski resorts like La Bresse in the Vosges mountains, yet during spring, summer and autumn there are numerous opportunities for water sports like canoeing along with hiking, paragliding, rock climbing, mountain biking and much more, that you will end up falling in love with this spectacular region.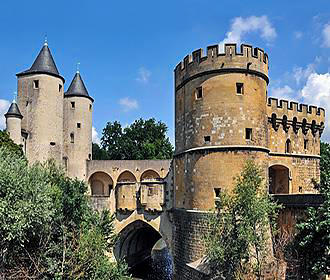 Lorraine Porte des Allemands
About the Lorraine Region

This region is of course famous for the Quiche Lorraine that is enjoyed by people all around the world today, yet it is also a place where thousands come each year on Armistice day, as it was the location of the Battle of Verdun in World War I where hundreds of thousands lost their lives. And today, there are still numerous reminders of the horrors that went on during the great war such as Beaumont that was one of the villages completely destroyed.

At the heart of the Lorraine region lies the elegant city of Nancy, that used to be the capital of the region and is now popular for its art nouveau architecture. Plus you have Metz, which is the capital of the region and plays host to a stunning cathedral with its incredible stained-glass windows, which is located along the banks of the River Moselle that travels through this city.

Lorraine Lies to the East of France with the Vosges mountains dividing Lorraine from the Alsace region and also borders the Champagne-Ardenne region to the West, and Franche Comte region to the South. It probably has some of the best unspoilt countryside, along with being the third most wooded area in the whole of France with large fir and beech forests, so hiking paths and mountain biking paths are in abundance to experience the local flora and fauna.
Also you will find some large lakes in this region including the Garardmer Lake that is of glacier origin, along with around 700km of waterways including rivers like the Moselle, streams, springs and waterfalls in addition to the world-famous thermal springs at spa towns like Vittel. So if you are thinking staying at one of the French campsites in Lorraine on your next camping holiday and you want to do some boating or other water sports, then you will not be disappointed.

Now of course, there are a lot of different activities available like walking with donkeys, rock climbing, paragliding, horse riding, golf, fishing with lots of 1st category waters, canyoning, rafting, even bungee jumping and much more for the active or thrill seekers to enjoy, especially with the lovely long warm summers.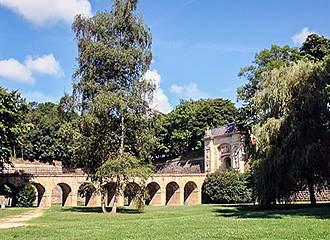 Lorraine Longwy fortifications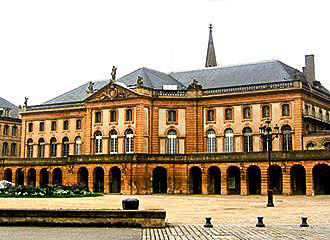 Lorraine Opera Theatre de Metz
Yet when it comes to winter, even though it may be cold, the activities do not stop, as it is just a complete change of scenery. So you can always try some ice skating, or sledding and cross country skiing through to snowshoeing or downhill skiing, as the Lorraine region is also a great place for a camping holiday in France during the colder months. In fact, one of the French campsites that is open during the ski season, called Domaine du Haut des Bluches is only 5km from the largest ski resort in this part of France at La Bresse.


Some tourist attractions and places to visit in the Lorraine region of France

Being close to La Bresse is an ideal place for a family camping holiday, as there are so many things to occupy the young and old alike no matter what time of year you decide to visit. There is a leisure complex, craft workshops, obviously the skiing and sledding, the paths and nature trails along with guided walks for discovering the beauty of the area, farm visits and much more.

Bussang is another skiing holiday resort, however if you are near this location, then there are plenty of opportunities for activities such as climbing, a via ferrata, paragliding, fishing, even tennis, archery and mini-golf during the summer.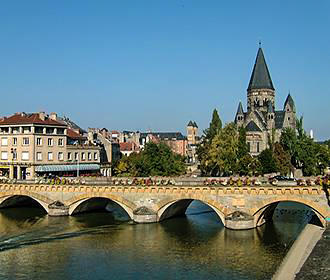 But if you are looking for a fun day out with children, then within the forests of the Vosges there is a Wild-West theme park called Fraipertuis-city in Jeanmenil and even young children will thoroughly enjoy themselves with many different attractions and rides that they can experience, whilst on your family camping holiday in France. In addition to this, another great idea for a day out is to visit the large zoo at Amneville, which is dedicated to rare species of animals and it is one of the largest of its kind in France.

Now for nostalgia, you could take a steam train ride through the Vosges, take a tour down to one of the old coal mines or visit a mining museum, visit the house where Joan of Arc was born, or a chateau that was built to be a replica of Chateau Versailles near Paris, just on a smaller scale.

There are also the incredible spa towns such as Vittel with its lovely mineral waters and the famous Baccarat crystal glassworks, where you can have guided tours, or perhaps if you happen to visit Strasbourg in the festive season, you will see the beautiful chandeliers they make adorning one of the streets.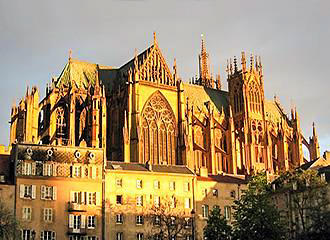 Lorraine Saint-Etienne Cathedral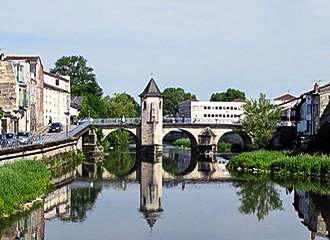 When it comes to those of you that are history enthusiasts, you will not be disappointed, as there are so many wonderful places to visit.

To start of with, the city of Nancy plays host to one of the finest city squares called Place Stanislas that has been classed as a world heritage site, plus it has a fine Renaissance style heritage along with the church and monastery of the Codeliers and the Saint-Denis Basilica where some of France's kings are buried.

You then have Metz, which is home to the fabulous Gothic cathedral with its impressive stained glass windows along with a medieval square and arcades, Roman walls, a medieval church plus numerous museums.

There are also remains of a medieval city you could go and visit along with a castle and yet it is the Verdun and the famous Battle of Verdun that draws so many people to the Lorraine region of France every year. It is here that you can experience the many different cemeteries adorned with thousands of crosses and the Ossuary, that holds the remains of over 130,000 unknown soldiers.

One particular memorial is that of the Bayonet Trench, which was discovered after the war had ended and the remains of soldiers were found with their rifles just rested against a parapet and reportedly, they were buried alive.

You also have the Citadelle that was built in the 17th century where you can still go and visit the tunnels, or perhaps admiring the façade of the Episcopal Palace is more to your liking, but whatever you decide to do in this region, there will be something for everyone to enjoy on a camping holiday in Lorraine.