This location is now closed with no re-opening date.

The following article is left as-is for historical and archiving purposes.
Musee des Lettres et Manuscrits Museum in Paris

The Museum of Letters and Manuscripts was one of the unusual museums in Paris that was only founded back in 2004 and allowed people to discover thousands of hand written letters and fascinating original manuscripts many dating back several hundred years, yet has since CLOSED.


A bit of history

A gentleman by the name of Gerard Lheritier first founded a company called Aristophil in Nice, France back in 1990 in order to purchase historical manuscripts and numerous other documents, with the idea of selling shares to other investors.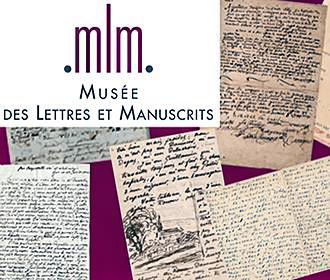 The Musee des Lettres et Manuscrits was founded by Gerard Lheritier and was originally set up in a building in the 6th Arrondissement of Paris, where it first opened to the public on the 18th June 2004.

Each year, up to and including 2009 they produced themed exhibitions, which included Latin handwriting and calligraphy, a musical journey from Mozart to Stravinsky, Jean Cocteau a star of stage and screen, love letters between Edith Piaf and Marcel Cerdan and the beginnings of the Aeropostale service, along with an exhibition called the Eagle and the Quill, that displayed rare Napoleonic manuscripts found in the United States.

However, with the vast collection, the premises were really too small, and so, on 15th April 2010, this museum in Paris moved to much larger premises on the Boulevard Saint-Germain in a place befitting what the museum is all about.


The Boulevard Saint-Germain Building

In fact, it is within this area that Madame du Deffand, the heiress of the Marquise de Sevigne would write about the people she entertained, and where Mademoiselle de Lespinasse wrote her beautiful love letters.
There was once a religious estate with monastic buildings on the site where the Musee des Lettres et Manuscrits was located and some of these buildings have still been preserved behind the more recent buildings along the Boulevard. In fact, there was also once the private mansion of Claude de Saint-Simon, who was King Louis XIVs famous memorialist.

But during the redevelopment of Paris in the time of Baron Haussmann, the two buildings at 222 Boulevard Saint-Germain were constructed, and these were then used by book sellers and publishers for almost half a century.

Today, the buildings have undergone renovations, but also rediscovering much of the original architecture that has also been restored, just like the central atrium, so not only could people discover a fascinating and unusual look at history, but a very historical place as well.


About the Musee des Lettres et Manuscrits

The Musee des Lettres et Manuscrits contained an absolutely phenomenal collection of over 70,000 letters, manuscripts, autographs, sketches, drafts and first editions, with around 1000 of these most significant pieces being permanently displayed over an area of approximately 600 metres squared.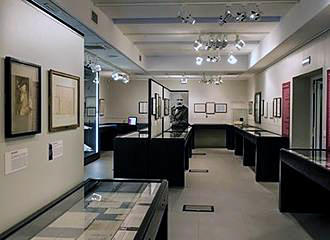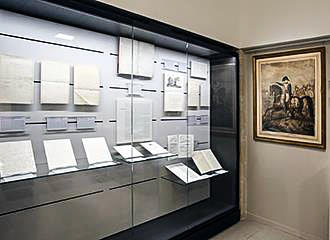 This museum formerly located in an idyllic setting continued to accumulate more and more documents, letters and manuscripts right up until 2014 when they held over 130,000, all for presenting the written word to the public.

These included those of many historical figures including Napoleon Bonaparte, Albert Einstein, Vincent Van Gogh, Victor Hugo, Wolfgang Amadeus Mozart, Ludwig van Beethoven, Claude Monet, General Eisenhower, General Charles de Gaulle, George Sand, Eugene Delacroix, Charles Baudelaire and Gustave Eiffel who designed the Eiffel Tower.

Spread over two floors, the Museum of Letters and Manuscripts had its permanent collection within the basement area and the central main room was dedicated to antiquities, history and new acquisitions. The second room hosted manuscripts that related to science, discovery and music including letters, musical scores, etc, whereas the third room held exhibits that related to arts, literature and book binding.

Now one of the more recent documents that this museum in Paris acquired included a signed certificate from Marie Curie that accompanied a radium machine. And if you did not know, she was a physicist that won a Nobel prize and was the first woman to be interred with The Pantheon, which is a famous burial place and monument in Paris.

Another signed letter more recently acquired was from Marie-Antoinette when she was being detained at the former Tuileries Palace for her own safety and this was dated 18th April 1791, which was during the French Revolution.

On the other floor, this space was reserved for temporary and themed exhibitions and the collections were displayed in a modern layout that was especially conceived in order to preserve and enhance the most prestigious and fragile documents, especially when it came to the lighting utilised within this Museum.

The amount of history and emotion that was portrayed in the written word throughout history was a fascinating experience, letting us embrace centuries of creativity, where we could immerse ourselves in stories, books and facts that have come about over time.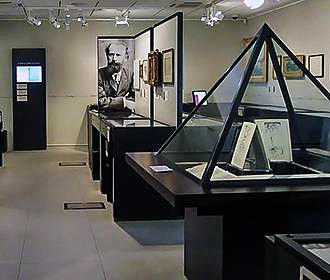 There was also the opportunity for researchers and historians to examine documents not on permanent display, yet this was only by prior arrangement, plus there were also workshops available for both children and adults on different themes along with parties, although things changed dramatically, when Gerard Lheritier and his company Aristophil came under investigation for fraud.

The entire museum and its contents were impounded in the November of 2014 after the company was allegedly running an illegal Ponzi scheme, which is where the original investors are paid from funds from new investors rather than from legitimate business activities.

Being a completely illegal concept, which was said to involve several hundred million and thousands of investors, the Musee des Lettres et Manuscrits was officially closed in 2015, with the documentation still being impounded by the French authorities, although the fact that none of these were sold, it seems that a case could not be brought against Gerard Lheritier, yet this museum is still CLOSED.


Access to the Musee des Lettres et Manuscrits Museum

This museum used to be open on a Tuesday through to a Sunday from 10am to 7pm, however, there was a late opening until 9:30pm on a Thursday, yet it is always closed on a Monday and normally on national French holidays, but as mentioned previous, is now permanently CLOSED.

However, there are plenty of other tourist attractions in Paris that are located in the same area, such as the Musee Maillol, which is also located in the 7th Arrondissement of Paris, so getting here via public transport is easy.

You will find that the nearest Metro station is called the Rue du Bac stop serving line 12, but others close by include the Sevres - Babylone stop serving lines 10 and 12 or you have the Saint-Germain des Pres stop, which serves line 4.

If you are travelling to or from Paris via train, then the nearest RER train station is called the Musee d'Orsay stop, which is located right by the River Seine on the opposite side to the Tuileries Gardens and serves the RER C Line.

Alternatively, the bus lines 24, 27, 39, 58, 63, 68, 69, 70, 73, 83, 84, 86, 87, 94 and 95 along with the Noctilien Night Bus Service via lines N01, N02, N12 and N13 will all get you within easy reach of this area of Paris.