History of Musee Jacquemart-Andre museum in Paris

During the 19th century under the reign of Napoleon III, there was a major urban development plan put in place and entrusted to Georges-Eugene Haussmann who was commonly known as Baron Haussmann.

Many of the little villages were annexed to the city of Paris and roads were built from the outskirts to the centre. And it was in the area of the Monceau plain that the aristocracy decided to by plots of land and have mansions built, which would then be able to display their wealth and standing in society to people passing by.

It was here along the newly built road aptly called Boulevard Haussmann that Edouard Andre, who was heir to a Protestant banking family, decided to buy a plot of land and have a mansion built.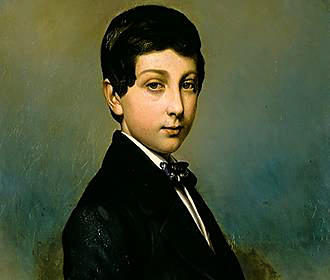 The project was entrusted to a specialist in traditional architecture called Henri Parent and the work started in 1868. In fact, Henri Parent had put in a proposal for the building of the new opera house in Paris, but this was given to his colleague Charles Garnier, hence why the place was called the Opera Garnier.

But getting back to the mansion for Edouard Andre.. You will find that the building was designed completely symmetrical and the inspiration for the facades came from other classical constructions, and when it was completed in 1875, Henri Parent had surpassed even himself as a great architect.

There was much praise given, including articles written and many, many visitors that came to admire this beautiful mansion house commented and gave their praise on how fabulous it was.


How the Musee Jacquemart-Andre Started

Edouard Andre was an avid collector of what were known as bimbelots, which were like knick-knacks of items in gold or silver, ceramics, portrait miniatures and tapestries, which he started to spend his fortune on from the 1860s.
He also collected works of art from painters such as Eugene Delacroix along with Orientalist painters and some from the Barbizon school, however, he did sell some of his art works for charity a few years later, although many he kept, including a painting by Rembrandt and others from French artists of the 18th century.

The idea was his mansion house on Boulevard Haussmann was to start showcasing all the different items he accumulated, including a portrait that was produced by the well-known artist Nelie Jacquemart, whom he ended up marrying in 1881.

In fact, Nelie Jacquemart was also passionate about collecting different items, which meant this was not just a marriage made in heaven, so to speak, as she fully supported Edouard Andre's plans, but it was also instrumental in this private residence eventually becoming the Musee Jacquemart-Andre.

After their marriage, Edouard Andre had a room fitted out for Nellie Jacquemart as a workshop for her and there was a large picture window installed to provide more light. But Nelie laid down here brushes and the room remained empty for some years.

That is, until after Nelie took Andre to Italy, where they both fell in love with Italian Renaissance art and it was in this room along with a couple of others, which became known as the Italian museum, that they used to allow only their closest friends to see.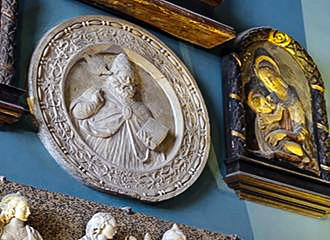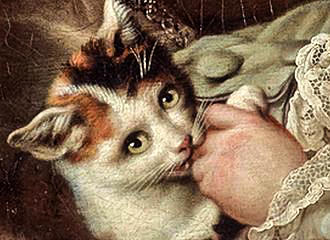 Yet after Edouard had passed away, Nelie also installed a complete sculpture gallery, which has been recreated according to past descriptions.

As you can no doubt imagine, the mansion was adorned with numerous pieces of furniture and other art objects, and the collection was constantly growing, especially since Nelie and Edouard were often travelling, and they spent a lot of time in Europe and Italy, which meant they visited many antique dealers and auction houses.

They also travelled to the Middle East to places like Cairo and would return via other well known cities such as Athens, and when Nelie and Andre were away, they made the most of these times to have work carried out on the mansion house.

One of the reasons was because they did not just invest in the usual art and small items, but they purchased large objects such as panels, fireplaces, frescos and even whole ceiling paintings, which all had to have places within the rooms of the Jacquemart-Andre house.

Another reason was that certain rooms known as the State Apartments were designed by Nelie and Andre to play host to their guests and the large receptions that they held for the high society of Paris.
People used to flock to these gatherings and sumptuous parties, which of course, was where the couple could show off some of their impressive works that they had obtained, like the Picture Gallery, the Music Room and the Grand salon.

Unfortunately, Edouard died in 1894, but Nelie continued their passion and really made their palace mansion house into a stunning collectors paradise, plus she was free to travel the world and purchase many different items.

But by 1902 the mansion house was full of art, furniture etc, then she heard about the Chaalis Abbey and estate for sale, which is located just outside Paris in the Oise department. So, she decided to purchase the estate and started to adorn the chapel etc with even more art, furniture, different objects and sculptures that she had accumulated on her travels.

When Nelie died in the May of 1912, she bequeathed her mansion house in Paris with its impressive collections along with the Chateau de Chaalis in Oise, to the Institut de France. In her will was a request that these become museums, which is why you can now get to visit the Musee Jacquemart-Andre museum in Paris and the Abbaye Royale de Chaalis.