Discovering the Rooms at the Musee Jacquemart-Andre in Paris

This museum and its rooms, is a palace style mansion that was built at the end of the 19th century at a time when Paris was being redesigned by Baron Haussmann, and was constructed for the banker and avid art collector Edouard Andre.

Then a few years later he married Nelie Jacquemart and together they continued to expand their works of art, which filled up their mansion, and hence the history of the Jacquemart-Andre museum is quite fascinating in itself, but lets take a look at the rooms and works of art displayed in this beautiful mansion house.


The state apartments

The state apartments were designed for the most elaborate receptions that Nelie and Edouard Andre held for the high society in Paris, and as you enter this sumptuous mansion house, you will first see the Picture Gallery.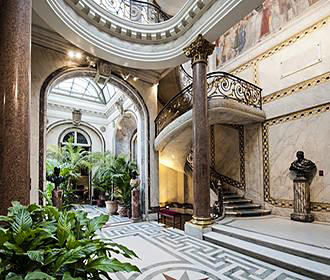 The picture gallery is an anti chamber that allows visitors to admire decorative works, still life's, landscapes and much more, just as this couple had intended it to do over 100 years ago and you cannot help but be impressed by the quality and variety of different compositions on display.

Plus both Edouard and Nelie loved 18th century paintings and it is here you can see two oval compositions by Francois Boucher along with some others, before you emerge in the Grand Salon.

In the past, guests would have waited in the Picture Gallery before entering the Grand Salon, which was the main room for their receptions, also next to this is the Music Room, and Andre had side partitions designed that were removable, so that the Grand Salon and the Music Room could become one large space for the grand receptions they held.

It is here, in this semi-circular Grand Salon, that you can admire the panelling, tapestries, the golden panelling and the impressive paintings on the ceilings and over the doors. Plus with the different types of furniture, antique objects and the decorative arts used, it provides a more eclectic yet sophisticated feel.
Even though you will not see any paintings in this room, there are many different marble busts and now at the Musee Jacquemart-Andre Museum, it is called the gallery of sculptures and the bronze sculpture of King Henry IV on the mantelpiece is the oldest piece here.

The Music Room is the other reception room that displays dark wood furniture and dark red walls, which was typical of the French Second Empire and there is also an upper gallery, which is where the musicians would be set up when Nelie and Edouard were holding one of the functions.

Here there are numerous paintings hanging on the walls, an architectural caprice by Panini, portraits by Perronneau and a very impressive ceiling painting by one of the most renowned interior painter-decorators called Pierre-Victor Galland.

The Winter Garden is located behind the Music Room and was an idea that arose during the reign of Napoleon III, so that guests could relax in a more refreshing environment with exotic plants under a glass roof.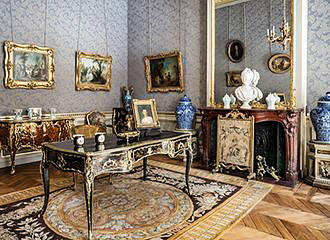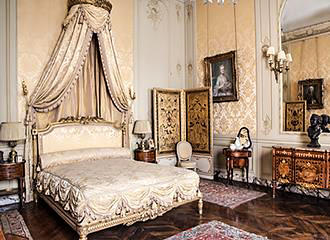 With its marble flooring and walls adorned with mirrors this winter garden area leads to the unusually positioned, yet very impressive double helix monumental staircase and it is decorated with sculptures, which have turned this area into what the Musee Jacquemart-Andre know as the Gallery of Antiques.

In fact, it was more usual for a grand staircase to be in the middle of a mansion house, but here it is located at the end of the apartments, yet it boasts an enchanting design with many different materials used including marble, stone, iron and bronze. Although the finishing touch to this grand staircase has got to be the large fresco produced by Giambattista Tiepolo that the couple purchased from a villa in Veneto in 1893.

The Dining Room was also an exceptionally large room with high quality decor and around the edges of this room are a series of King Louis XV tables in gilt and sculpted wood, which now serve as sideboards.

However, the dining room has now been turned into the Jacquemart-Andre Tea Room, and it is within this tranquil space that you can sit and admire things such as the tapestries. But there is also the very impressive fresco on the ceiling by Giambattista Tiepolo that was purchased by Edouard and Nelie on one of their many antique and collectors travels, and this came from a villa in Mira in Italy.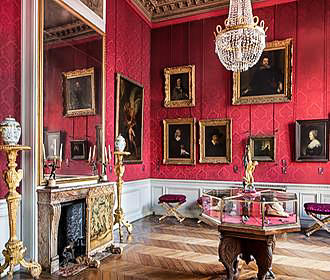 The informal apartments

The informal apartments were used for personal callers, conducting business and meetings, and are far more intimate that the state apartments, which is why Edouard Andre and Nelie Jacquemart reserved these for their own uses.

The first of these is the Tapestry Room, which is an antechamber that leads into the study and its main characteristic is that it was designed to fit the wall hangings or tapestries that Andre had already purchased prior to the mansion being built. You will also get to see the parquet flooring with a Savonnerie carpet, some prestigious furniture and an easel with a painting by Guardi.

Following on you reach the study where Andre and Nelie used to organise their daily lives, and it has an intimate decor with many of their favourite objects on display, plus a series of 18th century paintings and on the ceiling is another fresco from Giambattista Tiepolo that came from a Venetian palace.

There are also some very impressive and prestigious items of furniture such as stamped Chevenat chairs covered with tapestries, a Louis XV commode in rosewood and a Louis XV desk that is stamped by Jacques Dubois, who was the king's favourite cabinetmaker.

The next two rooms were originally meant to be Nelie's private apartments, but she wanted to be nearer to her husband, and so, the first one called The Boudoir still retains the balustrade that enclosed an alcove where the bath was located, but has been decorated in a neo-classical style with furniture in the Louis XVI style, paintings by old masters and another beautiful ceiling by Tiepolo.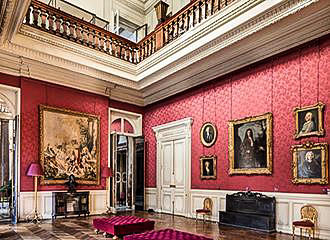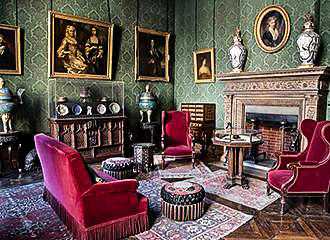 The second room, which was the most secluded room in the mansion house was meant to be her bedroom, but Nelie changed this and it became The Library. It was here that Edouard and Nelie used to go through different catalogues and decide on what they were going to purchase next!

On the shelves of book cabinets there were books with precious bindings, however, unfortunately these have had to be removed, as they are too precious to keep them constantly exposed to light. There are also some fabulous pieces of furniture including a cabinet that was given to Mademoiselle de Fontanges by the king and a central display cabinet that features some of the Egyptian antique items that Nelie had purchased over time.

When looking at the walls, they are adorned by Flemish and Dutch paintings from the 17th century, along with two by the famous painter Rembrandt and others by prestigious names such as Van Dyck.

Nelie would retreat with the ladies to a small sitting room after a dinner with friends, whilst the gentlemen would retreat to the Smoking Room, which was all the rage during the Second Empire. In this room you will find a large fireplace that was brought back from Venice and generally it is decorated in an oriental style that brings together many different objects that Edouard Andre and Nelie Jacquemart purchased on their more distant travels abroad.

The most precious item is a blown glass and enamelled lamp from the 14th century, however, there are also several portraits that decorate the room from painters such as Gainsborough from when Nelie was in England.


The private apartments

The private apartments are located on the ground floor, yet they are set slightly apart from the State reception rooms and these three rooms, one of which became the bedroom for Nelie, the antechamber for Edouard and his bedroom, are all decorated in the Louis XV style.

Nelie's bedroom has wood panelling, some of her most beautiful furniture and lots of small tables, which she loved, plus she had a small conservatory style sitting room build on the terrace, which she also utilised as her own personal office.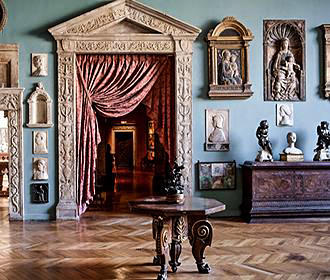 The antechamber between the two bedrooms was where Edouard and Nelie used to take breakfast each morning and it became their private meeting place. It is here that you can see objects and personal items such as the wallet of Edouard Andre's father along with family portraits, with the pride of place being given to the portrait of Edouard that Nelie had produced in 1872, which was the very portrait that brought them together for the first time.

Edouard Andre's bedroom and bathroom were both renovated after he died, and Nelie put a feminine touch to his room, but pride of place is a plaster bust of Edouard, which shows her dedication and loyalty to her husband.


The Italian museum within the Musee Jacquemart-Andre

Originally, the rooms that hold the Italian collection remained empty, but over the years Nelie and Edouard decided to install their Italian collections here, and there were very few people that were privileged enough to venture into their secret place.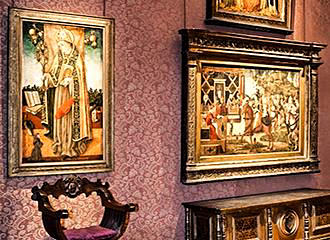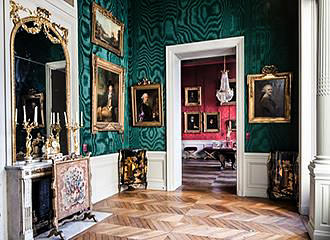 It is within these rooms that you have the Sculpture Gallery, which is a highly personal display from their love of Italian Renaissance artworks, which has been completely recreated according to old descriptions.

Also you will find the Florentine Gallery that was originally home to objet d'art and had a whole host of small objects including ceramics and jewellery, but after Edouard died, Nelie changed this and turned it into a sort of mausoleum where she could bring together precious items from her passion and love of Florence, with a place of worship in the form of a small chapel, along with a gallery of paintings from the Florentine school.

Then you have the Venetian Gallery being the final room in the Italian Museum that is located within the large mansion house of the Musee Jacquemart-Andre and fitted out by Edouard Andre and Nelie, it brings together works from Venice and art schools of northern Italy.

So as you can tell, this is one of the spectacular museums in Paris that is well worth a visit when on holiday in Paris, yet it is more informal than places like a rambling visit to a castle such as the Chateau de Versailles, with the big plus being that you do not even have to venture outside of the city centre.