The History of Fauchon in Paris

The first store was opened by Auguste Fauchon in 1886 and over the years became an international name for gourmet foods, yet with innovation and new ideas, the brand has gone from strength to strength with new stores opening, a cafe in Paris and more.


The beginnings of Fauchon

Auguste Fauchon first arrived in Paris from Calvados in the Basse Normandie region back in 1880 and started selling fruit and vegetables that he obtained from the best orchards and fields in France.
Providing top quality produce from his cart throughout the seasons, this continued until he managed to open his first store on the Place de la Madeleine in 1886, which he of course named after himself.

The Fauchon store went from strength to strength and in 1895 he opened a bakery and pastry counter within the shop and then by 1898 Auguste Fauchon expanded further by opening a restaurant and tea room.

This quickly became recognised as a high class place for quality produce and was visited by royalty and wealthy patrons from all over the world, with the Central 4354 telephone number becoming the most well known telephone number in Paris.

The start of the 1900s saw Auguste Fauchon expand even further by opening the Grandes Caves de Reserves des Magasins Faucon on a street near to Les Invalides, that provided his high class clientele with the best vintage wines from France and a selection of top quality international wines.
And the success of Fauchon was now permanently established as the place to go for luxury produce and fine dining, which continued even after Auguste Fauchon died in 1945 and his children took over the business.


The next stage of Fauchon

Fine dining and luxury products were back in fashion after World War II had ended, and in 1952 the children decided to sell the company, and it was a Bulgarian born entrepreneur called Joseph Pilosoff who purchased Fauchon.

Joseph Pilosoff had bold and innovative ideas to take the company further and came up with an agreement with Air France to import exotic and then unknown products into Paris. So for the first time in the city, people could enjoy strawberries during the festive season and then came produce such as kiwi fruits and avocados, that were initially provided as gifts to loyal customers.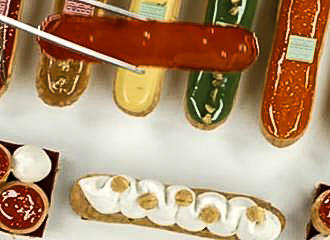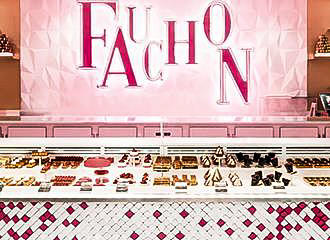 The creative ideas of the new owner were taking Fauchon to new avenues, still maintaining the high quality that people throughout the world had come to recognise, and by 1960 fruit flavoured teas were introduced, including apple tea that had overwhelming success in Japan.

Teas infused with flower petals were introduced in 1970, and are still just as popular today, and after these successes the Fauchon brand was not only recognised throughout the world, but started to grow internationally.

The first retail outlet opening outside of Paris was in Japan and then another opened in Qatar in 1994 followed by Korea in 1995 and Egypt in 1996, yet by 1998, the descendants of Joseph Pilosoff decided to sell Fauchon.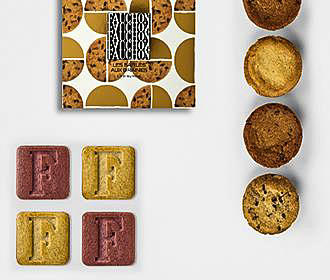 The new era of Fauchon

Fauchon became a company with shareholders and Michel Ducros, who had been one of the shareholders since 1998 eventually became the chairman and CEO on 14th January 2004, with ambitious plans to modernise the brand.

Still utilising the motto of the original founder Auguste Fauchon, Be the One and Only, Michel Ducros not only wanted to modernise and reform the brand, but to also refocus on the original French roots, with a strategy that was named Made in F.

Made in Fauchon, Made in France was to provide a new identity and a new more modern image, so renovations began for the Place de la Madeleine store, which was completely redesigned by Christian Biecher.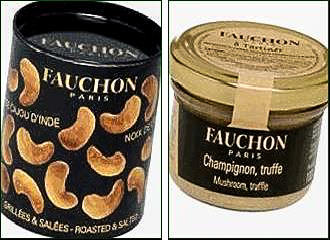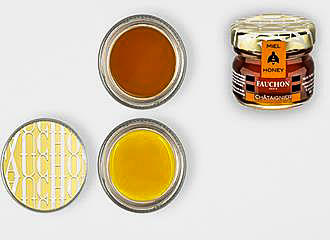 Then the other international stores were revamped and expansion continued in Asia and the Middle East, plus by 2012 Fauchon gift boutiques were opened up at the airports in Paris.

And the brand is not only still expanding, but also caters for receptions along with shipping products worldwide to those that are not fortunate enough to be able to experience the Fauchon shops or the Fauchon cafe in person.