This location is now closed with no re-opening date.

The following article is left as-is for historical and archiving purposes.
Hediard Boutique and restaurant in Paris

The Hediard has been established in Paris since the 1850s and has expanded to different countries over the years, yet the flagship store and restaurant is still located in Paris providing gourmet products, French delicacies and much more to tempt the taste buds.


About Hediard Boutique in Paris

Hediard is all about prestige and heritage, and it is here in Paris at the Place de la Madeleine that you can discover a wide variety of products from vintage champagnes through to the best of caviars and the finest Foie Gras.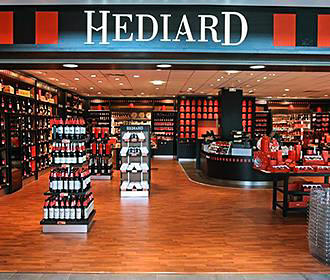 And when you look back at the history of the Hediard you will find that they have presented a rich and varied selection of delicacies from 1854, that are ideal for the perfect gift or to treat your very own temptations, not forgetting their selection of famous hampers they have to offer.

But you will also be able to discover other products such as fruit jellies, honey, chocolates, terrines, mustards, jams, oils, spices and seasonings plus much more to inspire your culinary creations at the Hediard Boutique.


About the Hediard Restaurant

This restaurant in Paris is the flagship of Hediard and is known as La Table d'Hediard Paris and was only opened in 1996, yet proved an instant success with a décor of a typically authentic Parisian establishment and the scents wafting up from the boutique so you can immerse yourself in the French heritage.
The aim of La Table d'Hediard Restaurant is to showcase many of the products that are available from the boutique, but in an appropriate and elevated context for classic dishes and contemporary creations by the incredible chef and his team.

Certain specialities of French cuisine such as Foie Gras and truffles feature heavily on the menu as do classics such as smoked salmon. But there are always innovative and unusual dishes to discover such as Red Mullet with Lapsang Souchon, which is a black tea from China, lobster with citrus, chickpeas with figs and veal, green apple with wasabi and so on.

The a la carte choices at the flagship Hediard restaurant in Paris could be starters such as exotic lobster salad and crispy prawns or a St. Jacques tart with tamarind and curry emulsion. Followed by a fish course of sole meuniere with crushed potatoes in olive oil or a meat dish such as Vendee duck served a la plancha with a Granny Smith apple chutney and grapes with spices, herbs and parmesan cheese for instance.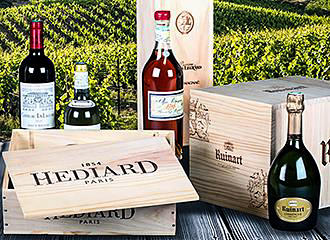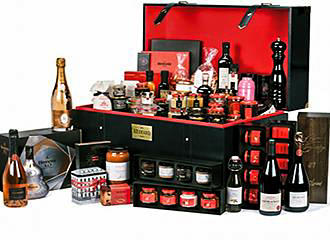 There is also a formula, as they are known, for a lunch time where you can choose a starter and main course or a main course and dessert for a cost of €39 as of 2013 and this is available on a Monday to Friday lunchtime.


Access Hediard Boutique in Paris

The Hediard Boutique is open on a Monday through to a Saturday from 9am to 8pm and La Table d'Hediard restaurant is open again on a Monday to Saturday, but they are always closed on a Sunday.

Lunch is available from noon through to 2.30pm on a Monday to Friday and until 3pm on a Saturday, then afternoon tea is available from when lunch finishes through to 7pm. Dinner is then available from 7pm through to closing time at 10.30pm on a weekday and 11pm on a Saturday.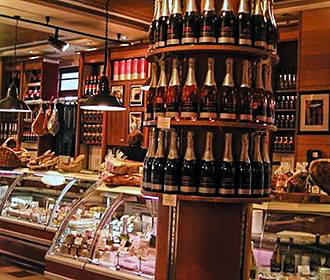 And located on the Place de la Madeleine in the 8th arrondissement, you may be pleased to know that valet parking is available. However, if you are travelling via the public transport in Paris then you would need lines 8, 12 or 14 on the Metro disembarking at the Madeleine stop or the bus numbers 24, 42, 52, 84 and 94.