Derby Eiffel Hotel - 3 Star Hotel in Paris France

This 3 star hotel has family rooms, some rooms with a jacuzzi bath or Eiffel tower view and all have WiFi, safe and minibar, plus with a comfortable lounge and bar, Derby Eiffel hotel has a 24 hour reception and also offers a buffet breakfast.
Average Double
€130 - €190
---
About Derby Eiffel Hotel

Situated in the 7th Arrondissement, the Derby Eiffel Hotel is close to many historical monuments in Paris including the Ecole Militaire and its former drill grounds now known as the Champ de Mars where the iconic Eiffel Tower is located at the opposite end.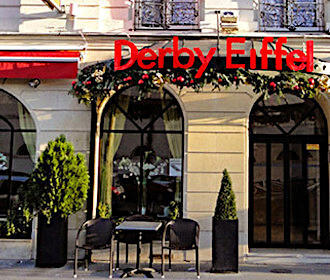 ---
Located on a one-way street, the Derby Eiffel Hotel is set within a typical Parisian building spread over several floors and many other popular Paris tourist attractions are within very easy walking distance as well, just like Les Invalides with its canons, museums and the Tomb of Napoleon.
Having been refurbished including all rooms and the lounge by a designer, the Derby Eiffel Hotel now offers more comfortable and contemporary styling throughout for a pleasant and enjoyable stay with 3 star facilities, whether you are in Paris for business or pleasure. Yet please do not get this hotel mixed up with another which is one of the 5 star hotels in Paris that has a very similar name, but is in a completely different area of Paris.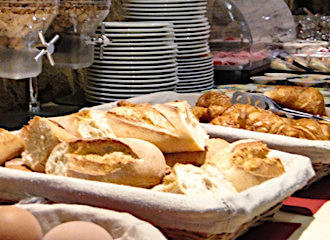 ---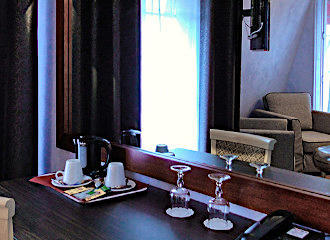 ---
Derby Eiffel Hotel Facilities

There is a 24 hour reception at Derby Eiffel Hotel with staff able to speak English as well as French, who are there to help you get the most out of your holiday in Paris, whether it be booking a taxi, organising airport transfers and much more.

You will find a comfortable lounge area with sofas and arm chairs where you can sit and read a newspaper and keep up to date with the news, or utilise the WiFi to keep in touch with family and friends back home.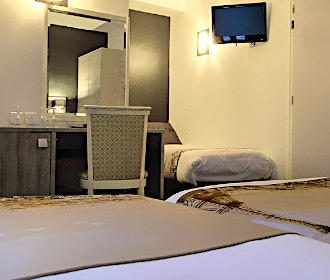 ---
Additionally, something you don't always find in 3 star hotels in Paris is the fact that you could enjoy a drink from the contemporary bar, non-alcoholic or with alcohol such as a nice glass of French wine, and even one of the various cocktails made up for you, so you can end the day on a relaxing note, although this area is actually open from 9am through to midnight!

Breakfast at Derby Eiffel Hotel is served buffet style within the breakfast room every day from 7am through to 10:30am and on offer are the traditional French baguettes, croissants and delicious pastries along with accompaniments such as honey and jams. In addition, there are eggs, cheeses and a charcuterie selection of cold meats, all of which are of French origin plus there are of course cereals available as well. But let's not forget hot beverages and fruit juice, just as you would get with any typical French continental style breakfast, even at one of the many cafes in Paris.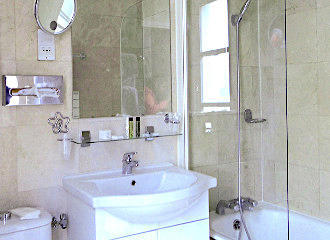 ---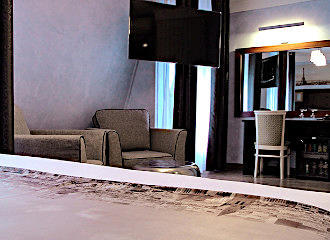 ---
Rooms at the Derby Eiffel Hotel

When it comes to the rooms at Derby Eiffel Hotel there are 43 in total, which are broken down to 2 singles, 8 twin, 26 double 5 triples and 2 junior suites that have all been refurbished to now include air conditioning and double glazing along with additional comforts.

Within the rooms you will find a desk, telephone, personal safe, WiFi, flat screen TV with cable channels and a minibar, additionally, some also have a courtesy tray and complementary toiletries plus a small balcony.

---
Each room has an en suite, most of them with a shower, but also a magnifying mirror and hairdryer, yet some of the double rooms are classed as Premium double rooms and these have a Jacuzzi bath plus lovely views to the Eiffel Tower.

Then you have the Derby Eiffel Hotel Junior Suites that are far more spacious with comfortable armchairs, a courtesy tray for making your own tea and coffee and a larger TV, also offering amazing views of the Eiffel Tower, and not only do these also come with a Jacuzzi bath, but a separate shower as well.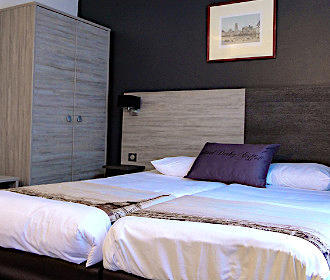 ---
Access to the Derby Eiffel Hotel

Located in the 7th Arrondissement, when it comes to reaching the Derby Eiffel Hotel via public transport in Paris, you will find it located very close to the Ecole Militaire Metro station serving Metro Line 8.

Around here you could also utilise the Paris bus lines 28, 80, 82, 86, 92, yet by going in a westerly direction heading towards the River Seine you could utilise the bus lines 42, 69 and 86, which are located by the Champ de Mars Gardens, all of which are within very easy walking distance.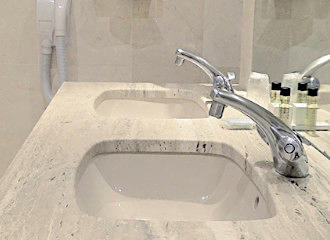 ---
---
Whereas you will find that the nearest RER train station from Derby Eiffel Hotel is situated in a northerly direction where you have the Invalides station, which serves the RER C train line along with being a Metro stop for metro line 8 and metro line 13.

However, for those of you who are interested in discovering more of Paris and seeing tourist attractions in other parts of the city that are not within walking distance of Derby Eiffel Hotel, you could opt for one of the tours in Paris and there are several companies that provide bus tours including Foxity.

---
Then you have OpenTour who operate a hop on and hop off tour bus service with open top double decker buses and having three different routes you can enjoy, on the Grand Tour Blue tour route you will need stop 14, called the Tour Eiffel stop on the Quai Branly.

Additionally, there is Big Bus Paris, which also offer a hop on and hop tour service, and the nearest stop is in the middle of the Champ de Mars gardens by the fountains, which is on the Red tour route as stop 2 on the Avenue Joseph Bouvard.
Alternatively, for something different, you could also enjoy the Batobus, which is a water bus operating a hop on and hop off service up and down the River Seine with docking stations close to many popular tourist attractions including the famous Louvre Museum, with their main dock being at the foot of the Eiffel Tower, right by some of the River Seine sightseeing boat tours including Vedettes de Paris and Bateaux Parisiens who also do dinner cruises.

Although, if you are thinking of getting to Chateau de Versailles for a day out, but would rather not utilise Paris public transport to get there, like the RER C, you will find a company called Versailles Express who operate a package tour service as well as a shuttle service to and from the famous former royal palace, with their stop also located at the base of the Eiffel Tower and within walking distance of this 3 star hotel.
Paris Hotel booking info

Derby Eiffel Hotel
5 Avenue Duquesne
75007
Paris
Ile de France
France

Tel: 0033 1 47 05 12 05
Fax: 0033 1 47 05 43 43
GPS: 48.85365, 2.30747

Website: http://www.hotelderbyeiffel.com/