Sebastian Marx Stand Up Comedian in Paris

Sebastian Marx originates from America and now living in Paris, he provides a stand up comedy show at the SoGymnase Comedy Club for expats and those on holiday in Paris that speak the English language.


About SebMarx stand up comedian

Sebastian Marx is an American expat who decided to set up home in Paris, and he is bilingual speaking both French and English and provides stand upcomedy shows in both languages for those living or on holiday in the capital city of France.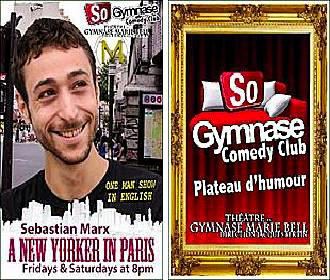 Influenced by famous people such as Woody Allen and Jerry Seinfeld, Sebastian decided to organise a one man show in his native English language under a stage name of SebMarx, and the show named a New Yorker in Paris is held at the SoGymnase Comedy Club.

This stand up comedian in Paris also hosts another show for comedians and international guest stars at the SoGymnase for English speaking comedians, plus he also does a radio show in French on a national radio station, as being bilingual, Sebastian will also do shows in French as well.

So for an evening of entertainment in Paris full of laughter in a language you can understand, why not enjoy SebMarx at the SoGymnase, and start or round off the evening with Italian cuisine at the Restaurant Marie Bell, which is located at the same venue.


Visiting SebMarx stand up comedian in Paris
You will find that the SebMarx one man comedy show starts at 8pm on a Friday night at the SoGymnase, which is located within the historical Theatre du Gymnase Marie Bell in the 10th Arrondissement.

Tickets for the New Yorker in Paris show or any of the other events that Sebastian hosts, must be booked in advance by contacting SebMarx, and you can also make a whole evening out at this venue, as after the comedians have finished there is normally a band such a rock band, etc.

And getting to this theatre in Paris is easy with public transport, as the nearest Metro station is the Bonne Nouvelle stop on either line 8 or line 9, but the bus numbers 20, 39 and 48 will also get you close by. But do bear in mind that these stop running at approximately 1am, and therefore you may have to consider other means of transport to get back to your hotel or residence.
Address and contact details
SebMarx, SoGymnase, Theatre du Gymnase Marie Bell, 38 Boulevard de Bonne Nouvelle, 75010, Paris, Ile de France, France

Tel Mobile: +33 (0) 6 62 68 45 93


Related information
Theatre du Gymnase
Restaurant Marie Bell
SoGymnase Comedy Club
Transport options
Paris Metro lines 4, 8, 9
Bus line 20
Bus line 39
Bus line 48
Bus line 85
Night bus lines N15, N16
Attractions close by
Musee Gourmand du Chocolat
Square Jacques-Bidault
Musee de l'Eventail
Bouillon Chartier Restaurant
Musee Grevin Waxworks
Silencio entertainment
Folies Bergere Cabaret
Musee de la Franc-Maconnerie
Manoir de Paris
Square Emile Chautemps
Musee des Arts et Metiers
Prieure Saint-Martin-des-Champs
Metro Station Arts et Metiers
Square Montholon