Salvador Dali the surrealist artist

Salvador Dali was born on 11th May 1904 in Figueres, Catalonia, Spain and was given the same name as his brother who had died previously, which his parents never got over and because of this, he felt unstable and became very egotistical. So, after seeing his brothers grave, he stated that he wanted to prove he was not the dead brother, but the living one.

From an early age he was interested in art and painting, and with his technical skills combined with a vivid imagination, he was admitted to the San Fernando Institute, which is the Fine Arts School of Madrid. But in 1926 he got expelled for disputing the capacity of his professors and for being accused of starting an unrest, as he had a very controversial personality.


Famous painting The Bread Basket

Yet it was here that he met the poet Federico Garcia Lorca and Luis Bunuel who became a famous film director, and this is where he produced one of his most famous paintings called The Bread Basket, but it was the same year that he took his first trip to Paris, which was where he met Pablo Picasso whom he revered.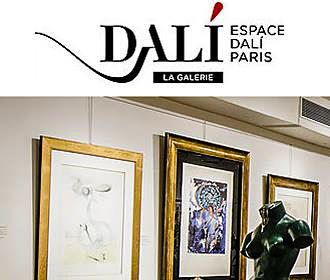 Then in 1929 he met Gala, who was born Elena Ivanovna Diakonova, which was the woman that gave him inspiration and became his muse, then his life-long companion and future wife, and it was in this same year that he joined the Surrealist group in the Montmartre area of Paris.

By 1931 he painted The Persistence of Memory, which is where he introduced the melting pocket watch and he remained living in Europe up until 1940, when he and Gala went to the United States to avoid the conflicts during World War II. And it was while in the US that he produced his autobiography and an exhibition of his work was held at the Modern Art Museum in New York.

From 1949, Salvador Dali and his wife Gala settled back in Spain and the following years became his most prolific where he experimented with lots of different forms of art especially with his interests in science and mathematics, which meant he utilised optical effects, etc.

He illustrated for books including Alice in Wonderland, wrote, helped produce films, done carvings, produced drawings, created different jewels and pieces of furniture, and produced many sculptures, plus he researched space and the third dimension, which led him to the study of holography and even designed the Chupa Chups logo.
Then In 1974 Salvador Dali inaugurated the Teatro Museo Dali, which is a theatre museum located in the town of Figueres where he was born, and this is actually the largest surrealistic object in the world, however, only 6 years later in 1980 his health was starting to deteriorate.

Gala and Salvador moved into a castle in Pubol which he had purchased for his wife, and this is where she died in the June of 1982, yet it was in the same year that King Juan Carlos bestowed on Dali the title of Marques de Dali de Pubol.

After the death of his wife, Salvador Dali lost much of his will to live and his health deteriorated even further. Then after a fire at his house in Pubol, which led to him being burned, this obviously did not help his situation, so after this, he returned to Figueres close to the Teatro Museo Dali.

At this time he did not continue producing many more works of art due to poor health and had a pacemaker fitted in 1986, yet by the November of 1988 he was admitted to hospital with heart failure.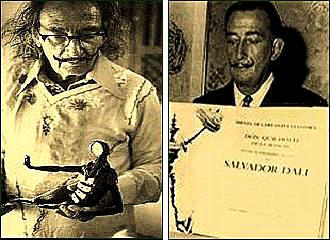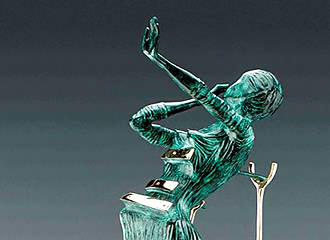 Apparently the final drawing ever produced by Salvador Dali was given to King Juan Carlos of Spain as a thank you for the title he had been bestowed, when he visited Dali on his death bed in the December, and unfortunately Dali died of heart failure in hospital on 23rd January 1989.

His funeral was conducted at the Sant Pere church is Figueres and he was buried in a crypt within the basement of the Teatro Museo Dali Theatre Museum located close to where he was born and lived.

But if you are not fortunate enough to be able to visit the theatre museum in Spain, then if you happen to go on holiday to Paris, there is the Espace Dali Museum located in the Montmartre area close to the Sacre Coeur Basilica, which has the richest collection of Dali works in the whole of France, if not the world.