L'Opera Restaurant at Palais Garnier

When the Palais Garnier was first constructed to house opera in Paris, within the plans drawn up, there was a restaurant mentioned, but this never actually got built. That is until only recently and an incredible 136 plus years later!


Design of the L'Opera Restaurant

The design for the l'Opera Restaurant was based around creating a space that will highlight the restaurant inside the Opera Garnier, yet without trying to mimic this fabulous monument in Paris, but still having to respect it and make sure there was no damage done to the original structure.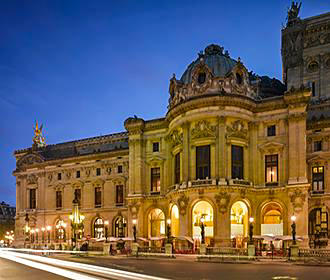 Creating this space to protect the history of the Palais Garnier, meant there were some very severe restrictions in place that had to be met, which was one of the reasons why none of other past projects had ever been started.

In fact, the restaurant was not allowed to touch any of the walls, pillars or the ceiling of the original Palais Garnier structure, which means that the truly contemporary character of the l'Opera restaurant in Paris has no visible structure and is held in place as if by magic.

Of course, it is not magic, and the space utilised in which to house the restaurant is located where horse-drawn carriages used to draw up, to drop off the ticket holders when this opera venue in Paris first opened. And it is here as you first see the north west facade you will get the first glimpse of the very contemporary design with curved glass running in between each pillar.

The glass itself is held in place by a single strip of bent metal that runs round the curves following the contours of the building. And then this strip of metal is fixed to the upper cornices of the columns an impressive 6 metres up, by connecting rods, so as to give the illusion of magic, space and uninterrupted views.
When it came to the design of this restaurant, it was the world-renowned French architect Odile Decq, who was given this task of creating a usable space within the strict guidelines, and not only did she succeed with a ground level but also managed to design a mezzanine level that just seems to float towards the original ceiling of the Opera Garnier, which she nicknamed the Phantom l'Opera.

This extremely contemporary design is made up of dark, black floors, with a bright red carpet that sweeps around following the curves and contours and dramatically down the main staircase of this restaurant in Paris.

But yet another striking contrast is that all the pillars and tables are white, yet with the same bright red finishings and red chairs, which is one of Odile Decq's favour colours to utilise in her designs. And at the back of the room, which is close to the entrance for the Opera Garnier, you can find the lounge area and a long black bar that curves around one of the columns.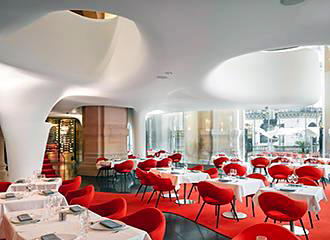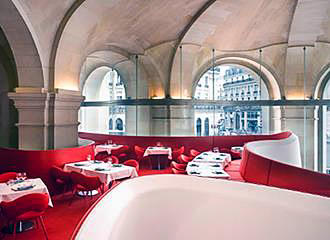 The Cuisine at L'Opera Restaurant in Paris

The L'Opera Restaurant is open for breakfast each morning, then it is open for lunch and then an a la carte dinner option is available for the evening.

For starters you could have a delight such as Black angus pastrami, beans from Paimpol in the Brittany region of France, tarragon and candied shallots or Soft-boiled egg, leeks, chanterelles, truffle dressing, walnuts and parmesan. The average cost for a starter is between €10 and €17 but if you really want to push the boat out before going to the ballet at the Opera Garnier, how about Caviar, potato blinis, with egg and lemon jelly for around €45 as of 2012.

When it comes to the main course, there are a variety of fish courses such as Roasted whiting with bread, cauliflower gratin, lemon and spices or Smoked sea trout, steamed spring vegetables, herbs and condiments, yet perhaps the American-style Monkfish, pilaf rice, citrus and coriander would be more to your liking and range in cost from €22 up to €32.

There are of course meat dishes available such as Roasted pork chop, honey that comes from the hives on the roof of the Opera Garnier, lemon and zucchini gratin or Poached and roasted lamb saddle, lettuce, carrots, lemongrass and pistachio. And again, as of 2012 the cost for a meat dish main course is between €26 and €34 depending upon what you choose.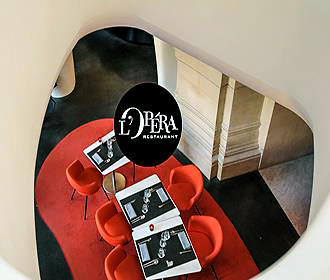 Desserts are also very tempting and are around €12, and there is a cheese option of Old Comte and Saint-Marcelin cows cheese, with marinated figs in wine and spice. But there is also the traditional Opera Classic that consists of a layered almond cake soaked in coffee syrup and covered with chocolate icing, along with other delights such as Apple roasted in caramel and green apple sorbet.

However there is a menu option available from midday through to 3pm and from 6pm to 7pm where you can have a starter and main course or main course and dessert accompanied by mineral water for a cost of €36 as of 2012. This is known as the Menu du Marche and the choices literally depend upon what produce is available that day from the market.


Access to L'Opera Restaurant in Paris

Breakfast is served between 7am and last orders are at 10.30am. Then Lunch is served from midday and last orders are at 3pm. Dinner is served from 6pm with last orders being taken at 11.30pm.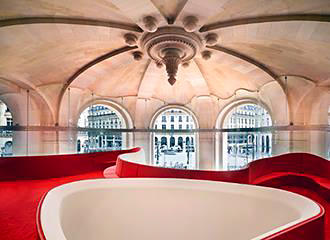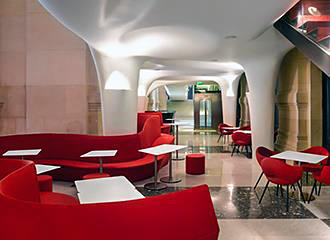 Because this is one of the smaller restaurants in Paris that is located in such a prestigious building, it is wise to make a reservation, especially of an evening, however, you can book a table for breakfast, lunch or dinner online at their website.

Located in the 9th Arrondissement within the historical monument in Paris of the Palais Garnier Opera House, this restaurant is open every day of the week and is very easy to reach via public transport in Paris.

There are actually two metro stops located close by which are called the Opera stop and the Chaussee d'Antin - La Fayette stop, you also have the RER on line A with the stop being Auber.

And there are numerous different bus lines that will get you to the Opera Garnier for the ballets, tours and the Bibioteque-Musee de l'Opera along with the L'Opera restaurant such as numbers 20, 21, 27, 29, 42, 52, 66, 68, and 95.