American Dream restaurant in Paris

The American Dream is a restaurant and entertainment venue in Paris with different shows and spaces to suite most tastes from spectacles and cabaret through to a piano bar, sushi bar and Gogo dancers for the bachelors amongst you.


About American Dream

The American Dream was first founded back in 1983 and is the largest American space in Paris that was an instant success and has continued to this day with a wide variety of entertainment combined with Californian cooking and their famous burgers.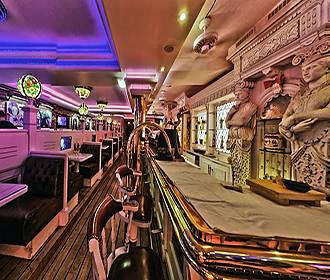 Also, when visiting this venue you will find different areas within the building that would remind you of eating in an American diner, a salon bar, train carriage, etc with numerous different mementos, souvenirs, pictures and neon signs that all represent the United States of America in different ways.

And even from the outside, you will find the place hard to miss all lit up, and it gives you the feeling of being able to live the American Dream in Paris even before you enter for one of the dinner shows, a drink or clubbing with DJs.

Now we mentioned that there are different spaces at this venue, and the first is the Piano Bar, which has live music in a relaxing atmosphere, where you could just enjoy a drink, cocktail, one of the burgers or you could also choice to have an a la carte meal, and this space is free to enter.
The next space is known as the Gogo Bar, which is designed for bachelors in mind, with sexy show girls that dance on the bar including pole dancing, and entry to the show plus a drink is from €16 as of 2014.


American Dream Dinner Shows in Paris

You can enjoy one of the original shows in Paris, whether it be a cabaret style, pop singer, different set spectacles or show compilations and much more for a completely different evening of entertainment in Paris, and enjoy a full meal at the same time.

As of 2014, entry including a meal, drink and show starts from €39. And the first option known as Route 66 is this cost, where you can enjoy a main course, dessert, drink such as a wine or fruit juice plus a coffee, and there is even a Vegetarian pizza option available for the main course instead of having a cheeseburger or the hot chicken salad.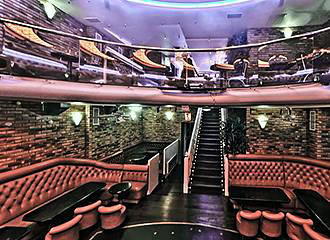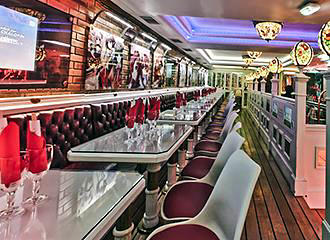 Another option for the same cost is called Brooklyn with either a starter such as potato skins or chicken wings followed by a main course of BBQ ribs or fish kebabs for instance, or a main dish and dessert.

There are other menu options with different dishes available at this restaurant in Paris and Chicago is €49 for a three course meal with a drink and coffee, whereas the menu known as California is €69 and you also get an aperitif.

Yet the ultimate dinner shows at the American dream is called the Las Vegas for €89 as 2014 with appetisers or starters such as fried cheese sticks or tapas and main courses could be delights such as steak and shrimps or prime rib beef. In addition, you have a wider variety of aperitifs and a larger quantity of drink supplied such as a half bottle of wine instead of a quarter.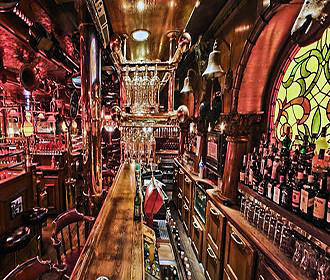 However, if you want to try entirely different cuisine, then there is the Japanese Bistro, which is also a unique place in France and is linked with the American Dream, but they also provide a takeaway service if you would rather have a quiet night in.


Visiting the American Dream Restaurant and Dinner Show Venue

Located in the 2nd Arrondissement, yet very close to the 9th Arrondissement and the Palais Garnier Opera House, you will be pleased to known that the American Dream is open seven days a week.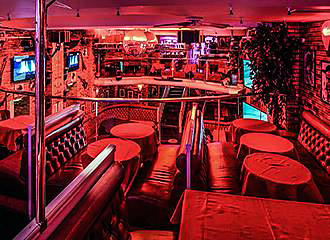 For all of the spectacles and dinners shows they are from 9pm through to 2am with booking normally required, and you can also make a reservation for an a la carte dinner within the Piano Bar, the Sushi Bar for the Japanese Bistro cuisine or their Brasserie as well.

When it comes to public transport, the nearest Metro station is the Opera stop, however, if you are travelling on the RER, you would need the Auber stop.