Hotel Grand Powers - Paris 5 star hotel

Situated close to the Champs Elysees this stylish 5 Star hotel caters for families and business people, through to those wishing for a romantic weekend in Paris, plus it is disabled friendly, allows pets, has a gym, spa, restaurant, bar, the Clefs d'Or concierge and much more for a refined luxury stay.
Average Double
€390 - €560
---
About Hotel Grand Powers Paris

Located in the 8th Arrondissement within the plush area known as the Golden Triangle, you will find a Haussmann style building dating from the 1800s that became known as the Hotel Grand Powers when it first opened its doors in the 1920s.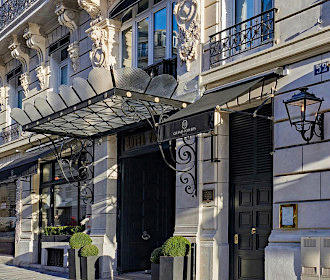 ---
An instant success for people wishing to have a stopover before travelling on to the French Riviera and others who wished to enjoy the glitz and glamour of Paris with its chic and classy boutiques, the haute couture fashion and high-end designer names, the Hotel Powers has always accommodated.

Yet, technology and client expectations have grown over the decades and in 2017 as a 4 Star hotel in Paris, it closed its doors for the first time for a complete renovation project, which took over 18 months to complete, then it re-opened once more under the watch eye of owner Alexandra Marang, and this time with the name of the Hotel Grand Powers Paris, which was very quickly classified as a 5 Star hotel in Paris.
You can still enjoy the many original features such as the Art Deco chandelier in the lobby dating from when the hotel first opened through to original fireplaces, cornicing and mouldings. There are also custom made desks made to look like they date from the 1940s through to antique mirrors and others more modern, with other specially designed furniture designs, which represent the last 100 years for a Parisian chic yet refined environment that you could very easily fall in love with.

Although a stay at the Hotel Grand Powers has many classy assets, even with the fabulous Clefs d'Or concierge, which is the ultimate in service you can expect, even from the newer classification of a Palace Hotel, there is still that discreet but personal respect and service without being pretentious, to make everyone, whatever their background, feel welcome and home from home.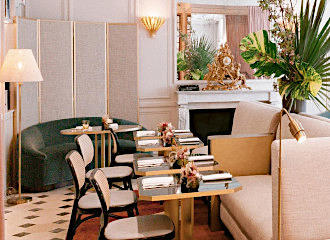 ---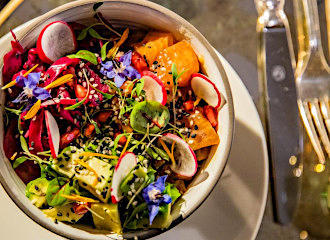 ---
It is also a relatively small hotel with a total of 50 rooms and suites, yet is disabled friendly with dedicated wheelchair accessible rooms and even the spa that you can read about later is accessible, plus this is a pet friendly hotel in Paris.

This is also a family friendly hotel in Paris, so there are rooms where not only can you have a baby cot, but others with a convertible sofa and others that can be booked as connecting rooms, not forgetting that at the Grand Powers Hotel children have special gifts, specially dedicated child menus and can be with you completely free if staying in the parent's room or suite under certain ages.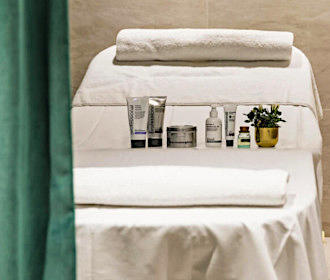 ---
Services and Facilities at Grand Powers Hotel in Paris

As you would expect from a 5 Star hotel in Paris, there is a 24 hour reception with multilingual staff and although there are set times for check in and check out, you can request and organise later or earlier times when necessary.

Staff are there to help you in every way they can, whether it be the doorman through to the porter or maid. So as we mentioned earlier, not only is there a concierge, but this is a certified Clefs d'Or concierge service where discreetness and privacy accompanied by impeccable respect are key aspects to making your stay at the Hotel Grand Powers become the ultimate in refinement, relaxation and pleasures that you will never forget.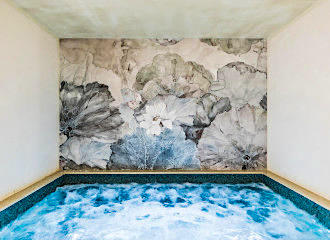 ---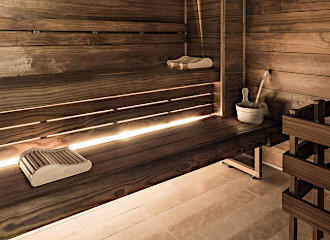 ---
We will not worry about mentioning everything that this hotel does, as some are things you would automatically expect from a luxury hotel, although this is a disabled friendly hotel in Paris with two rooms that are dedicated to wheelchair users.

Yet the Hotel Grand Powers can also accommodate business users and people wishing to have an event organised, whether it be in the Lounge Eugene, in a suite, etc, plus secretarial services are available along with fax and photocopying services and much more to make meetings and business a pleasure rather than chore. Other events such as a small reception, an anniversary party, etc can also be organised catering specifically to your needs, with certain areas of the hotel even privatised for the occasion.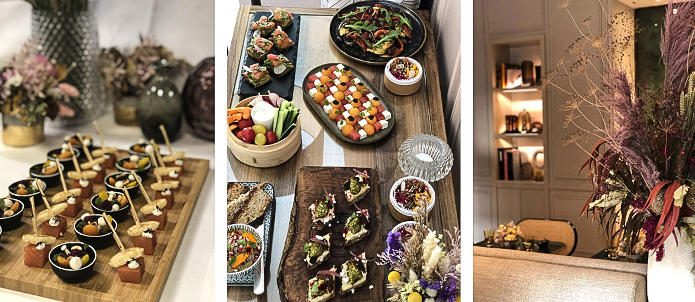 ---
Dining at the Hotel Grand Powers Paris

As you would expect from a 5 Star hotel in Paris, you can opt for room service for breakfast available between the hours of 6:30 and 11am, then lunch and dinner delights from the in room menu, and later as a night service there is also what the Hotel Grand Powers class as the Pillow Menu.

So, getting back to breakfast, there are a vast amount of choices depending upon your tastes, appetite and requirements from vegetarian and gluten free, to a more American style plus three standard options of the Continental, Detox and the Buffet breakfast served from 7am through to 10:30am.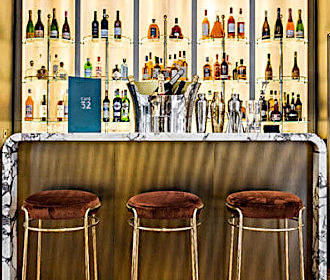 ---
However, there is also a full a la carte breakfast menu and then, if you like or can eat eggs, you can select your favourite style and the timing of when you want these to be cooked and served wherever you are seated in the Cafe 52 area of the hotel.

Cafe 52 is actually the restaurant at Hotel Grand Powers Paris, which is open from when breakfast starts at 7am, although meals here are available from midday through to 9:30pm, and the setting is based around the beautiful marble fireplace dating from the 1800s.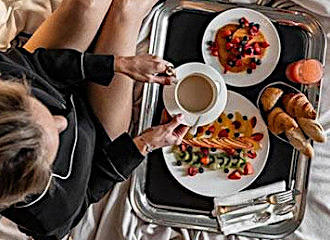 ---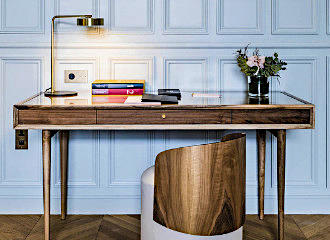 ---
Just nearby to this and located off the lobby you will also find the bar, which has been decorated with warm, subtle, and floral tones for a more intimate atmosphere. Here you can enjoy a wide variety of fine wines, spirits and champagnes, many from small French producers, along with various cocktails that can be accompanied by finger food available right through to midnight.

Now talking of the food, the menus have been designed by Maxine Raab who has come to the Hotel Grand Powers after previously working at famous restaurants in Paris including Fouquet's on the Avenue des Champs Elysees.

---
So with a refined, yet daring signature, where you can snack or enjoy a proper meal at Cafe 52, there are items such as a traditional Croque-monsieur, salmon club sandwich or gourmet burger each served with fries, poke bowls, pasta dishes and various finger foods.

You will be able to discover salads, and Dim-Sum through to starters like Organic white asparagus, olive oil and parmesan cheese, signature dishes such as Cod back, asparagus, eggplant caviar and virgin sauce or Rib eye, pommes gaufrettes potatoes and black olive gravy.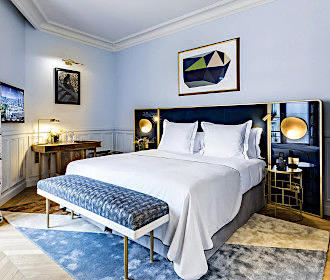 ---
You could then opt for a selection of AOP cheeses or a selection of pastries by Christophe Michalak, the renowned French master pastry chef along with other delights, all of which can be accompanied by a drink of your choice or healthy options of cold pressed vegetable juices like the aptly named Invincible consisting of Beetroot, raspberry, apple, carrot, lemon and curcuma.

As you can no doubt tell, the emphasis at Cafe 52 in the Hotel Grand Powers is on healthy and organic food that changes with the seasons and what fresh produce is available, so the above reference to dishes is only as a general guide, yet there are also items available specifically designed for children like pasta bolognaise or chicken nuggets with a choice of accompaniment, for example.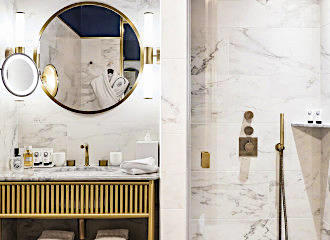 ---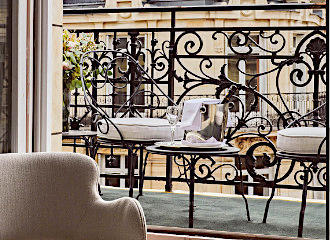 ---
Wellness at the Hotel Grand Powers Paris

To start with, you will find that the Hotel Grand Powers has a very well equipped gym, which is open 24 hours a day and includes items such Technogym machines, weights, a ballet bar, and other items such as fitness balls often referred to a Swiss balls, etc.

Then there is the Spa called Spa Thala, which has been named after the pink marble utilised in this calm and plush area that has a sauna and Hammam or steam room, along with a fabulous Jacuzzi, which is open from 9am through to 9pm, although treatments do need to be pre booked.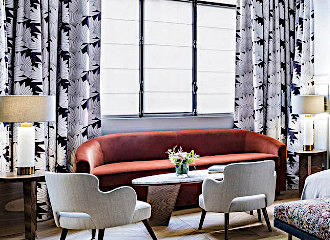 ---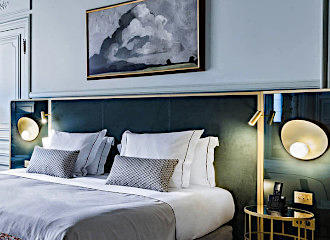 ---
Here you can book numerous different treatments from facials through to foot care, hand and nail care, even hairdressing and styling are options and all beauty treatments for both men and women utilise the Dermalogica brand with exclusive treatments tailored to each individual and their skin requirements.

In fact, before any treatment session, the highly qualified skin therapist will perform tests on your skin in key areas to determine what is best for you, and then discuss things prior to any treatment you have chosen and booked.

There are a wide variety of different types of massages available ranging from a 45 minute up to 90 minute session, again, depending upon what you have chosen, such as a jet lag or deep tissue massage, Ayurvedic massages, a Balinese full-body holistic treatment using techniques combining gentle stretches, acupressure and reflexology and many others.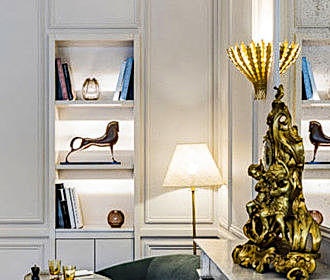 ---
Rooms and Suites at the Hotel Grand Powers Paris

There are a total of 50 rooms and suites at this luxury 5 Star hotel, which have been completely renovated and coloured in powder pink, blue or celadon green depending upon what floor you are on or what type of accommodation you choose, plus some of them have a balcony with table for two.

With designer furniture representing different decades through to traditional features such as antique fireplaces that still remain in some of the rooms, each has different materials to exude an impression of luxury like silks, velvet, brass, marble, oak and walnut.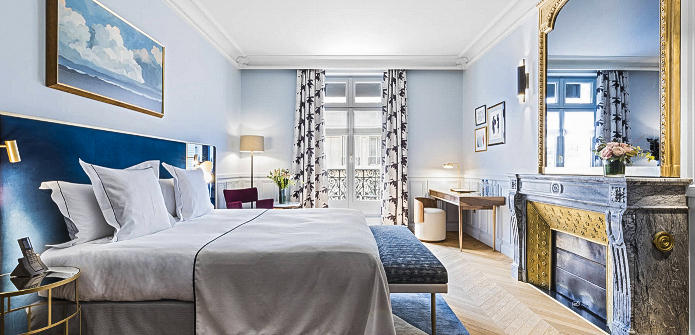 ---
A good size for comfort, they still have that cosy warm feel, but with all the modern equipment and features for a comfortable stay including personally controlled air conditioning, some feature exquisite mirrors that turn into TVs positioned above the fireplaces and all have unique artworks and a cabinet that discreetly holds items such as the courtesy tray, Nespresso machine, etc.

The rooms range in size from the smallest being a Superior Room at a minimum of 20 metres squared whereas a Deluxe Room is a minimum of 26m squared and can accommodate up to 3 people, with some of these having the option of being connecting rooms for families or friends travelling together.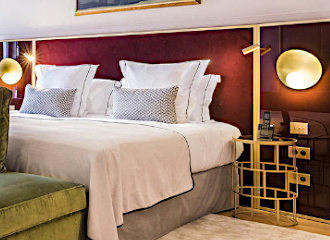 ---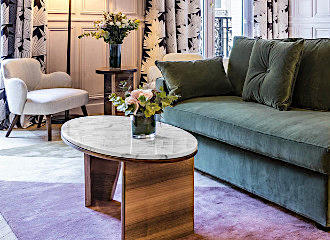 ---
The Executive Room is a similar size, but some of these have balconies and one has been especially adapted for the disabled being wheelchair friendly, yet for more space you could then go for a Junior Suite, which range in size from approximately 33m squared to 48m squared, some having both a bath and shower, plus all have a lounge and work area.

The Hotel Grand Powers also offers what they class as a Junior Suite Presitge, similar to the Junior Suite, yet with a minimum space of 38 metres squared and each boasting a balcony with a view towards the most famous landmark in Paris of the Eiffel Tower. Yet the ultimate in luxury and tranquillity is the suite called The Elegant, which, at approximately 60m squared, is nestled on the top floor of the hotel and has a separate living room plus impressive views of the Eiffel Tower.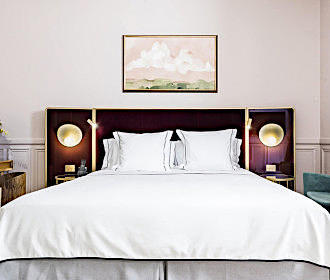 ---
Room and Suite Facilities and Equipment

The bathrooms at Hotel Grand Powers have a marble finish with golden accents and fittings and come with either a bath or very large raindrop style Italian shower although some of the suites have both, and all have shaver points, magnifying mirror, hairdryer, bathrobes and slippers plus complimentary welcome products by the Paris based Diptyque company who specialise in toiletries, fragrances and are renowned for their scented candles.

We mentioned earlier the courtesy tray, but in each room you will find that the large TV is actually a Smart TV with Chromecast Technology with movies on demand including latest releases, and there are different options for connectivity and charging of your electronic devises such as USB sockets, iPhone docking station, etc, not forgetting the free high speed WiFi.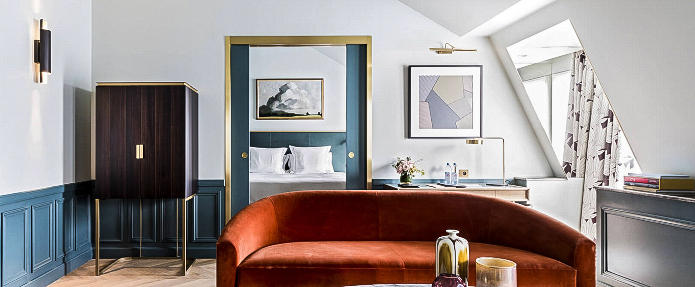 ---
Also included is a personal safe, mini bar, complimentary bottled water, along with the option of a daily newspaper, on demand shoe shine service, 24 hour 7 day a week room service plus laundry, dry cleaning and ironing services are also offered, even though there is an iron in each room. Incredibly, there is even a Yoga mat in each room as well.

In addition, for those of you travelling with children, the Hotel Grand Powers provide them with their very own welcome pack, dedicated children's menus, even sweets in the mini bar and there is an on-demand babysitting service available as well.


Access to the Hotel Grand Powers Paris

When it comes to reaching the Grand Powers Paris Hotel via public transport in Paris, you will find that the nearest Metro stations are located on the famous Avenue des Champs Elyees with the George V stop serving line 1 in a northerly direction and the Franklin D Roosevelt stop serving Metro lines 1 and 9 in an easterly direction. Alternatively, heading towards the River Seine in a southerly direction you have the Alma-Marceau stop serving metro line 9.

You will find that the Paris bus lines 32, 42 and 80 are the closest to this 5 Star hotel, however others within easy walking distance include the bus Lines 28, 63, 72, 73, 92 and 93 along with the Noctilien Night Bus service lines N02, N11 and N24.
As for the RER trains, there is a train station by the Pont de l'Alma on the opposite side of the River Seine called the Gare du Pont de l'Alma serving the RER C train line. In addition, if you head to the famous tourist attraction in Paris of the Arc de Triomphe, there is the Charles de Gaulle - Etoile stop serving the RER A train line, along with this being a Metro station for metro lines 1, 2 and 6.

There is also a taxi point right by here on the Champs Elysees, with taxis that will take you directly to Charles de Gaulle airport, but another means of getting to and from either the Orly Airport or the Charles de Gaulle Airport is with Le-Bus Direct, which was formerly known as Les Cars Air France, and these buses stop on the Avenue Carnot by the Place Charles de Gaulle Etoile.

However, being that the Grand Powers Paris is a 5 star hotel, private airport transfers and even limousine services can be organised and not just for the airport runs, but anywhere else you wish to travel to or experience, such as Chateau de Versailles, exhibition centres, stadiums, conference centres and much more.
Paris Hotel booking info

Hotel Grand Powers Paris
52 Rue Francois 1er
75008
Paris
Ile de France
France

Tel: 0033 1 47 23 91 05
GPS 48.86917, 2.30315

Website: https://www.hotelgrandpowersparis.com/