Canteen Bus Gobelins Restaurant in Paris

If you are looking for a sensible meal while enjoying traditional French cuisine that will satisfy the heartiest of appetites, then this restaurant has got to be on your list of places to visit, which is open every day and has a wide choice of French cuisine suitable for all the family.


About Canteen Bus Gobelins Restaurant

This particular Canteen Bus restaurant has been running for over three years now and is the second one to open in a completely different area to the first called the Canteen Bus Alesia, which has been running over 20 years.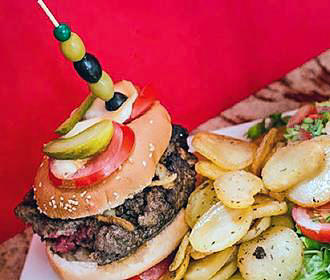 The main concept was to provide quality and quantity, which is actually quite unique for this city, as you find so many gourmet restaurants in Paris where you are served a la carte dishes that look exceptional, but make you want far more than what is served.

But here at the Canteen Bus Gobelins, you can enjoy a hearty meal of traditional French cuisine to satisfy virtually any appetite, yet at a price that will not break the bank, and in an atmosphere that is friendly and surrounded by reminders of films and pictures of actors adorning the wooden clad walls.


Cuisine at the Canteen Bus Gobelins Restaurant
Every single dish on the menu is named after a film, and there will be something for everyone's tastes, yet there are only two fish main dishes, which are Norwegian salmon tartare with onions, olive oil, lemon, chives, sauteed potatoes and salad or Sea bream fillet with fried potatoes, salad and lemon.

However, there are so many other options including Omelettes like Spartacus with mushrooms and country ham or Rain Man with bacon and herbs, but we would like to point out that these are only available of a lunch time.

Salads served at the Canteen Bus Gobelins are very large and we counted over 15 different ones you could enjoy such as the Octopussy Salad with smoked salmon, pickles, rice, Swiss cheese, asparagus, corn, lemon and chives. You also have the Jurassic Park Salad with walnuts, finely chopped ham, ham, tomato, corn, fried potatoes, pickles, olives and chives or the Desperados Salad served hot with chicken breast, bacon, corn, red peppers, tomatoes, rice and spicy cheese fritters.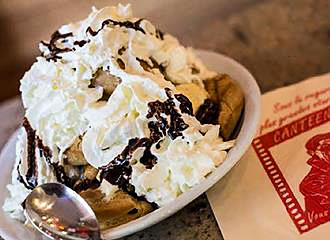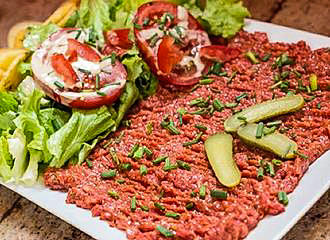 Meat main courses are also very popular and topped with fried potatoes and salad they could virtually make your eyes pop out when you see things such as the Paranormal Double Hamburger with 600 grams of minced beef, fried onions, cheddar, lettuce, tomatoes, grilled ham, egg and olives.

But other options could be Grilled chicken skewers or Duck Confit topped with fried potatoes or sauteed mushrooms and salad, or perhaps Entrecote steak with either pepper sauce, bearnaise sauce or shallots would be more to your liking and again in a large portion it comes with fried sauteed potatoes and salad.

Jacket potatoes such as the 5th Element and pasta dishes with names such as Batman and Forest Gump are also other options for a main course. Yet we do hope that you will have room to experience one of the fabulous and overly large desserts, which are of course a major hit with children, with delights such as a house chocolate mousse or a pyramid of profiteroles.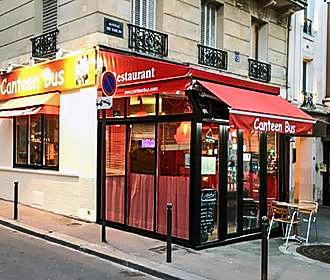 And to give you a rough idea on the costs, the majority of main dishes are around €13.50 as of 2014, although some do go up to about €19, and desserts are an average cost of around €6 to €7 although some are as low as €4.50. So, as we mentioned before, the Canteen Bus Gobelins will not break the bank, and you will definitely leave feeling completely satisfied and ready for another bout of visiting the numerous tourist attractions in Paris.


Visiting Canteen Bus Gobelins Restaurant in Paris

Now when it comes to visiting the Canteen Bus Gobelins restaurant, it is located in the 13th Arrondissement and you may be pleased to know that they are open seven days a week all year round, from noon until 3pm for lunch and from 7pm through to 11pm for an evening meal.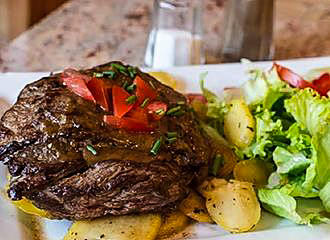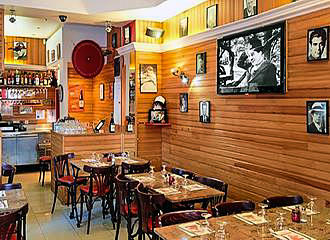 There is also WiFi access for its patrons and pets are allowed providing they are well behaved and do not disturb other customers, yet as you can no doubt imagine, this is a very popular restaurant in Paris, and reservations are highly recommended, sometimes even essential, depending on the time of year.

And as for getting to the Canteen Bus Gobelins via public transport in Paris, the nearest metro stations are the Les Gobelins stop via line 7 or the Place d'Italie stop via lines 5, 6 and 7. Alternatively, the bus numbers 27, 47, 57, 64, 67, 83 and 91 will also get you close by, plus there is a Velib self service bike rental station on Rue le Brun, which is a road coming off the Avenue des Gobelins.