Photo of Fontaine Saint Michel which is the tallest water fountain in Paris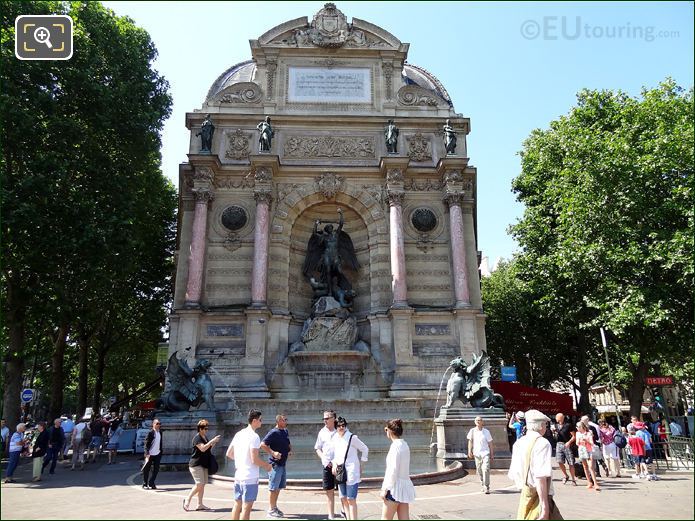 During the redevelopment of Paris under the guidelines of Baron Haussmann, he commissioned a new fountain to be constructed at the enlarged Place Saint Michel Square, and designed by Gabriel Davioud to hid the end wall of a building, this became the largest fountain in the city, which as you can tell from this image, the Fontaine Saint Michel has become a very popular tourist attraction.



Picture of the Saint Michel Terrassant le Demon statue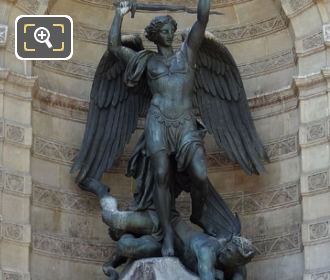 This is a photo of the Fontaine Saint Michel central bronze statue called Saint Michel Terrassant le Demon, which was sculpted by Francisque Joseph Duret, and representing Saint Michael slaying the Devil, this was inspired by the painting of Raphael located in The Louvre museum, yet the rock base was sculpted by Felix Saupin, and both artists were commissioned by Gabriel Davioud who designed this enormous fountain.



Fontaine Saint Michel bronze statues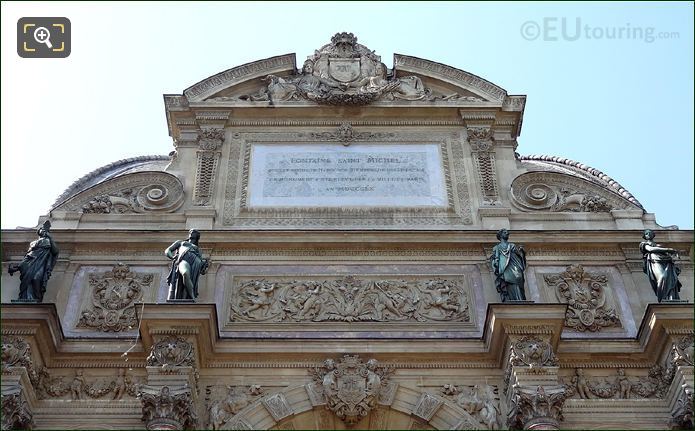 Here you can see a photo we took showing the top of the Fontaine Saint Michael with its plaque, the four bronze statues that sit atop coloured marble pillars and the intricate bas reliefs that were all produced by different artists under the guild lines of the designer Gabriel Davioud, and incredibly, this fountain is the tallest in Paris being 26 metres high, plus it is 15 metres wide and has become one of the many tourist attractions in Paris that is located close to the River Seine in the 5th Arrondissement.



Photo showing the Prudence statue on the left and right hand statue is known as Force or Power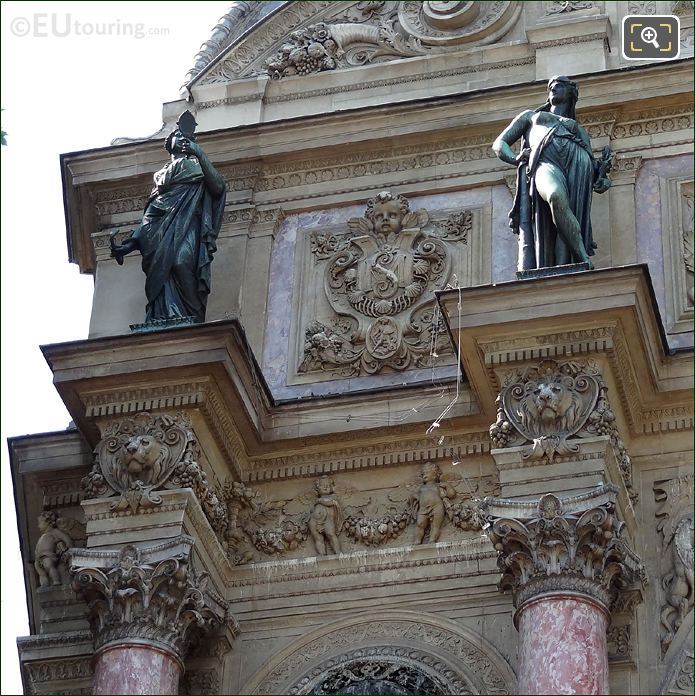 As you are looking at this very large fountain in Paris you will be able to discover statues, ornate and intricate architecture along with bas reliefs and ornamental foliage that were produced by Noemie Constant, but in this photo of the Fontaine Saint Michel, you can see two of the four statues, which are located to the left of this monument, the first representing Prudence sculpted by Jean-Auguste Barre and the second known as Force or Power was produced by Eugene Guillaume.



The next two bronze statues are called Justice on the left then Temperance to the right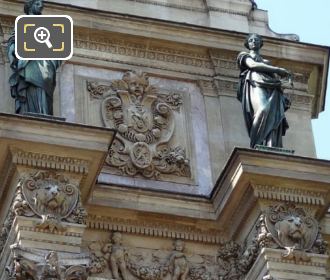 There are four statues in total that stand above the marble columns on the Fontaine Saint Michel, each one produced by a different artist, and this is a photo we took of the right hand two, the first representing Justice produced by Louis-Valentin Robert and next to it is the bronze statue known as Temperance, which was sculpted by Charles Gumery, and both were completed in 1860.



Photo of Fontaine Saint Michel plaque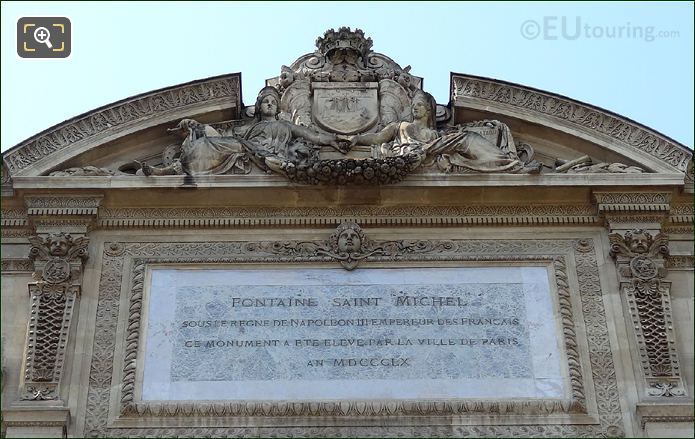 We took this photo of the Fontaine Saint Michel plaque, which is situated at the top of the fountain in the centre, and inscribed in marble, obviously it has the name as you can see, which translates to the Saint Michael Fountain, but also mentions produced during the reign of Napoleon III Emperor of France for the city of Paris in 1860.



Picture of Fontaine Saint Michel winged dragon statue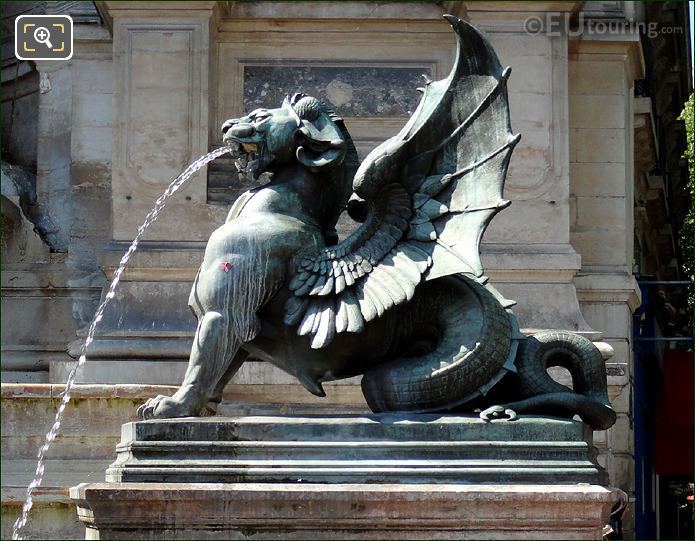 There are actually two winged dragons, which are located on either side of the Fontaine Saint Michel, which were produced by Alfred Jacquemart, who specialised in animal sculptures, both real and mythical, and although these were sculpted back in the in the 1800s when the fountain was constructed, as you can tell from this photo, the bronze creature still spouts water as it was designed to originally, and these mythical creatures have been copied in numerous ways over the years like for paperweights, book ends, etc.



Fontaine Saint Michel is also close to Notre Dame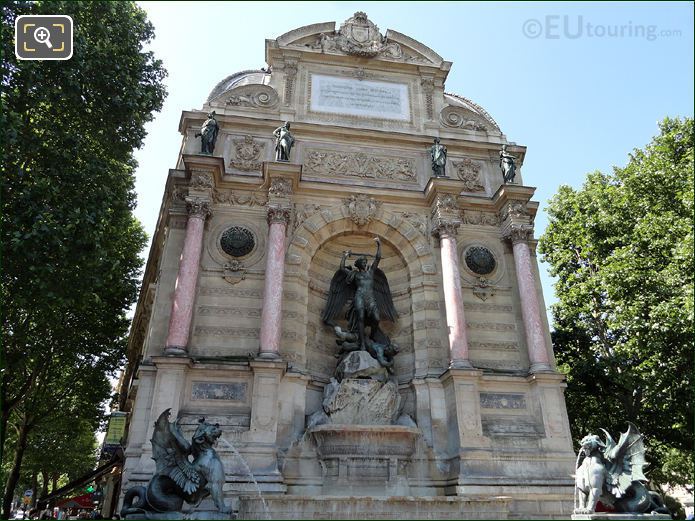 Now, if you are thinking about visiting Fontaine Saint Michel it is very simple find, as it is only a short walk along the River Seine from Notre Dame Cathedral to Place Saint-Michel square, in a westerly direction.



More Photos - 1 2 3 4 5 6 7 8 9 10 Next
More information on Fontaine Saint Michel


- The Saint-Michel Fountain
- Place Saint-Michel Square


Address and details


Place Saint-Michel
75005
Paris
Ile de France
France


Photos images of attractions close by


- Photos of Place Saint Michel
- Photos of the River Seine
- Photos of Notre Dame Cathedral
- Photos of Square Jean XXIII


If you would like to use any of these photos for non commercial use we only ask that you please do include recognition to ourselves "eutouring.com", but if you are not sure with regards to usage, please contact us.







Copyright © www.eutouring.com All Rights Reserved