Le Fabe Hotel - Paris 3 star hotel

With an unusual and modern zen style atmosphere Le Fabe Hotel is a small 3 Star hotel located in the 14th Arrondissement of Paris with services such as a business area, sauna, buffet breakfast, on-site parking, wired and free WiFi and 17 rooms all with their own names and modern design, with one being suitable for the disabled.
Average Double
€160 - €300
---
About Le Fabe Hotel

With a contemporary and modern design Le Fabe Hotel is a small and friendly hotel with many facilities that you would expect to get within a 4 star hotel in Paris including staff at the 24 hour reception that are able to sort out reservations and ticket bookings for shows, restaurants and much more.

Facilities at this Paris 3 Star hotel include a luggage hold along with a dedicated business centre, which is available 24 hours a day in the basement located to the left hand side of the lift that includes a computer with internet connection plus the possibility to print documents and send faxes.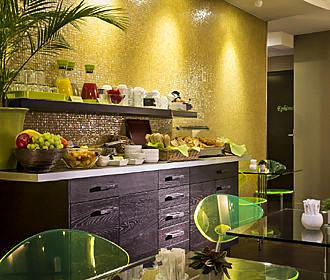 ---
There is also a sauna completely free of charge to patrons of the hotel that is accessed to the right hand side of the lift and located within the basement. All they ask is that you reserve a session a minimum of 30 minutes prior, plus towels are also provided.

Breakfast is also another benefit provided as a buffet style within the breakfast room that is served between 6am and up until noon for those of you that are late risers, which consists of hot beverages, fruit juice, bread and pastries along with accompaniments such as jams. Plus various cold cuts and cheeses, fresh fruit, etc are also on the menu for only around €10 per person, which is very reasonable for a 3 star hotel in Paris.
Wifi is available throughout Le Fabe Hotel, plus wired high speed connection is also available and you can obtain Ethernet cables from the reception, but another added benefit of this particular hotel is that as well as being suitable for the disabled with one dedicated room for wheelchair users.

Private on-site parking is also an option for a nominal cost of only around €15 per day, which is actually also very reasonable for Paris, although a parking space does have to be arranged and reserved prior to your arrival.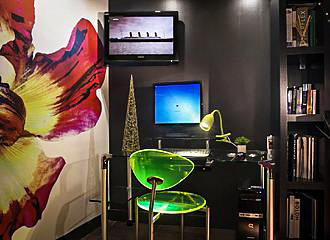 ---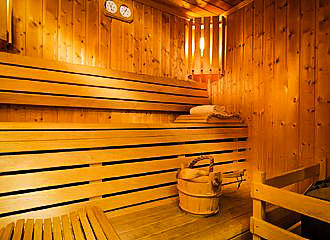 ---
Rooms at Le Fabe Hotel

There are a total of 17 rooms at Le Fabe Hotel, which are broken down into 3 categories, all coming with air conditioning, double glazing, flat screen TV with satellite channels, a direct dial telephone, mini bar, personal safe and an en suite bathroom with either a bath or shower and a hairdryer.

The first category of room is called Cosy and the smallest most basic rooms measuring approximately 13 metres squared, they come with a 26 inch flat screen TV and either a bridal bed or as a single and 3 of them in total, they have the names of Passion, Bonheur and Perles.

The next category of room at this 3 Star hotel is called Charm, and with the names of Desir, Arome, Reflets, Together, Primavera, Orchidees they have been designed to represent sparkle and sensuality within a space of approximately 14 metres squared and again have a 26 inch flat screen TV.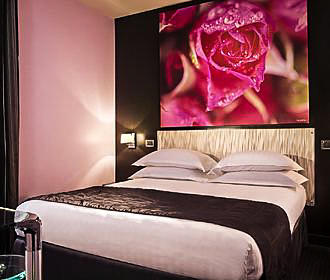 ---
However, the third category of room at Le Fabe Hotel is called Plaisir, which in English translates to Pleasure, and combining light colours with a relaxing Zen type feel they measure approximately 19 metres squared and include a 32 inch flat screen TV plus an Espresso machine for coffee, tea and hot chocolate.

The names of these hotel rooms are Ephemere, Pistilles, French Romance, Rugiada, Silk and drops, Opium, Mona Lisa and Lotus, with the rooms on the ground floor having a sound proofed entrance door, and this is the category that has a dedicated disabled room.


Access to Le Fabe Hotel

Located in the 14th Arrondissement of Paris, when it comes to getting to Le Fabe Hotel via Paris public transport, there are several different and convenient options within walking distance, with the nearest Metro station being the Pernety stop serving metro line 13. Then Paris bus line 59 and bus 62 along with the Noctilien Night Bus Service via line N63 will also get you close to the hotel.
However, the Gare Montparnasse train station is also within approximately a 10 minute walk from the hotel and here you can access the Metro lines 4, 6, 12 and 13 along with the Transilien and TGV trains. This is also a pickup and drop-off point for Cars Air France, which is a bus shuttle service to Charles de Gaulle Airport and Orly Airport, also known as Le Bus Direct.

In addition to this, the Gare Vaugirard train station for the Intercities trains is also within walking distance, but if you are arriving via your own transport, then as we mentioned before, Le Fabe Hotel has its own parking facilities available for a nominal daily cost.
Paris Hotel booking info

Le Fabe Hotel
113 bis Rue de l'Ouest
75014
Paris
Ile de France
France

Tel: 0033 1 40 44 09 63
GPS: 48.83373, 2.31513

Website: https://www.lefabehotel.fr/