Le Bar a Huitres haute cuisine seafood restaurants in Paris

With two different locations around the capital, these gourmet and haute cuisine restaurants specialises in seafood and oysters, with prices that can suite many different types of budgets, yet with shellfish platters to make your mouth water, plus the option to purchase items like crab, lobster, mussels, whelks, prawns, etc to take away.


About Le Bar a Huitres Restaurants

It was in the July of 2010 that Garry Dorr, founder of the catering trademark d o r r Paris took over Le Bar a Huitres and raised the standards of the seafood available, and to such an extent that in under two years it was being classed as the best seafood restaurant in Paris.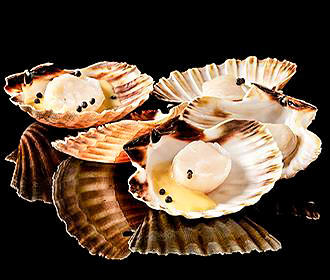 Le Bar a Huitres now employs some of the very best shellfish experts and specialists in Europe, who are distinguished in their field and many of them have won international competitions so as to provide the utmost highest quality, with products such as grand cru oysters that are 100 percent traceable, blue Breton lobster direct from their own tanks, etc.

And talking of fish tanks, these restaurants have now acquired large fish tanks that are filled with fish such as turbot and eels along with shellfish such as lobster, crayfish, etc, that are all available for consumption on the a la carte menu. And with their size and lighting, these fish tanks add an extra special touch to the decor, which has a modern, yet refined maritime spirit.

Now talking of modern, Le Bar a Huitres were the first restaurants in France to do away with paper menus and introduce their cuisine and wine lists on iPads, and a dedicated app is also being produced for an even more enhanced experience, for you to choose the type of produce and meals to suite your tastes.
Seafood Platters at Le Bar a Huitres

As for the seafood platters, these are designed for sharing and vary immensely in cost depending upon your budget, but these can also be ordered to take away and also prepared for special occasions such as banquets, weddings, parties, etc.

The first platter called the Seaside Discoveries is €49 as of 2015 and consists of 9 rand cru oysters, 1 spider crab or common crab, cockles, Spanish mussels, prawns, shrimps, whelks and winkles, but another called The High Sea at €69 also contains a half lobster.

Another called The Must at €229 has 2 lobsters, 4 king sized Dublin Bay prawns, 2 spider crabs or common crabs and 18 grand cru oysters, along with the additional shellfish mentioned above such as shrimps, whelks, etc.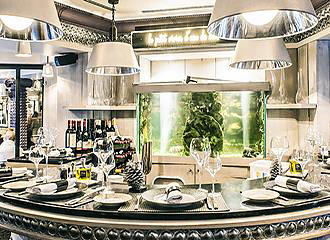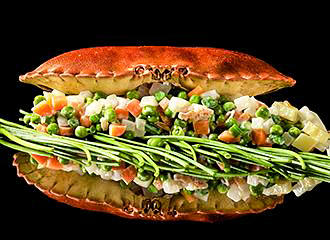 Whereas the d o r r Paris at a cost of €479 as of 2015 has 2 lobsters, 2 spiny lobsters an enormous hammer crab weighing in at around 3kg, 2 large rare types of oyster nicknamed the Pied de Chevel, 4 king-size Dublin Bay prawns, 2 giant spider crabs or common crabs and 36 grand cru oysters, plus the extras like Spanish mussels, Madagascar prawns and winkles.

But the ultimate in luxury is called The d o r r Paris XXL, which has 4 lobsters, 4 spiny lobsters and 2 enormous hammer crabs weighing in at around 3kg each, then you have 4 of the very large rare oysters, 8 king size Dublin Bay prawns, 2 giant spiders crabs and 100 grand cru oysters. In addition of course to the extras including winkles, cockles, etc that Le Bar a Huitres serves this with.

And you may be pleased to know that there is always a discount available for a takeaway option, for example the most elaborate platter we just mentioned is a cost of €999 if purchased to enjoy at the Bar a Huitres restaurants, whereas ordered in advance to takeaway, it is only €849 as of 2015.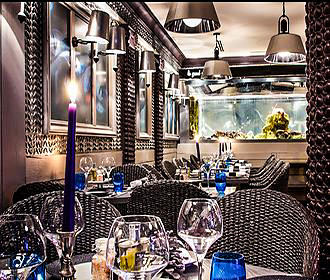 Yet as an added extra, with each of the platters you are provided with a delicacy selection from Cap-Ferret, which includes salted butter, shallot vinegar and a home made mayonnaise.

However, you can also opt to choose shellfish items individually to take away including their oysters and much more, which means you can cater to your own budget. And then you can enjoy your selection in your own romantic setting, as a gourmet picnic in one of the gardens in Paris, or on the banks of the River Seine, with the inevitable glass of wine of course!


Cuisine at Le Bar a Huitres in Paris

But if you would rather have an a la carte meal at Le Bar a Huitres top table restaurants in Paris, then this is no problem, and there are numerous tempting dishes available, plus a small selection of meat dishes and traditional French delicacies of cuisine for those of you that are not so keen on seafood.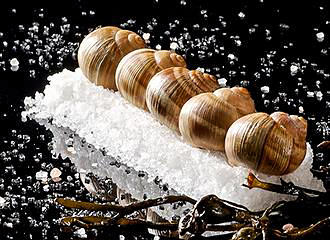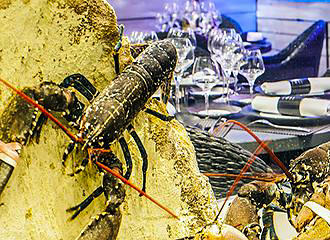 Now starters could be 6 Burgundy snails in the shell with mild garlic, a Fish soup with garlic croutons, which is actually an unlimited serving, French sea bass and Scottish salmon served tartare style, Madagascar bio shrimps, avocado and cocktail sauce or Duck Foie Gras with toasts and an apple and grape chutney, yet there is also Caviar from the famous House of Kaspia available.

Main courses at Le Bar a Huitres high class seafood restaurants offer an enviable selection of seafood dishes that most would only contemplate for a special occasion, with many such as the Turbot or Blue Breton Lobster coming fresh and live direct from their own fish tanks.

You could opt for Wild cod for the North Atlantic serve aioli style, Wild squids, grilled with an olive oil, Thornback ray from Brittany with a brown butter sauce, lemon and capers, or a Whole French sea bass with fennel, grilled and flambéed along with other options to tempt you including dishes design for two people.

But for those of you that would like meat, the you could opt for a main course such as Veal kidneys cooked in a sauté pan with mustard sauce or a fillet of French beef Chateaubriand with a bearnaise sauce for instance. And the garnishes for all main courses such as basmati rice or mashed potato with Bordier butter along with the sauces such as lemon butter with fresh herbs are served separately, so you can add as you wish to your plate.

However, for those of you who have a limited budget, you can still enjoy the experience of this haute cuisine restaurant, as Le Bar a Houtres offers a Parisian Lunch Menu on a Monday to Friday, but not at weekends or on bank holidays.

And at only €26 you will receive an appetiser followed by a starter and main course served together, then a dessert. But you still have a small choice of starters and main courses including even 6 grand cru oysters or egg mayonnaise with dice vegetables and a home made mayonnaise for starters for by Mussels mariniere style or flank steak with shallots for instance.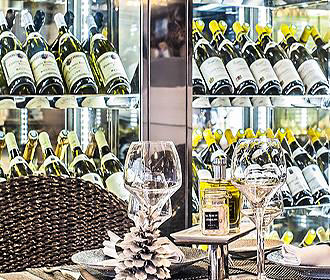 Yet children are not forgotten, as there is a dedicated menu specially for those under the age of 12 called the Pirates of the Caribbean where they can enjoy either a beef or fish burger with a mashed potato puree with Isigny butter, a chocolate ice cream and a drink such as coco cola, all for only €15 as of 2015.


Visiting Le Bar a Huitres in Paris

You will find that these gourmet seafood restaurants in Paris are open daily, and the takeaway service is also available every day of the year, however, on special days and during the festive season and over New Year, it is advisable to order your takeaway platters at least 24 hours in advance.

The opening times for the first three restaurants listed below are from midday to midnight, whereas the last in the 17th Arrondissement is open from midday until 2.30pm and then from 7pm through to midnight, however on certain days such as 24th December for instance, the restaurants and takeaway close at 10pm.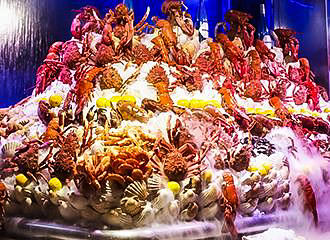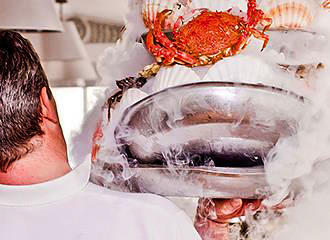 Children are also more than welcome, providing they are well behaved, and there is a menu dedicated to those under the age of 12, and booking is advisable, yet necessary if you are going to be arriving as a group, or require set platters for a special occasion.

Also, we would like to point out that if you are looking at ordering special platters or a large quantity of seafood and shellfish delights for a party, even if it is to take away, then these also have to be ordered in advance.

Now valet parking is also available at all four of these top table restaurants in Paris, yet if you are utilising public transport in Paris, then the nearest Metro station to the Bar a Huitres Montparnasse location in the 14th Arrondissement is the Vavin stop.

The nearest Metro for the Saint-Germain restaurant in the 5th Arrondissement is called the Cluny - La Sorbonne stop.