Hotel Le Presbytere - 3 Star Unusual Hotel in Paris France

Set in a former presbytery dating from the 1600s with original features, having 10 rooms and a Junior suite, this is ideal for a romantic holiday in Paris with numerous services on offer including private shuttles, room service breakfast, concierge, business corner, plus free WiFi, complimentary toiletries, courtesy tray and more.
Average Double
€200 - €390
---
A bit of history..

The Saint-Merry church was constructed in a Gothic style back in the 1500s to replace previous places of worship with a larger one on the same spot and in the 1600s a building was attached to the church for housing priests called a presbytery.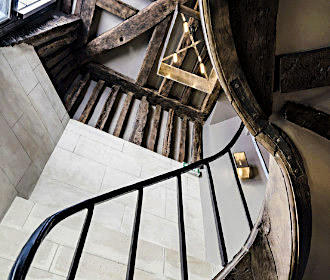 ---
It was back in the 1900s that the presbytery was turned into a hotel and hence the name Hotel Le Presbytere, and this building itself has been classified as an historical monument in Paris.
About the Hotel Le Presbytere

Situated in a quiet street next to the Saint-Merry Church in the 4th Arrondissement, the Hotel Le Presbytere is within walking distance of popular Paris tourist attractions including the Pompidou Centre and the historical Tour Saint-Jacques tower, and this is part of the Hotel Saint-Louis group of hotels in Paris.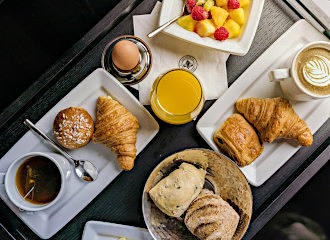 ---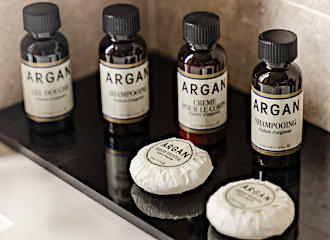 ---
Being such an historical building, there are many original features you can enjoy at this unique and unusual hotel in Paris such as stone walls, original wooden beams and the flamboyant Gothic architecture including even buttress supports from the church next door that can be found within one of the feature romantic hotel rooms.

There is also a traditional staircase for accessing the various floors including even getting to reception, but because of the listed status of the building, much cannot be altered and therefore, along with being no lift, still having original slanting ceilings, etc, you can no doubt appreciate that the Hotel Le Presbytere is not suitable for those with mobility problems or the disabled.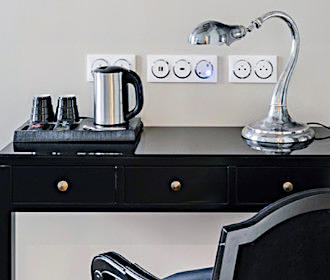 ---
Hotel Le Presbytere Facilities

You may be pleased to know that there is a 24 hour reception and staff able to speak English as well as French and on hand from the minute you enter, whether it be carrying your bags to your room, or offering concierge services, they will provide a warm welcome that continues with the friendly yet cosy atmosphere of Hotel Le Presbytere.

Upon arrival at Hotel Le Presbytere, if you are early you may be pleased to hear that there is a luggage hold service and staff will provide you with a Paris Metro map and a map of Paris, although if your room is ready for you before the normal check-in time of 2pm, then you will be provided the keys straight away.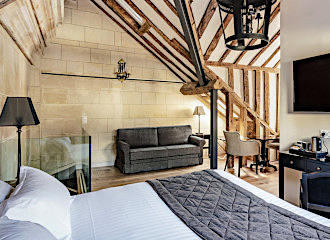 ---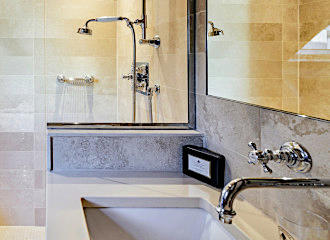 ---
Late check-out is also sometimes possible, although this is best arranged in advance if required, rather than in the hope you may be able to take advantage of your room for longer. Additionally, some rooms can also be booked just for a short time during the day as well, which is quite a novel idea, but great for photo opportunities and so forth.

Hotel Le Presbytere has a specific area with a large desk where you will find an internet enabled computer and printer that you can utilise, whether it be for printing off a boarding pass, catching up with some work, etc. Although there is also free WiFi throughout the hotel, so you can easily keep in touch with family and friends back home.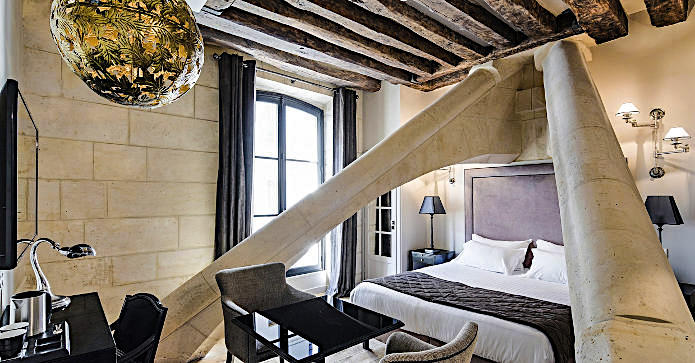 ---
When it comes to breakfast at Hotel Le Presbytere, this is provided as a room service only option between the hours of 7:30am and 11am, yet it is a bit more complete that the normal continental style breakfast you find through room service at some hotels in Paris. Some of the delights you can choose from include fruit juices, yoghurts, compotes, cereals, fresh breads and pastries from a local bakery, accompaniments such as jams along with deli meats and cheeses, not forgetting eggs and various hot beverages.

Being that the Hotel Le Presbytere is part of the Hotel Saint-Louis group, you may be pleased to know that they offer a personalised shuttle service for up to 4 people with English speaking drivers, which is run directly by the company.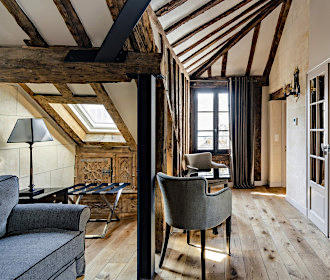 ---
For varying charges depending upon where you would like to go, you could book a shuttle for getting to Disneyland Paris or other attractions outside of the city like Chateau de Versailles, even just for going to a restaurant or show, etc. When it comes to an airport transfer, if you book directly with Hotel Le Presbytere for a minimum of a 5 night stay and you book a round trip transfer to and from Charles de Gaulle Airport, Orly Airport or one of the train stations in Paris such as Gare du Nord, you will receive one of those trips completely free of charge. Although we would like to point out that this cannot be combined with any other special offers that this 3 Star hotel sometimes do.

We mentioned earlier that Hotel Le Presbytere is ideal for couples, romantic getaways, honeymoons and so on, and with this in mind, the hotel offer a Love Package also known as a Honeymoon Package. So for an additional charge, which consists of a bouquet of roses in a vase and a half bottle of Moet & Chandon champagne presented in an ice bucket with the glasses ready for your arrival.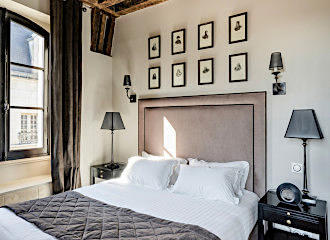 ---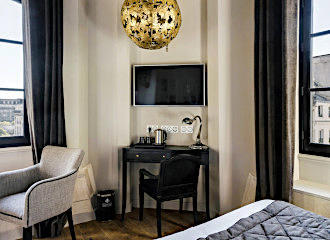 ---
In addition, you will get a box of traditional Macarons, which is a French speciality of food and they will come from either the renowned Carette brasserie and pastry house or from Pierre Herme who also supply many places with their renowned delicacies such as at Convent Garden in London and the Royal Monceau, which is one of the Palace hotels in Paris.

Additionally, the Hotel Le Presbytere also offer the option of a Love Box, which is discreetly placed within your room, ready for your arrival, and provided by the La Love Box company, it has been designed to help you immerse yourselves into the frivolous side if the City of Light and Romance with French Romanticism. Included is a naughty game from 1930s Paris along with other items like massage oil, a sexy garter, two bracelets to offer each other, a satin headband and more.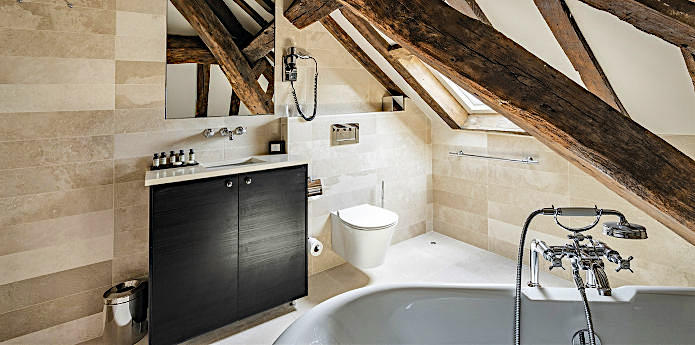 ---
Rooms at the Hotel Le Presbytere

The Hotel Le Presbytere has 10 rooms and 1 Junior suite all of which have unique character and historical attributes, yet with modern touches and contemporary art works that combine with furniture made in France to provide warm, comfortable and cosy rooms that seamlessly mix the old and traditional with new and modern.

Each room comes with a modern en-suite shower room with hairdryer and complementary toiletries, with the Classic Double rooms having an open style shower within the bedroom or a Standard room can be as a double or twin that has an enclosed en-suite.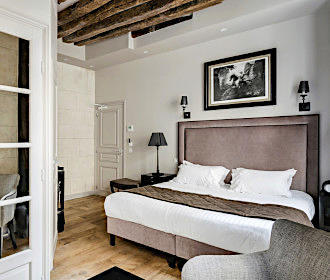 ---
The Superior room at Hotel Le Presbytere is more spacious and overlooking the hotel courtyard you have the option of a Queen size bed or two singles and this also comes with a table and two chairs, ideal for enjoying your breakfast, etc. Then there are the Deluxe rooms that are even more spacious with living and work area plus very good sized showers within the modern bathrooms and these can also be arranged as a double of twin.

However, for a truly memorable and romantic stay at this 3 star unusual hotel in Paris you could opt for the Prestige room called Le Dome, which is completely unique as it has two buttress arches from the Saint-Merri church next door that cross over the room, underneath of which you will find the Queen size bed.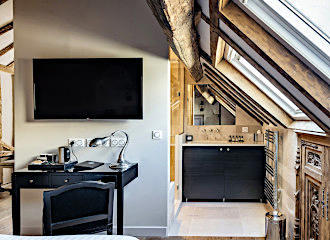 ---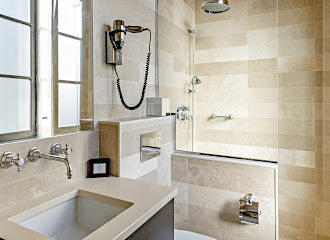 ---
For those of you that want even more space or are travelling as a family, then you can enjoy the Prestige Suite, which is located on the 4th and top floor of this Paris 3 star hotel, with the attic space allowing you to enjoy the rich history of the building including architectural elements like the stone cornice from the church, exposed beams and more.

All this combines with modern touches spread over an area of approximately 50 metres squared for the Suite to offer a bathroom with bath and separate shower room, one bedroom with a settee that converts to a bed and another separate bedroom plus a seating area. Also, on that note, if you are travelling as a family, then you may be pleased to know that the Hotel Le Presbytere also offer to source babysitting services as well.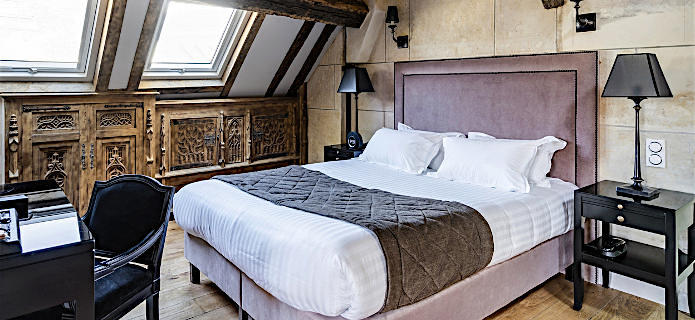 ---
Each of the rooms come with a desk, telephone, free high speed WiFi, private safe for your valuables, a flat screen TV and a courtesy tray with kettle for making your own tea and coffee, which are in addition to benefits and options we have mentioned earlier.


Access to the Hotel Le Presbytere

Located in the 4th Arrondissement, when it comes to reaching the Hotel Le Presbytere via public transport in Paris, you will find that there are numerous Paris public transport options open to you, even if you do not want to utilise the private shuttle services they offer like we mentioned above.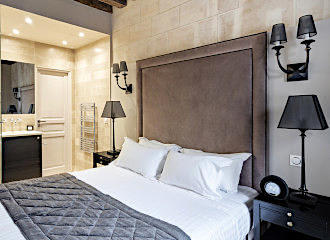 ---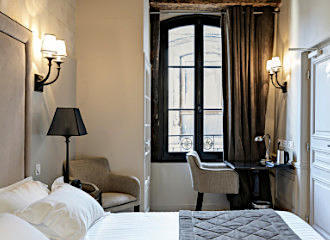 ---
To start with, when you look at the Metro stations, you have the Hotel de Ville stop serving metro line 1 and metro line 11 situated in a South Easterly direction and in a South Westerly direction you have the Chatelet stop serving metro lines 1, 4, 7, 11 and 14.

However, by going in a North Westerly direction you will reach the Chatelet - Les Halles station that provides you access to the RER A, B and D train lines that is great for getting to Stade de France and many other places like Val d'Europe, Parc de Sceaux and La Defense where the Grande Arche is located. This train station also serves the metro line 4.
Yet when it comes to the Paris buses, because the Tour Saint Jacques is in such an easy walking distance and the area is classed as the Chatelet transport hub, you will find that there are numerous different buses that can take you to numerous places in Paris all located around this garden. These are the bus lines 38, 58, 67, 69, 74, 76 and 85 along with the Noctilien Night Bus via lines N11, N12, N13, N14, N15, N16, N21, N23, N24, N122.

However, by walking a little further to the River Seine you could also utilise the bus lines 70, 72 and 96 located along the Quai de Gesvres.
Paris Hotel booking info

Hotel Le Presbytere
78 Rue de la Verrerie
75004
Paris
Ile de France
France

Tel: 0033 1 42 78 14 15
Fax: 0033 1 40 29 06 82
GPS: 48.85902, 2.35035

Website: https://www.hotel-le-presbytere.com/