Theatre du Chatelet in Paris

The Theatre du Chatelet is located at the Place du Chatelet close to the River Seine and has a very diverse programme from opera and operetta to ballet and musicals such as broadway productions, with a concept of also being able to get the younger generation to enjoy going to a theatre.


A bit of history

There are actually two virtually identical buildings located on opposite sides of the Place du Chatelet, that were designed and constructed at the start of the 1860s by the architect Jean-Antione Gabriel Davioud, during some of the improvements and redesign of Paris.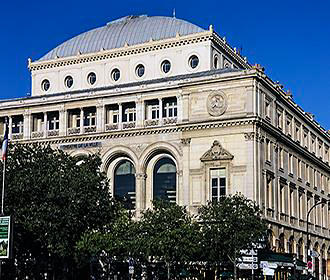 This particular building was designed from the outset as a theatre and named the Theatre Imperial du Chatelet, it first opened its door to the public on 19th August 1862 in the presence of Empress Eugenie. And this theatre in Paris opened with the fantasy play called Rothomago.

Seating 2,500 people with a stage of 24 metres by 35 metres, it was the largest venue of its type in Paris at the time of construction and was also noted for its quality of sound due to the parquet flooring, the wood framed seating and the dome glass roof for reflecting the sound.

In addition to this, the seating was sloped allowing for better vision, although there were several columns that did restrict certain views, but due to its location by the River Seine and a tramway, it attracted large numbers of people especially towards the end of the 19th century with its wide and diverse range of different performances.

As well as plays, there were orchestral performances, operettas, variety shows and dance and now just called the Theatre du Chatelet, it also had its own ballet troupe. And from 1928 to 1966 this theatre in Paris was directed by Maurice Lehmann who also brought in the popular Broadway musicals such as the Mississippi Show Boat, along with organising performances such as the Vienna Waltzes.
More recently at the Theatre du Chatelet

The place closed in 1966, but was reopened again in 1980, subsidised by the City of Paris and renamed the Theatre Musical de Paris Chatelet or TMP for short and performances were restarted again, this time under the leadership of Jean-Albert Cartier and Marcel Landowski.

They completely reviewed the pricing of tickets, so that the theatre would be more accessible to every generation and they also hosted not just French, but many foreign productions along with participating in a number of different festivals and events such as a dance or jazz festival.

And thanks to Jean-Albert Cartier who combined a packed program of opera, operettas, musicals, ballet, recitals, and concerts, the image of theatre was being rejuvenated to also attract a younger audience and by the 1990s had become one of the most vibrant musical venues in Paris.

However, in 1999, the Theatre Musical de Paris Chatelet, stopped its performances for a whole season so that the stage house could be modernised and in the October of 1999 it reopened its doors but under the new direction of Jean-Pierre Brossman and the in 2006 Jean-Luc Choplin was appointed director.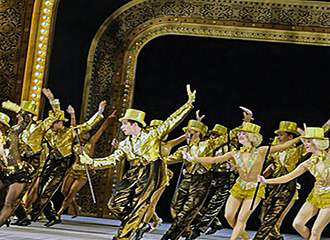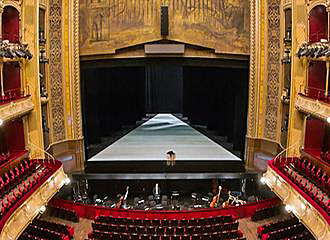 About Theatre du Chatelet in Paris

Today, the same scenario of diversity still applies, yet the theatre is still mainly known just as the Theatre du Chatelet, rather than its official name of the Theatre Musical de Paris Chatelet, and although it enjoys an eclectic program designed to reach out to the younger generation, there is still a focus on orchestral performances, opera, musicals and dance.

However, there are many artistic events organised that combine audacity and lightness, which are designed to let people who would not normally go to a theatre in Paris come away with feelings of joy and want to go back time and again.

Depending upon when you decide to enjoy an evening at this theatre, you may experience a musical such as West Side Story or Carrousel, the summer dance festival, a jazz festival, many different types of concerts including ones devoted to composers such as Tchaikovski or Mendelssohn, an opera such as Street Scene and many more that will appeal to all kinds of tastes.

There is also a bar located in the Grand Foyer that provides drinks and snacks, which is open prior to the performance and during the intermission, plus there is a shop where you can purchase numerous different items including DVDs and CDs, and again this is open every night there is a performance.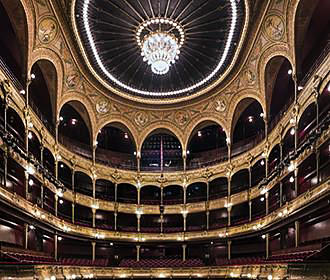 Access to Theatre du Chatelet

You will be pleased to know that this theatre in Paris is suitable for the disabled and there are dedicated wheelchair spaces available along with seats next to them for their helper. For those that having hearing difficulties and need sound enhancement there are headphones available free of charge, plus for those that are visually impaired, headphones are available free of charge for certain performances such as Carrousel running in 2013, and these are available after reservation at the box office on telephone number +33 (0) 1 40 28 28 40.

When you book and get your tickets through, it will show the start time of the performance, so it is recommended that you arrive at the Theatre du Chatelet around one hour prior to the start and people can access their seats half hour before the show commences.

Unfortunately, children under the age of three are not allowed for normal performances, but there are dedicated performances for families with young children known as a Concert Tot.

Also, because the Chatelet theatre in Paris was constructed utilising a traditional Italian horseshoe design, as we mentioned earlier, there are lots of columns and this does impede the view for certain seats, so prior to booking we would advise that you check this thoroughly to avoid disappointment.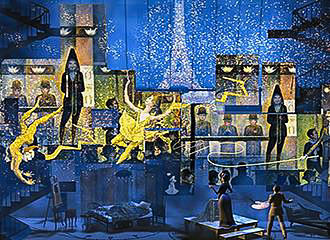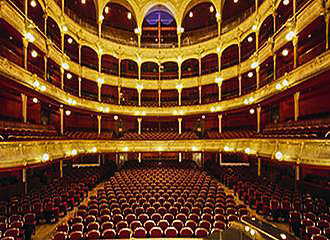 You will find that the Theatre Musical de Paris Chatelet theatre is very easy to reach, as it is located in the 1st Arrondissement of Paris at the Place du Chatelet and a very short walk from the River Seine opposite the Ile de la Cite island where you would discover the Notre Dame Cathedral.

And when it comes to the public transport in Paris, you can reach this theatre via the Metro on lines 1, 4, 7, 11 and 14 at the Chatelet stop or via the RER trains on lines A, B and D via the Chatelet - Les Halles stop.

If you are travelling via bus you would need one of the numbers 21, 38, 58, 67, 81 or 85, yet if you have your own transport, then upon validating your ticket at the box office you can obtain a parking coupon for a discounted rate at the Hotel de Ville or Pont Neuf car parks, which as of 2013 is a cost of only €6 for 5 hours of parking.