This location is now closed with no re-opening date.

The following article is left as-is for historical and archiving purposes.
Aux Charpentiers Bistro in Paris
NOW CLOSED
The well known Aux Charpentiers is a bistro in Paris that has been visited by numerous famous people over the years, and still provides good quality traditional French cuisine, yet is more like a museum restaurant with its history.


A bit of history

The first true documentation on apprenticeships in France dates back to the 12th century, but much of what was taught over the centuries, was passed down by word of mouth from the teacher to student.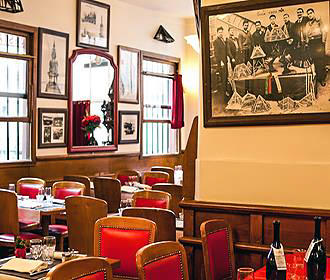 But this is no doubt one of the reasons why there is such a rich amount of fabulous architecture throughout France and numerous impressive monuments in Paris, just like the chateaux, mansion houses, churches and cathedrals.

Yet, it was not until 1952 that an apprenticeship federation was established in Tours in the Centre region, and then expanded to other cities including Paris. Today now, you can discover a museum in Paris dedicated to the history of apprenticeships with items on display such as tools of the trade from a wide range of different crafts like masonry, plumbing, pastry making etc.

This museum called the Musee du Compagnonnage is located in the Saint Germain des Pres area, and it is at the same location as a library and the Aux Charpentiers restaurant and bistro.

In fact, the Aux Charpentiers bistro in Paris has been established since around the 1860s and it was at the start of the 1900s that it moved to the Rue Mabillon in order to teach young students their art of fine cuisine.

Later on the bistro was then purchased by Pierre Bardeche in 1976, who came from a catering family originally from the Limousin region in France, and he himself is a chef and also held a vice presidents seat of the Academie Nationale de Cuisine for over 20 years.
About the Aux Charpentiers restaurant in Paris

Entering the Aux Charpentiers restaurant is like entering a typical Parisien bistro come museum in Paris, as there are many items along with a decor that feels like you have stepped back in time.

Yet this restaurant in Paris has a warm and friendly feel with good quality homemade French cuisine and friendly staff that are more than happy to please to make your lunch or dinner as enjoyable as possible.

In fact, over the years it has seen many celebrities and famous people such as the French President Jacques Chirac and the American President Ronald Regan, so once you have had an enjoyable evening and dinner, why not ask the friendly staff if you could see the book where some of these people have written comments.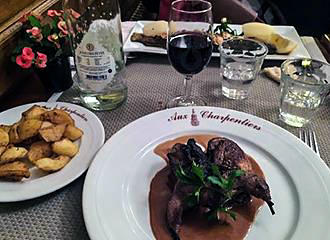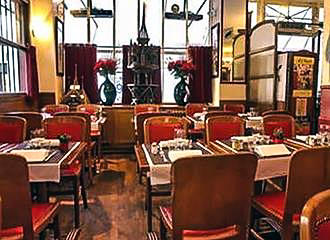 French Cuisine at the Aux Charpentiers bistro in Paris

You will find home cooked French cuisine served at this restaurant in Paris, with a heavy influence on traditional dishes from the Limousin region, which is where the owner and chef, Pierre Bardeche, originally came from.

Pierre has a passion for cooking, but is also passionate about obtaining quality produce, and with the Rungis food market, which is actually the largest food market in the world located on the outskirts of Paris, it is no wonder that Pierre Bardeche can regularly be seen there.

Obviously the menu changes according to the seasons depending upon what fresh produce is available, for instance when it is the gaming season, or the types of vegetables utilised, plus there is always at least one dish of the day mentioned on the board.

Some of the traditional Limousin delights you may be able to experience include country style stuffed cabbage, lentils and bacon, black sausage from the Correze or Correze style calf's head served with truffle juice vinaigrette, not forgetting a range of beef dishes such as braised, tartare, ribs, steaks etc.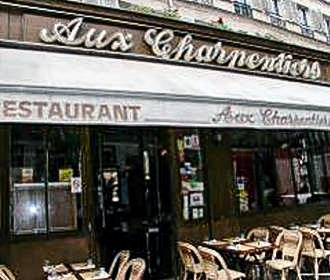 Other dishes could be home made Foie Gras with toasted brioche or marinated salmon with honey and olive oil for starters, followed by veal stew in a white sauce and rice or roasted black blood sausage with apples for a main course. The tempting desserts could be a walnut sponge cake with coffee sauce and ice cream or a Rum Baba with Chantilly cream.

The a la carte menu prices range from around €15 upwards for a starter and €25 upwards for a main course as of 2018 and there are so many delights on offer to choose from, you will be spoilt for choice, not forgetting the quality of the dishes served.

However there is a lunch time formula of a starter and main course with a glass of either red or white wine for around €22, plus a fixed price dinner menu as a three course option, which is available for approximately €35.


Visiting Aux Charpentiers bistro restaurant in Paris

You may be pleased to know that the Aux Charpentiers restaurant is open seven days a week for both lunch and dinner, plus the well stocked bar with its good wine cellar is also open seven days a week, with continuous service from midday through to closing time at 11:30pm.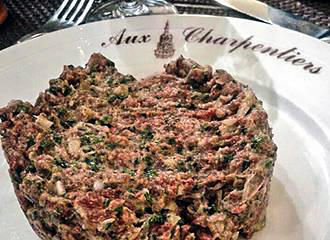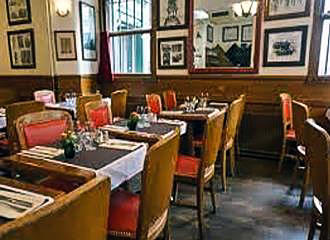 There is a terrace that you can enjoy in fine weather, however, this can only accommodate up to twenty people, whereas the restaurant itself can accommodate up to 120 people, but being a popular venue, it is advisable to book a table, even though it is not always essential.

Located in the 6th Arrondissement of Paris at the same location as the Musee du Compagnonnage museum, there are also numerous other tourist attractions in Paris that are situated close by, such as the Eglise Saint-Sulpice church and the Luxembourg Gardens.

You may also be pleased to know that pets are accepted, and for those of you who have your own vehicle, there is a private car park and valet parking is also an option, which is available for dinner, but as mentioned before, reservations are highly recommended and at certain times essential.


Access to Aux Charpentiers Bistro

Even though there is private parking available, if you are utilising public transport in Paris, you can reach the Aux Charpentiers bistro and museum via the Metro station called the Mabillon stop serving line 10 or the Saint Germain-des-Pres stop via line 4.

In addition to the Metro, the bus lines 39, 58, 63, 70, 84, 86, 87, 89, 95 and 96 along with the Noctilien Night Bus Service via lines N01, N12 and N13 will also get you within walking distance of this bistro and brasserie in Paris along with many other attractions and monuments located in the area.